This Spicy Tortellini and Sausage soup is made with sauerkraut. Yes, I'm serious. No, I do not like sauerkraut. Yes, this soup is delicious. The unique sauerkraut flavor blends perfectly with the sausage and broth of this crock pot soup. Give it a try!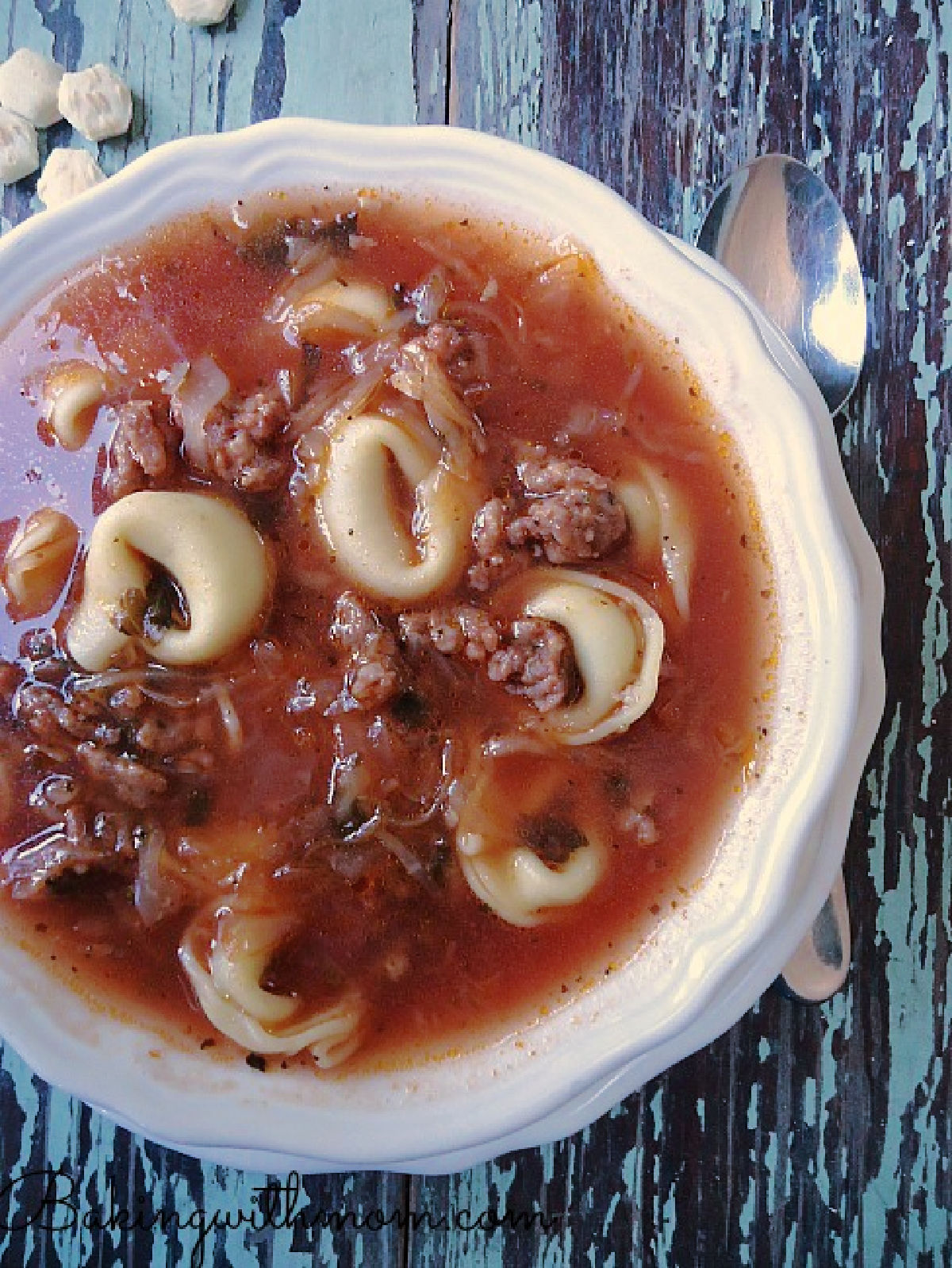 This recipe is not mine. I completely and totally am taking it from a friend of mine. Actually, I did change the recipe for Spicy Tortellini and Sausage Soup a little, because I wanted to have a shot at my husband liking it.
But more on that later.
My dear friend, Sarah, made this soup for us while we were having a garage sale at her house a couple of weeks ago. She was kind enough to open her prime location house on the town wide garage sale day then she made us soup as well.  Gotta love friendships.
I'll be 100% honest. When I first opened the crock pot lid and saw the contents, I wasn't for sure if I would like it. However, it smelled great and I am up to try just about any soup so I gave it a try.
I ate two bowls.
Ingredients
It is, without a doubt, one of the best soups I have ever eaten.  I mean, I do make a great Crock Pot Split Pea Soup with Ham and the Crock Pot Vegetable Beef Soup is a favorite but there was just something about the mix of flavors in this soup that made it beyond just good.
The ingredients are pretty straightforward. They are:
32 oz beef broth
4 cups water
1 lb ground sausage (browned)
2 tsp Italian seasoning
¼ cup spinach fresh or frozen (chopped into small pieces)
16 oz sauerkraut jarred
1 tsp chopped garlic
16 oz frozen sausage tortellini
The sausage
I recommend using an Italian ground sausage for this recipe. You will also need to fry it up ahead of time until there is no more pink in the middle. It will take about 15-20 minutes, on medium-medium high heat.
After that, the ingredients just need to be put into the crock pot to cook all day. Got to love easy, right?!?
What about the tortellini?
Good question. The tortellini needs to be a sausage tortellini. Personally, we always use Mona's tortellini and I HIGHLY recommend it if you can find it.
If you can't find it at your local store, then another brand will certainly work but Mona's is a local favorite that is sold across the country and, well, we are pretty loyal here.
What is sauerkraut anyway?
Well, it is a fermented food, made from cabbage. It has been made for many years, like for a LONG time and it high in vitamins. Sauerkraut is extremely good for you and is a great probiotic. (Great for your gut.)
It does have a very strong flavor so eating it may not be a favorite amongst some people.
This soup helps with that though.
The flavor of the sauerkraut compliments all the spices so well. It really does.
Can I make it on the stovetop?
Yes, you can. I haven't so I don't have exact times for you, but if you do and want to share your experience, I would love to hear about it!
Storage
If you have leftovers, cool completely, then place in an airtight container and put it in the fridge. It will keep for three days.
Pin for later!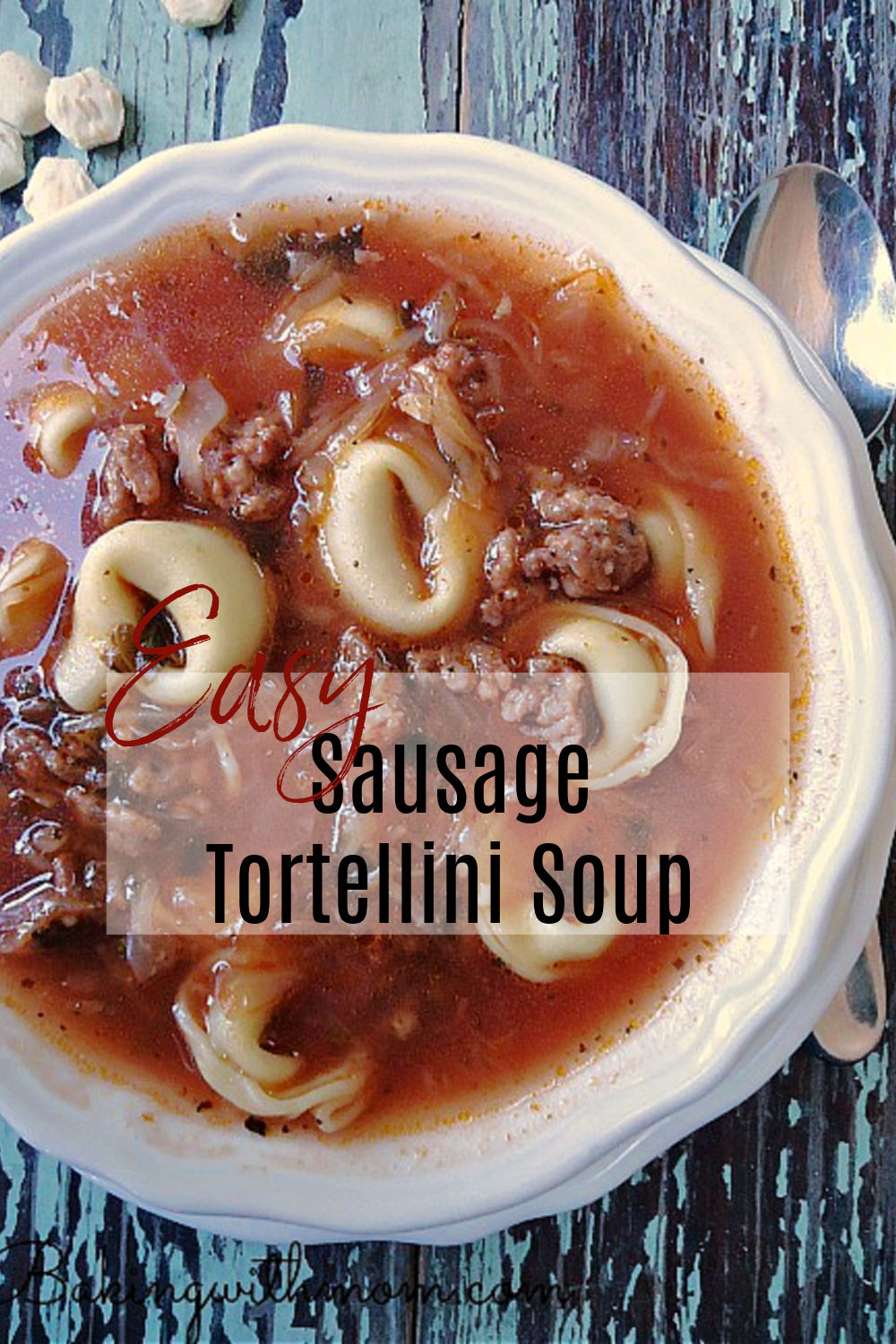 📖 Recipe
Spicy Tortellini And Sausage Soup
This spicy tortellini and sausage soup with blend of ingredients, including sauerkraut is a delightful soup with just enough spice.
Ingredients
32

oz

beef broth

4

cups

water

1

lb

ground sausage

(browned)

2

teaspoon

Italian seasoning

¼

cup

spinach

fresh or frozen (chopped into small pieces)

16

oz

sauerkraut

jarred

1

teaspoon

chopped garlic

16

oz

frozen sausage tortellini
Instructions
Brown sausage until no longer pink

Put all ingredients except tortellini in crock pot

Cook on high for 5 hours or low for 6-7

About 30 minutes before serving, add tortellini

Serve with bread or crackers
Nutrition
Calories:
296
kcal
|
Carbohydrates:
22
g
|
Protein:
15
g
|
Fat:
16
g
|
Saturated Fat:
5
g
|
Polyunsaturated Fat:
2
g
|
Monounsaturated Fat:
5
g
|
Trans Fat:
1
g
|
Cholesterol:
50
mg
|
Sodium:
1128
mg
|
Potassium:
249
mg
|
Fiber:
3
g
|
Sugar:
2
g
|
Vitamin A:
119
IU
|
Vitamin C:
7
mg
|
Calcium:
98
mg
|
Iron:
3
mg
Like sausage? Try: