Simply delicious Strawberry Filled Butterhorn Danish is filled with strawberry jelly and topped with an easy frosting. Make this breakfast recipe for your family, a brunch or anytime!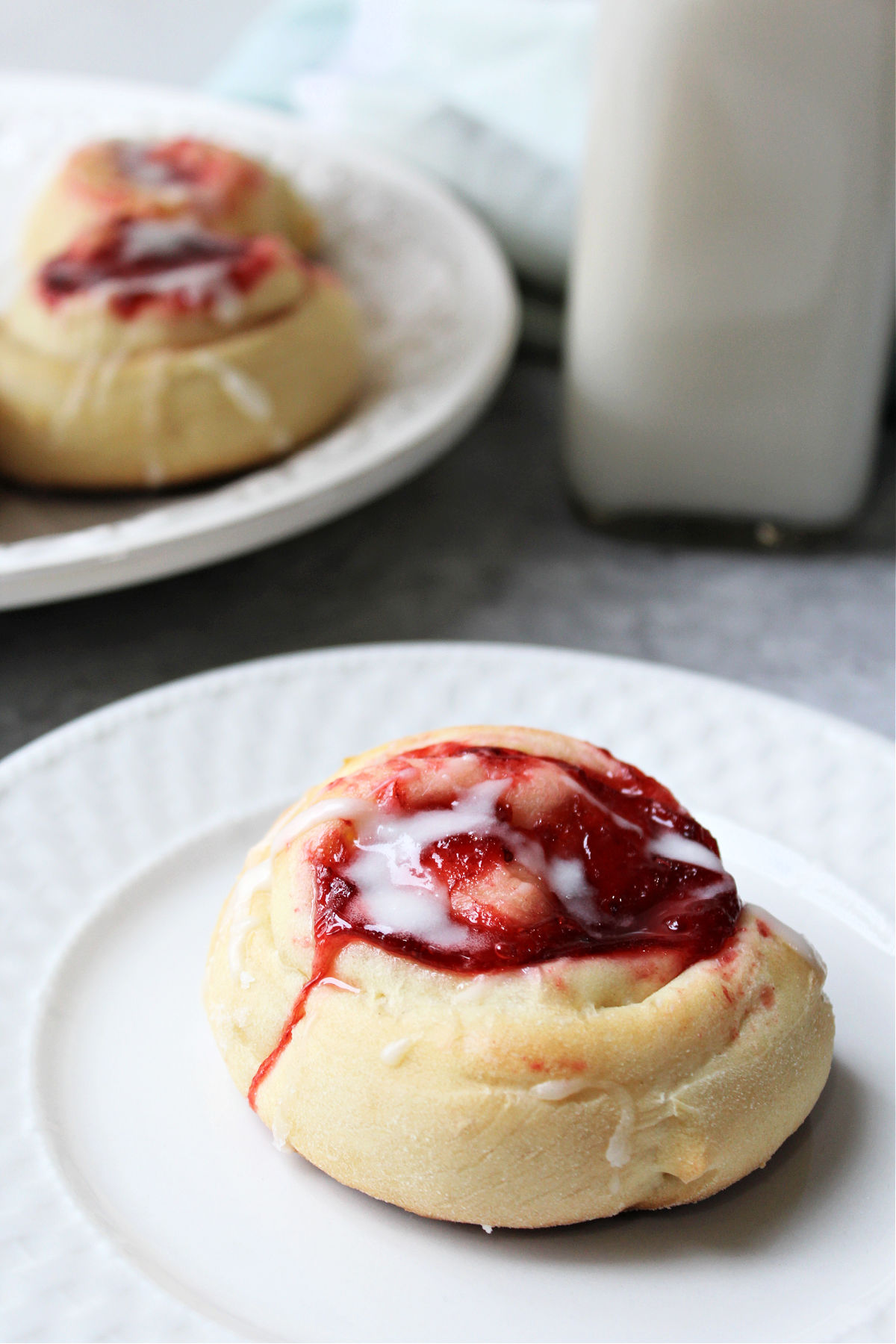 This breakfast recipe came from a favorite around here, the Butterhorns. The butterhorn dough is a dream to work with. I find this dough soft, easy to roll out and when they are baked, they are a little bit of bread goodness.
Strawberry Filled Butterhorn Danish is the supper butterhorn mixed with breakfast flavors. Sweet strawberry jelly and a light frosting drizzle is the perfect addition to this already amazing recipe.
Ingredients
water
butter
eggs
milk
sugar
salt
flour
yeast
strawberry jelly
powdered sugar
The ingredients are basic and you likely have them already on hand. The butter can be margarine. I actually use margarine instead of butter and it works just fine.
Bread machine verses stand mixer
This bread recipe can be made in a bread machine or a stand mixer. Good old fashioned elbow grease can be used as well!
Bread machine: This is the easiest way to make these strawberry butterhorns.
With bread machines, the ingredients are layered in a certain order in the mixer, then you push the appropriate button. (In this case, the dough setting.) The bread machine mixes the dough and lets it rise.
It could not be any easier. Your only job is to let the machine do the work, then take the dough out of the machine and roll it out. Basically, add ingredients and walk away.
*Note*
I love my bread machine and was without one for a few years when my last one broke. I use it all the time to make recipes like pizza dough and cinnamon rolls.
Stand mixer: The stand mixer is easy as well, but it does require more work from you. The ingredients will still be added in a certain order in the bowl, but you will need to monitor the mixing and rising of the dough.
The stand mixer method will require the dough to be risen twice, verses the bread machine taking care of that for you.
What type of yeast to use
There are two main type of baking yeast: rapid rise yeast and active dry yeast. For this recipe, the best type would be the active dry yeast. I also recommended that you store the yeast in the refrigerator for best results.
How to make Strawberry Filled Butterhorn Danish
To start this recipe, the ingredients simply get added to the mixing bowl or bread machine bowl.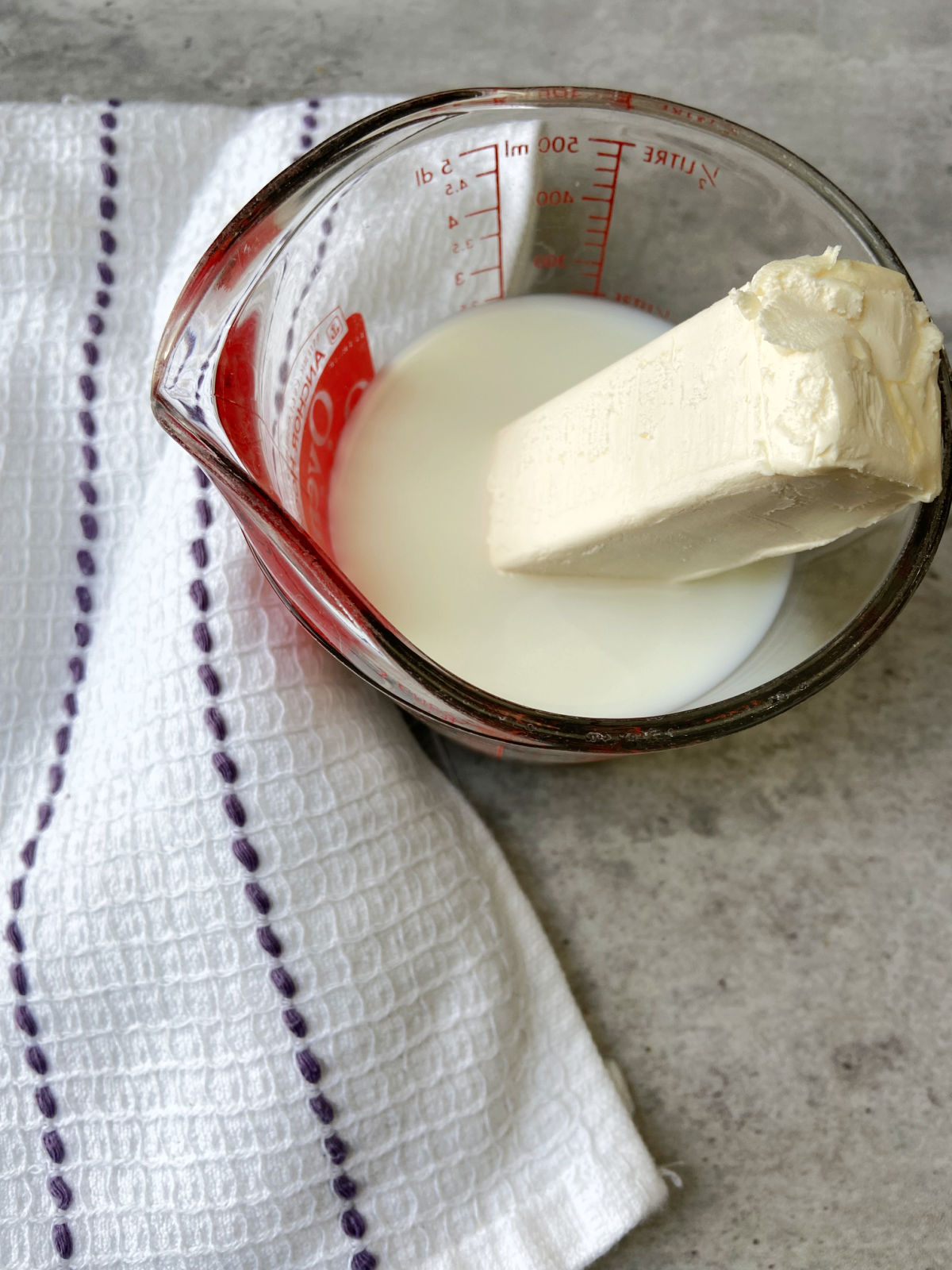 The butter needs to be melted and the milk and water heated up. To this and save time, I simply put the water, milk and butter together to heat up.
Works perfectly. In my microwave, I heat the mixture up for 48 seconds to get the desired temperature (about 110 degrees). Microwave times may vary.
The butter isn't always melted perfectly, but that is okay. As long as the butter is soft, it will work.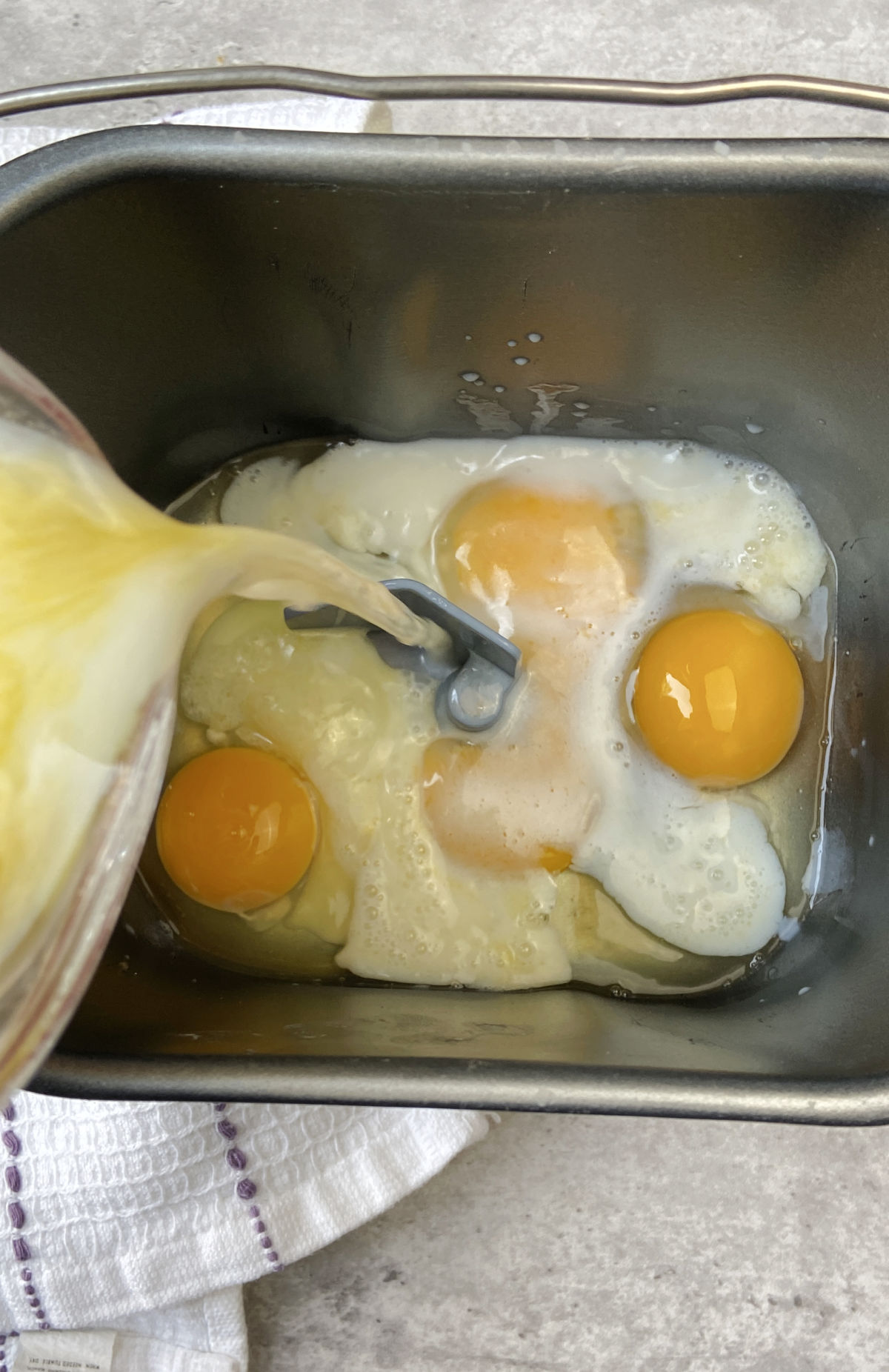 Next, the milk mixture can be poured in with the eggs and sugar.
Yeast should always be last
It is very important to note, the yeast should always be last, sitting on top of the flour. The yeast shouldn't get activated until it needs to.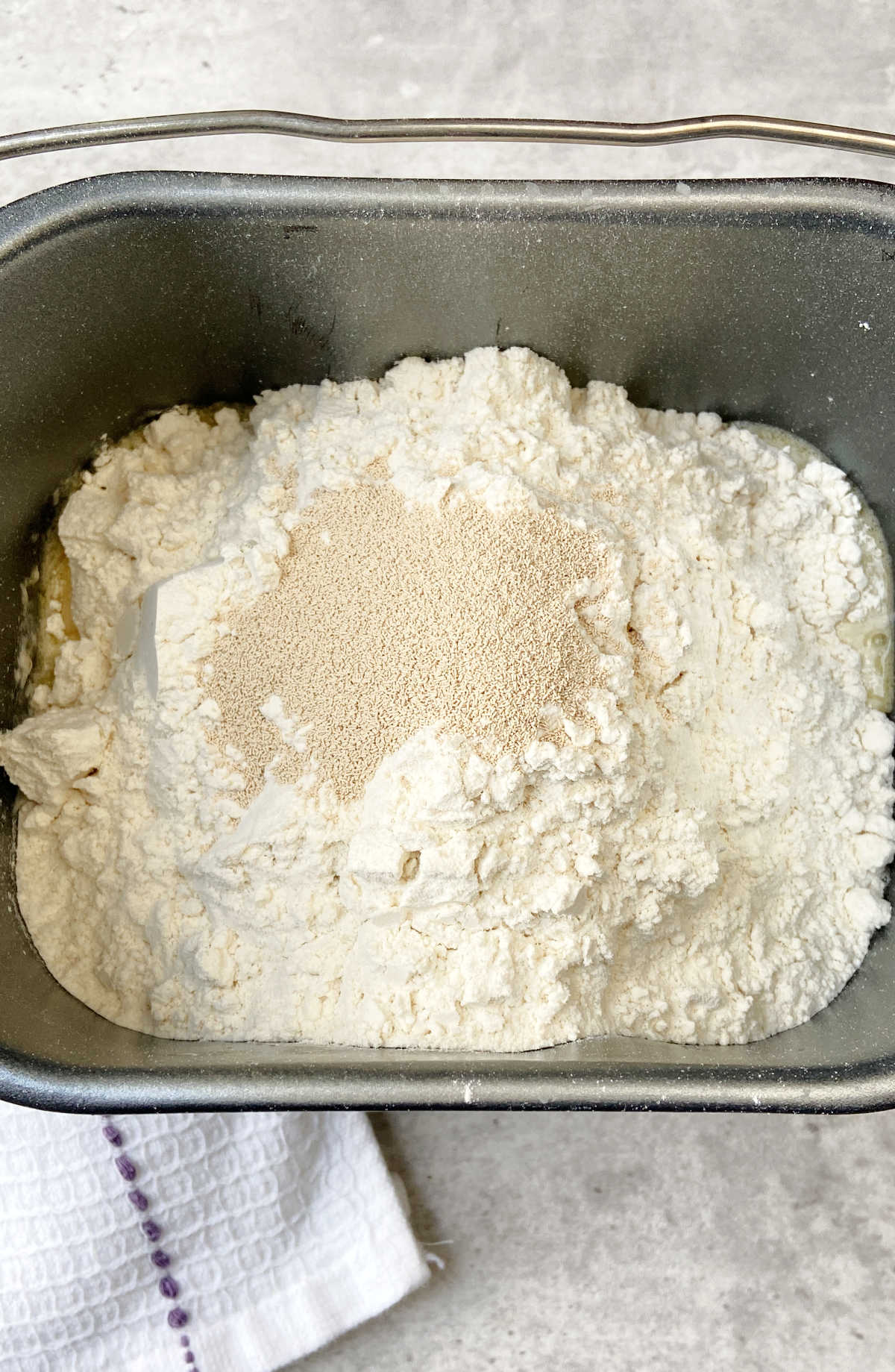 What type of flour should I use?
Oh, the flour.
Well, it really is a matter for debate and opinion.
Some say, only use bread flour. Some say all purpose flour can be used. I say: It's up to you.
My absolute FAVORITE flour is a mix I get at a local store called Special Unbleached King Midas flour. It makes rolls fluffy and light, cookies float and let's not even get into the cinnamon rolls. It is so good.
However, I use all purpose flour if I don't have this kind of flour and it works just fine. I have also used bread flour. It works great too. Use whatever flour works for you and have on hand.
Roll out the dough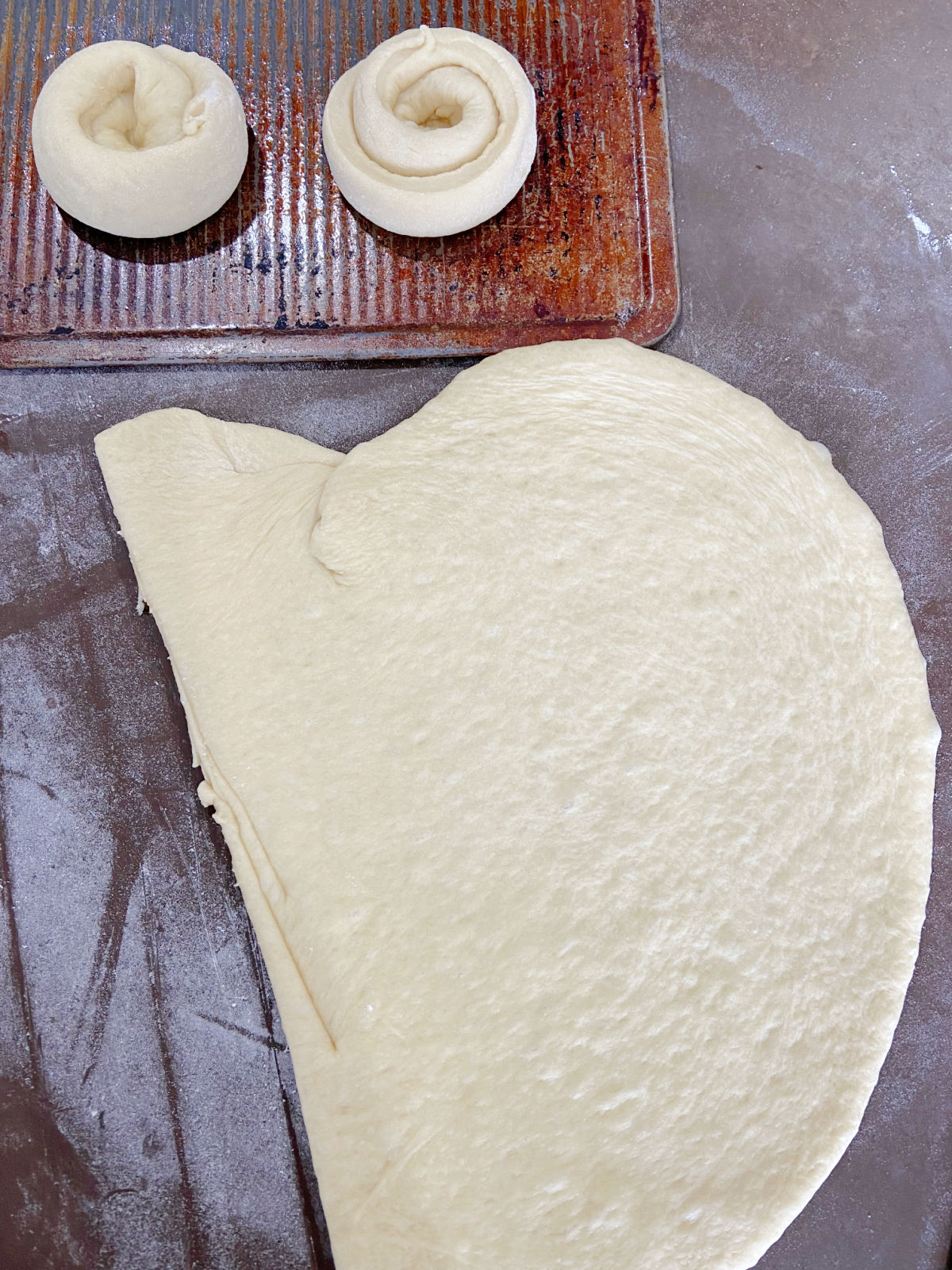 When the dough is done, it will be easier to handle if it is split into two even halves.
Then, roll the dough out into a circle (ish) shape.
Using a dough scraper, cut strips of the dough and roll them into a circle, starting with one end and rolling it up. Set the dough on a greased baking or cookie sheet.
The dough will need to have a "dent" in the middle, as pictured above. That is where the jelly will go.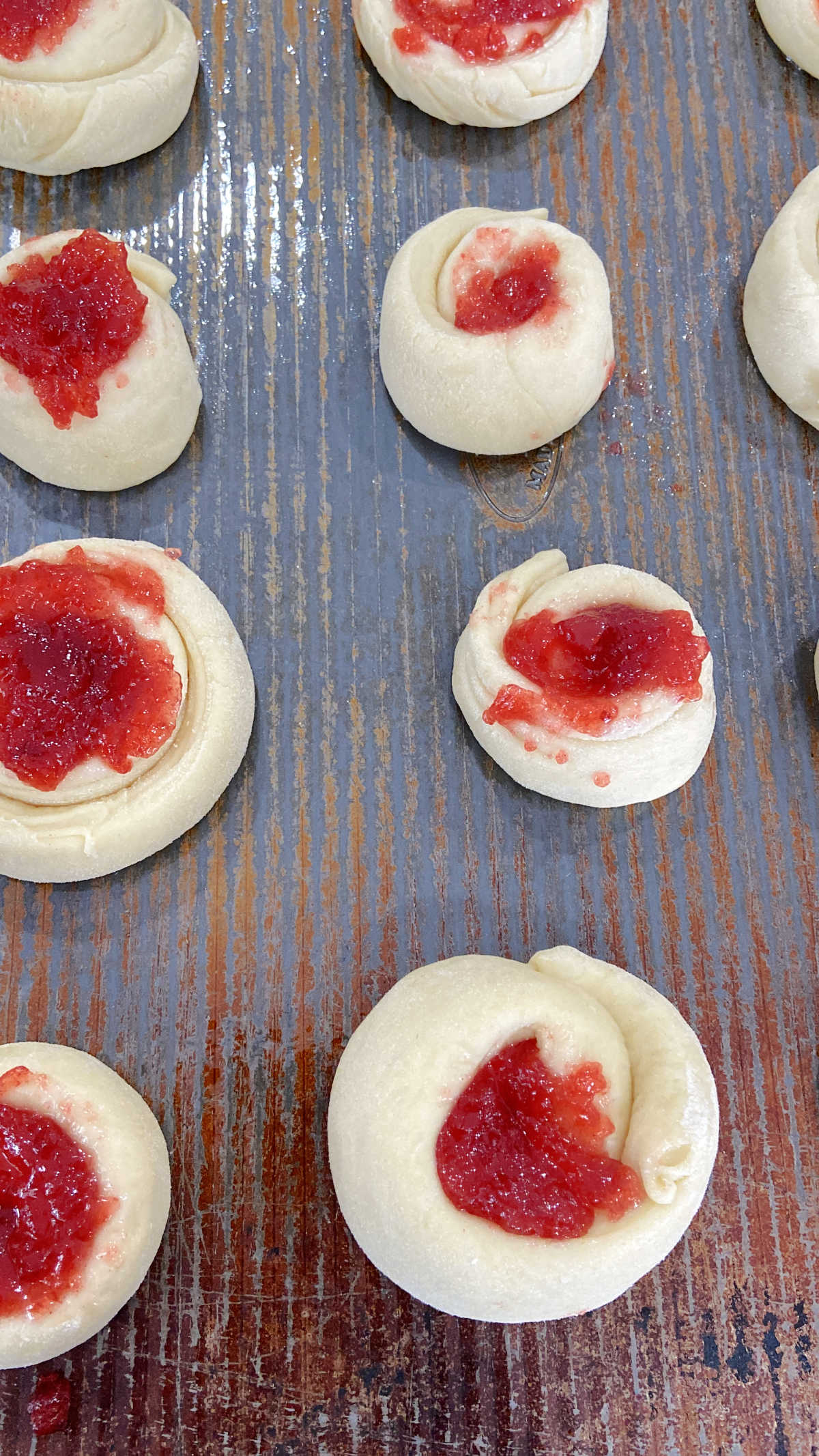 Fill the dough centers will strawberry jelly and then you will bake at 375* for 12-15 minutes until the dough is a light golden brown.
Frosting
The frosting is a simple recipe of butter, water and powder sugar and is completely optional. The strawberry filled butterhorn danish is delicious with or without the frosting. But really, the frosting is delicious.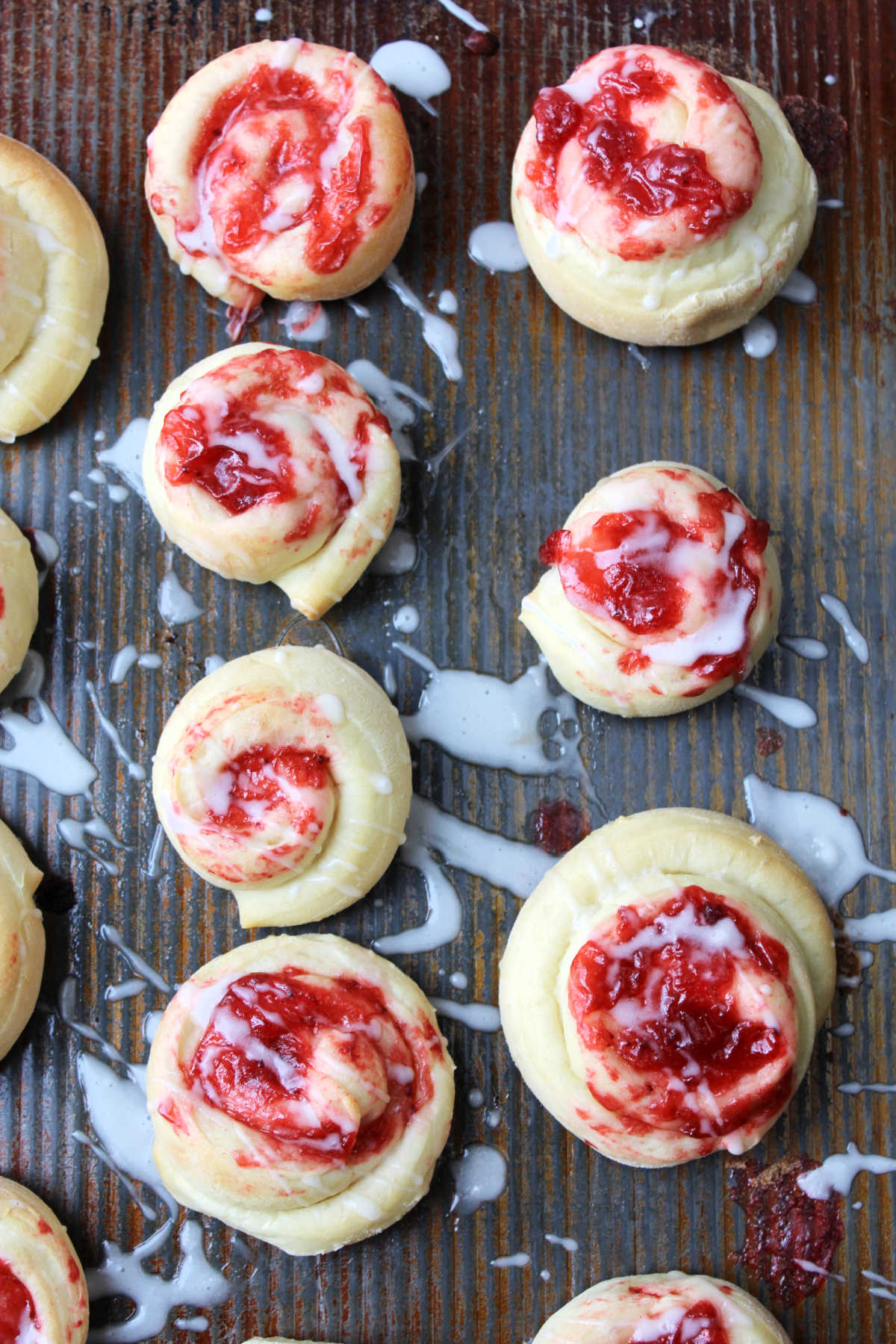 FAQ
Can I use a different jelly flavor?
Yes, you can! A cherry jelly would be delicious!
Can I use a whole wheat flour for this recipe?
I don't recommend it, as it would make the dough heavy.
Pin for later!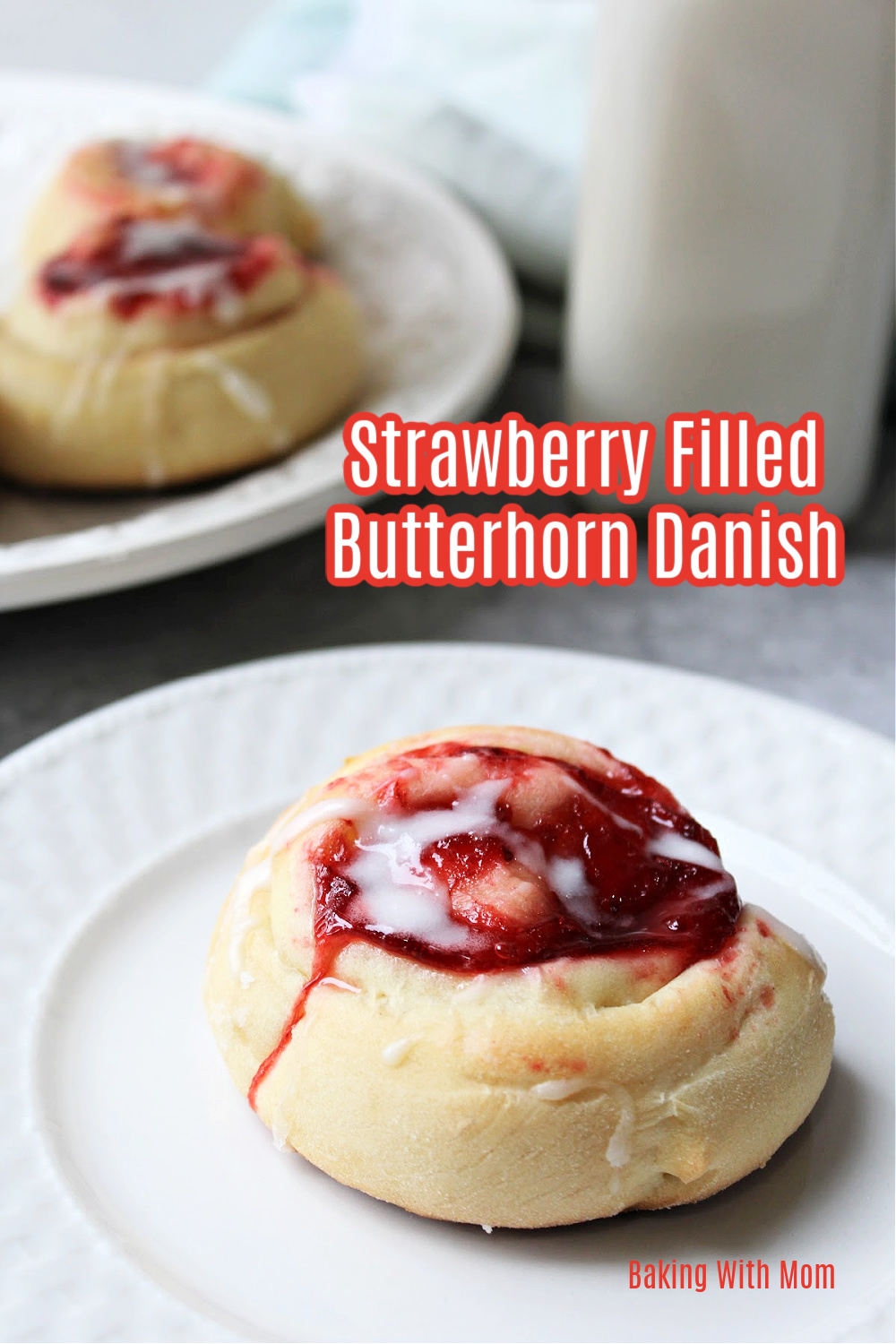 📖 Recipe
Strawberry Filled Butterhorn Danish
A soft and delicious breakfast or brunch recipe, this sweet strawberry butterhorn danish will be a perfect addition to your family meals!
Ingredients
⅙

cup

water

½

cup

butter

or margarine

3

eggs

1

cup

milk

½

cup

sugar

1

teaspoon

salt

4

cups

flour

all purpose or bread flour

1

tablespoon

active dry yeast

heaping
For Frosting
2

tablespoons

butter

melted (or margarine)

2

tablespoons

water

1

cup

powdered sugar
Instructions
Place water, milk and butter in microwaveable bowl and heat until 110° or for 48 seconds.

Add milk mixture to the bread machine bowl.

Add the rest of the ingredients to the milk mixture in the order listed.

Set the bread machine on the dough setting and start.

When dough is done, remove from bowl and divide in two. Roll out on a surface lightly covered in flour and cut the dough into strips about ½" - ¾" wide.

Roll up and place on greased cookie sheet. Put a "dent" in the middle of the dough roll.

Add a spoonful of jelly to the center of the danish.

Bake at 375° for 12-15 minutes or until dough starts to turn a golden brown and are cooked through.

Let cool for about 30 minutes.

Mix together water, melted butter and powdered sugar.

Drizzle frosting on top of butterhorn danish.
Notes
For Stand Mixer:
Add all ingredients as listed above in the order listed (not the filling or frosting ingredients!) to the bowl of the stand mixer. Using the kneading hook, turn the mixer on low. 
When ingredients are well blended, turn mixer on medium and let knead for 7 minutes.
When done, cover and let rise in a warm place for 1 hour or until double in size.
Turn out on a floured surface and roll out as listed above.
Before baking, let the rolls rise for another 30 minutes in a warm place, covered.
Bake
Continue as listed above. 
Nutrition
Calories:
223
kcal
|
Carbohydrates:
37
g
|
Protein:
4
g
|
Fat:
7
g
|
Saturated Fat:
4
g
|
Polyunsaturated Fat:
0.4
g
|
Monounsaturated Fat:
2
g
|
Trans Fat:
0.2
g
|
Cholesterol:
40
mg
|
Sodium:
179
mg
|
Potassium:
65
mg
|
Fiber:
1
g
|
Sugar:
16
g
|
Vitamin A:
236
IU
|
Vitamin C:
1
mg
|
Calcium:
26
mg
|
Iron:
1
mg