4 ingredients is all it takes to put this easy Crock Pot Venison Roast together. Let it sit in the crock pot all day while you are away and come home to a warm meal. Are you concerned about the "game" taste of deer? Don't be. This venison roast recipe is loaded with flavor and none of it gamey.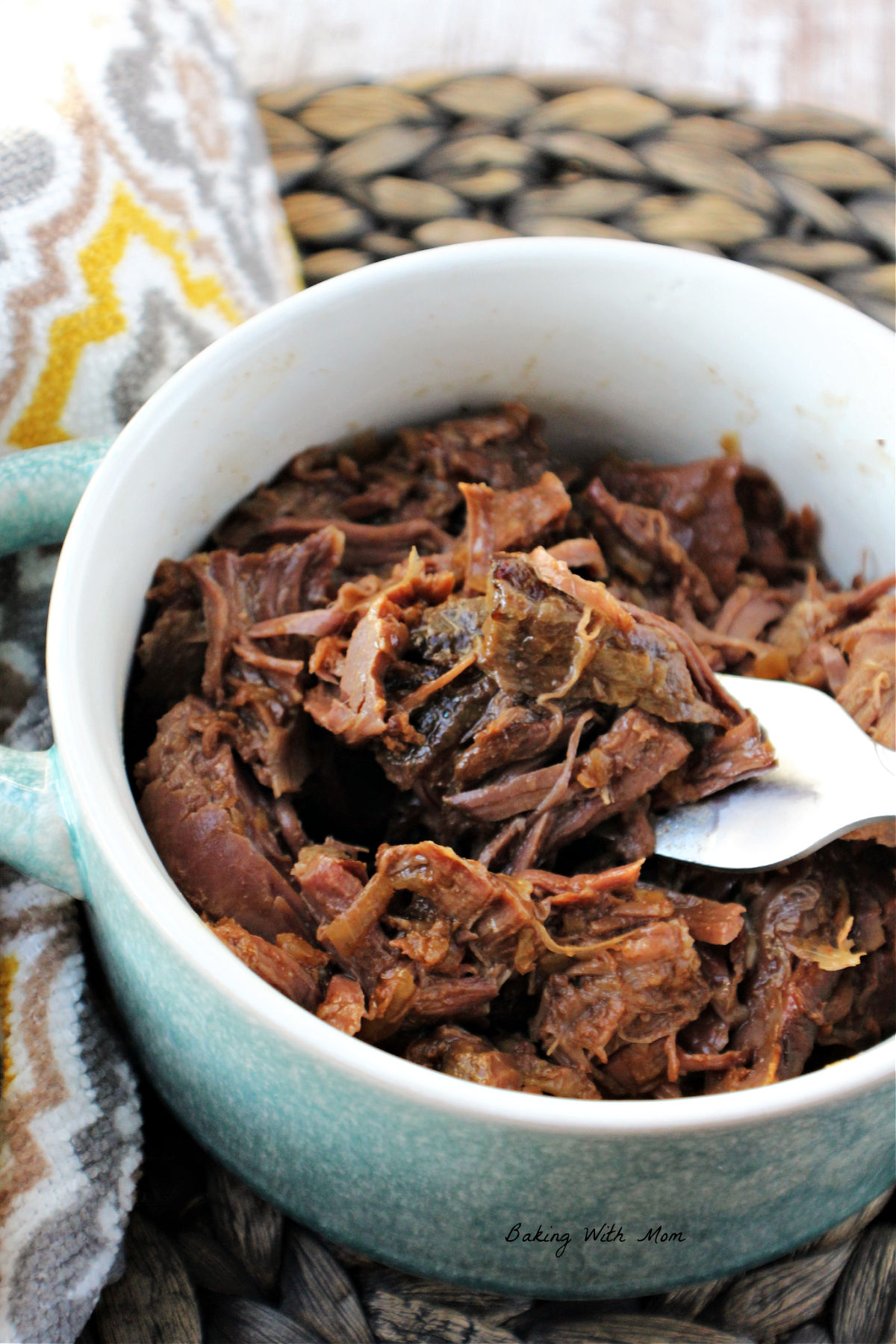 Do you have a hunter in your family? We do. Our third child, Cade is the hunter. Not quite sure where he picked it up from, as my husband doesn't hunt. But, he developed a passion for it so my hubby takes him out.
Now, in case you are stumbling upon this post because you are uneasy with the thought of deer hunting, let me assure you. If there wasn't a deer season, the deer would overpopulate and the insurance companies would be really happy.
Why?
Well, because the car accidents caused by the overpopulating deer would help keep the insurance companies in business. And if you are going to thin out the deer, you might as well eat them and not let them go to waste.
The venison problem
The problem most people run into with cooking deer meat is the game taste. A lot of people like that flavor, however, many people do not. The solution for many people is to ground the meat into hamburger (deer burger) and put it in venison chili or venison tacos.
The solution to reduce the gamey taste is to soak the meat in buttermilk or I have heard plain vinegar or salt water for a few hours.
The quick venison solution
The quick solution would be to use these four ingredients to make a delicious, mouth-watering venison roast. It couldn't be simpler and it will help the picky ones at your table give it a try.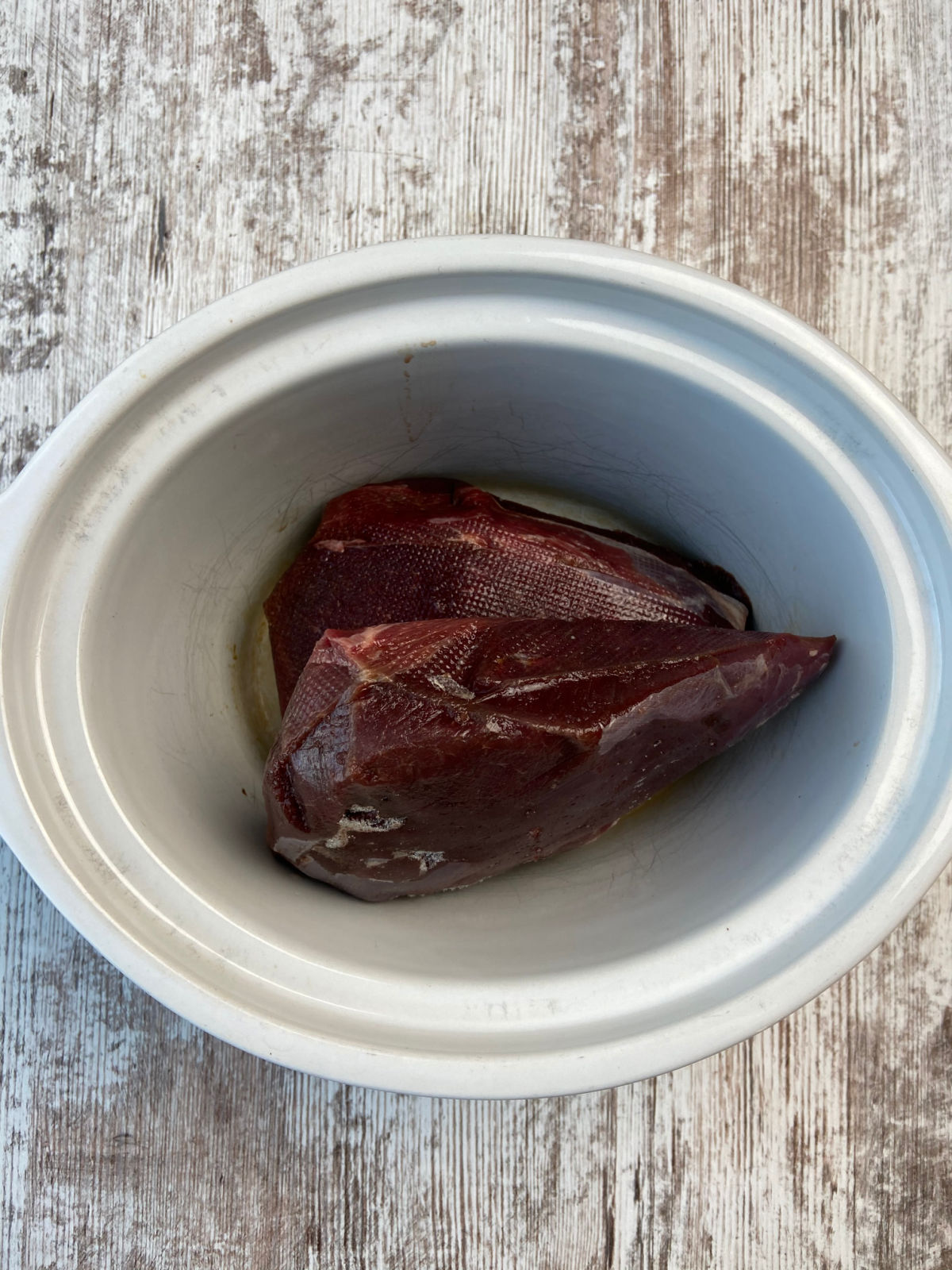 The process
All you need for this recipe is a venison roast, a packet of Lipton Onion Soup Mix, a packet of gravy mix and beef broth.
That's it. You add it all to the crock pot and put the crock pot on high heat for 5 hours or low for 7-8 for a 2-2.5 pound roast.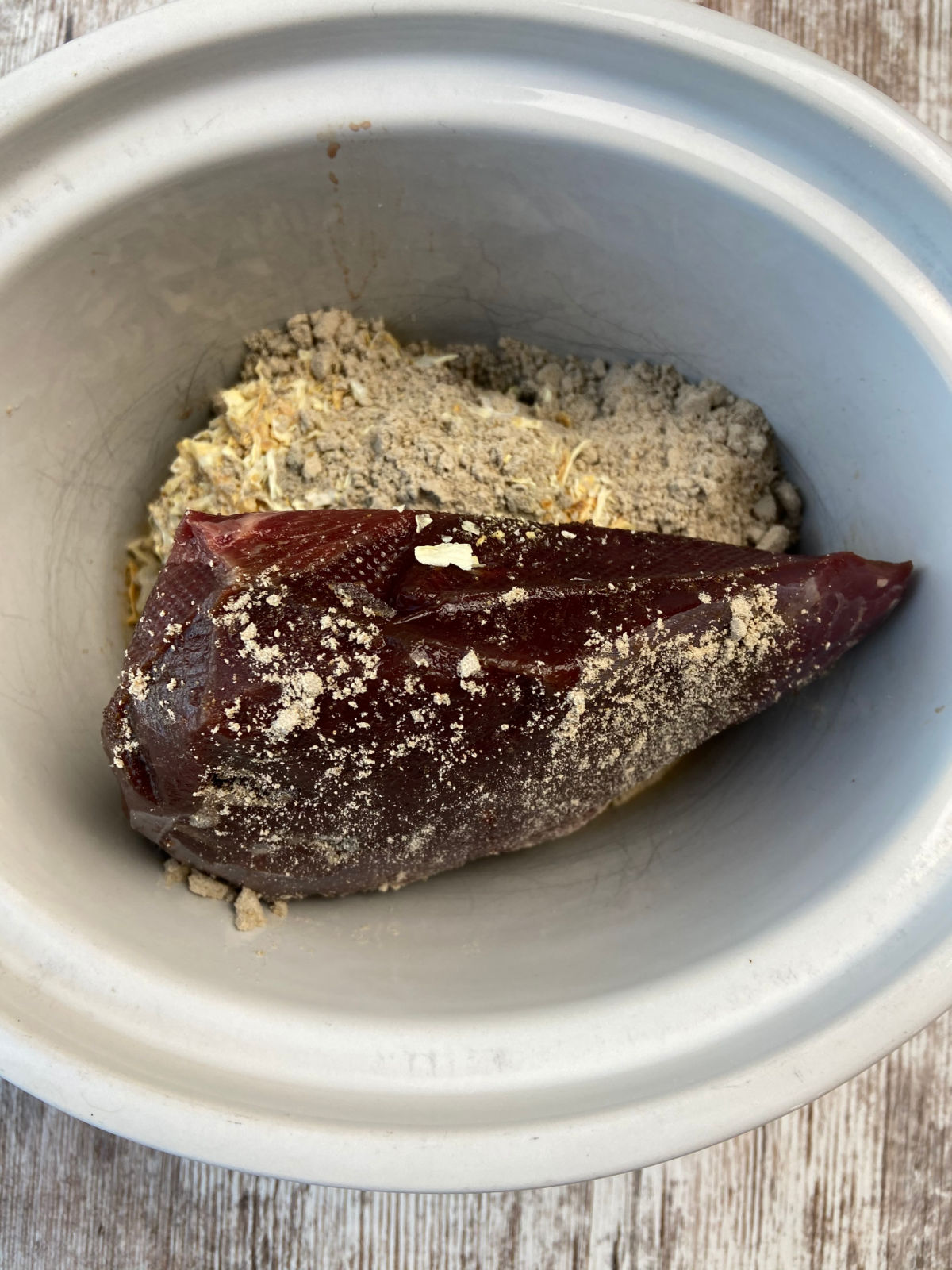 Tips
Let the roast cook whole and in one piece until about 1-2 hours before it is done. Then, shred the meat in the crock pot and let the meat soak up the juices and flavoring. If the meat isn't ready to shred yet, use a knife and cut the roast into chunks. The longer it cooks, the easier it will be to shred.
You can use a lower sodium gravy mix.
It may be needed to add additional broth while cooking. Deer meat is very lean so be watchful it doesn't dry out. Adding more broth if necessary will help that.
Store leftovers in an airtight container in the fridge for up to 48 hours.
Pin for later!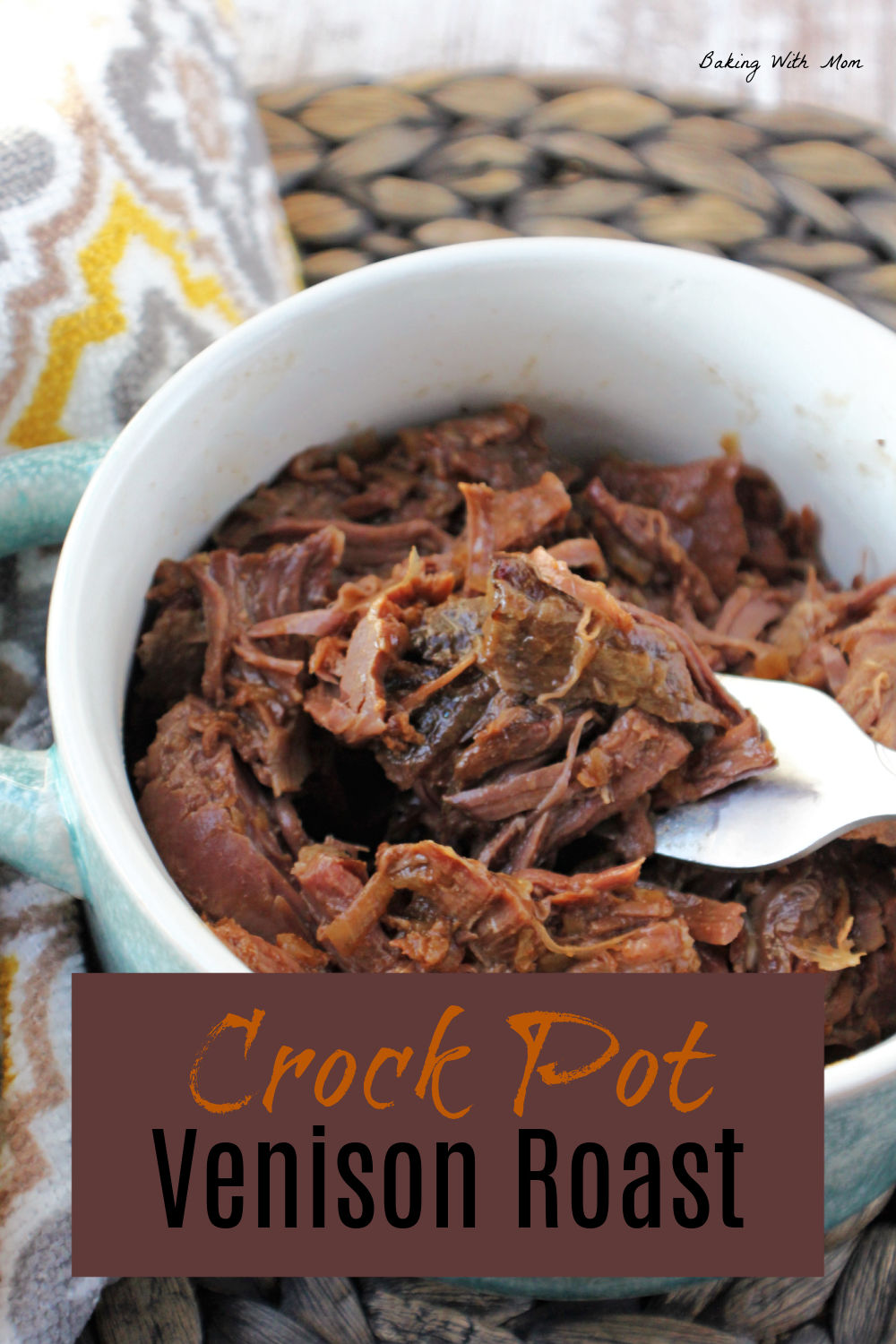 📖 Recipe
Crock Pot Venison Roast
Easy game roast with 4 ingredients. Tender and juicy, so simple to make!
Ingredients
2-2.5

lb

venison roast

1

cup

beef broth

.87

oz

dry gravy mix

1

pkg

Lipton Onion Soup Mix
Instructions
Place deer roast in a crock pot

Add roast, broth, onion soup mix and gravy packet on top of and around the roast

Cook in the crock pot for 5 hours on high or 6-7 on low. Meat is done when it falls apart easily or it reaches an internal temperature of at least 160*

Shred the meat 1-2 hours before serving (or cut into chunks) and finish the cooking process to help the inside of the meat get flavored

Shred completely and serve
Tip
You can add more beef broth if you feel the deer is drying out
Nutrition
Calories:
140
kcal
|
Carbohydrates:
1
g
|
Protein:
26
g
|
Fat:
3
g
|
Saturated Fat:
1
g
|
Cholesterol:
97
mg
|
Sodium:
194
mg
|
Potassium:
378
mg
|
Fiber:
1
g
|
Sugar:
1
g
|
Vitamin A:
1
IU
|
Vitamin C:
1
mg
|
Calcium:
8
mg
|
Iron:
4
mg
Need some delicious side dishes to go with this recipe? Try: