Peanut Butter Lush With Graham Cracker Crust is a dessert recipe that will have guests asking for more.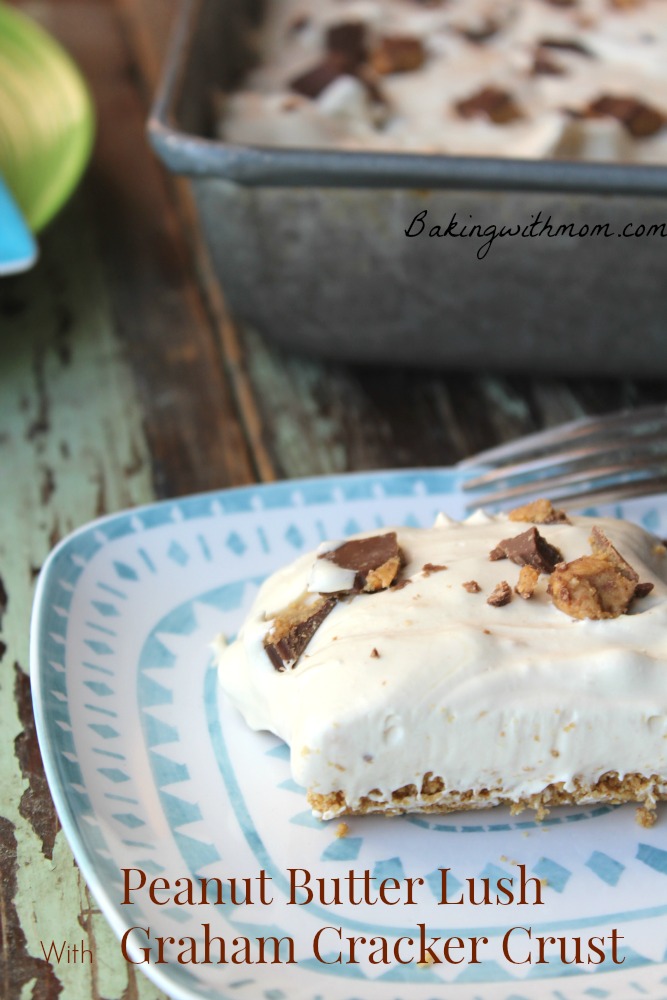 The men went to the Wild Beast Feast again so I made the Peanut Butter Lush dessert for them to take. It is the highlight of Cade's year. What is the Wild Beast Feast you ask? It is a men's fellowship at our church. Cade thinks it is the best thing in world because they put up stuffed animals such as deer or birds.
Cora loves it because we get a girl time while the boys are gone. Chick Fil A, Hobby Lobby and Kohl's: winning combination.
I signed up to bring a dessert and a vegetable to the feast and I was trying to figure out what to make. The vegetable was easy, because in honor of Cade, I threw frozen corn in a crock pot. (Corn is his favorite.)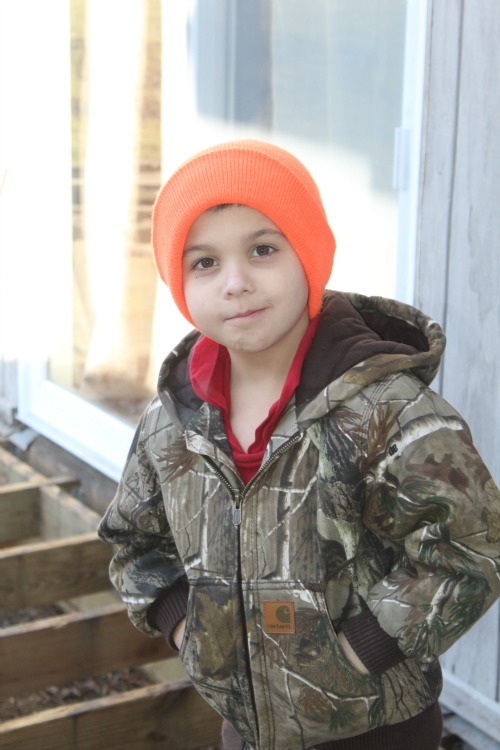 Helping his dad on our deck. Dressed for the feast already!
The peanut butter lush came about as I enjoy trying new recipes. Sometimes that isn't a good idea when I need to take the dessert places and it doesn't work out. So, I do (most of the time) only try recipes that already have a winning combination, like peanut butter and cream cheese. Now you tell me: what can go wrong with peanut butter and cream cheese?
[Tweet "What can go wrong with peanut butter and cream cheese? Nothing. This recipe is proof."]
Nada, I say.
Of course, I can't dismiss the graham cracker crust. It adds such a great flavor to the whole recipe. Every ingredient blended perfectly. The only problem? I could only taste what was left in the bowl, not an actual piece.
Oh well. I guess I get to make it again. :-)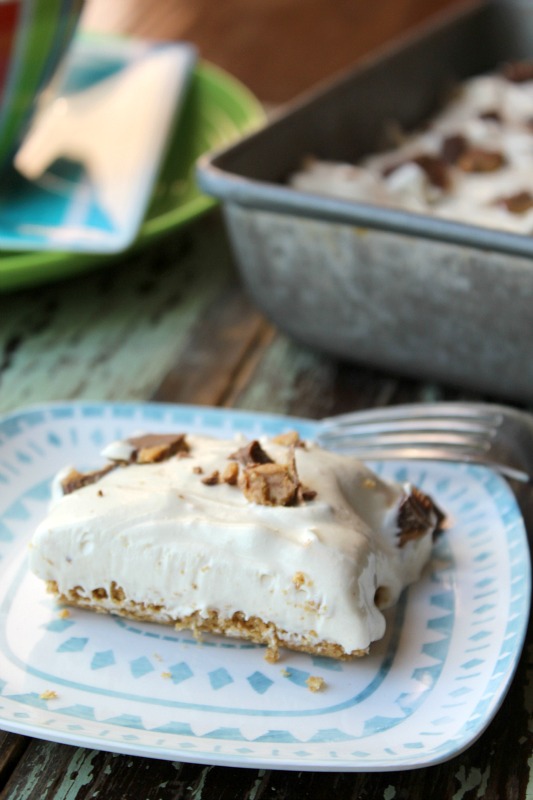 It is a lot like the popular Lemon Lush if you have ever had that before. You can freeze this recipe so the dessert is a firmer texture or you can simply refrigerate it. Either way, it will be enjoyed!
📖 Recipe
Peanut Butter Lush With Graham Cracker Crust
Peanut Butter Lush is a dessert with a light texture and creamy filling.
Ingredients
½

cup

butter

, melted

½

cup

brown sugar

8

oz

cream cheese

, softened

2 ½

cups

powdered sugar

1

cup

milk

¾

cup

peanut butter

Peanut Butter Cups

(for topping)

8

oz

whipped cream

2

pkg graham crackers
Instructions
Crush crackers (I use my food processor) until fine crumbs

Mix in the melted butter and brown sugar

Press firmly into a greased 9x13 pan and bake at 350* for 10 minutes

Beat cream cheese (I use my Kitchen Aid Mixer)

Mix in sugar and peanut butter

Add milk a little at a time while the mixer is running until all is incorporated

Fold in whipped cream

Pour over cooled crust

Sprinkled chopped peanut butter cups over top

Freeze for 4 hours or until firm or you can simply refrigerate

Cut and serve
 You may also like: