Snickers Cookie Dough Dip is a cookie dough lovers dream because it is eggless. Enjoy it with crackers, pretzels or with a spoon!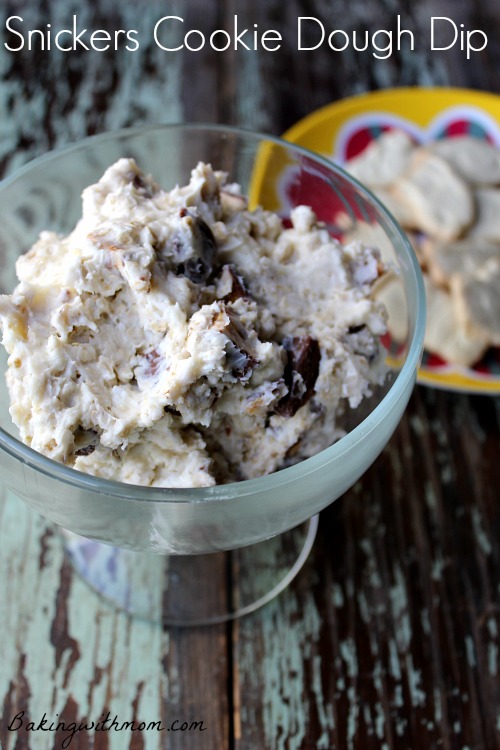 So I was kinda in a baking mood one day and this Snickers Cookie Dough Dip was the result of that mood. My husband really likes it when I get into a baking mood.
In fact, when he got home from work, I had him try some after dinner. However, I didn't want the children to see it. Yet. I was going to show them the dip, really I was. I just wanted to make sure my hubby had a fair shot at it. Kind of like the whole hiding ice cream philosophy.
Wouldn't you know, Ryan spied his dad and I eating something he didn't know about he let out some kind of call. Before you know it, the whole kid tribe was swarming around like vultures trying to eat some. After that night, I'm not sure I got any more. I think they wiped it out. They truly are like vultures when they see food they like.
Too bad they don't do that with peas.
No, but they sure swarm when there is cookie dough in the title. Who could blame them, I guess. 🙂
Do you like to eat cookie dough? I know everyone says not to eat it due to the raw eggs. Do you eat it anyway? I don't. (I'm not telling you to eat it either!) I am allergic to raw eggs so my cookie dough eating days have been over a long, long time ago. However, with this eggless Snickers Cookie Dough Dip, you can enjoy the flavor of cookie dough with out the eggs and the risk of illness.
It's a win-win, you know?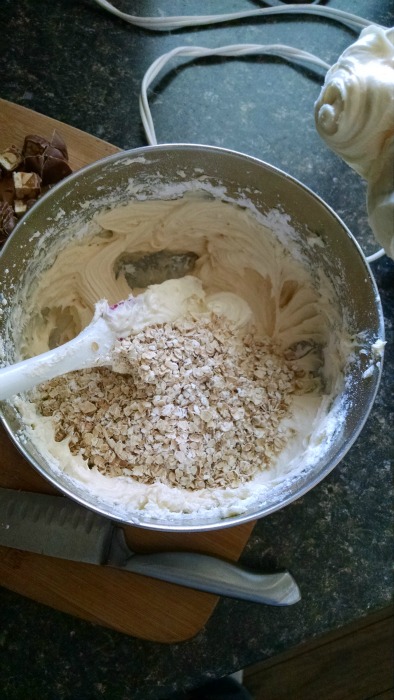 This dip is only a few ingredients and it is delicious to say the least. It is sweet yet not too sweet. It goes great with salty pretzels or animal crackers. I also think the oatmeal adds a nice "monster cookie" quality to the dip. Yes, you can eat it with a spoon. There is no shame in that. Really isn't.
[Tweet "Want cookie dough without the egg? Try Snickers cookie dough dip"]
To make this cookie dough dip, simply take cream cheese and butter and mix them until blended. Then add powdered sugar, vanilla and oatmeal.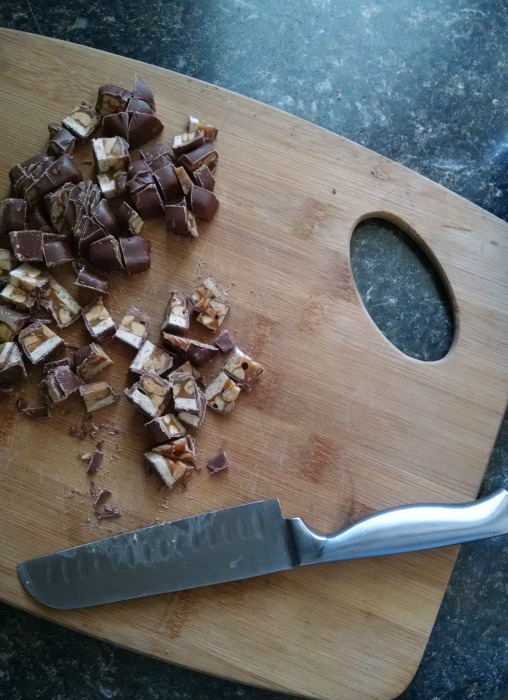 I then added in chopped Snickers bars. I used 7-8 fun sized bars. You can certainly use more or less.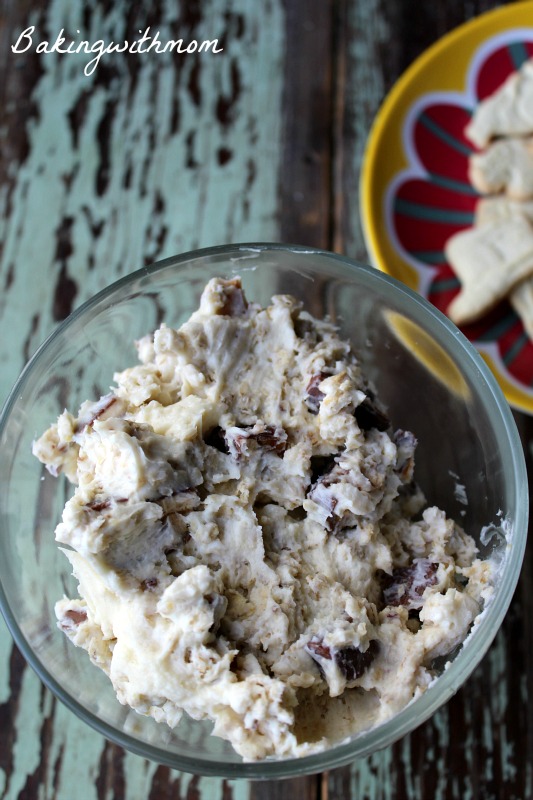 The result is a delicious dip that strongly resembles cookie dough. Without the egg. Yum.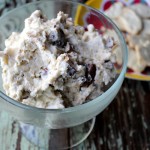 Snickers Cookie Dough Dip
Snickers Cookie Dough Dip is a delicious eggless treat your family can enjoy.
Ingredients
1 8

oz

cream cheese

(softened)

1/2

stick butter

(softened)

2

tsp

vanilla

2

cups

powdered sugar

1

cup

oatmeal

7-8

fun sized Snickers bars

, chopped
Instructions
Blend cream cheese and butter together in medium bowl

Blend in vanilla and powdered sugar

Stir in oatmeal

Fold in Snickers bars

Serve with animal crackers, pretzels or apples
Like this Snickers Cookie Dough Dip? Try: