Okay, this One Dish Chili Noodles was easy to make, only had to dirty one pan and fed my family of six with extra for lunches. A classic chili mac recipe!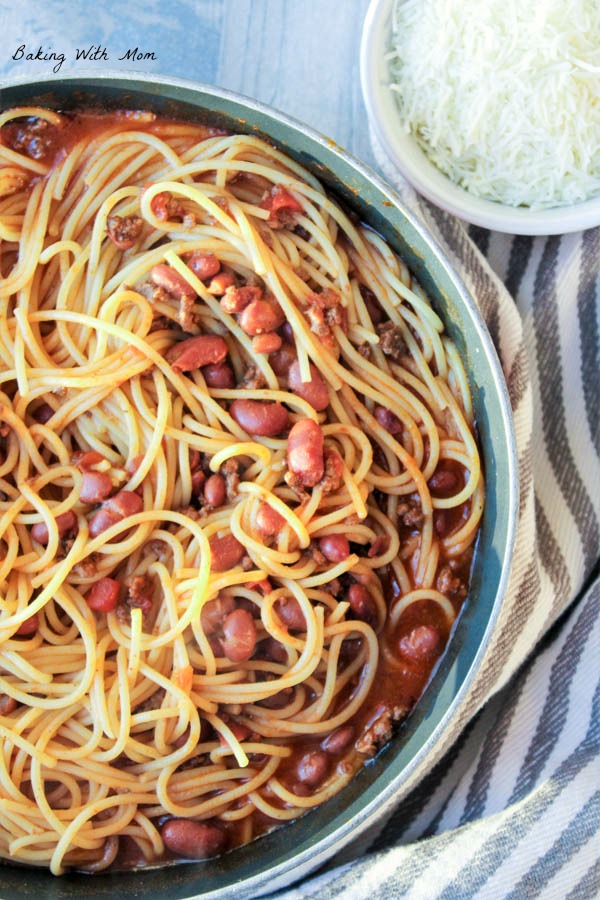 A quick and easy meal just what the mom needs after church or on busy weeknights. That is what makes this one pot chili noodles so great. That and the flavor, of course.
This is hands down one of my families favorite meals. To make it kind of sad, however, I didn't know that. I whipped this up the other day and three of the children and my husband said, "Oh, good! I love this meal!".
Who knew?
What is the difference between this recipe and chili mac?
The difference is the shape of the noodles if I am being honest. There isn't much to distinguish the two. We will eat chili mac which is kind of like this hamburger macaroni recipe but the spaghetti noodles make it heartier, I feel.
Honestly, the kids like the spaghetti noodles better.
What is Cincinnati Chili and is this it?
Cincinnati Chili is a staple in America but this is not it. It is close, but the Cincinnati Recipe as found here has cinnamon and chocolate in the sauce. This one pan chili noodles uses basic ingredients and is strictly a chili with noodles recipe. Nothing that fancy.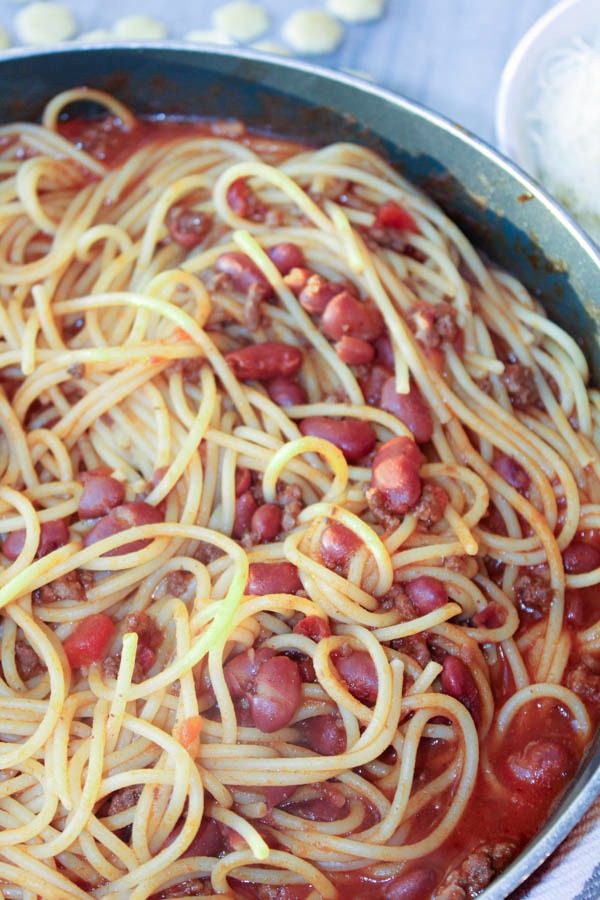 To make this easy one dish supper recipe, I used my favorite Rachael Ray frying pan with the deep sides. The hamburger is cooked first, or if you have already cooked hamburger in the freezer, use that!
Time Saving Tip: When you buy hamburger at the store, as you are putting the groceries away, fry up a couple of pounds of ground beef. You can put it in the freezer and you will save time for those busy nights!
After the hamburger is cooked, add the beef broth, chili beans and tomatoes. I also added about 1 cup of water. Let it boil for about 20 minutes then add the spaghetti. The spaghetti cooks right in the pan. Or, if you are crunched for time, cook the spaghetti separately in another pot and then add the cooked noodles to the hamburger/bean mixture. You would only have to cook the mixture another 5 minutes or so.
Can I use leftover chili?
Yes! In fact, that makes this recipe even easier! Just warm up your leftover chili in a pan like mentioned above. I would make the spaghetti noodles in a separate pot according to package directions. After the spaghetti is cooked, transfer the noodles over to the chili pot and cook for 5 minutes or so. So easy!
What you end up with is a supper everyone enjoys with leftovers for lunches. Pair it with Strawberry Lettuce Salad and some Homemade Oatmead Bread and you have yourself a meal. Of course, feel free to have a dessert as well. ;-)
📖 Recipe
One Dish Chili Noodles
One Dish Chili Noodles is loaded with hamburger, chili beans, tomatoes and spices to make your supper quick and delicious. Have leftover chili? Use those leftovers for another meal!
Ingredients
1½

lbs

hamburger

14.5

oz

beef broth

1

cup

water

15.5

oz

chili beans

10

oz

diced tomatoes with chili's

1

lb

spaghetti noodles
Instructions
Cook hamburger with salt and pepper to taste until browned in a large frying pan with deep sides

Drain if needed

On medium heat, add beef broth, 1 cup water, chili beans and tomatoes

Cook for 20 minutes, stirring occasionally

Add spaghetti noodles (I broke the noodles in half) *See below

Cook until noodles are done, 7-10 minutes (stirring occasionally)

Serve. Top with shredded mozzarella cheese and serve with crackers, if desired

*If not enough water in the pan to cover the noodles, add more water. The top of the noodles only have to be slightly covered.

If you have leftover chili in your fridge, use it instead! I would cook the noodles according to package directions in a separate pot, then transfer the noodles over to the pan listed above. Cook for 10 minutes longer
Nutrition
Calories:
391
kcal
|
Carbohydrates:
42
g
|
Protein:
20
g
|
Fat:
15
g
|
Saturated Fat:
5
g
|
Cholesterol:
48
mg
|
Sodium:
524
mg
|
Potassium:
558
mg
|
Fiber:
4
g
|
Sugar:
4
g
|
Vitamin A:
38
IU
|
Vitamin C:
3
mg
|
Calcium:
47
mg
|
Iron:
3
mg