This Strawberry Pie is a springtime favorite dessert the whole family enjoys. Using fresh strawberries, this dessert is one of my most requested. The no roll pie crust is simple to make too! Sweet strawberry gelatin mixes with ripe strawberries for a tasty fresh pie.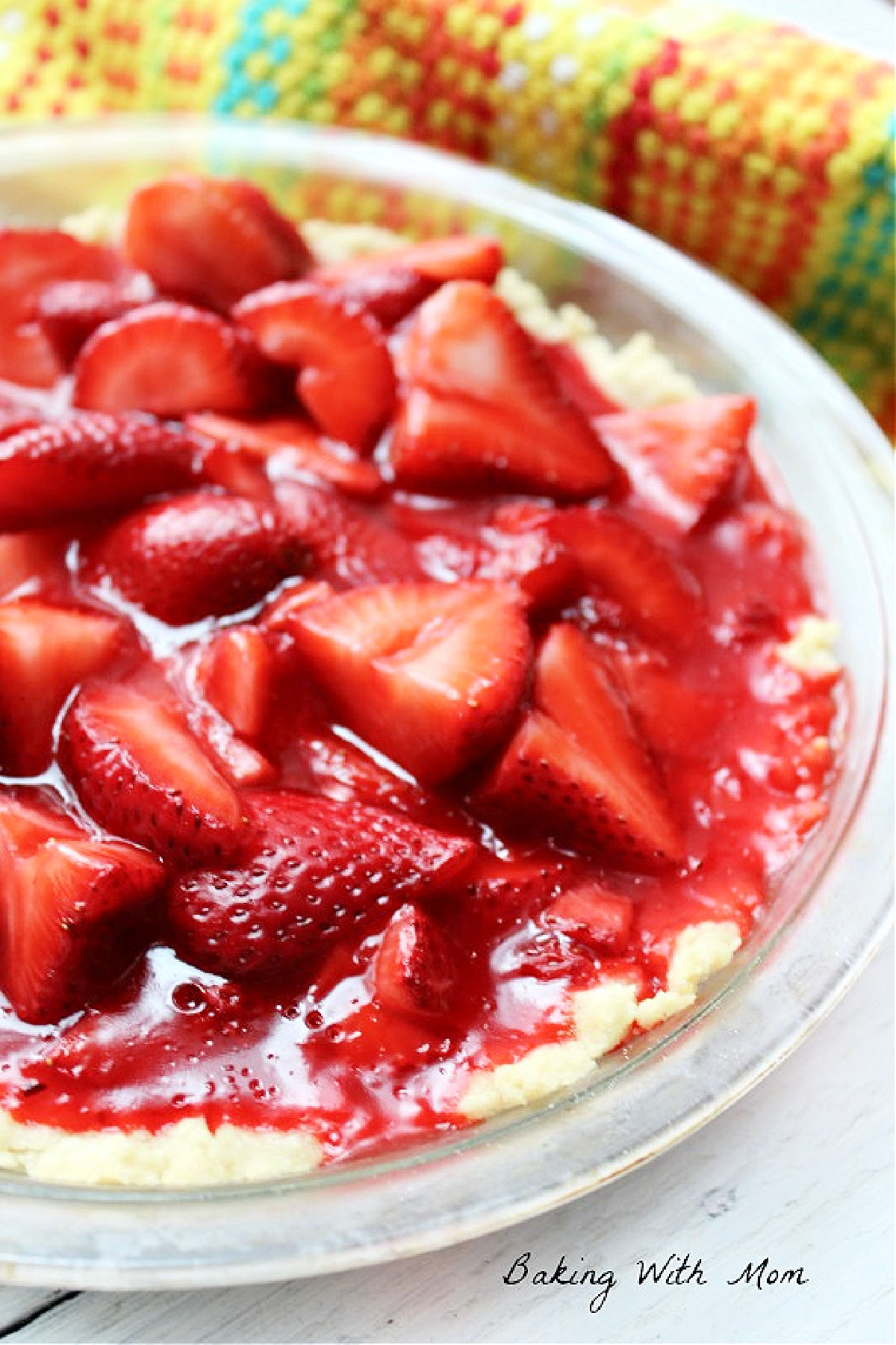 Yes, I know. I'm going to guess, and correct me if I am wrong, you want to reach through the computer and take a piece of this strawberry pie. I do. And I had a piece yesterday. Maybe a little more than a piece.
Strawberry pie is something I never had until my adulthood when our sweet neighbor made us this pie. It's a keeper for sure. Sweet strawberries on a very easy to make no roll pie crust will have everyone wanting seconds.
Jump to:
Ingredients
water
sugar - regular granulated sugar
cornstarch - to thicken the strawberry mixture
strawberry Jell-O - can use wild strawberry
strawberries - fresh strawberries
flour - for the crust
sugar - for the crust
salt - for the crust
oil - for the crust
milk - for the crust
How to make the no roll pie crust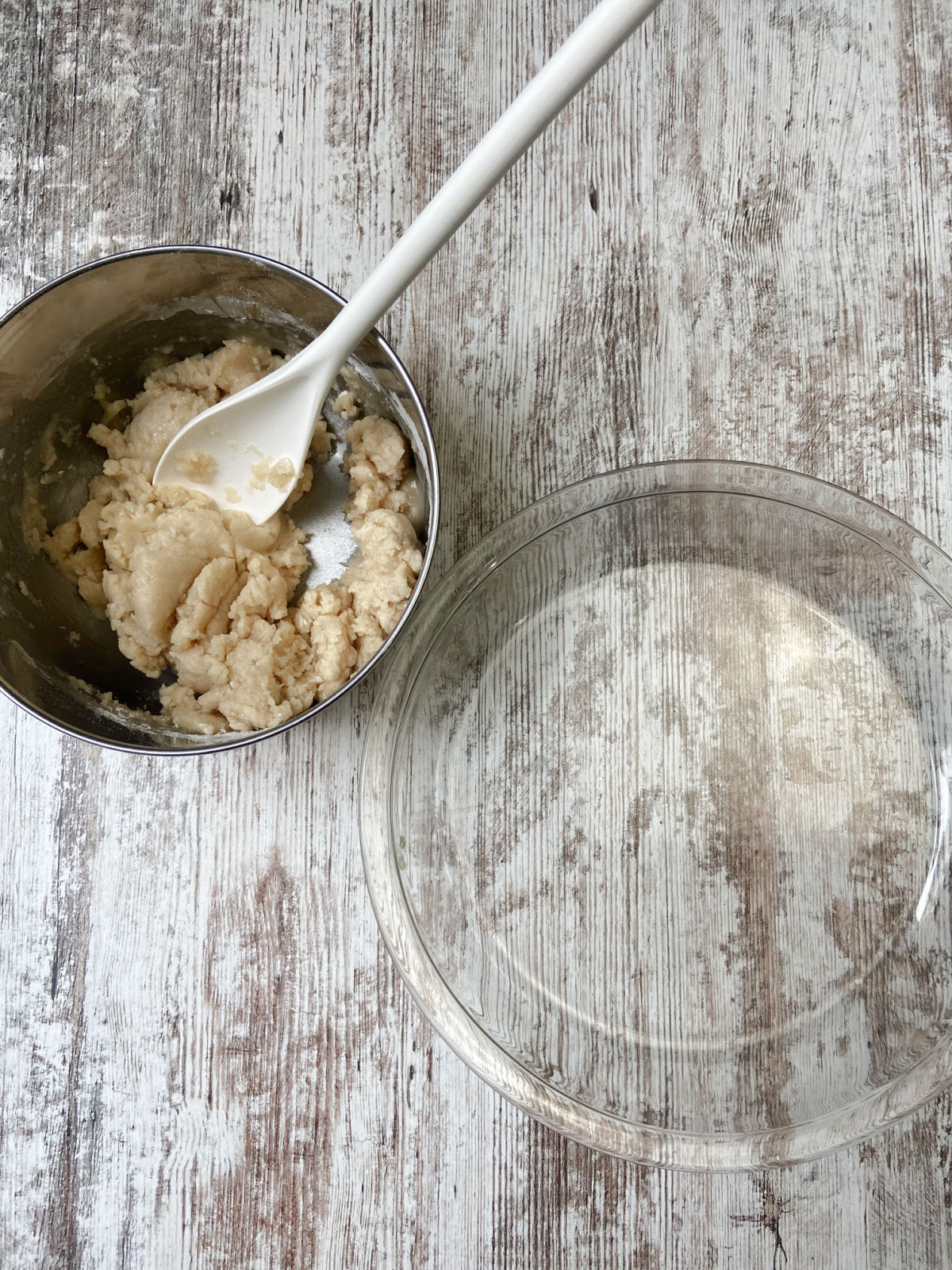 The crust is very simple to make. I have also used this crust in French Silk Pie. Simply add all ingredients to a medium bowl and mix well. It will be easy to pat into a 9 inch pie pan. The pan does not need to be greased. The oil in the crust will keep it from sticking.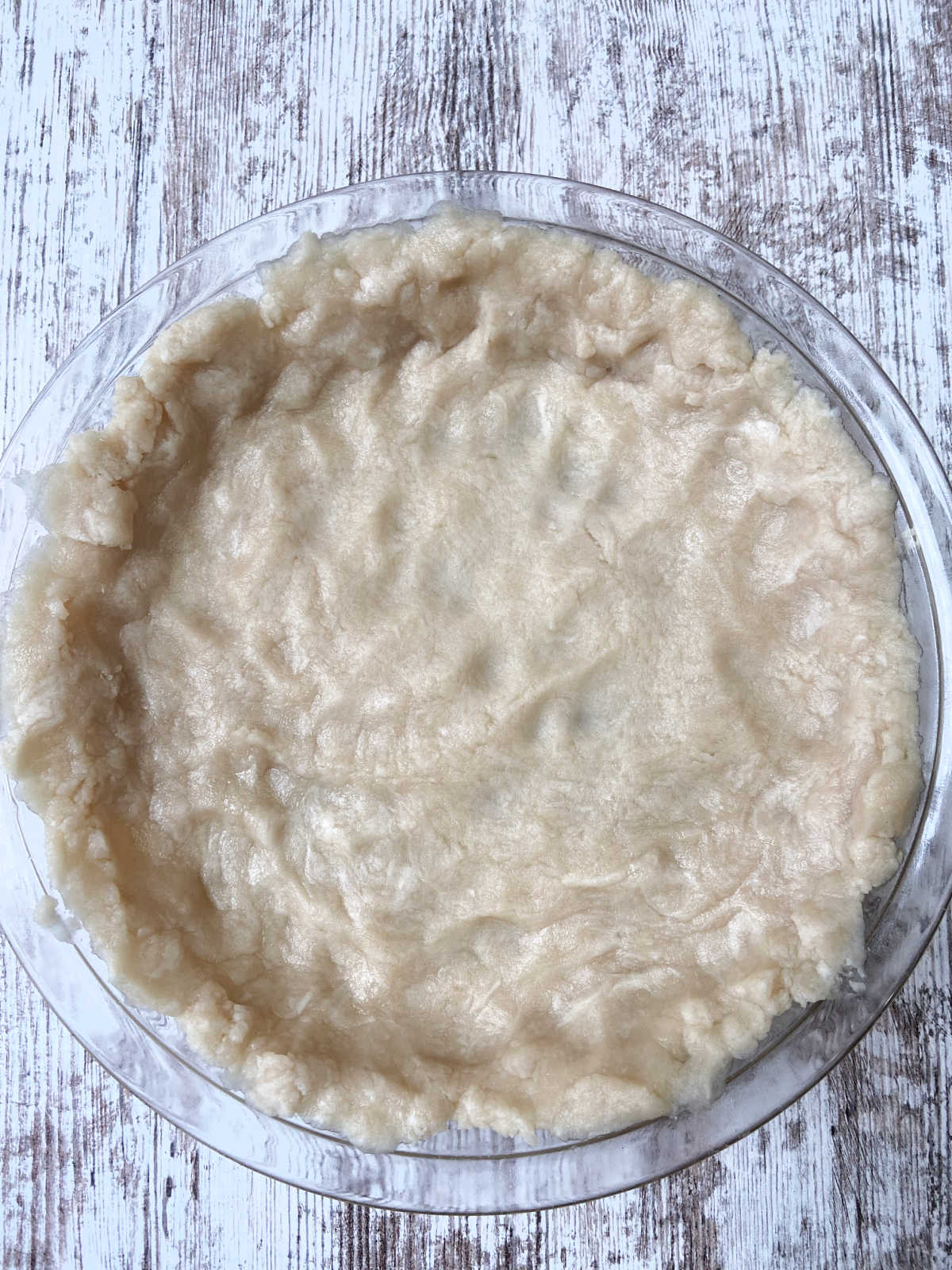 The crust will need to be baked at 400 degrees for 10 minutes or until starting to turn light brown. Then set aside the crust.
Strawberry pie filling
The strawberry pie filling starts with the water, sugar and cornstarch. Those ingredients need to be cooked together in a large saucepan. The mixture will start to thicken and turn clear.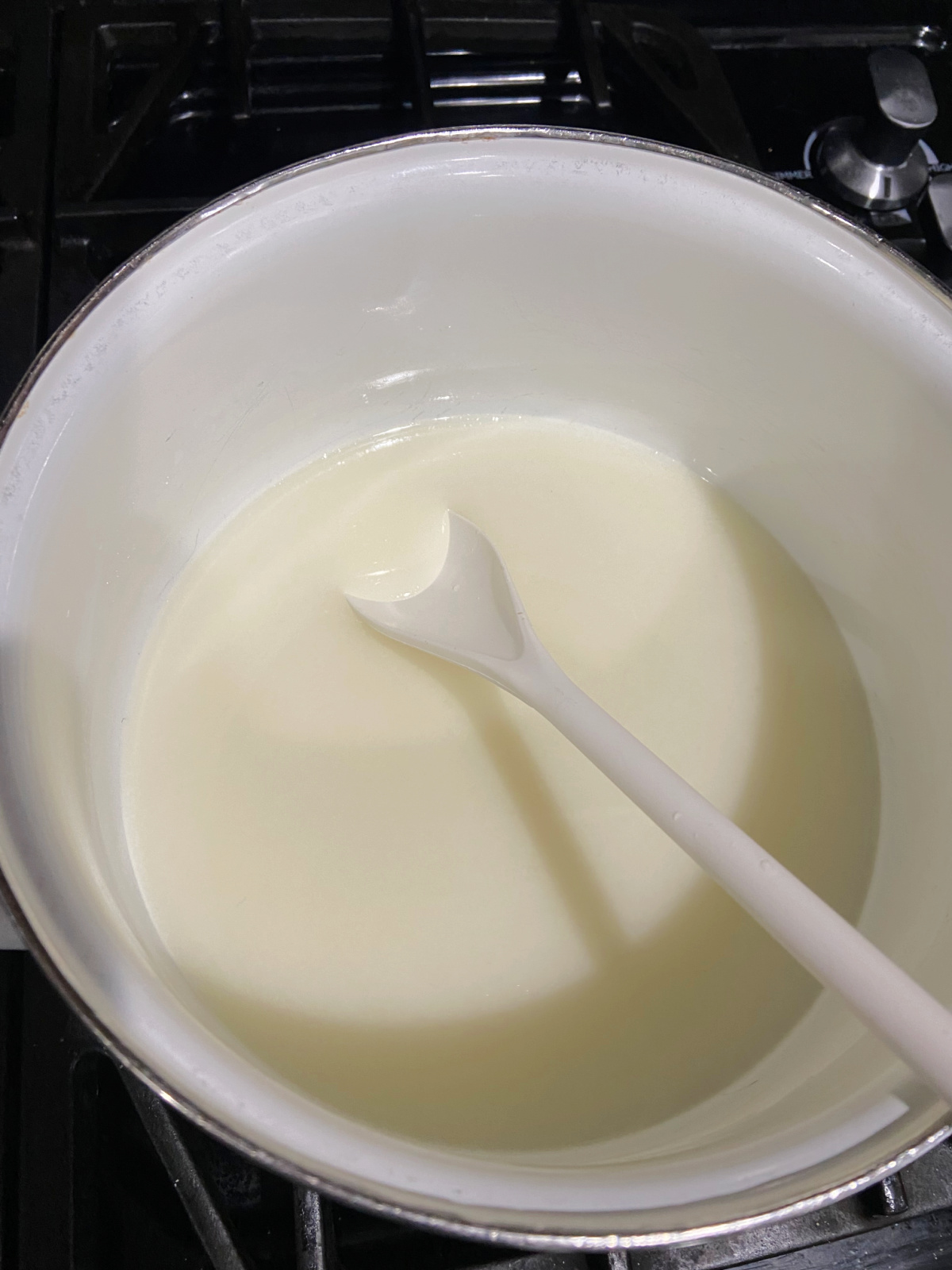 Then you will add the strawberry gelatin and stir until it is mixed in well.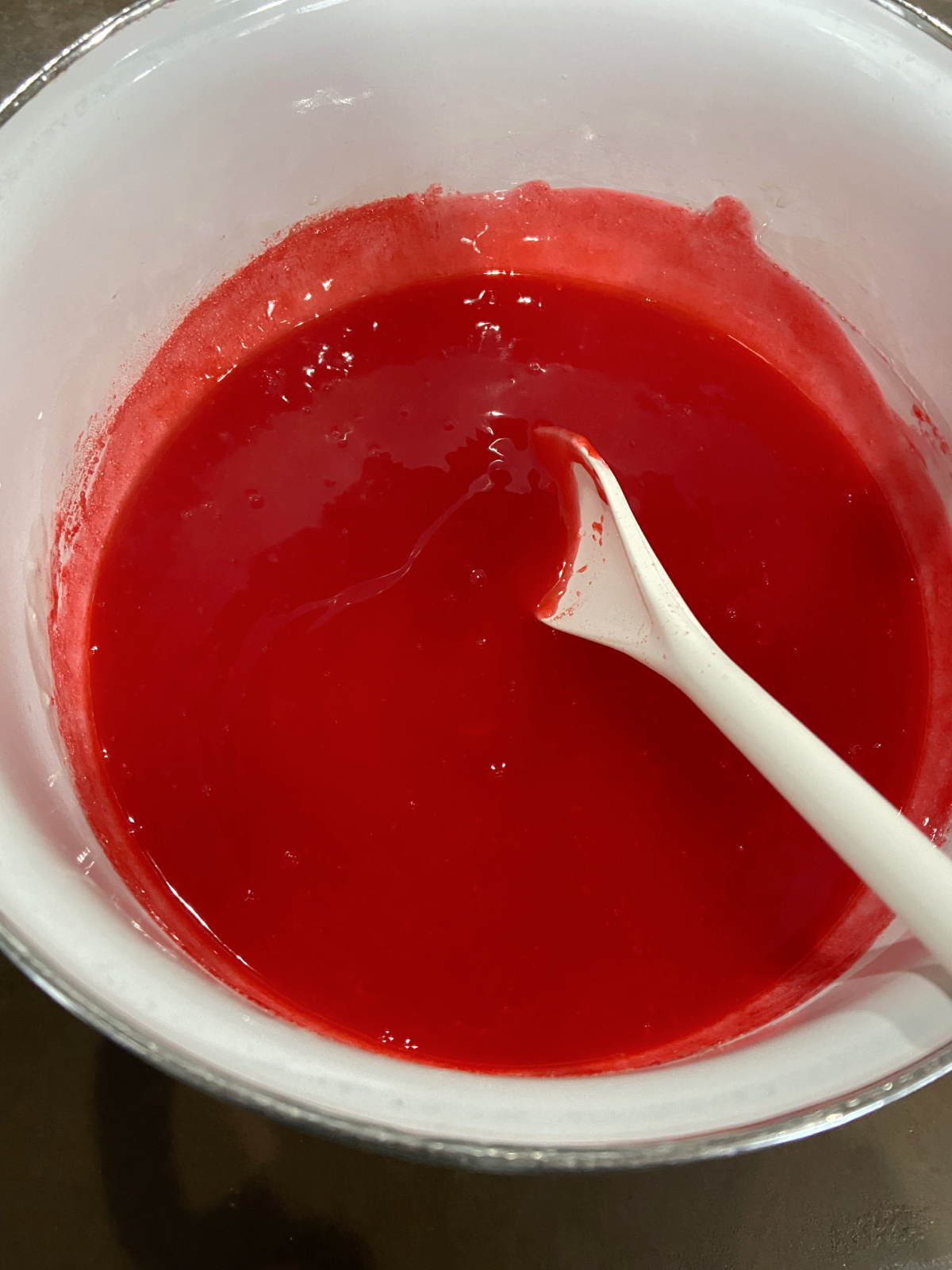 Next, the strawberries are added. I have added the strawberries while the gelatin mixture has cooled some and when it is piping hot. Either way works. It won't hurt the pie at all.
Should I cut up the strawberries?
The size of the strawberries in the pie is up to you. Cut up strawberries are easier to slice and eat. The whole strawberries look prettier on the pie, in my opinion. So, it is preference. You can slice some and keep some whole if you choose.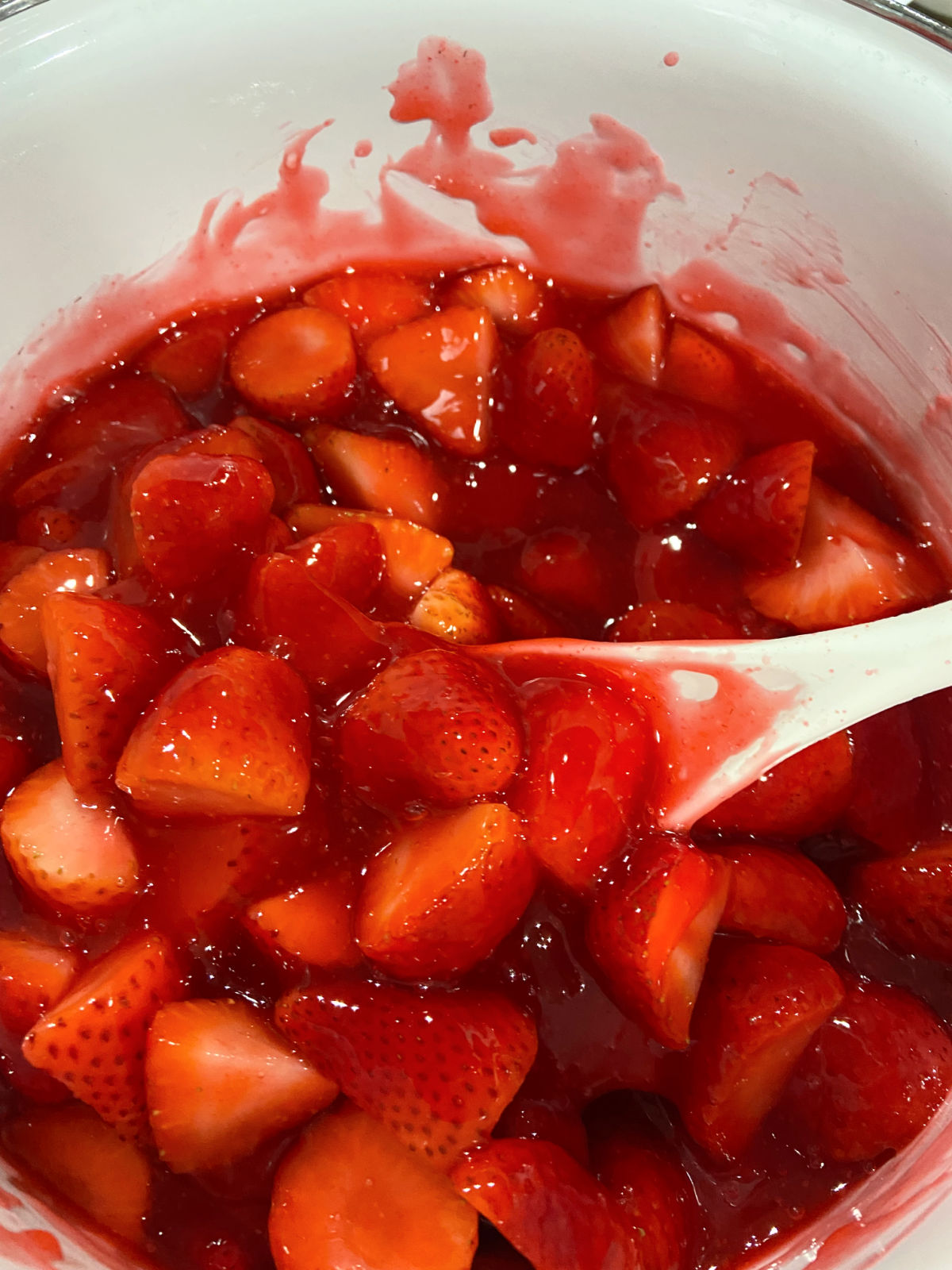 Do you need a no bake strawberry pie recipe? This No Bake Strawberry Chocolate Pie is perfect for when you don't want to turn on the oven.
Refrigerate/Chill
Yes. After you make the pie, it needs to set up in the fridge for at least 3 hours. After that, you may serve the pie and the leftovers should be covered and kept in the fridge. I also suggest you eat the pie the day you make it or the next day. It tastes the best that way.
What type of strawberries should I choose
Always check the container of strawberries for ripe, red strawberries. The key is to find ones that do not have the white center. A white center, typically means the strawberries don't have as much flavor as they didn't get to ripen on the vine as long as they should have.
Now, you are wondering how do you find strawberries without white centers if the strawberries aren't cut. Good question.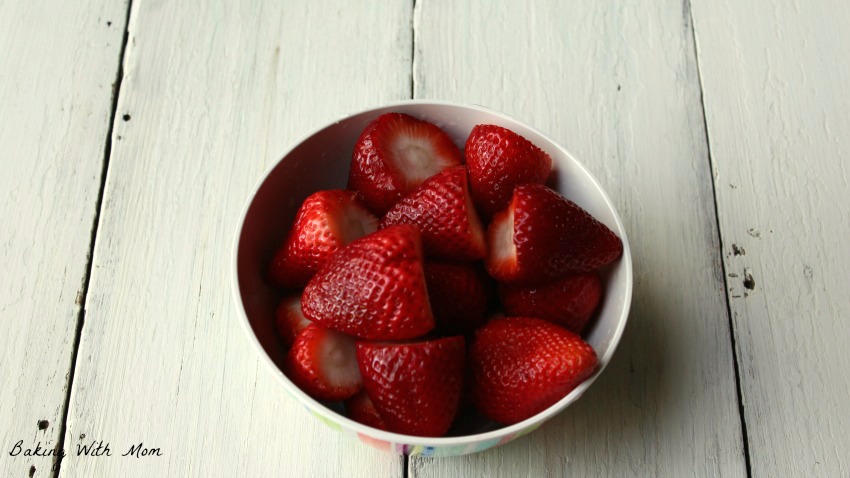 You see these strawberries? They have a white center. Now, all hope isn't lost. You can add sugar to them and sweeten them up. They also taste fine in a pie.
Eaten plain, they just don't have as much flavor. Try to wait for strawberry season to buy your strawberries. In the Mid-West, we can start to expect good strawberries mid-March as they come up from Florida.
You may have to experiment when is the best time in your area to buy strawberries.
Enjoy this delicious homemade strawberry pie. It is full of flavor and guests love this sweet dessert!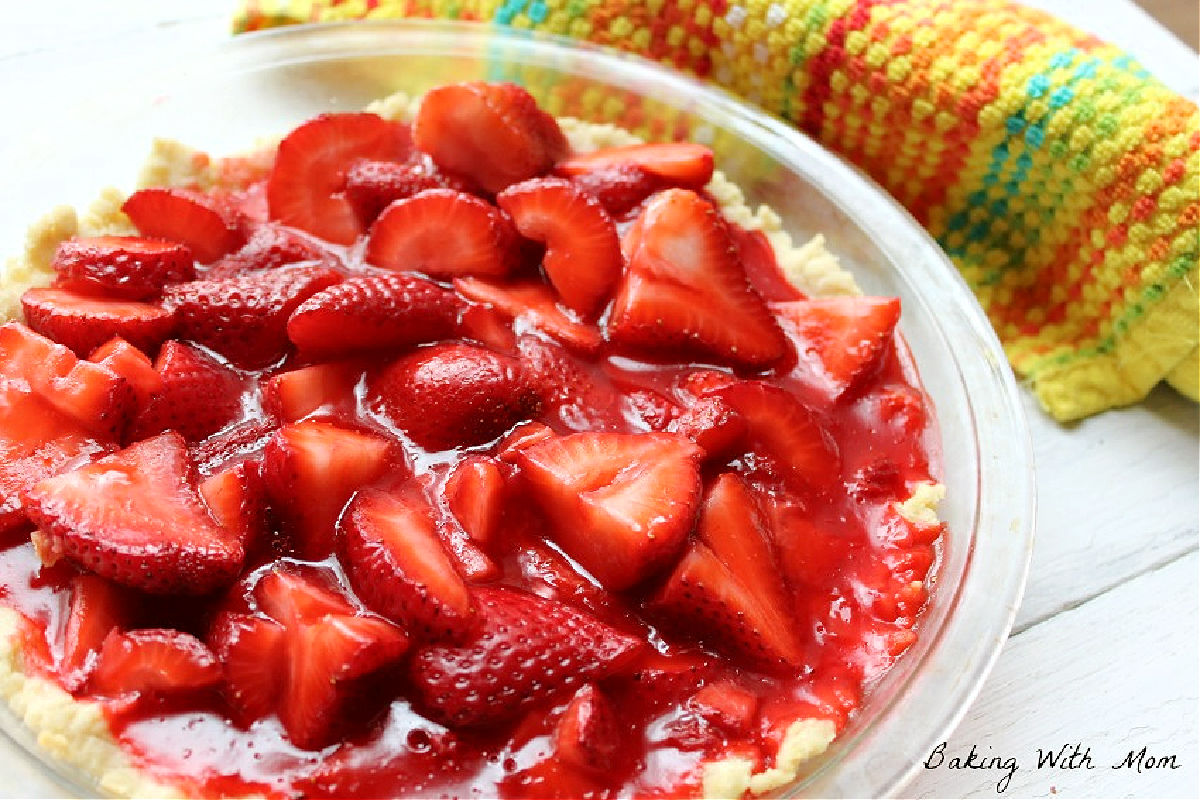 📖 Recipe
Strawberry Pie
Strawberry pie with delicious strawberry jello and ripe strawberries on a no roll pie crust.
Ingredients
For The Crust
1 ½

cups

flour

1 ½

teaspoon

sugar

1

teaspoon

salt

½

cup

oil

2

Tablespoon

milk
Strawberry Filling:
1

cup

water

1

cup

sugar

3

T

cornstarch

3

oz

strawberry Jell-O

1

quart

sliced fresh strawberries
Instructions
Preheat oven to 400 degrees.

For the crust, mix together the flour, sugar, salt, oil and milk in a medium mixing bowl. Mix well. Press on the bottom and up the sides of a large pie plate. Bake at 400° for about 10 minutes or until starting to have a very light brown color. Set aside.
For The Strawberry Filling
Place water, sugar and cornstarch in a medium saucepan and cook on medium heat until mixture is clear (a slightly cloudy color) and thickened, stirring very often.

Remove from heat and add the box of Strawberry Jell-O. Cool. Stir in 1 quart cut strawberries.

Pour mixture in pie shell and refrigerate for at least 4 hours.

Serve plain or with whipped cream.
Notes
I have added the strawberries immediately (if I didn't have time to let it cool) to the warm Jell-O mixture.
Nutrition
Calories:
400
kcal
|
Carbohydrates:
65
g
|
Protein:
4
g
|
Fat:
15
g
|
Saturated Fat:
1
g
|
Polyunsaturated Fat:
4
g
|
Monounsaturated Fat:
9
g
|
Trans Fat:
0.1
g
|
Cholesterol:
0.2
mg
|
Sodium:
345
mg
|
Potassium:
213
mg
|
Fiber:
3
g
|
Sugar:
41
g
|
Vitamin A:
22
IU
|
Vitamin C:
70
mg
|
Calcium:
29
mg
|
Iron:
2
mg