Need a quick, simple meal to feed your hungry family? This Hamburger Casserole has four simple ingredients you are likely to have at home. Starts with noodles and after adding tomato soup and hamburger, and of course delicious mozzarella cheese, the perfect easy casserole is born! Great for getting supper on the table fast!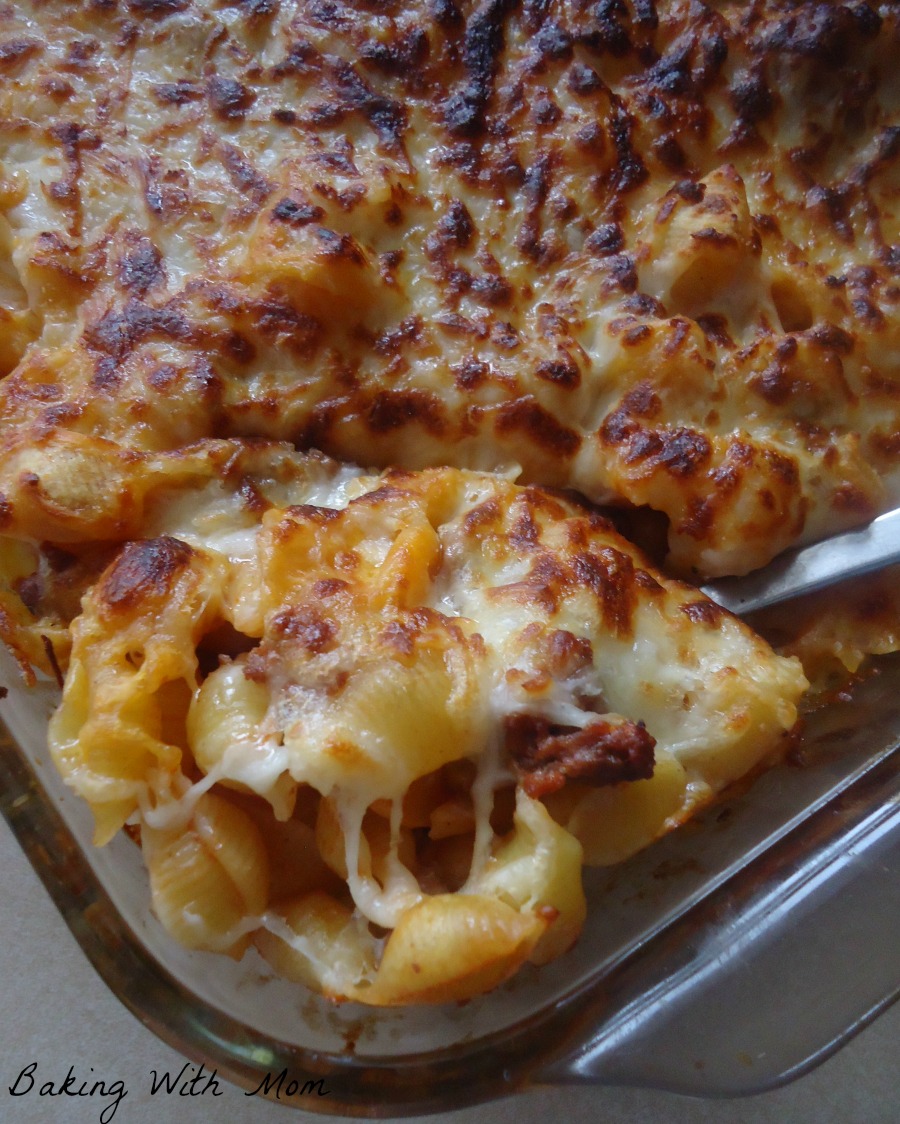 Every meal needs to have some meat in it in this house. (Like this enchilada casserole with hamburger.) Good thing this easy Hamburger Casserole recipe fits the bill. Melted cheese on top of noodles, hamburger and tomato soup come together for a delicious casserole recipe.
This casserole supper is so kid friendly, I have had readers tell me their pickiest eaters loved it! Talk about a winner of a dinner!
Jump to:
What is hamburger casserole?
It is a casserole with only a few ingredients. It also has a unique ingredient, tomato soup. I know some may be scared away by the thought of tomato soup in this recipe. The subtle but unique taste of the soup compliments the seasoned hamburger and noodles very well.
Another name for this old fashioned hamburger casserole recipe is Hamburger Hotdish. It is a simple recipe with only a few ingredients and it feeds a large family so it was a favorite of yesteryear.
It also makes quite a bit in a 9x13 pan so it feeds a large family. It can feed my family of six with enough for lunches the next day.
I should point out my children ages: 20, 16, 13 and 10. Three boys and a girl so trust me, they eat a lot! Any recipe with leftovers to feed them the next day is a winner to me.
Ingredients
This casserole recipe has only a handful of simple ingredients, most of which you probably already have in your kitchen.
Noodles - I have used shells or macaroni noodles for this recipe. Egg noodles would work well too.
Cheddar cheese/Mozzarella cheese - one or the other can be used. I used both.
Hamburger - cooked ground beef seasoned with salt and pepper.
Tomato soup - good old fashioned tomato soup without the milk or water added. Just use the soup.
Are the noodles pre-cooked?
Yes, they are. While you are cooking the ground beef, you can cook the 1 pound of noodles as well (in another pot) so the process only takes 10 minutes or so. Don't worry about the type of noodles to use in this easy supper recipe.
We use rotini or elbow macaroni the most, but shells work well too.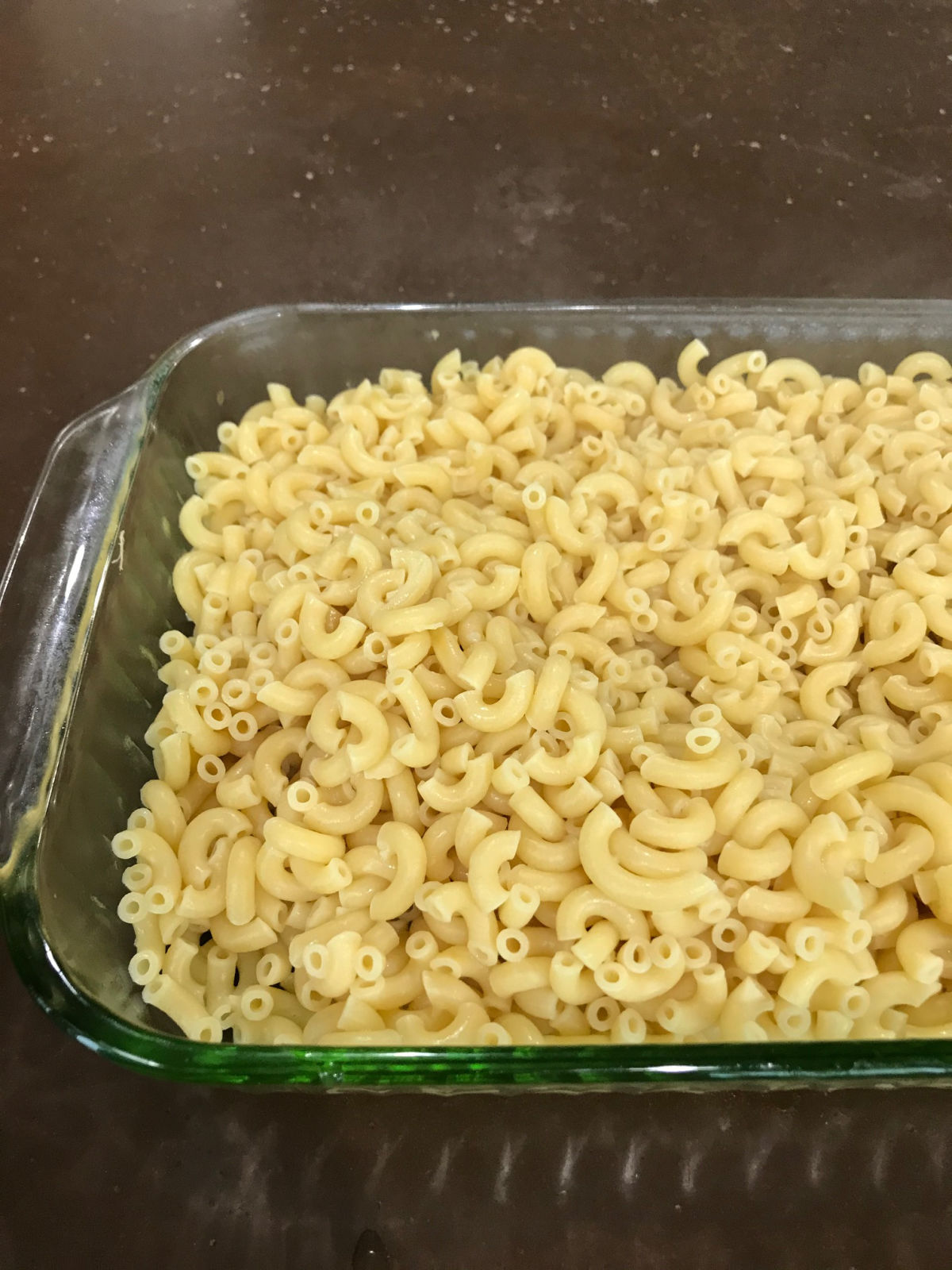 Then the meal comes together in a casserole pan and bakes for 20 minutes.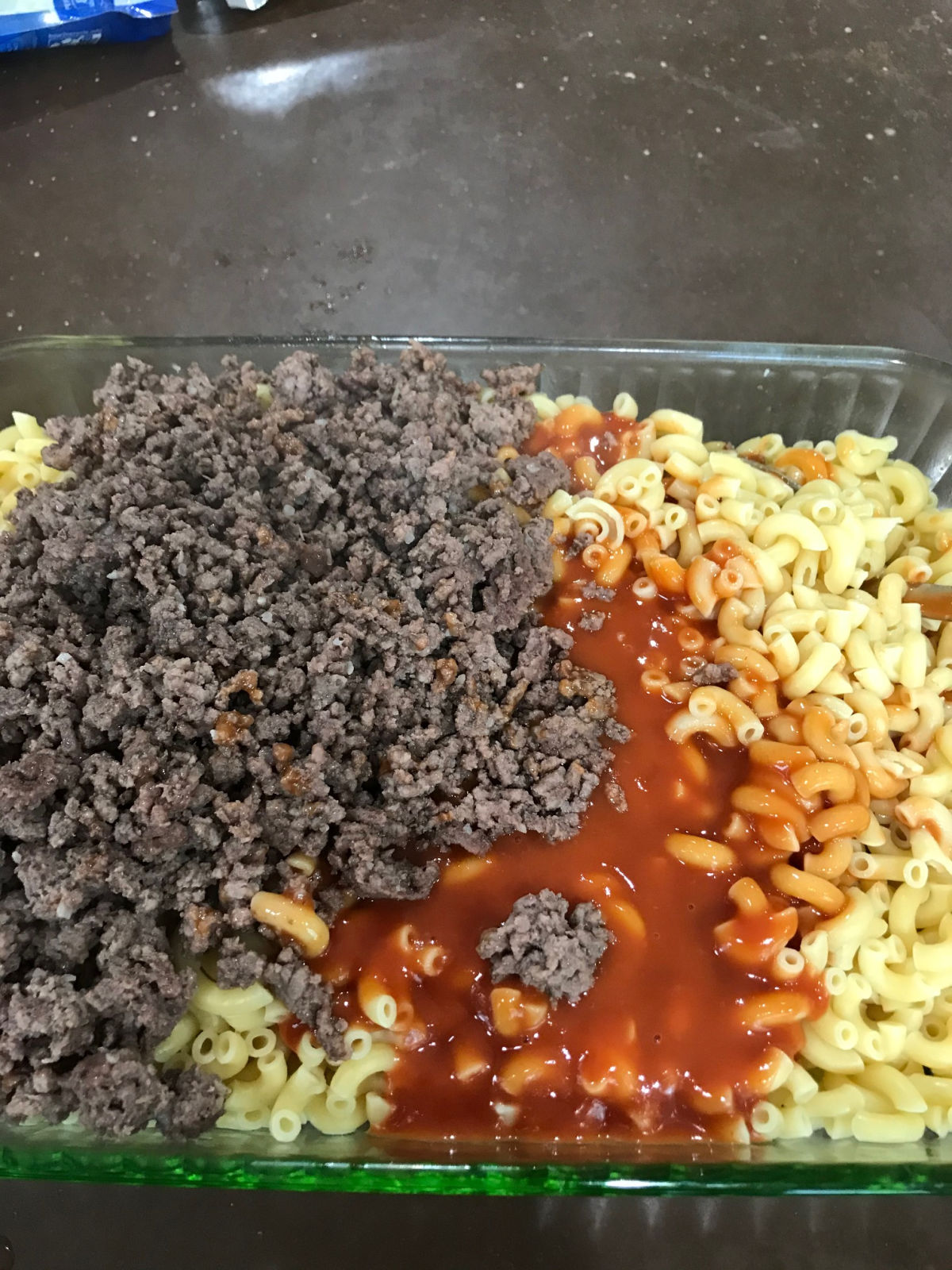 To make this easy and kid friendly recipe, cook up the hamburger, boil the noodles until Al Dente (a bit of a bite to them about 7 minutes), stir in the tomato soup and sprinkle with cheese. You can read how to make cook perfect Al Dente Pasta.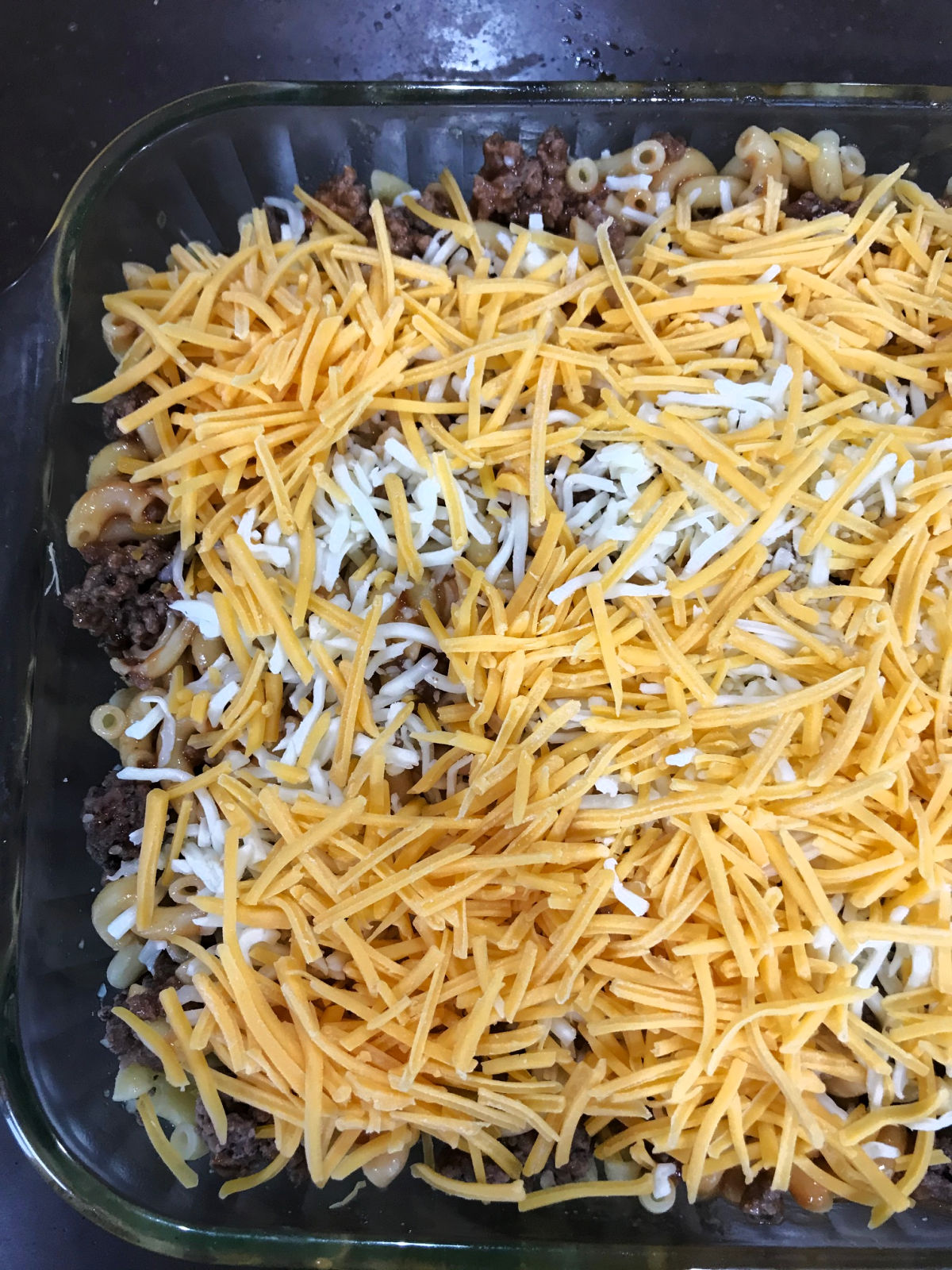 This has four ingredients in it. I personally count the mozzarella cheese and cheddar cheese as one ingredient because you could simply use your favorite kind of cheese.
If you would rather, it has 5 ingredients. You can decide.
Bake
You will add all ingredients to a 9x13 casserole dish which has been lightly sprayed with cooking spray. It will be baked, covered with foil, at 375 degrees for 20 minutes.
Then you will want to uncover the casserole and bake for 5-10 minutes longer so the cheese has time to slightly and lightly brown. Oh yum.
I also will broil the cheese in the broiler for 3-5 minutes to get that extra layer of crispness to the cheese. Don't worry, still gooey cheese underneath!
Make ahead preparation
To make this casserole supper recipe even more easy, you can have hamburger already cooked and frozen in the refrigerator.
Sometimes, when I know I am going to have a busy week, when I get home from the store I cook the hamburger I bought immediately. As I am putting away the other groceries, the ground beef cooks on the stove and I am tackling two activities at once.
Got to love multitasking.
Then, after the ground beef is done cooking, I drain the grease and put it in a freezer container without putting the lid on and let it cool for 5-10 minutes. Then, I cover it and put it in the freezer.
When I am ready to make this hamburger casserole, I pull the hamburger out of the freezer and add it to the recipe. So quick and easy!
FAQ
Can I substitute the tomato soup for spaghetti sauce?
Sure! But then it would be more of a pasta casserole. Still works, just a different recipe.
Can I add spices to this?
Yes, you can. A little onion would be delicious. As would a touch of garlic.
How should I store leftovers?
Place any leftovers in an airtight container and place in fridge for up to 48 hours. Reheat as desired.
Serve this up with great sides like Poppy Seed Fruit Salad or 3 Ingredient Grape Jello Salad. So simple to make and such a family favorite. My hubby told me I could make it once a week. Maybe your family will too!
Pin for later!
📖 Recipe
Hamburger Casserole
This hamburger casserole is a hit at my house. This casserole uses only four ingredients so it is a simple recipe to put together.
Ingredients
1

lb

box medium shells

1

lb

ground hamburger

, cooked with garlic powder, dried onion, salt and pepper to taste. We use 2 teaspoon each.

21.5

oz

tomato soup

2 cans

1

cup

cheddar cheese

1

cup

mozzarella cheese
Instructions
Cook noodles according to package directions. Drain.

While cooking the noodles, in a frying pan, cook the hamburger until no longer pink. (If you are using salt and pepper, add it while cooking the hamburger).

Pour cooked noodles in a greased 9x13 baking dish.

Stir the cooked hamburger and tomato soup with the noodles. I just stir everything in the pan. I also sometimes add ½ cup of water to the mixture for a little more moisture. Completely optional.

Sprinkle cheese over casserole and cover with foil.

Bake in a 375* oven for 20 minutes.

Remove foil and bake for 10 minutes longer.

Can bake under broiler for 3-5 minutes to brown cheese, if desired.

Note: If you want to use 2 cups of one kind of cheese (example: mozzarella) instead of the combination, you can

Dried onion and garlic powder is completely optional and can be adjusted to your family's tastes
Nutrition
Calories:
336
kcal
|
Carbohydrates:
36
g
|
Protein:
17
g
|
Fat:
14
g
|
Saturated Fat:
6
g
|
Trans Fat:
1
g
|
Cholesterol:
44
mg
|
Sodium:
336
mg
|
Potassium:
488
mg
|
Fiber:
2
g
|
Sugar:
5
g
|
Vitamin A:
357
IU
|
Vitamin C:
7
mg
|
Calcium:
136
mg
|
Iron:
2
mg
Need Casserole Recipes?