This easy to make Mexican recipe will be a favorite at your house. The best part? It doesn't heat up your kitchen and it is so simple to put together! Easy Pork Carnitas made in the roaster - you will love it!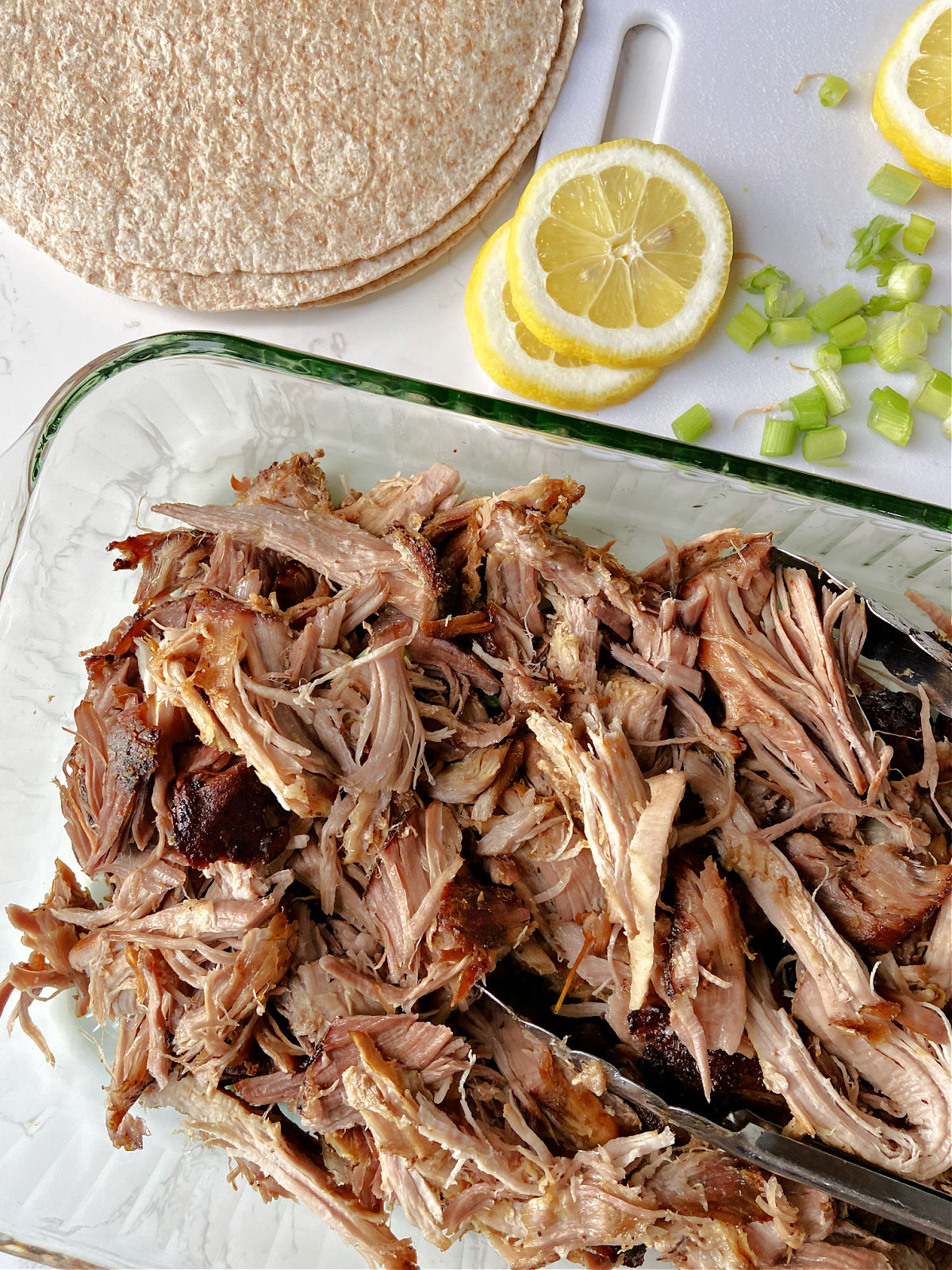 So incredibly delicious and so incredibly easy, this easy pork carnitas cooks in a roaster so it doesn't heat up your kitchen. The flavors all have time to blend together for this Mexican favorite.
What I also like, is the Pork Shoulder that is used (also called Pork Butt) is often on sale so it makes this recipe cost effective for the family. Remember, the cost may seem higher than you normally pay for meat, but if you can get several servings out of it, it is worth the cost.
This pork butt cost about $10 and we got a supper and several servings for lunch out of it for my family of 6. (Should I add, I have two distance runners and a wrestler in our home? They eat a lot!)
Ingredients
3-4 lbs Pork shoulder (also called pork butt)
Onion
Orange bell pepper
Orange juice (best freshly squeezed from an orange - about 1 ½ oranges)
Olive oil
Dried oregano
Black pepper
Coarse salt
I really recommend the coarse salt instead of the regular table salt. If you don't have the coarse salt, table salt will work, but the coarse salt makes a nice coating on the outside and adds a definite flavor enhancement.
Why a roaster?
Roaster Ovens are like a miniature oven that cooks on your countertop and is great for roasts, pork, we like cooking potatoes in it as well. (Works the same as the crock pot baked potatoes.)
It isn't something I use often, but for large baked ham or a turkey, or in this case pork, it frees up your oven and also doesn't heat up your kitchen. The roaster oven is more energy efficient than running your oven. I would not be without one.
Electric Roaster Ovens come in a variety of sizes and prices so be sure to look for one that fits your needs. The roaster I have is large and I recommend one of that size.
Let's talk about the rub
Any meat recipe that starts with a rub has got to end well, wouldn't you agree? When you put a rub on a meat, it does a couple of things. For one, it adds flavor to the outside of the meat. Also, it can help make that crust on the outside of the meat that most everyone loves.
When using a rub, you should let the rub sit on the outside of the pork for at least 15 minutes to let it go to work. If you don't have time, that is okay, put it right into the roaster. But, if you have at least 15 minutes, let the rub hang out for a while.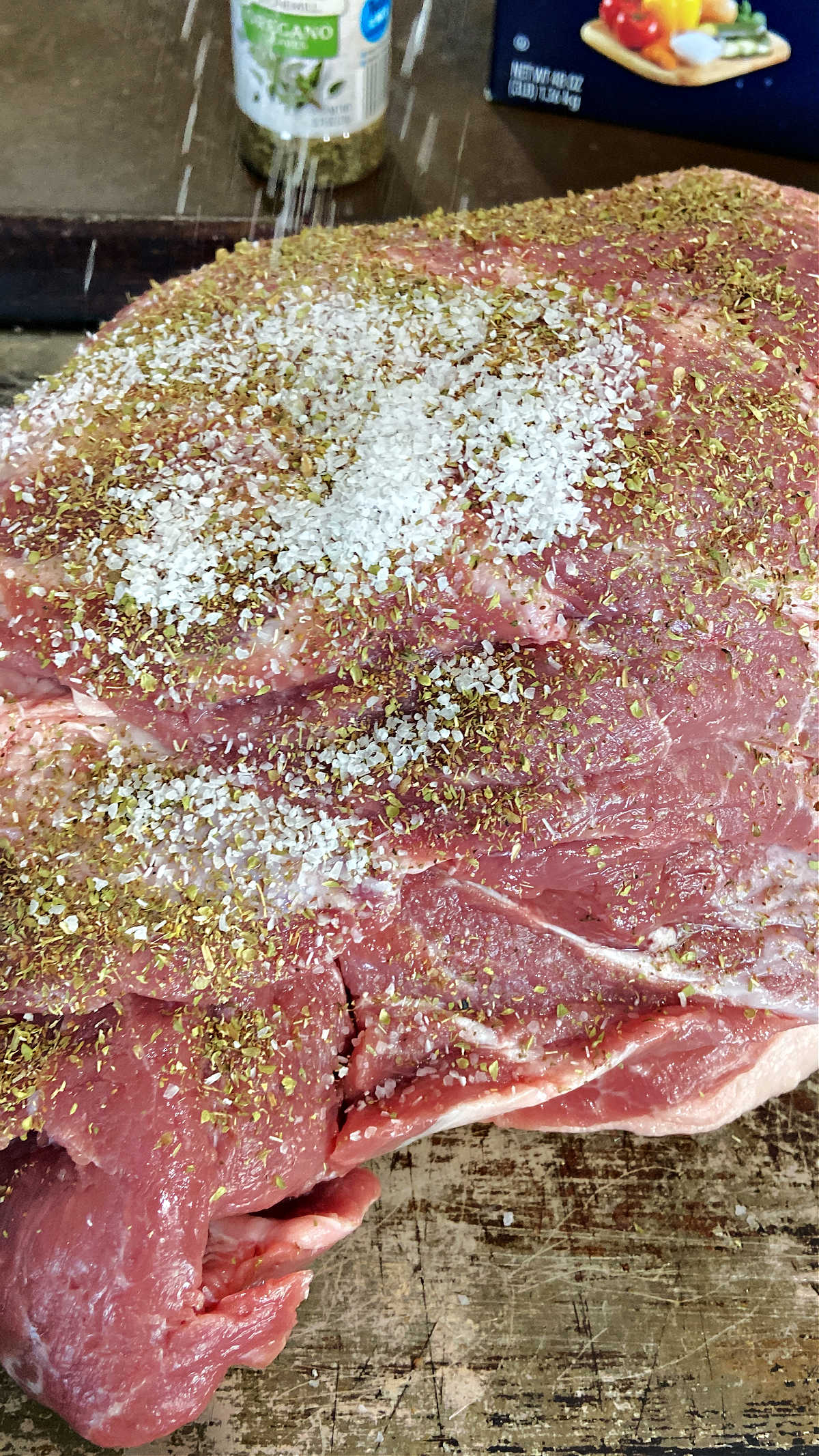 The rub is a blend of oregano, course salt and pepper. Some mixes it all together in a bowl then pats it on the meat. I added them one at a time. Either way works.
Make sure to cover the entire pork thoroughly.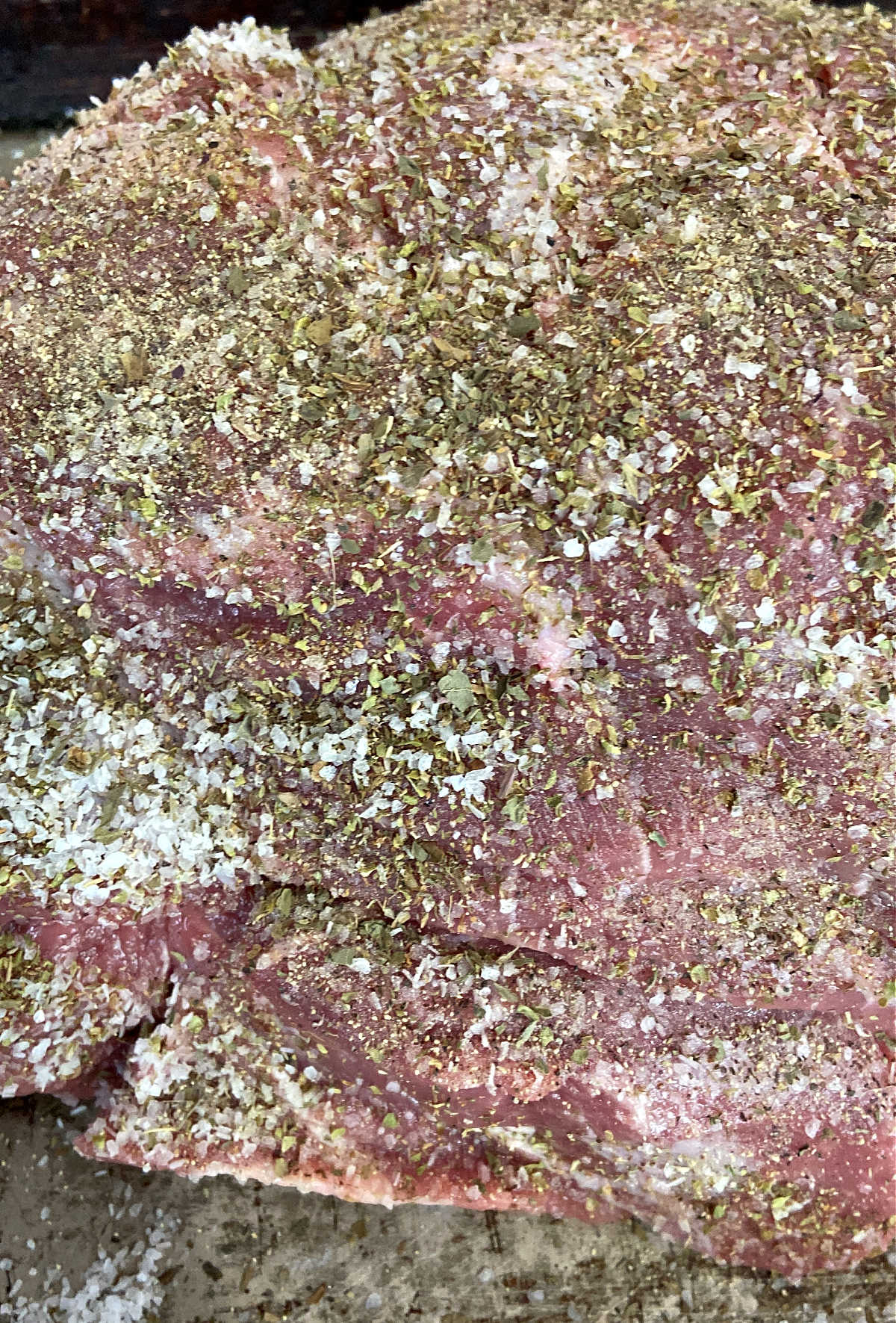 While the pork is sitting for 15 minutes, you can cut up the peppers for the carnitas.
Time to roast
Place the roast in the roaster oven and top with the sliced peppers, onions, and orange juice.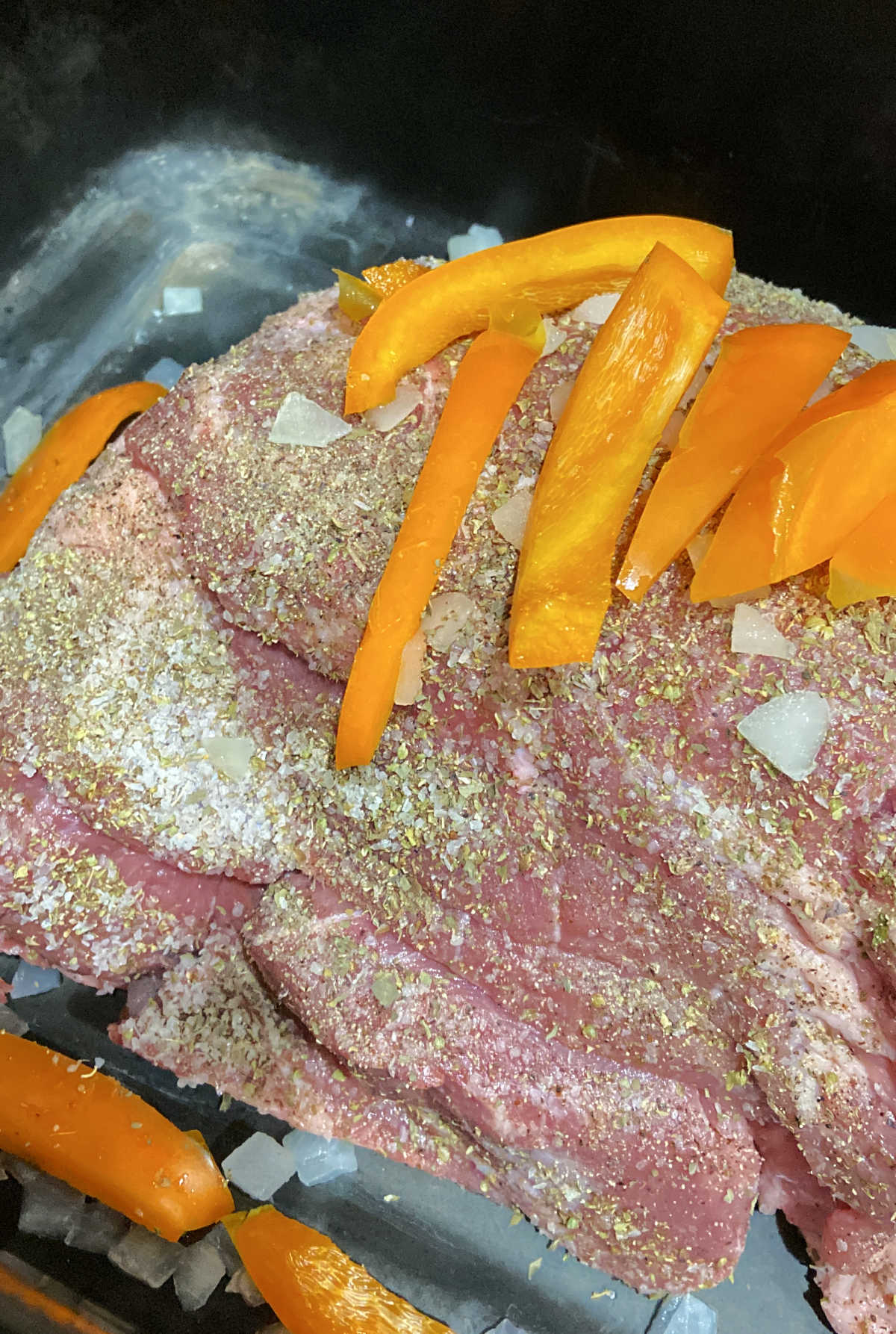 When using orange juice, you will want enough juice for about ½ cup to start. I like using freshly squeezed orange juice for this but in a pinch, you can use regular orange juice.
Just squeeze (pour) the juice over the top of the pork then cover with the lid.
Cooking time
We like to cook meat low and slow so I put this pork in about 10:30 and it didn't come out until about 4:30. So 6 hours. The temperature was at 300 degrees.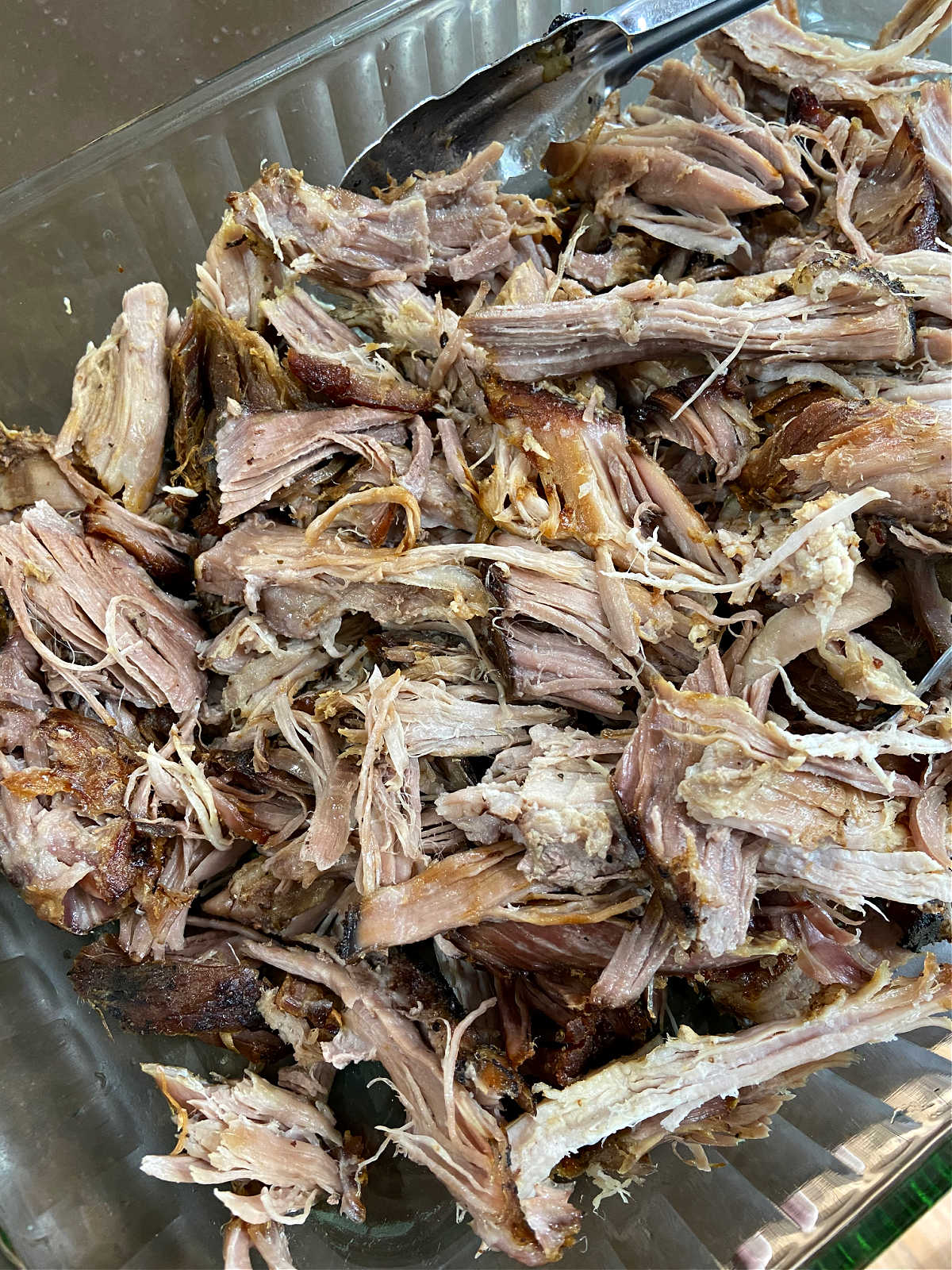 After the pork is done cooking, take it out and shred it. There will be some fat in the meat, and according to your tastes, you can take it out or leave it.
We always take it out.
Pin for later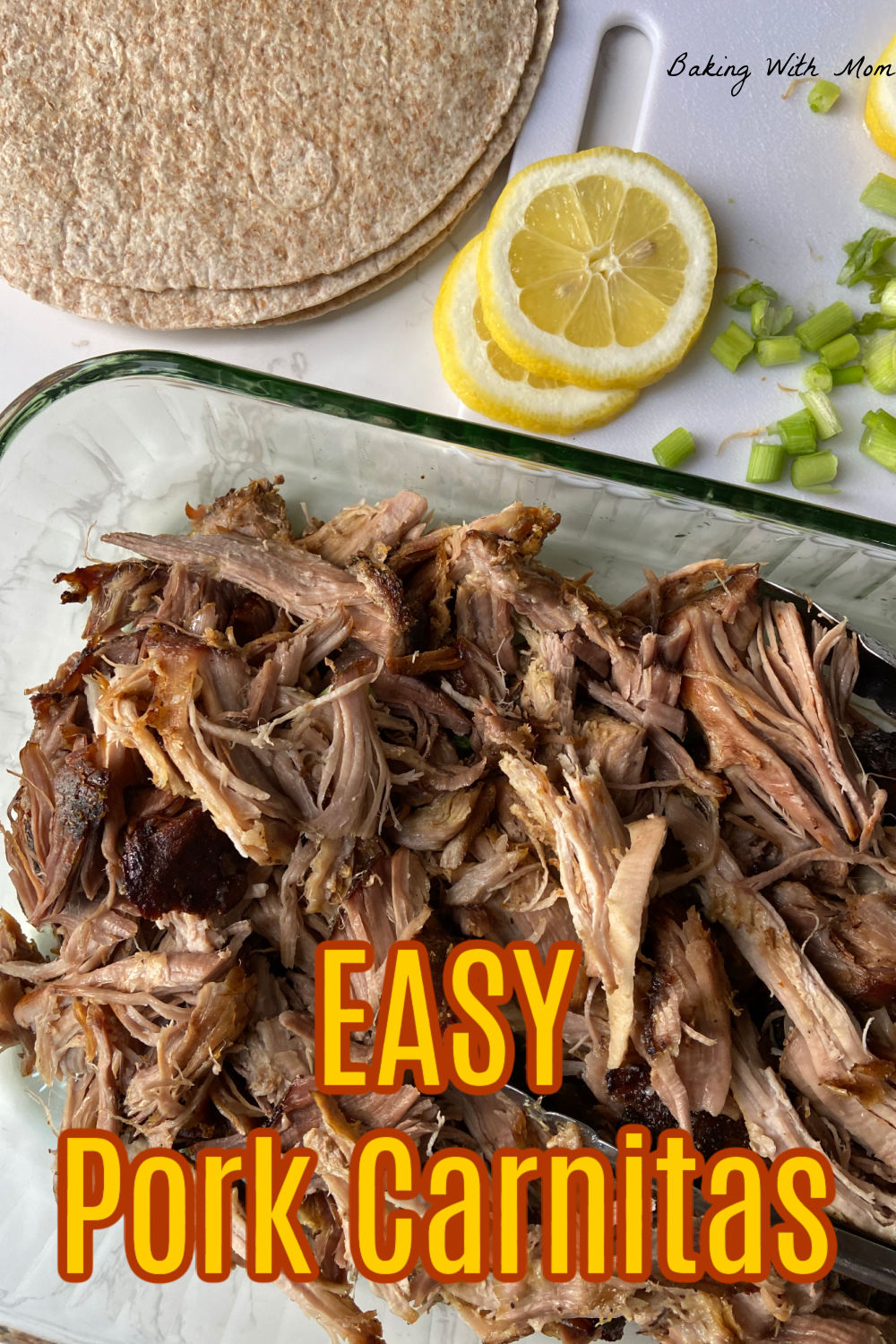 📖 Recipe
Easy Pork Carnitas
Easy to make pork carnitas in a roaster oven. A delicious rub of salt, oregano and pepper to bring this main dish to its fullest flavor.
Ingredients
4-5

lbs

Boneless Pork Shoulder

Also called Pork Butt

½

cup

onion

chopped

½

orange bell pepper

sliced

½

cup

orange juice

freshly squeezed

¼

cup

coarse salt

3

teaspoon

ground black pepper

3

teaspoon

dried oregano

3

tablespoons

olive oil
Instructions
Place pork on a cooking sheet

Rub the coarse salt, pepper and oregano all over the pork. You can add more of the spices if it does not cover the pork

Let sit for 15 minutes while you chop the peppers and onions.

Add the pork to the roaster and turn the roaster on to 300°

Put the onions, peppers and orange juice to the top of the pork

Cook for 6 hours or until pork is falling apart. Internal temperature should read 180° to pull apart properly

Pull apart meat and serve on tortillas, bread or on rice
Notes
FAQ below the recipe card!
Nutrition
Calories:
186
kcal
|
Carbohydrates:
2
g
|
Protein:
27
g
|
Fat:
7
g
|
Saturated Fat:
2
g
|
Polyunsaturated Fat:
1
g
|
Monounsaturated Fat:
4
g
|
Trans Fat:
1
g
|
Cholesterol:
73
mg
|
Sodium:
1952
mg
|
Potassium:
496
mg
|
Fiber:
1
g
|
Sugar:
1
g
|
Vitamin A:
143
IU
|
Vitamin C:
10
mg
|
Calcium:
14
mg
|
Iron:
1
mg
FAQ
Do I add liquid to the bottom of the roaster, such as water so the pork doesn't dry out?
No, you don't need to as the fat in the meat will be plenty of liquid. However, if it makes you nervous, you can add about a cup of water to the pork.
I think the pork is cooking too fast/too slow. What should I do?
Just like every oven is different, every roaster is different. If you want to turn up the heat a little, go ahead and same with turning it down. Keep watching it, if you need to.