This Green Pepper Casserole is a filling frugal meal.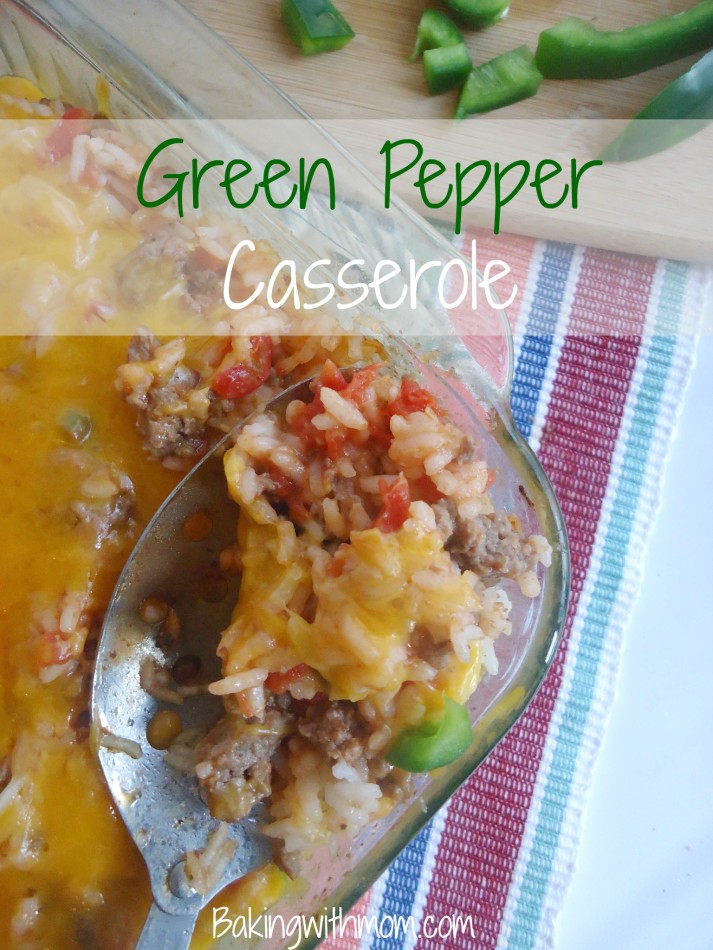 As a mom, I want meals that are easy to make and filling for the growing kids I have.  Of course, easy on the budget is a help as well.  This Green Pepper Casserole fits all of the requirements of a mom.  (And of a dad who likes a good supper on the table when he returns home as well.)
I have been making this casserole for years.  Of course, I rarely make it the same way twice, though I think I have finally found the perfect way.  It's what I do. 🙂
The Green Pepper Casserole can be adapted for your family's tastes.  My family does not care for large chunks of green pepper.  They also don't want a lot of peppers to have to dig out.  So I cook the green peppers with the hamburger to get the extra flavor in the hamburger.
See also: Taco Rice Casserole
As my family has grown, I can easily double this recipe simply by adding more rice in the dish.  Rice is filling and extremely frugal. The cheese adds some additional cost to the recipe, but honestly?  Ya gotta have cheese.  You know?
I have been shocked with how high the hamburger prices have gone over the last few months.  Meals like this are great because you can stretch one pound of hamburger into a couple of meals.  (Or at least lunches for the next day.)  Gotta like that.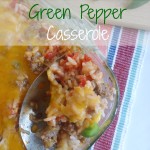 Green Pepper Casserole
Ingredients
1

lb

hamburger browned-salt and pepper to taste

2

cups

white rice

(cooked according to package directions)

1/2

large green pepper

, chopped

1

small can tomato sauce

3/4

can zesty diced tomatoes

, drained (I buy at Aldi)

1

cup

cheddar cheese
Instructions
Place browned hamburger, rice, green pepper, tomato sauce, and drained tomatoes in a greased square casserole dish.

Mix well.

Spread cheese on top of mixture.

Cover with foil.

Bake for 30 minutes @ 375*.

The last 10 minutes of baking, remove the foil.