This Chocolate Swirl Peppermint Bark is the minty candy your family and friends will love this Christmas season. Not only is it tasty and delicious, it only takes minutes to make! Simple and delicious and does NOT need a candy thermometer.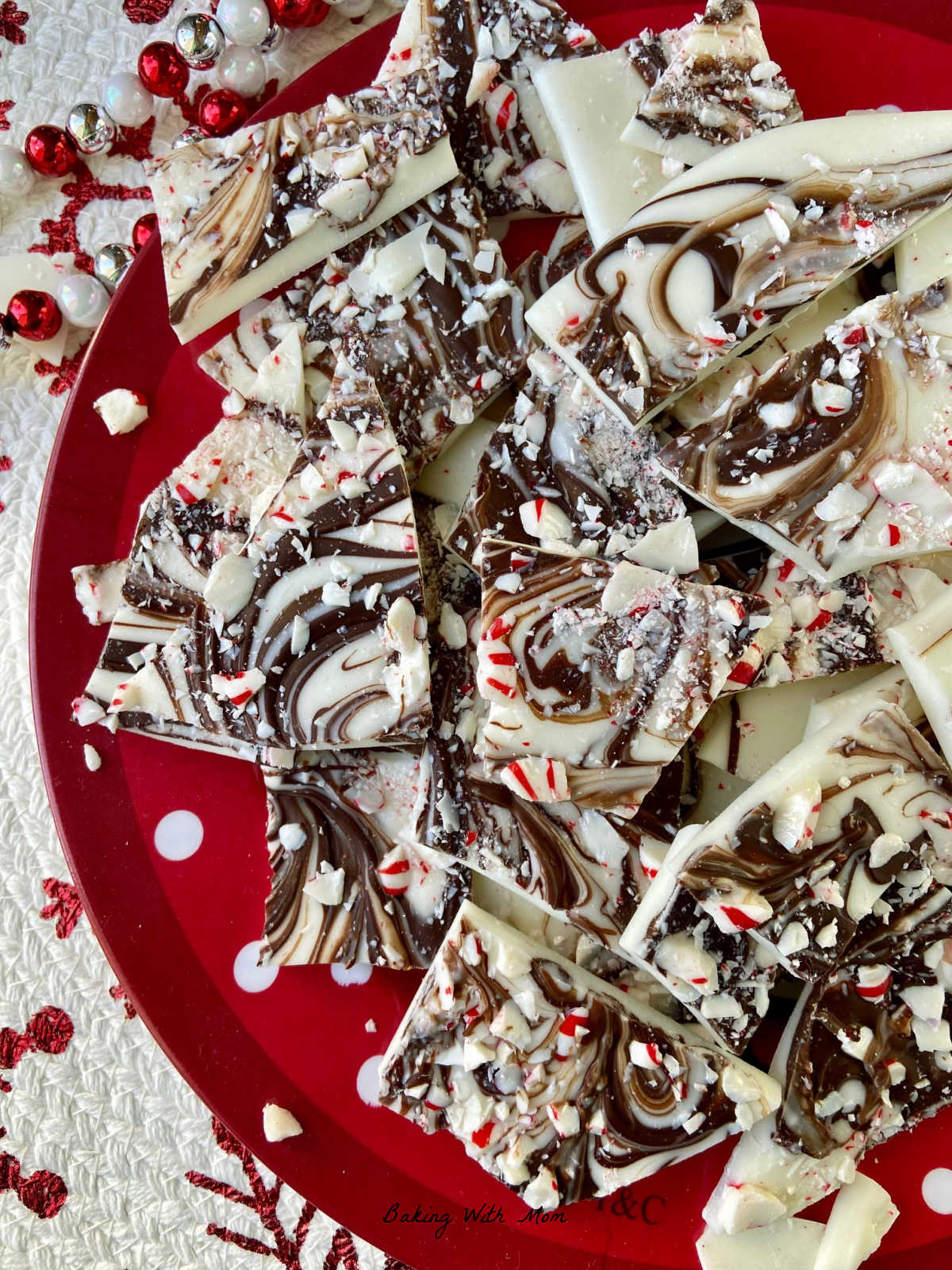 The thought of making homemade candy is overwhelming to some home cooks. I know I often hear the word "candy thermometer" and it gives me pause.
What if I was to tell you this easy and simple Christmas candy recipe only has 3 ingredients and NO candy thermometer needed? Chocolate swirled peppermint bark comes together so easily and it can be made *are you ready for this??* in minutes.
Yes, just in minutes. Stay with me.
Ingredients
Chocolate chips (semi-sweet)
Peppermint candy
The vanilla bark can be bought at Aldi or Walmart. It is rather inexpensive and readily available.
The chocolate chips can be semi-sweet or milk chocolate. The semi-sweet is a nice offset to the sweetness of the vanilla almond bark.
The almond bark and peppermint goes so well together, as does almond bark and caramel in chocolate caramel almond bark.
Crushing the mints
The first thing you want to do is to crush the peppermint candies into small crumbs. For this, you can use regular peppermints or you can use candy canes. I used about 15 peppermints.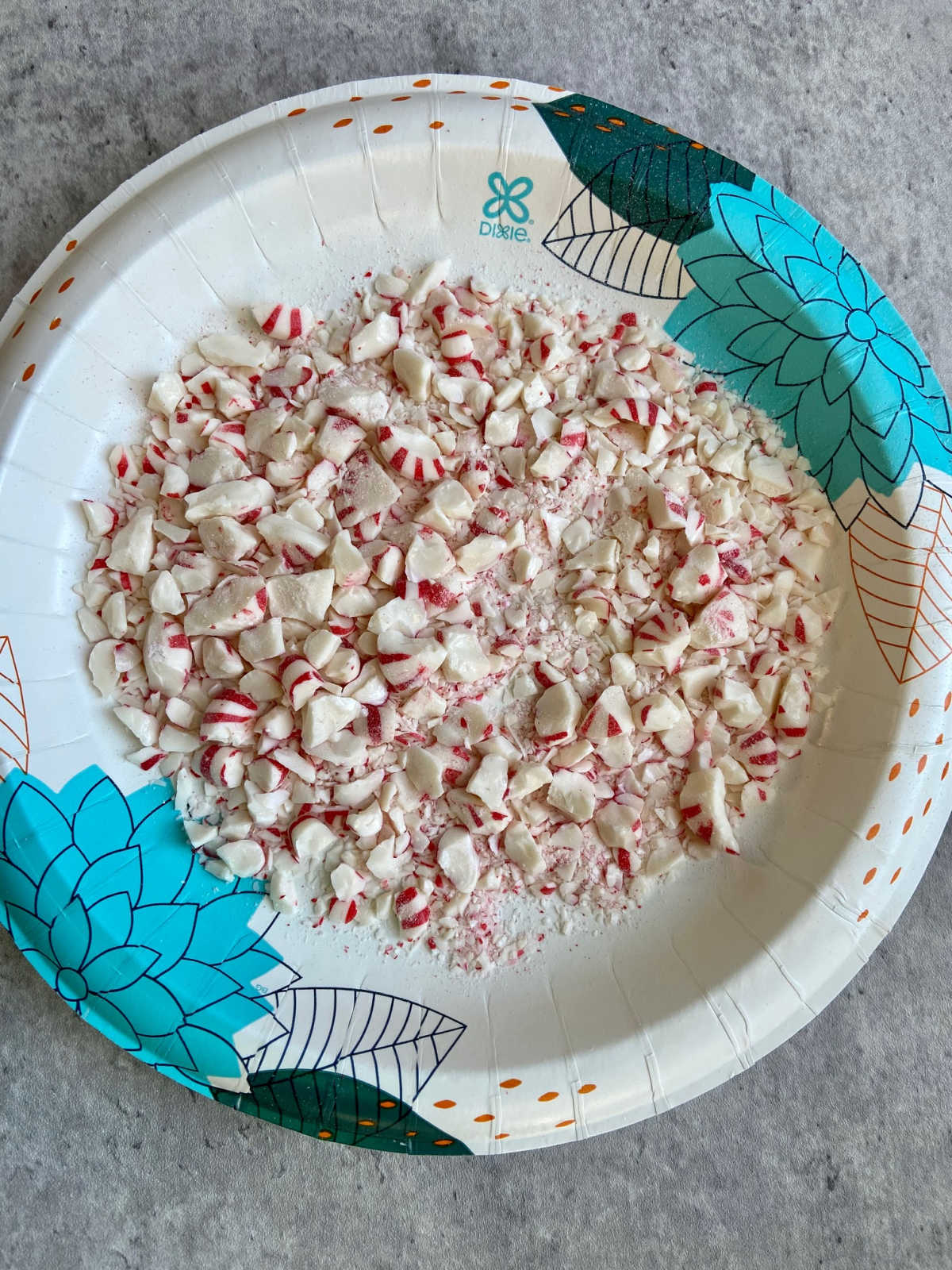 The best way to break up the mint candies (or candy canes) is to put them into a bag and crush with a heavy kitchen utensil or hit them against the counter.
Be sure flying pieces of mint don't go across your floor.
Melting the almond bark and chocolate
The key to melting almond bark or chocolate is not to over melt. It does burn rather easily and you don't want the smell in your home or to have to throw out a bunch of chocolate.
That is a very sad moment when you have to throw out burned chocolate.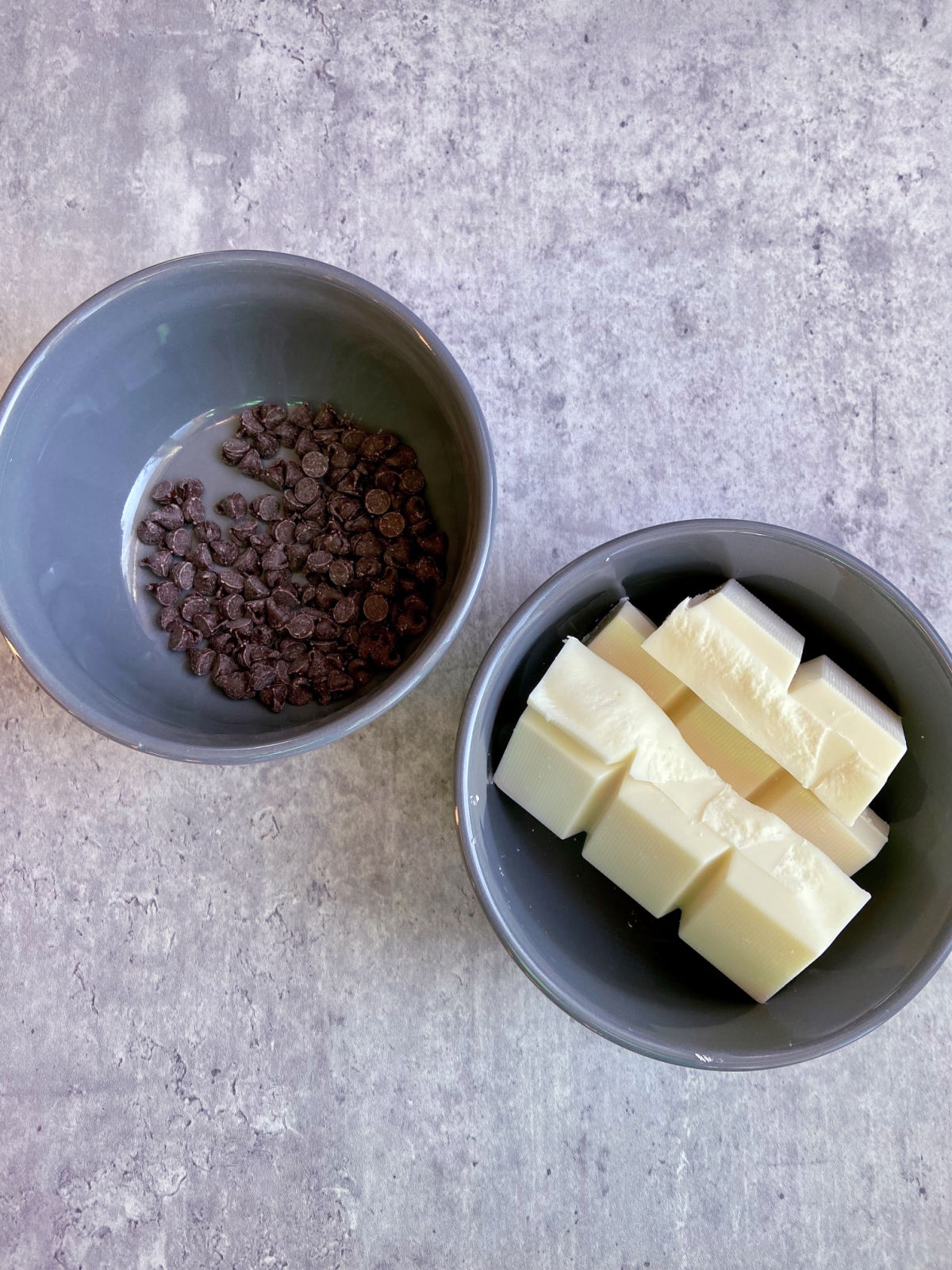 Even though for this recipe, you need to use two different types of chocolate, be sure to melt them separately in the microwave and not at the same time.
If you don't, they may melt at different rates and you run the risk of burning one or both of them. Start by melting the almond bark first. That is what the base of this candy recipe is.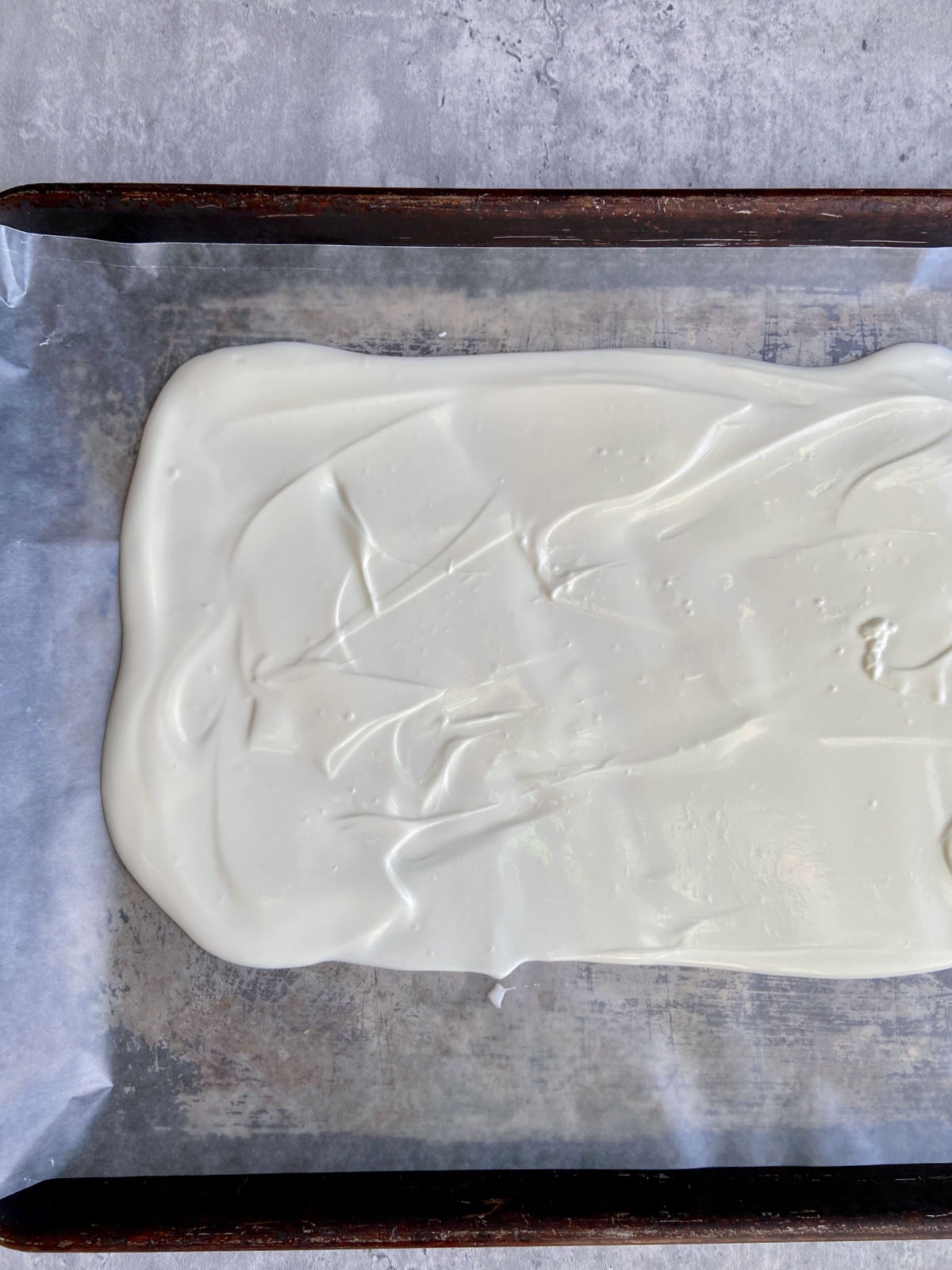 The almond bark should be melted for 1 minute to start, then melted in 15 seconds intervals after that, stirring after each time.
You want the bark to be smooth with no lumps. Then you will pour it on a cookie sheet covered with waxed paper. After that, spread the bark out evenly, in a thin layer, but not too thin that you see through it.
Actually, if you want a thicker candy, you spread it out thicker. The joy of home cooking! Make it the way you like.
How to swirl the chocolate and almond bark
The next step is to melt the chocolate. It will not take as long as you do not have a lot of chocolate to melt. It is also important that you do this step quickly so the almond bark doesn't harden.
Melt the chocolate for 30 seconds in the microwave, then stir. If needed, melt for 15 more seconds.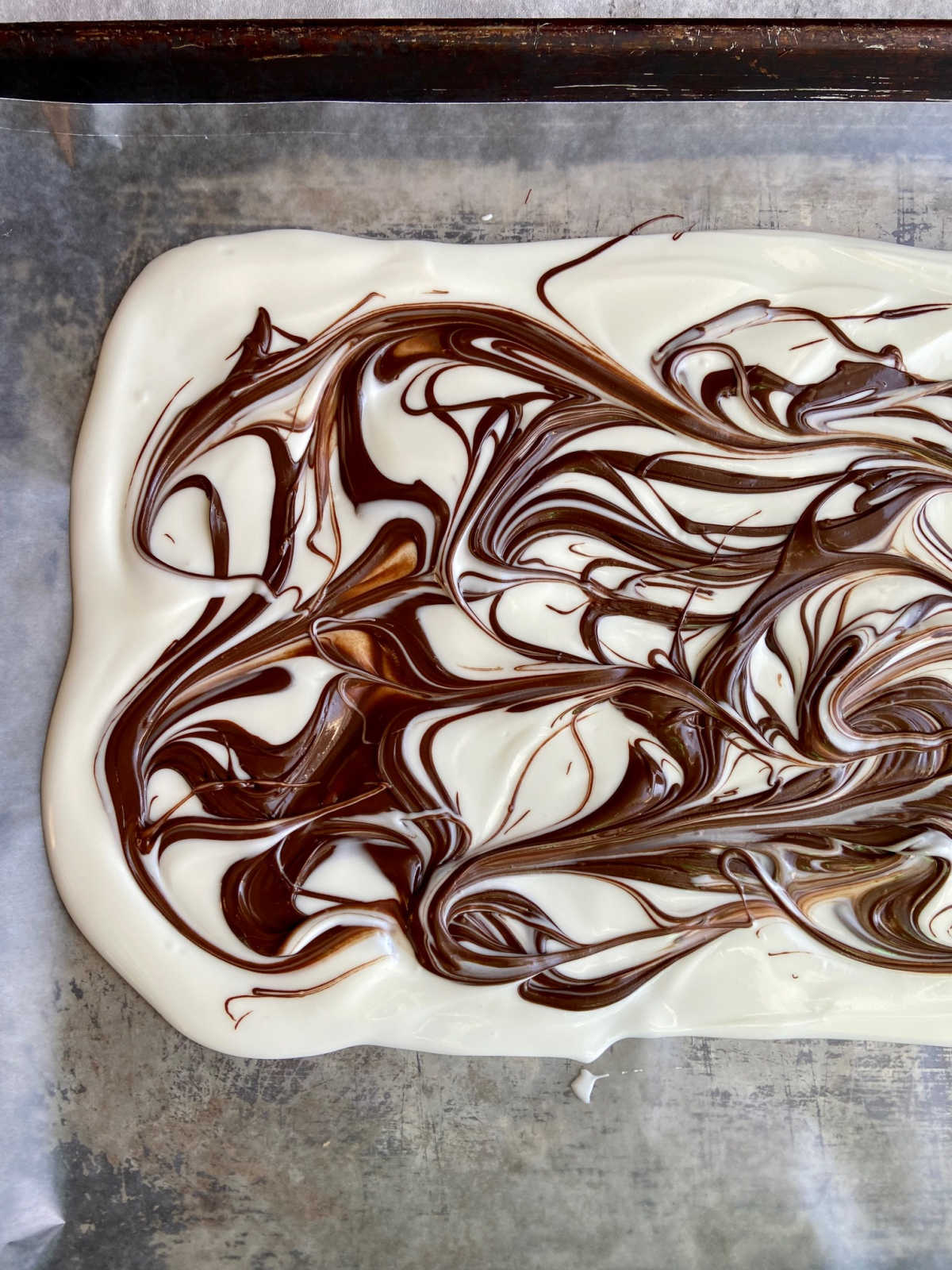 Drizzle the chocolate on the almond bark then take a knife and swirl it around. It doesn't have to have fancy patterns (if you don't want) because the bark will be broken up into pieces anyway.
Next, sprinkle the peppermint crumbs over the top of the chocolate.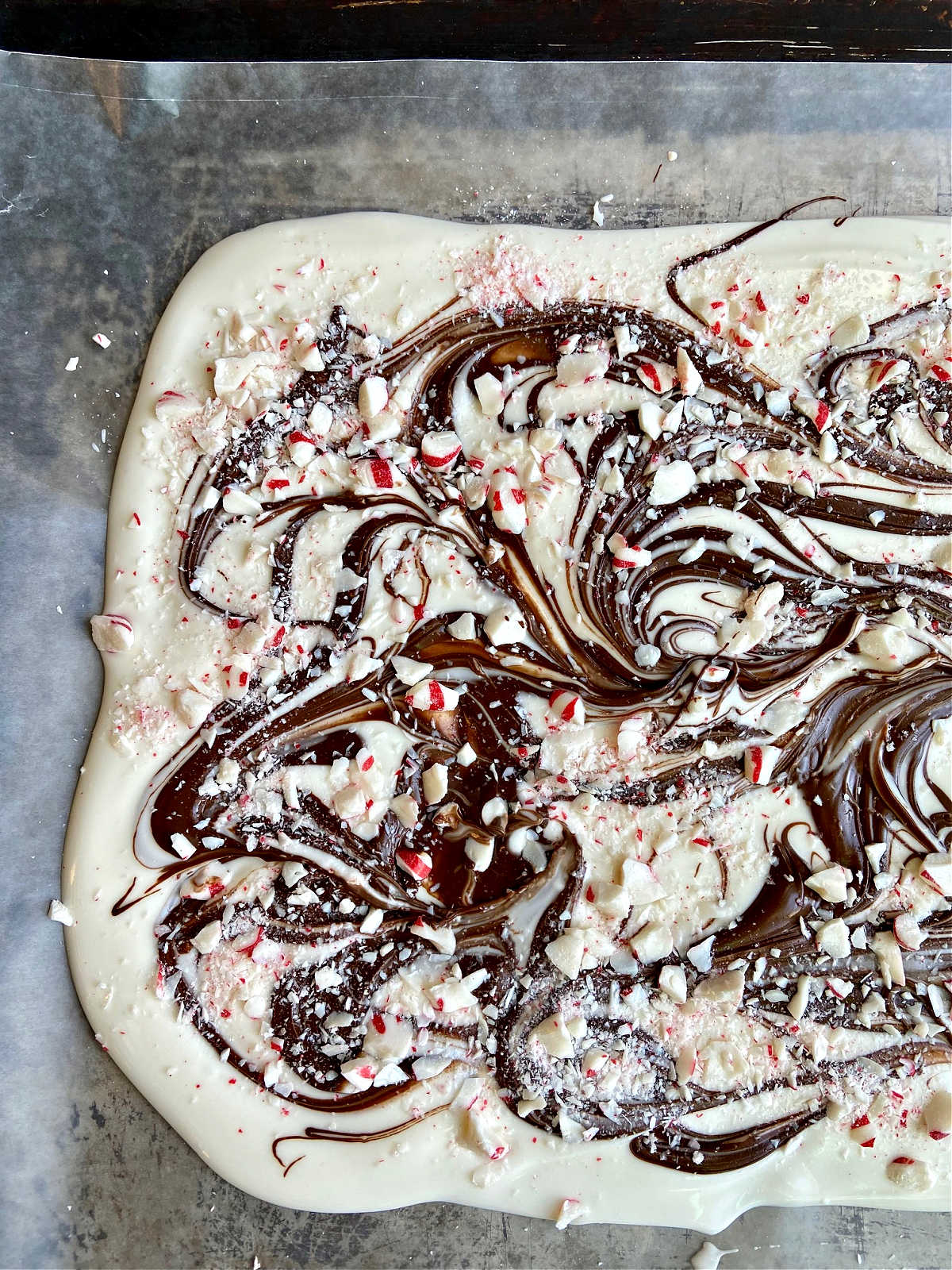 Place the chocolate swirl bark in the refrigerator to harden, about 2 hours.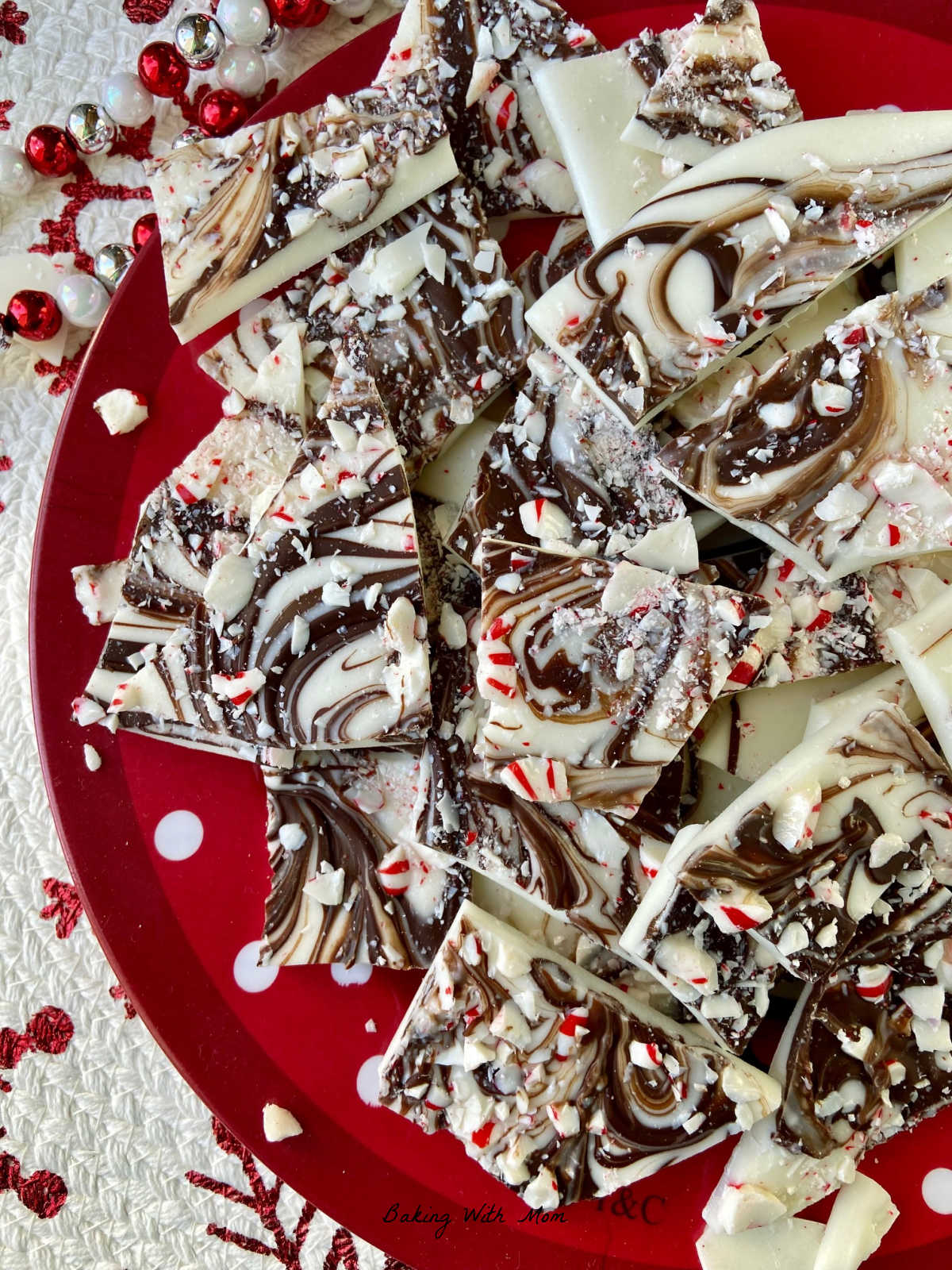 Breaking up
Breaking the candy up into pieces is the best part. (Aside from eating it!) There really isn't any rhyme or reason to it, just when the candy has chilled and hardened, pick up a corner of it and start breaking off pieces.
It is that simple. If you want bigger pieces, make the pieces bigger, if you want small pieces, make them smaller.
Like Christmas candy? Try: Crunchy Butterscotch Candy or Peanut Butter Cup Candy.
FAQ
Does this peppermint candy need to stay refrigerated?
When it is out on the table to be served, no. Don't let it sit in hot sun but it can sit out on the table. If it isn't being served at the moment, I like to keep it in the fridge to keep it hardened completely.
Can I put other toppings instead of peppermints in this?
Yes! Crushed OREO cookies would be great, or candy sprinkles.
Pin for later!
📖 Recipe
Chocolate Swirl Peppermint Bark
A great Christmas candy, this chocolate and almond bark treat does not need a candy thermometer. Easy to make and only 3 ingredients.
Ingredients
8

oz

vanilla almond bark

8 cubes

¾

cup

chocolate chips

milk chocolate

15

peppermint candies

crushed
Instructions
Spread waxed paper on the bottom of a cookie sheet

Melt almond bark in the microwave for 1 minute, then stir. Melt for 30 seconds more, stirring afterwards. Melt until bark is smooth

Pour on the waxed covered cookie sheet. Spread bark out evenly until you have a thin layer. You can make the bark as thick as you want but not so think you can see through the bark

Melt chocolate chips for 30 seconds in microwave then stir. Repeat for 15 seconds if necessary

Drizzle chocolate on almond bark. Taking a knife, swirl the chocolate around

Sprinkle mints on top of chocolate

Place in fridge for 2 hours to harden

Remove from fridge and break into pieces
Nutrition
Calories:
88
kcal
|
Carbohydrates:
12
g
|
Protein:
1
g
|
Fat:
4
g
|
Saturated Fat:
3
g
|
Polyunsaturated Fat:
1
g
|
Monounsaturated Fat:
1
g
|
Trans Fat:
1
g
|
Cholesterol:
3
mg
|
Sodium:
12
mg
|
Potassium:
26
mg
|
Fiber:
1
g
|
Sugar:
11
g
|
Vitamin A:
15
IU
|
Vitamin C:
1
mg
|
Calcium:
24
mg
|
Iron:
1
mg