This Christmas candy is only a handful of ingredients and such a sweet treat to add to your Christmas dessert tray. Chocolate Caramel Almond Bark is layered with a little sweet and a little salty. This candy recipe is made in minutes! Delicious!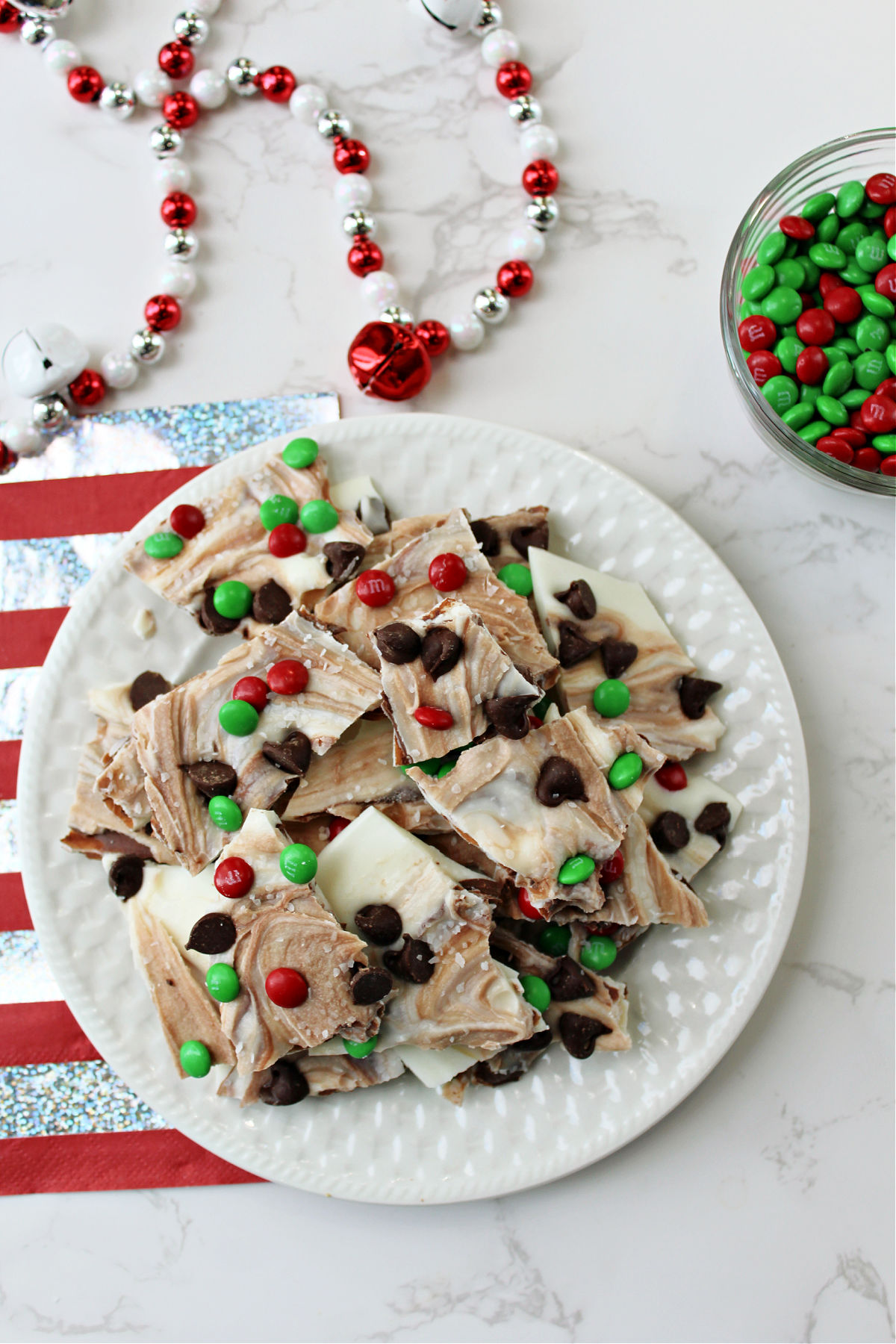 Chocolate caramel almond bark is only 5 ingredients but packed full of sweet and salty. It is also so easy to make!
With this almond bark candy, you don't have to wait until each step has hardened before you move on to the next step like this Chocolate Swirl Peppermint Candy.
In fact, the process moves so quickly that is takes very little time to make.
Ingredients
M&M's
chocolate chips
coarse salt
The best place to buy almond bark is either at Aldi or at Walmart, I have found. You may be able to do better somewhere else, but I would start looking there.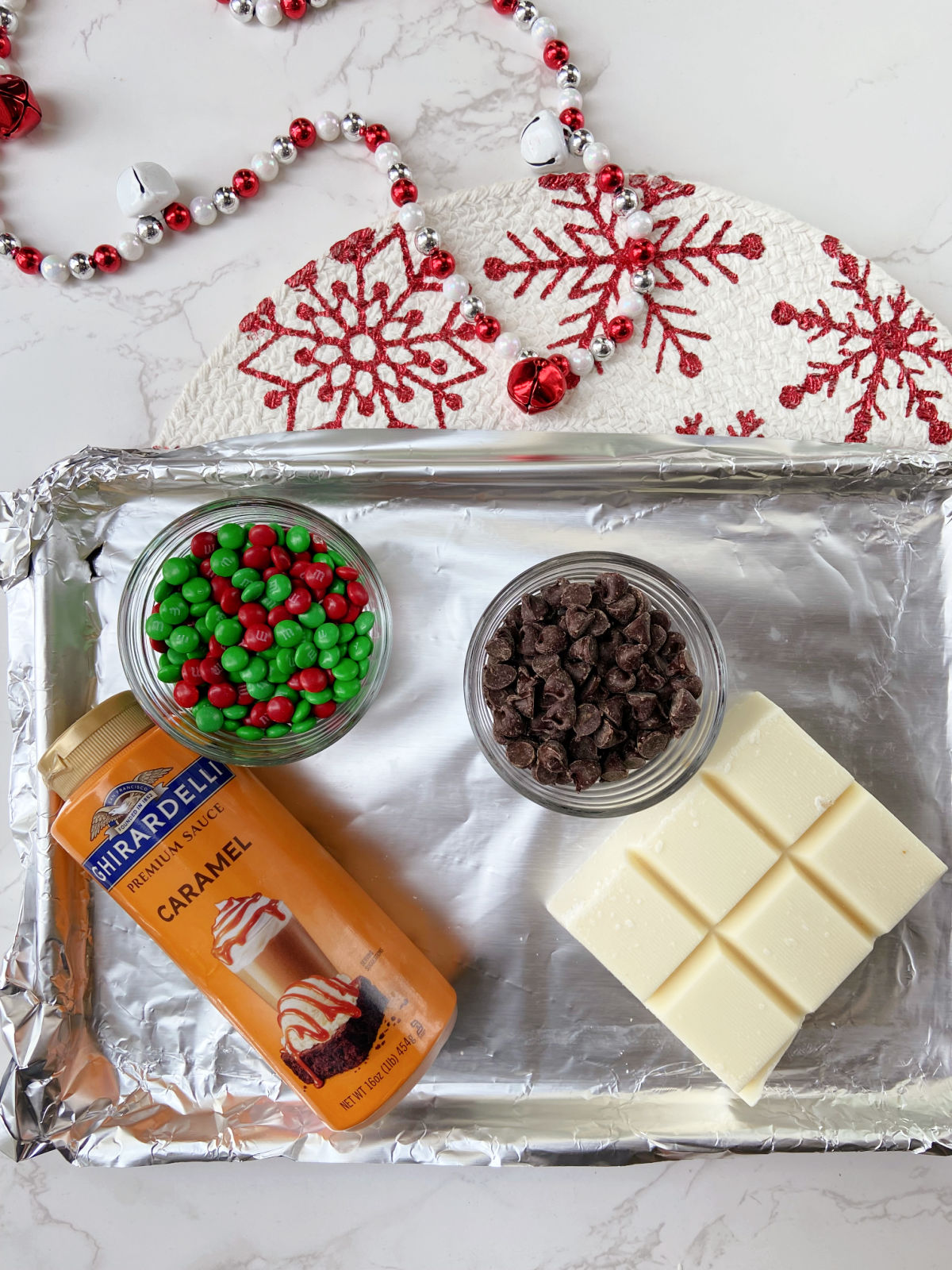 The best type of caramel to use is Ghirardelli. It not only tastes delicious but it has different types of caramel like regular or sea salt.
Scaling the recipe
This recipe is unique as you can make it as large as you want or as small as you want. The quantities for this recipe are for about 30 pieces (depending on how large you break up the pieces). Depending on how much almond bark you use, this recipe can make much more.
I used 6 almond bark squares so to double the recipe use 12 almond bark squares. On the recipe card below, you can adjust the serving size to reflect how many want to serve.
Using the bakeware
It is important to cover the baking sheet or pan you are using to make this Christmas candy. I used foil but wax paper can also be used. Covering the baking sheet helps for clean up as well!
If you are making a large amount of Chocolate Caramel Almond Bark, then foil or wax paper can go on a countertop instead of a pan, if it won't fit. It works just as well.
Tips
When you melt the almond almond bark in the microwave, the bowl needs to be microwavable. Follow the directions on the back of the package for melting the almond bark, but the idea is as follows: Melt the almond bark squares for 1 minute, then stir. Then continue to melt in the microwave for 15 second increments (stirring after each time) until completely melted.
After the bark is melted, pour on the prepared foil or wax paper.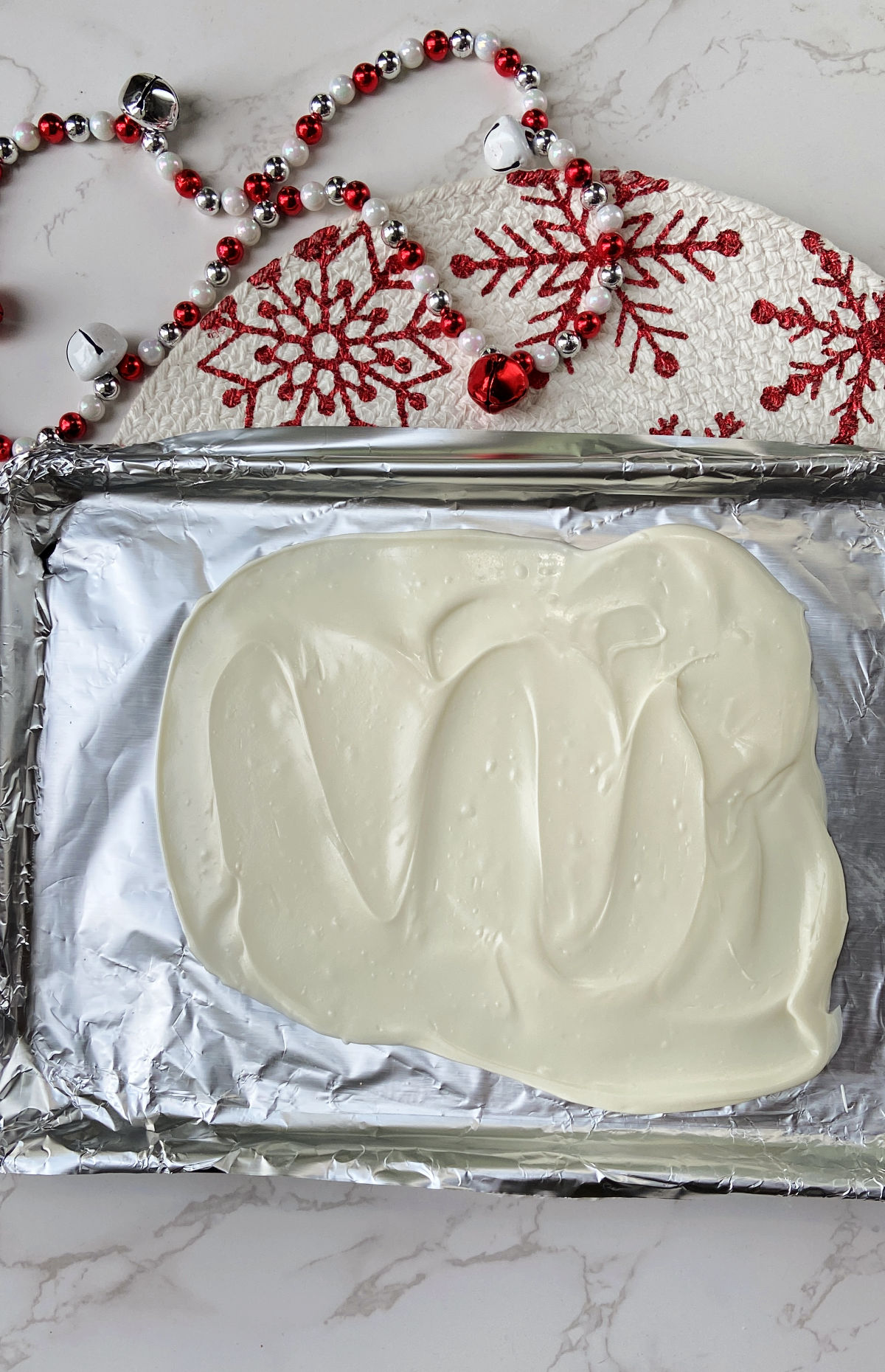 Mixing in the chocolate
The great part about this candy recipe is after melting the almond bark, there is no need to melt anything else. The chocolate chips will melt on their own in the warm almond bark.
This is why it is important after you spread the almond bark, to continue to work quickly and sprinkle the chocolate chips over the almond bark. The chocolate will be swirled into the bark.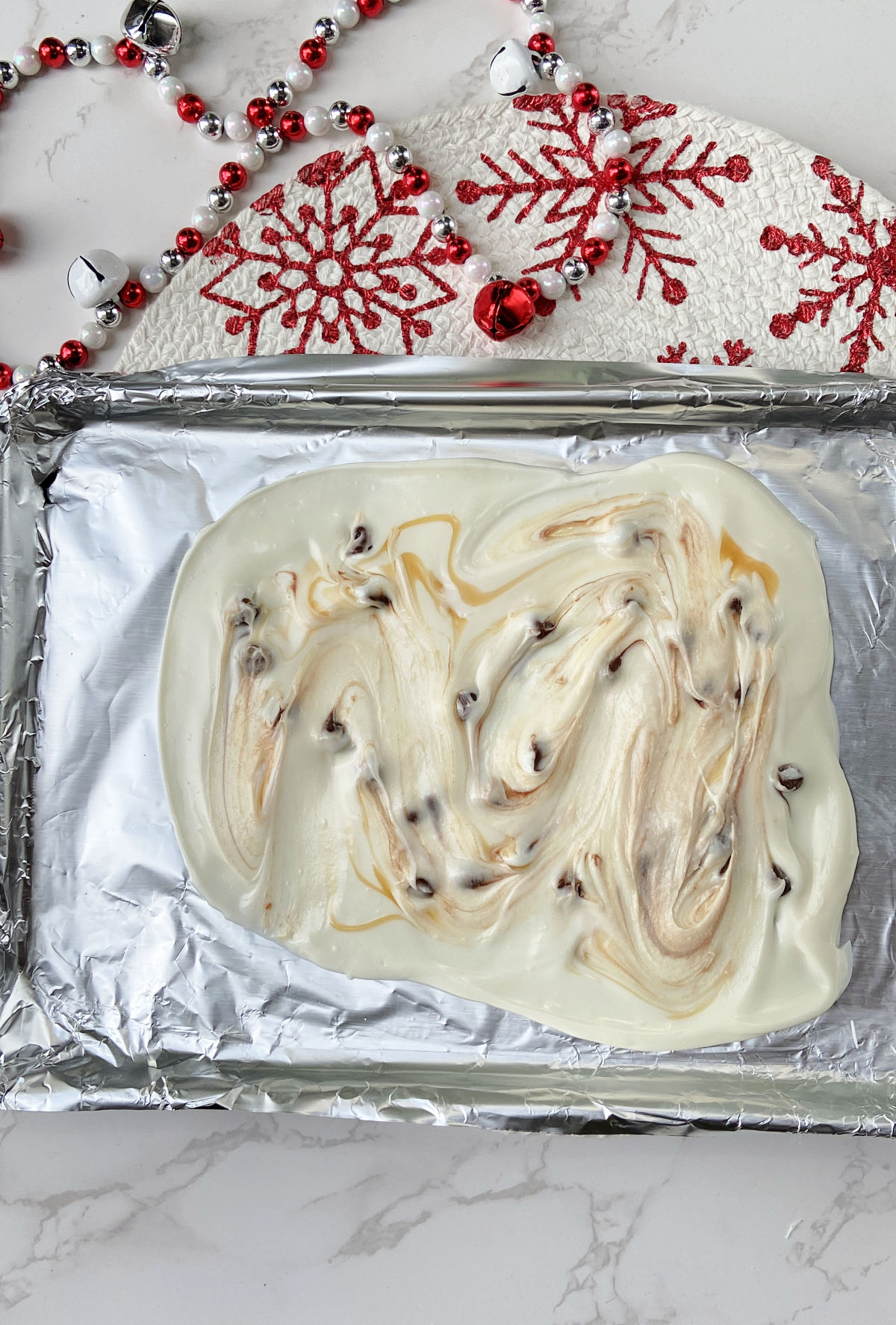 The caramel will also be swirled in.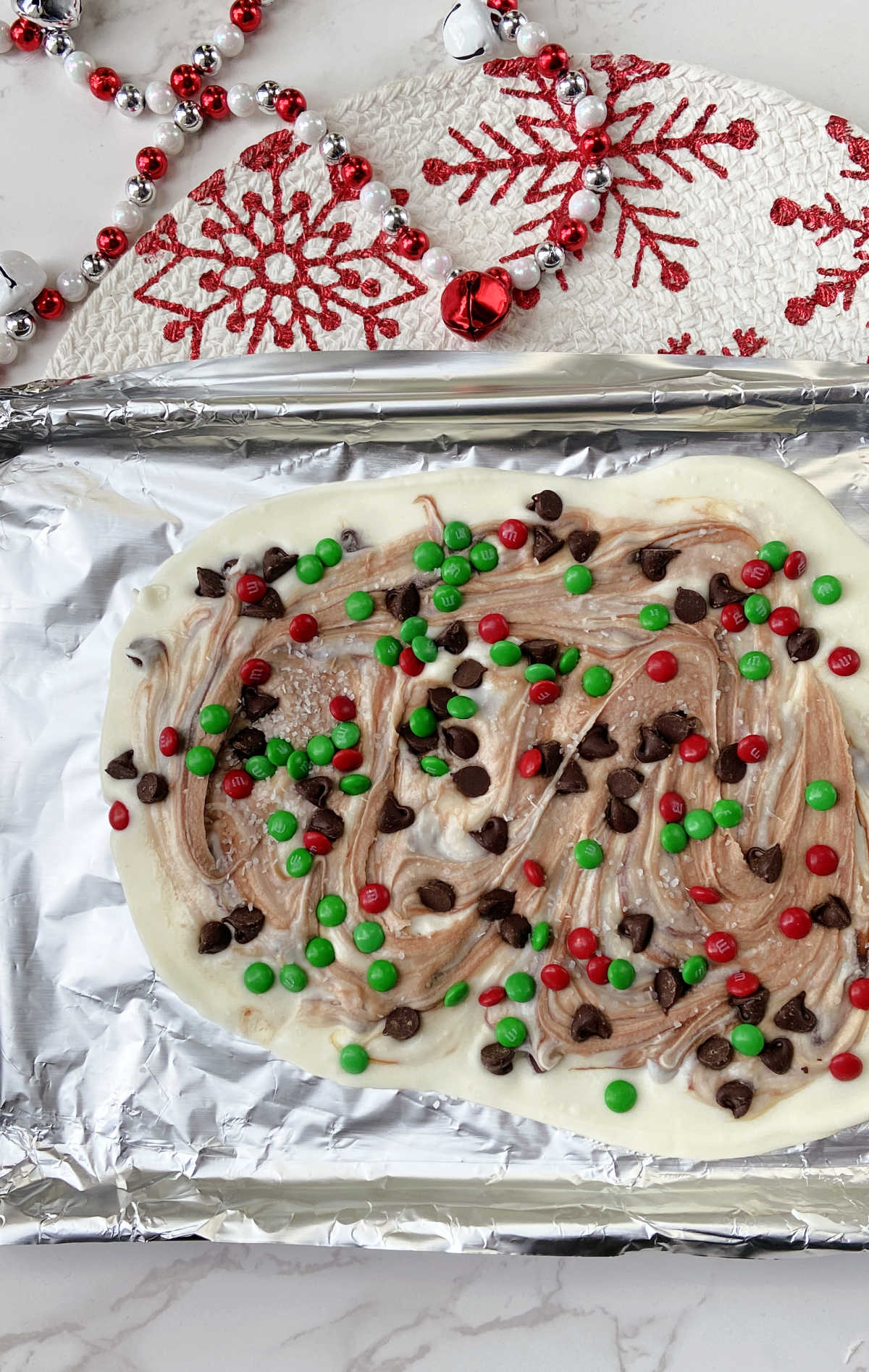 After some chocolate chips and the caramel have been swirled into the almond bark, then sprinkle chocolate chips and M&M's on top. Also, take some coarse salt and sprinkle on top.
Why the salt?
The salt helps balance out the sweet. Without the salt, the sweet may be a little overpowering. The salt adds a nice compliment of flavor to the sweet.
Refrigerate
After the ingredients have been added, the candy needs to go into the refrigerator for 1-2 hours. The candy needs to be kept cold to properly harden.
Breaking up the candy
This candy is so easy to break into pieces. I just use my hands to break the candy into smaller pieces.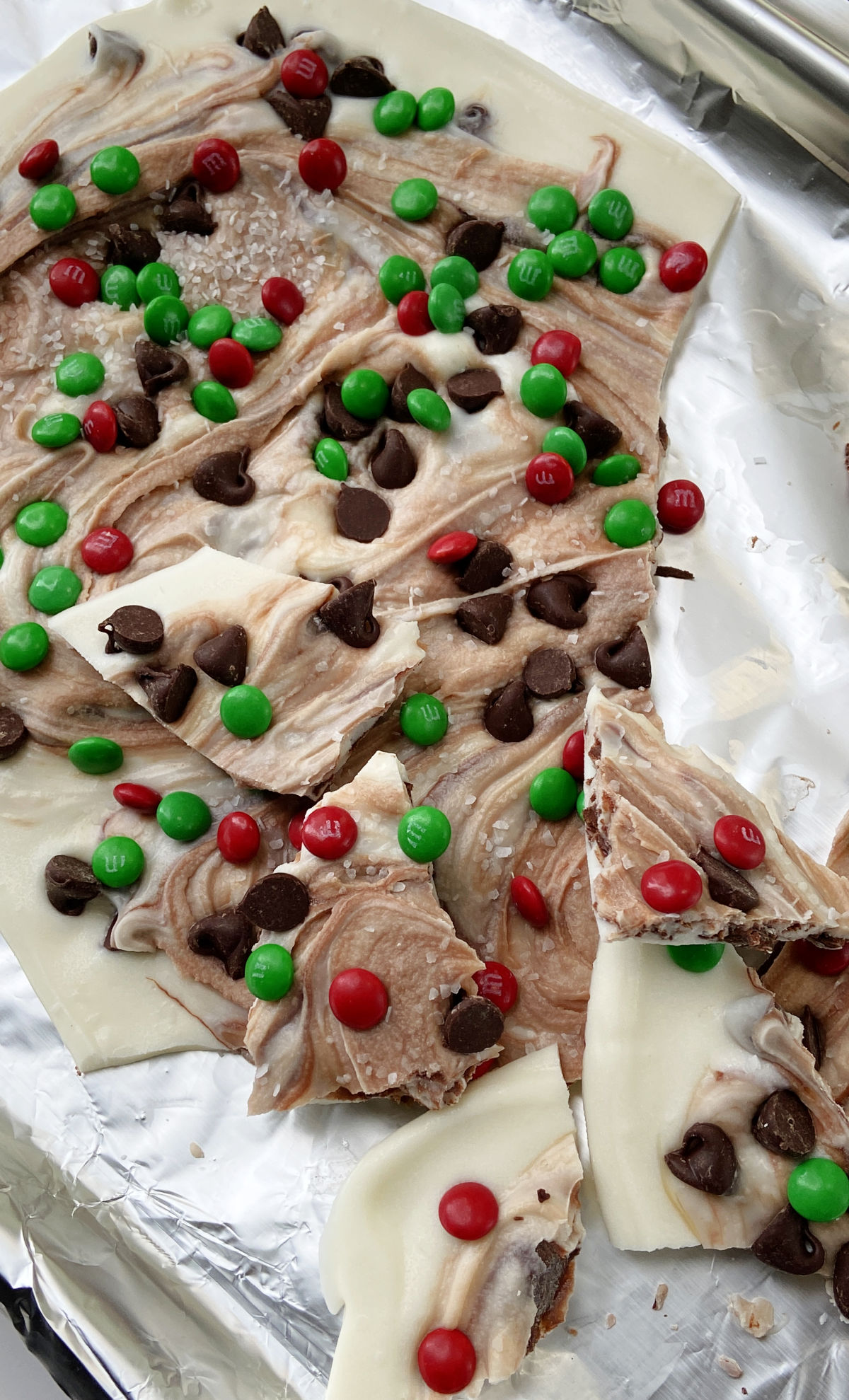 Storage
The candy will need to be kept in an airtight container. It can be kept on the counter (out of direct sunlight) or in the fridge.
Like candy recipes? Try: Strawberry Almond Bark or Salted Chocolate Caramel Candy.
Pin for later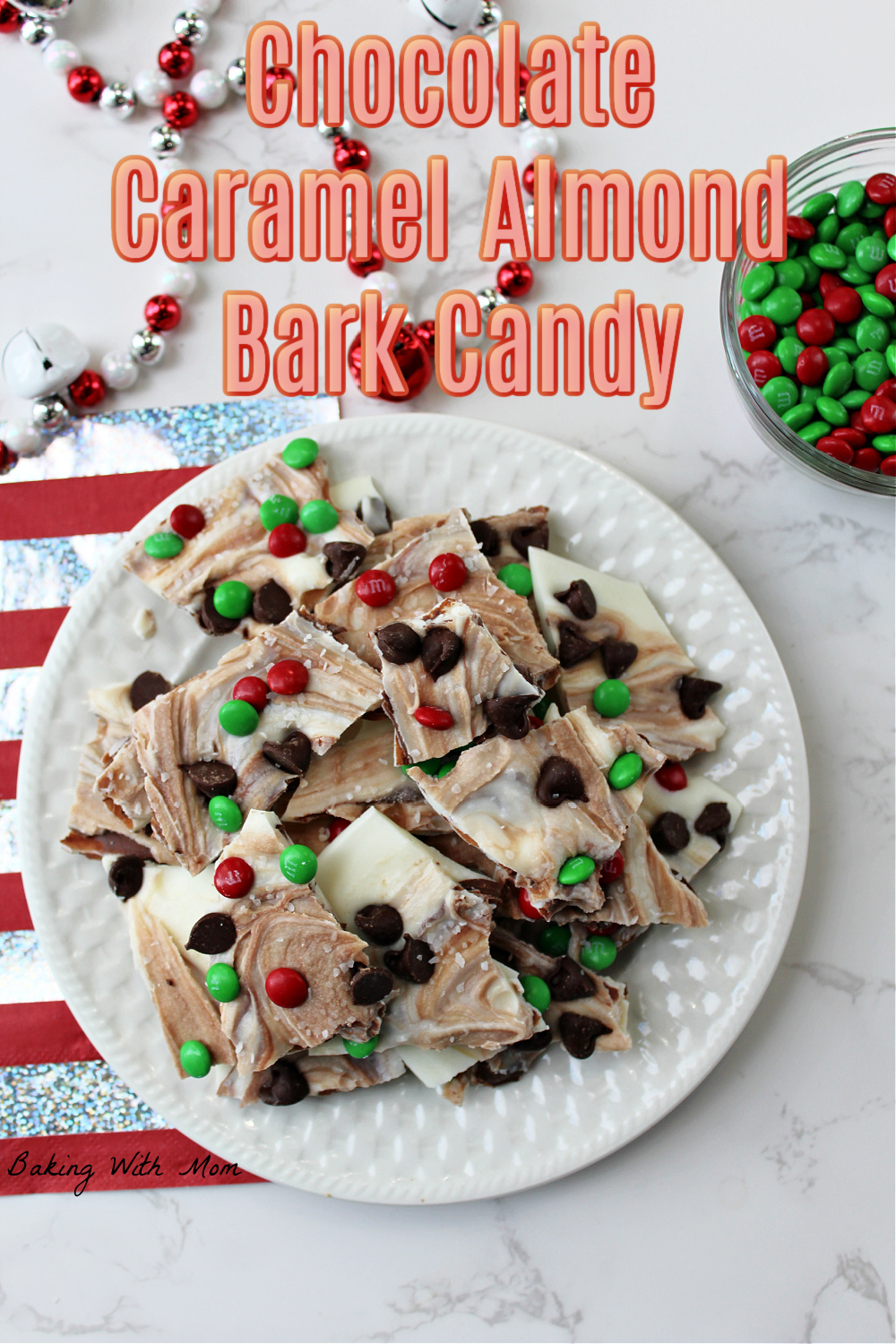 📖 Recipe
Chocolate Caramel Almond Bark
Easy to make Christmas candy with chocolate, caramel, almond bark and salt!
Ingredients
6

squares

almond bark

½

cup

M&M candies

½

cup

chocolate chips

semi sweet or milk chocolate

¼

cup

caramel topping

1

tablespoon

coarse salt
Instructions
Spread foil or wax paper on a baking sheet or on top of a counter.

Melt almond bark in the microwave in a microwavable safe bowl according to the back of the package.

When melted, spread on covered baking sheet or countertop using a spatula or back of spoon.

While the almond bark is still warm, sprinkle ¼ cup of the chocolate chips into the almond bark and swirl so they will melt.

Drizzle caramel over top of almond bark and swirl. I like to just squeeze the caramel right out of the bottle.

Sprinkle chocolate chips and M&M's on top of almond bark.

Let cool for 1-2 hours in fridge until candy has hardened.

Break apart pieces of candy using your hands.

Place on platter and serve.
Notes
Use Christmas M&M's for a more festive look.
The amount of chocolate chips and caramel used is adjustable for your own tastes and preferences.
Nutrition
Calories:
109
kcal
|
Carbohydrates:
15
g
|
Protein:
0.4
g
|
Fat:
5
g
|
Saturated Fat:
4
g
|
Trans Fat:
0.01
g
|
Cholesterol:
1
mg
|
Sodium:
295
mg
|
Potassium:
2
mg
|
Fiber:
0.2
g
|
Sugar:
14
g
|
Vitamin A:
19
IU
|
Vitamin C:
0.1
mg
|
Calcium:
10
mg
|
Iron:
0.1
mg