Peanut Butter Cup Candy has three easy ingredients and it couldn't be simpler to add to your Christmas basket.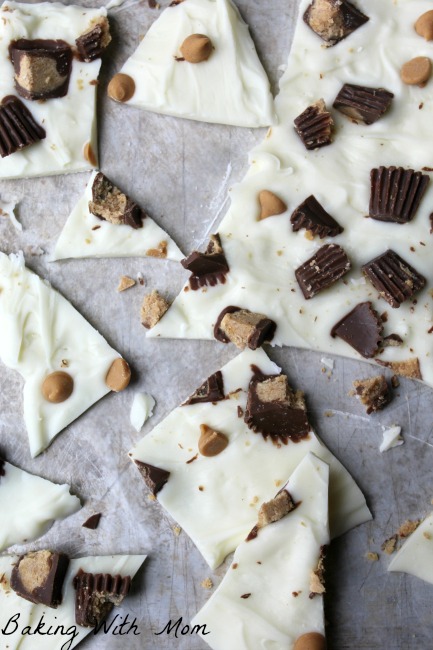 What an easy recipe to add to your Christmas baking session!?! This 3 ingredient peanut butter cup candy only takes minutes to make. My family devoured this candy in no time.
Really. One day it was in the fridge and then the next, it wasn't!
I enjoy Christmas baking and coming up with new ideas to give as gifts. I had bought a bag of Toll House White Chocolate Chips when they were on sale a few weeks ago and had stuck them in the freezer for safe keeping. Why safe keeping? Well, if I leave them out, chances are, a few will be eaten at a time. Before I know it, the bag will be empty.
It happens.
If I put them in the freezer, buried on the bottom shelf, under the frozen meat, next to the ice packs, beyond the Popsicles, they may have a chance. A fighting chance.
So that is what I did. And wouldn't you know it, when I needed them, they were there, ready to be melted for the sake of Christmas candy. They are so noble.
3 Ingredient Peanut Butter Cup Candy
Is just that, 3 ingredients. You can use just peanut butter cups and make it 2 ingredients if you want to impress everyone with a 2 ingredient recipe. However, I had peanut butter chips and I liked the look of the both of them in the recipe.
Simply melt the white chocolate chips on the stove over low heat, stirring constantly. When melted, spread on waxed paper evenly. Quickly add chopped peanut butter cups and peanut butter chips. Place in fridge for at least 2 hours until firm. Break into pieces and eat.
Delicious!
📖 Recipe
3 Ingredient Peanut Butter Cup Candy
3 ingredient peanut butter cup candy will be perfect for Christmas gifts. Easy to make and delicious to eat.
Ingredients
1

bag white chocolate chips

10

mini peanut butter cups

1

cup

peanut butter chips
Instructions
Melt white chocolate chips over low heat, stirring constantly

Spread evenly on wax paper

Spread chopped (quartered) peanut butter cups on top of white chocolate

Spread peanut butter chips on top of white chocolate

Push down on cups and chips slightly to make sure they settle in white chocolate

Place in fridge for two hours until firm

Break into piece and enjoy
Christmas Ideas: