This Apple Cinnamon Scone is a softer scone and not too dry. Perfect with the apple and cinnamon flavors, even non-scone fans will appreciate the taste of this breakfast treat.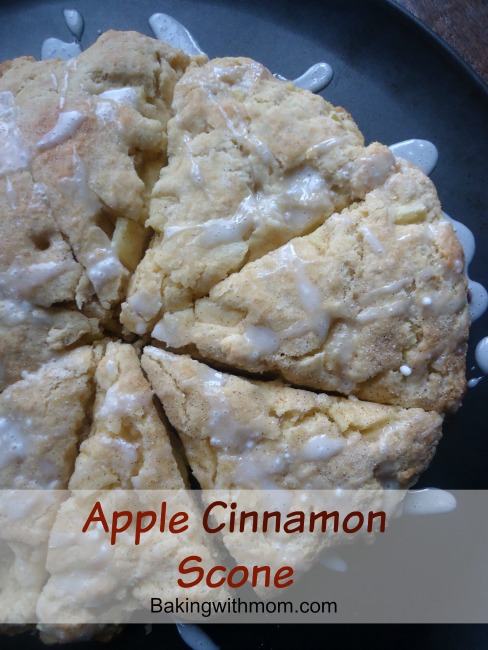 I have found it.  I could even say "Eureka! I have found it" because I have been on a hunt for the perfect scone recipe for quite some time.  The perfect scone recipe is this Apple Cinnamon Scone.
Oh, the scone.  I had always wanted to try a scone, but I had heard negative things about it.  I would see it sitting there behind the Panera window surrounded by all the other yummy treats.  I could never take the plunge.
"It's too dry."
I would hear the scoffers say.  I then would give in and take the apple or cheese danish sitting next to it.  Who could blame me?
I saw a recipe for a scone a few years ago.  In an effort of fairness (and I was plain curious), I made it.  It was good! I'm sure it was different then the ones at Panera, but mine was soft and not dry.  The original scoffer, who I happen to be married to, still didn't care for it.  Two little scoffers really didn't care for it either.  Cora and I liked it.  I didn't make it often because I didn't want there to be only two of us eating it.
Then came: The Apple Cinnamon Scone.
When I made this scone, I went the extra mile and made it circle shaped for you.  Well, as close I can manage to make circle shape.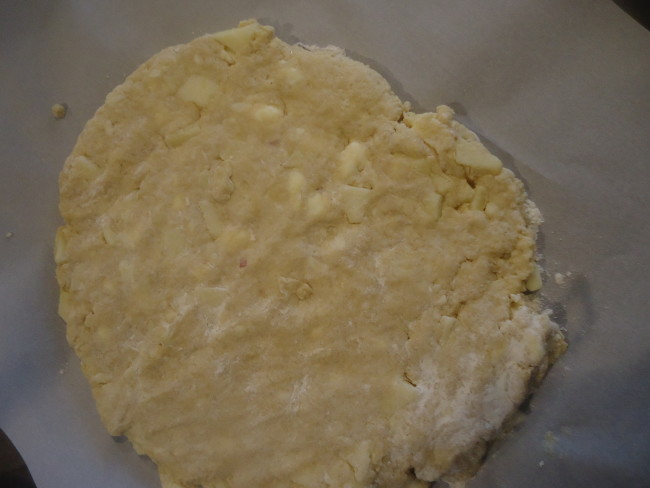 Don't laugh.  At least the apple cinnamon scone dough is shaped better than this cinnamon roll dough.
Tips for making the scone
Scones do tend to be a little dry but this one isn't. If you want each piece to be a little drier, cut the wedges first then bake.
My family, as stated above, enjoys the apple scone to be a little softer so I cut the wedges after baking to keep the soft sides.
You can be as liberal on the cinnamon sugar as you would want to. We like a little more topping, you may like a little less. You can certainly use just cinnamon to cut down on sugar intake.
I used milk in this recipe but when I make it now, I normally use almond milk as I can't have dairy. Either works just fine!
📖 Recipe
Apple Cinnamon Scone
Apple Cinnamon Scone is not like your regular scones. This one is soft and melts in your mouth. Great breakfast or lunch recipe.
Ingredients
2

cups 

all-purpose flour

¼

cup 

white sugar

2

teaspoons 

baking powder

½

teaspoon 

baking soda

½

teaspoon 

salt

¼

cup 

butter

chilled

1

apple

peeled and chopped

¼

cup

applesauce

¼ to ½

cup 

milk

2

tablespoons 

white sugar

½

teaspoon 

ground cinnamon
Instructions
Mix all the dry ingredients together.

Add the ¼ cup butter and mix well (I use my hands to get the crumbly texture.)


Add the apples, applesauce and enough milk to make a dough. Stir.


Put the dough on a greased large baking sheet. Flatten the dough out (again, I use my hands) into a circle shape. *Remember, it can be circle-ish. No one will come by and criticize if it isn't a perfect circle!* :-)


Mix the white sugar and cinnamon together in a small bowl. Sprinkle over top of scone.


Bake at 400* for 12-15 until lightly brown.


Mix 1 cup powdered sugar and 1-2 tablespoons milk. Stir. You may want to add more sugar or milk until you reach the constancy you want. Drizzle over warmed scone and serve immediately.

Nutrition
Calories:
328
kcal
|
Carbohydrates:
61
g
|
Protein:
6
g
|
Fat:
6
g
|
Saturated Fat:
3
g
|
Cholesterol:
15
mg
|
Sodium:
259
mg
|
Potassium:
217
mg
|
Fiber:
2
g
|
Sugar:
14
g
|
Vitamin A:
195
IU
|
Vitamin C:
1.1
mg
|
Calcium:
68
mg
|
Iron:
2.9
mg