One Bowl Applesauce Cake with cinnamon, applesauce is a great fall cake dessert and a delicious fall recipe.
This one is for my mom. A favorite of mine from childhood. Delicious One Bowl Applesauce Cake with a fabulous browned butter lemon frosting. Nuts? If you insist. I don't. But that is okay. ;-)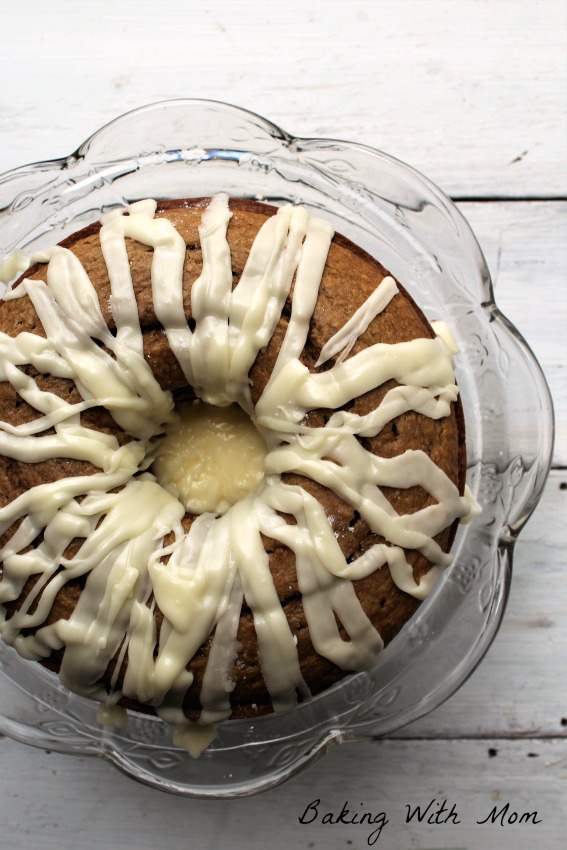 *This post contains affiliate links. If you click on a link and make a purchase, I will receive a small commission at no additional cost to you. 
I may be having a birthday coming up. It *may* be a big one. Okay, it is a big one. But let's focus on the cake, shall we? The One Bowl Applesauce Cake if you don't mind.
My mom would make this for my siblings and myself for our birthdays. Yes, some years I would choose a store bought cake. But eventually, as I grew older, I realized that no store bought cake even came close to this homemade wonder. Oh, yum.
It's the browned lemon butter frosting on top that makes the cake extra delicious. The cake is moist, flavorful of apples and cinnamon and with that topping of lemon drizzled down the side: pure deliciousness.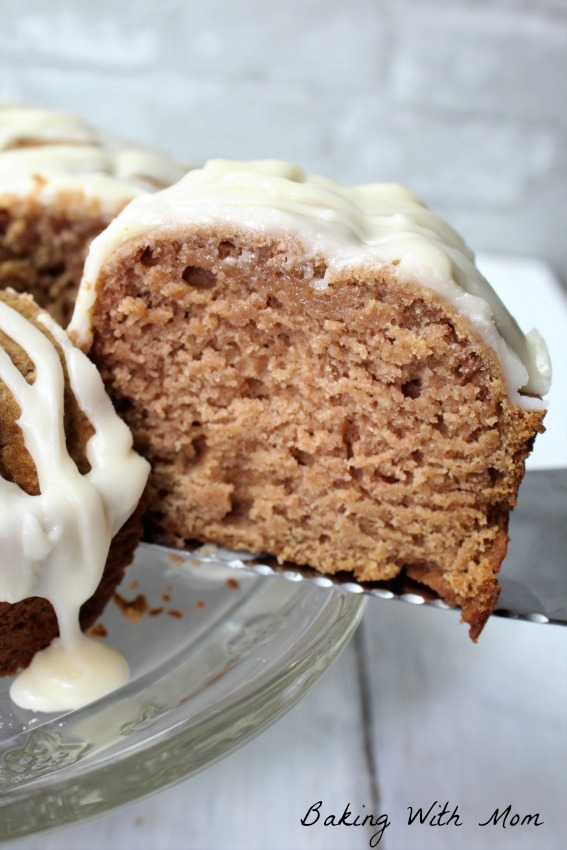 One Bowl Applesauce Cake
So here is the big dilemma: Do you add raisins and nuts to the batter. Now, if you want my opinion, raisins are a sure thing. (Unless of course you don't have any in the pantry.) ;-) I wished I had some when I baked this but the kids ate them all. I LOVE raisins in this cake. It adds another depth to the cake that makes the cake shine even more.
Nuts on the other hand should be forbidden in baked goods. Yes, they should. Baked goods are soft and chewy. Adding a hard nut in the middle of that soft and deliciousness should be forbidden.
Completely
I asked the question on my Facebook page and would love to know your opinion! What do you think?
When making this One Bowl Applesauce Cake, the best part, besides the taste, is the fact it is indeed, one bowl. From start to finish, you just put everything in a large bowl and mix it. No need to separate the flour from the wet ingredients. You can dump everything in and use a hand mixer and mix away.
Gotta love the ease of preparation!
I use my trusty hand mixer that I have had for over 20 years. I would think it's on it's last mix, but it still works. This mixer I linked to has a storage container with it and mine does not. It would be nice to have a storage container because my children put away dishes and I'm telling you, the beaters are never, ever in the same spot. Maybe a container would keep everything together! :-)
One Bowl Applesauce Cake
One Bowl Applesauce Cake with cinnamon, applesauce is a great fall cake dessert and a delicious fall recipe.
Ingredients
2 ½

cups

flour

1

cup

sugar

1 ½

teaspoon

baking soda

1 ½

teaspoon

salt

¼

teaspoon

baking powder

¾

teaspoon

cinnamon

1 ½

cup

applesauce

½

cup

water

½

cup

shortening

2

eggs

1

cup

raisins

optional

3

cups

powdered sugar

⅓

cup

margarine

2

T

lemon juice
Instructions
Put all ingredients together in a large bowl EXCEPT powdered sugar, margarine and lemon juice

Mix with hand mixer or KitchenAid mixer for 30 seconds on low and 3 minutes on high.

Pour batter into a greased angel food cake tube pan or 9x13 cake pan.

Place in a preheated 350* oven

Tube pan: 50 minutes

Cake pan: 50-55 minutes until test done

For Lemon Frosting:

Melt butter in a medium saucepan over medium/low heat, stirring constantly. Remove from heat and whisk in powdered sugar and lemon juice.

Pour over cooled cake. Serve
Nutrition
Calories:
456
kcal
Carbohydrates:
79
g
Protein:
4
g
Fat:
14
g
Saturated Fat:
3
g
Cholesterol:
27
mg
Sodium:
524
mg
Potassium:
170
mg
Fiber:
1
g
Sugar:
49
g
Vitamin A:
275
IU
Vitamin C:
1.9
mg
Calcium:
21
mg
Iron:
1.7
mg