The fun popsicles of the day, the Bomb Pops. With layers of red, white and blue, it screams summer. Well now, you can have that summer nostalgia in a drink for your family.
Non-Alcoholic Bomb Pop Drink is layered with lemonade, strawberries and of course, a bomb pop. A delicious drink reminding you of yesteryear.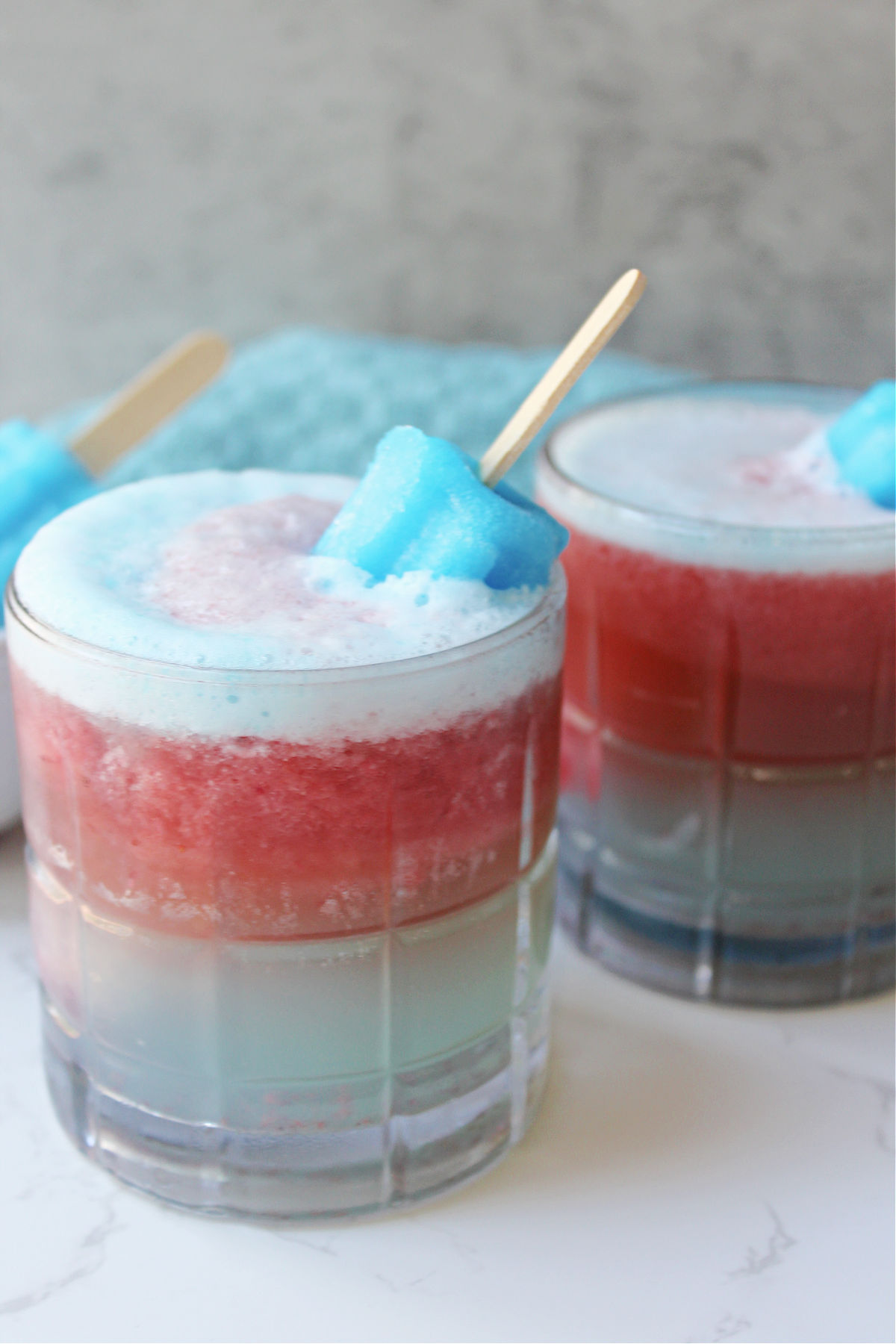 As we were sitting in a restaurant on our vacation in Virginia, the menu had an alcoholic drink with a Bomb Pop in it. I loved the idea, as it drew my kids attention to it, but of course, as we don't do alcohol in this house, I wanted to create a non-alcoholic version.
Non-Alcoholic Bomb Pop Drink has layers of red, white and blue and so much flavor! It can be made up quickly and the kids loved them.
What I am saying, we loved it too!
Ingredients
frozen lemonade concentrate
frozen or fresh strawberries
blue food dye
Bomb Pops
water
You will also need ice, though it isn't completely necessary. The ice adds a nice depth to the drink.
This drink also requires a blender. If you don't have a blender, a Magic Bullet would work, but it would take longer to mix up.
Let it thaw, let it thaw
First, you will want to let the frozen lemonade concentrate thaw on the counter for about 1 hour. It doesn't have to be thawed completely, but you do want the mix to be not hard.
Same goes for the strawberries. If you are using frozen strawberries, let them thaw on the counter for about an hour. I recommend using this type of frozen strawberries.
Fresh works great as well, so if they are in season, go for it! You will just have to add some water to the strawberries in the blender when you are mixing it.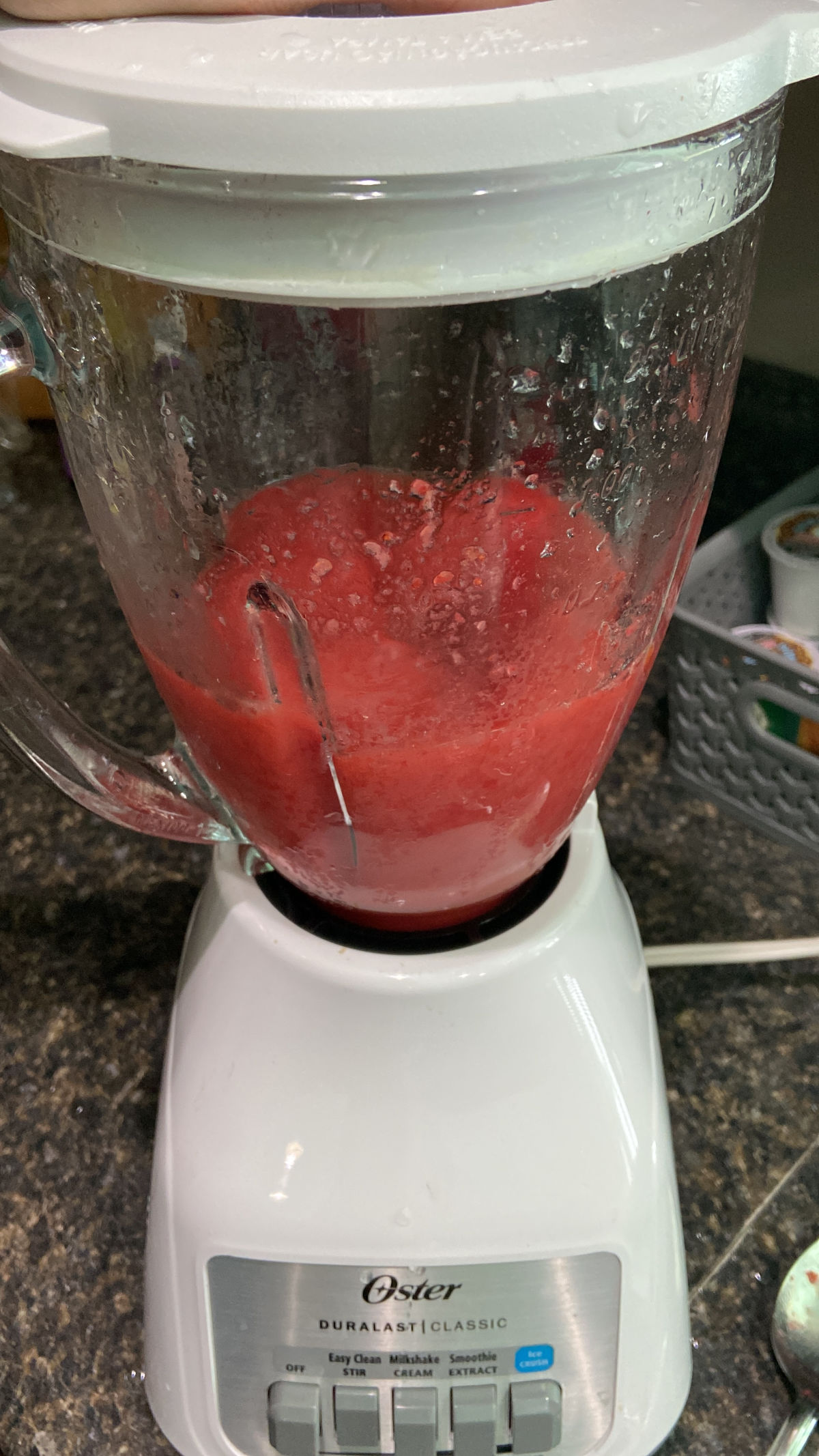 Blue dye
The blue dye may not be a favorite of many of you, and that is okay. Only very little is needed to create the blue coloring in the lemonade.
If you would rather leave that part out, you could have red and white colors instead of red, white and blue. Or if you want to make the blue color naturally, you can use this recipe for natural colorings.
You can also use blue Hawaiian punch or a touch of blue berry gelatin with lemonade to create blue. They both, of course, have blue dye.
How much does this batch make?
This batch makes five 1 ½ cup servings.
What about layering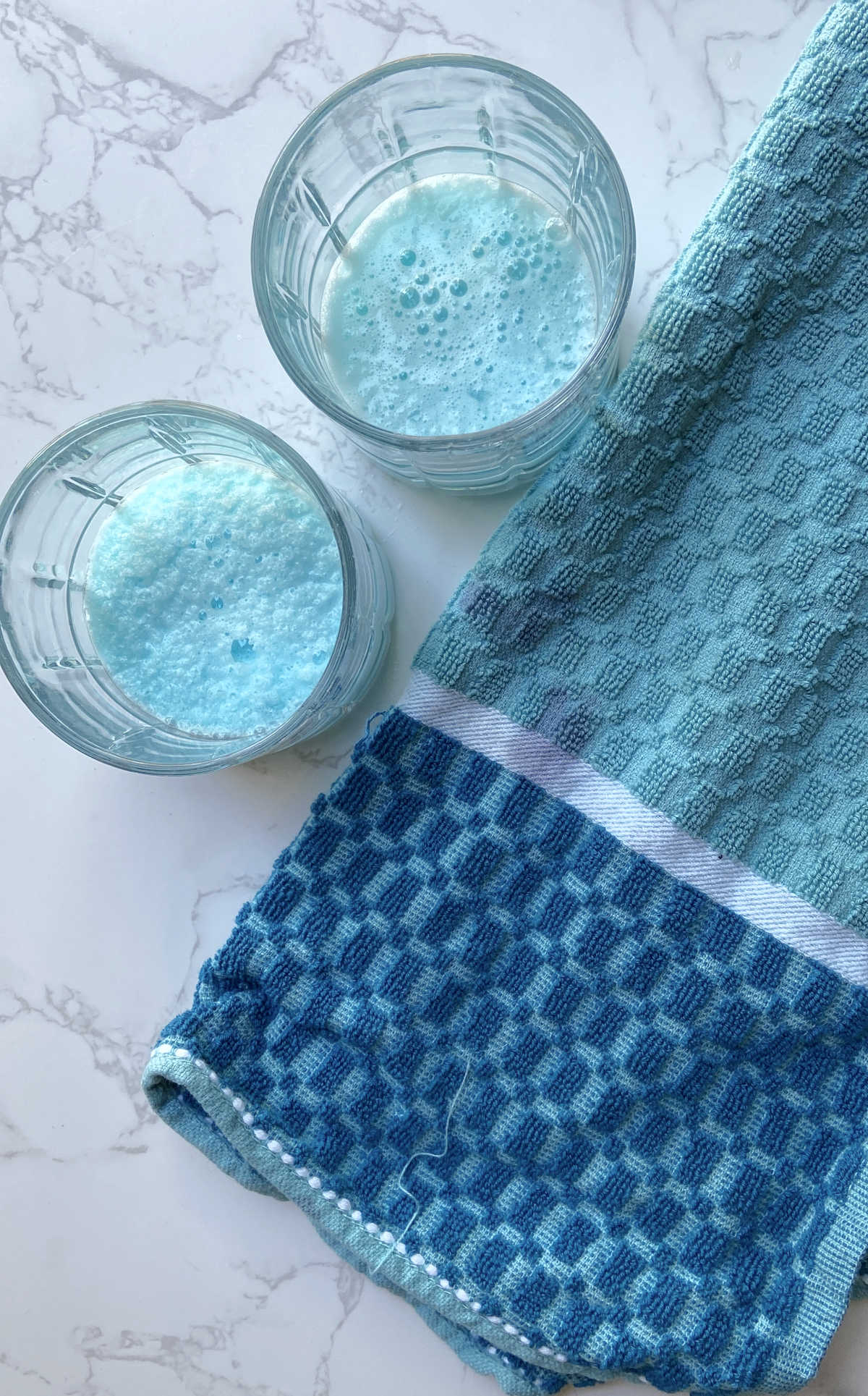 I started with the blue layer, but it didn't stay at the bottom. The blue layer rose to the top and that may happen. It still works.
The blue layer is blue dye and lemonade. The strawberry layer is strawberries blended with a bit of water. The white layer is lemonade. So basically, you have strawberry lemonade.
After the blue layer, pour over the strawberries then add the white layer, the lemonade.
Then, add a Bomb Pop.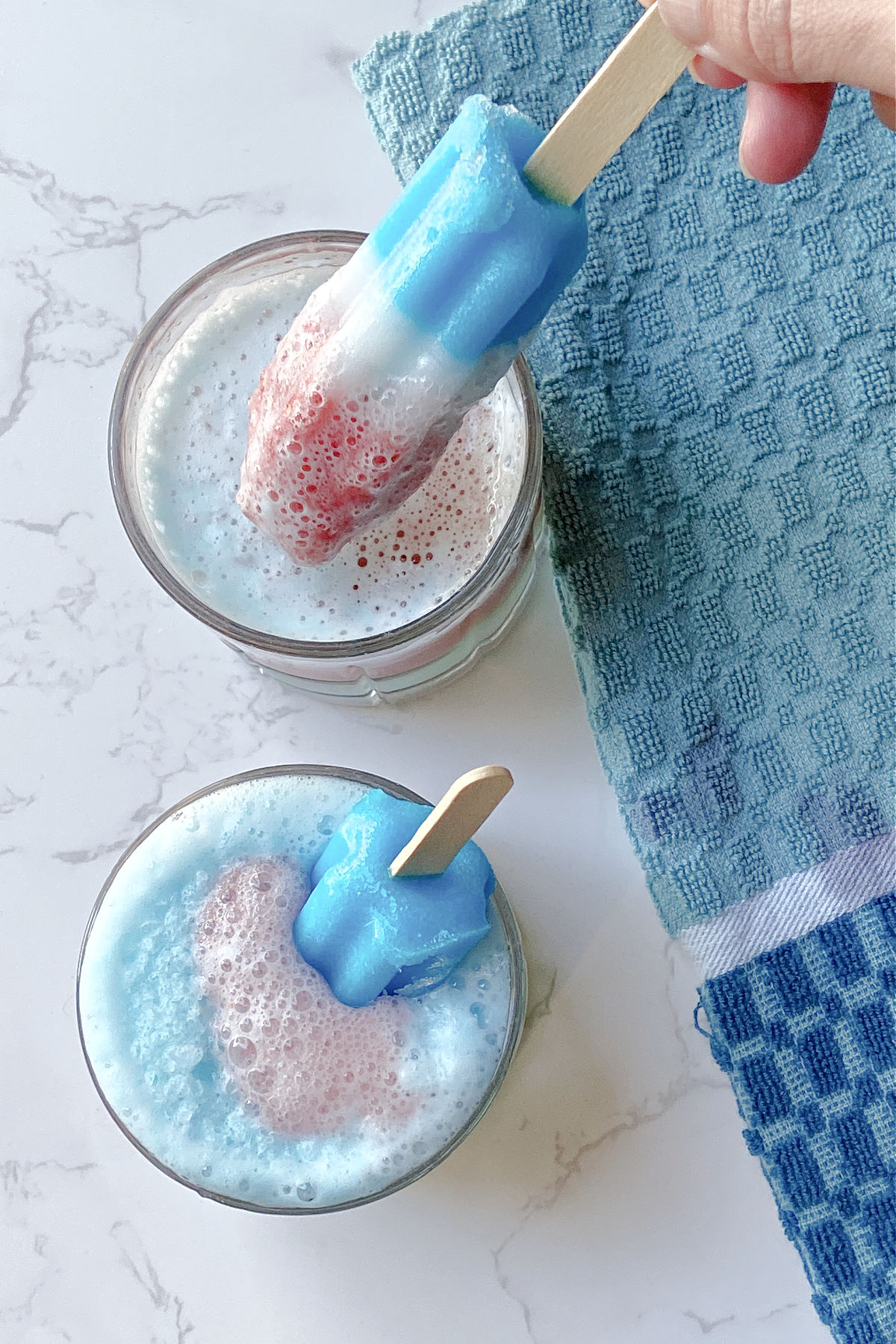 Ice
Adding the ice cubes to the drinks while blending helps to give it that nice slush texture which adds more to the drink I think. It also makes it extra summery, you know?
Tips:
I liked mixing the drink or strawberries in a blender, then pouring it into another cup then blend another part of the recipe. Then I added all the layers one after another.
If you don't want to add strawberries, you could use Hawaiian punch, red and blue then add the lemonade. Using the strawberries added a little more thickness which I thought added a fun dimension to it.
Pin for later!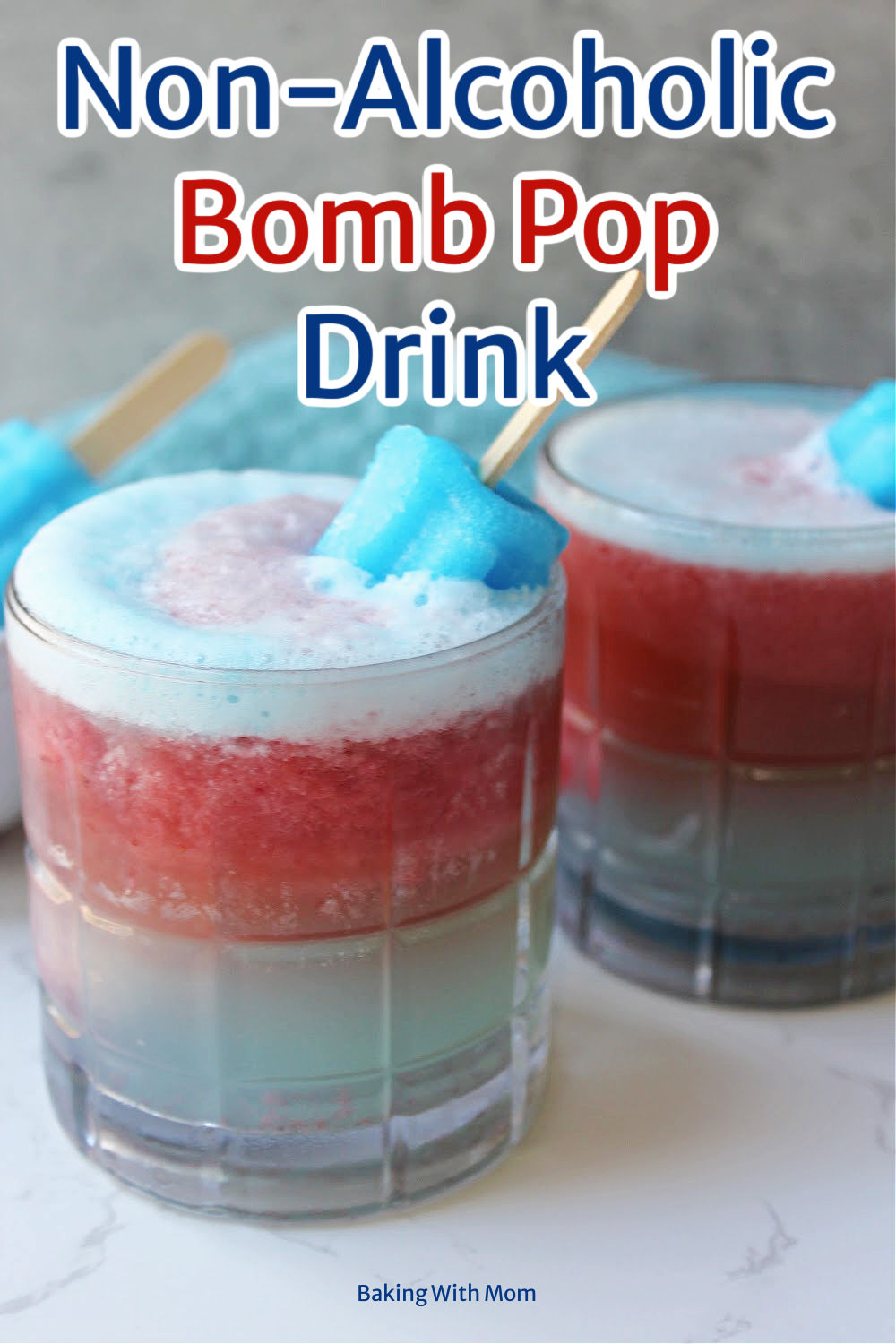 📖 Recipe
Non-Alcoholic Bomb Pop Drink
A fun summertime drink recipe great for the 4th of July! Lemonade and strawberries make this recipe full of flavor and fun!
Servings
5
1 ½ cup servings
Ingredients
12

oz

lemonade concentrate

15.5

oz

frozen strawberries with sugar

1

drop

blue food dye

water

ice
Instructions
Add lemonade concentrate to a blender

Using the lemonade can to measure, add two cans of water to the lemonade concentrate

Pour half into a pitcher or large container and set aside

Add 1 drop of blue food coloring to the lemonade remaining in the blender and pulse until the food coloring is mixed in

Pour blue lemonade into a separate pitcher or container and set aside

Blend strawberries with about ½ cup of water and 5 ice cubes

Layer blue, then red then white

Add Bomb Pops to the drink and serve
Nutrition
Calories:
161
kcal
|
Carbohydrates:
41
g
|
Protein:
1
g
|
Fat:
1
g
|
Saturated Fat:
0.03
g
|
Polyunsaturated Fat:
0.2
g
|
Monounsaturated Fat:
0.04
g
|
Sodium:
6
mg
|
Potassium:
183
mg
|
Fiber:
2
g
|
Sugar:
35
g
|
Vitamin A:
11
IU
|
Vitamin C:
61
mg
|
Calcium:
19
mg
|
Iron:
0.4
mg
Need other non-alcoholic drinks? Try: Vanilla Orange Frosty, Strawberry Punch, Non-Alcoholic Strawberry Lime Punch and Grape Black Cherry Fizz.