An appetizer made in minutes, this Hot Pizza Dip will be a hit at parties.  There certainly won't be any left!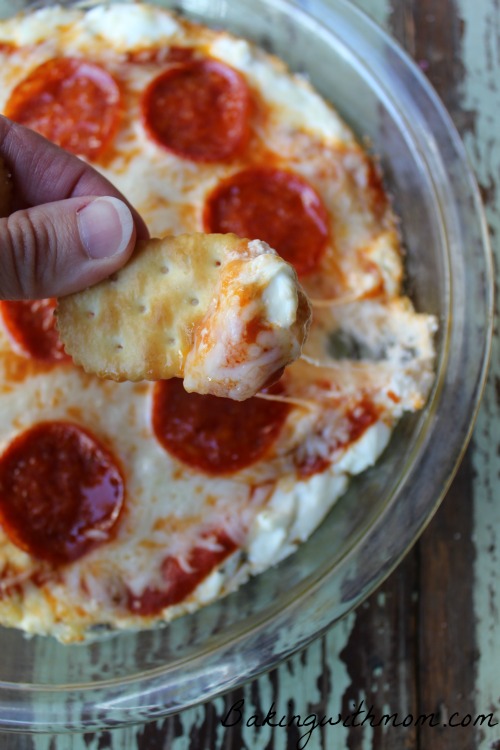 *This post contains affiliate links. If you click on a link and make a purchase, I will receive a small commission at no additional cost to you. You can read our full disclosure here.
I was rummaging through my refrigerator to find something new to make for my family over Christmas break. My husband was home that day as well, so I thought I would make something new to keep our lives interesting. And, of course, making something new is fun. Granted it is good. ;-) Good thing this Hot Pizza Dip was really, really good.
Trying new recipes has always been a problem for my husband. It is not something he necessarily likes to do. I have learned to only put ingredients he enjoys in them and he has learned to try them. Like the Hamburger Casserole.  He was scared to try it, he tried it, he loves it. It is now on the meal rotation. Everyone is happy.
Well, as I was rummaging through the fridge, I found some cream cheese I had bought on sale not too long ago.
Cream cheese makes him happy.
Cream cheese can mean a dip. (Like the Snicker's Cookie Dough Dip.)
A dip means I have an excuse to eat chips or crackers.
Chips and crackers mean salt.
Salt makes me happy. It's true, it does.
(See how I tie all of that in together?)
Now before all of you get concerned that I eat too much salt, I really don't. I just enjoy it when I get it. Like salty french fries at a restaurant. Never do it at home, but great for a treat.
That was a long rabbit trail, sorry.
Hot Pizza Dip
Anyway, with the dip in mind, and the family always enjoying a good pizza, I thought I would whip up a Hot Pizza Dip. This dip couldn't have been easier. In fact, if you find out last minute you are having company over, this dip would be great to serve. It takes very little prep, it tastes wonderful and you probably have the ingredients in the fridge or pantry.
You can add any toppings you like to your pizza dip, such as olives or green peppers.  We (the children and hubby, ahem) prefers pepperoni on their pizza so that is what we put on it. You can put it in a 9 inch pie pan (like this one) or a small 9 inch square pan (like this one).  I personally like the way the pie pan made the dip look, but either would work just fine!
Enjoy this dip and have fun with it! So easy and good!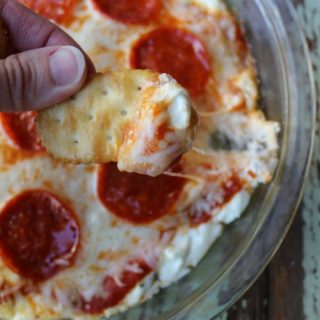 Hot Pizza Dip
Hot pizza dip is only a handful of ingredients. It comes together easily and is great for last minute company.
Print
Pin
Rate
Ingredients
8

oz

block cream cheese

3/4

cup

sour cream

1

tablespoon

Italian Seasonings

1

tsp

garlic powder

1/2

cup

pizza sauce

(or more depending on taste)

1

cup

mozzarella cheese

toppings of choice
Instructions
Mix cream cheese and sour cream together

Stir in Italian seasonings and garlic powder

Spread on the bottom of a greased 9 in pie pan

Spread pizza sauce on top of cream cheese mixture

Put toppings on sauce

Put cheese on top of toppings

Garnish with pepperoni if you would like

Bake in a 350* oven for 10-15 minutes or until cheese is melted and mixture is bubbly

Serve with chips or crackers
Nutrition
Calories:
119
kcal
|
Carbohydrates:
4
g
|
Protein:
8
g
|
Fat:
7
g
|
Saturated Fat:
4
g
|
Cholesterol:
25
mg
|
Sodium:
384
mg
|
Potassium:
183
mg
|
Sugar:
3
g
|
Vitamin A:
320
IU
|
Vitamin C:
1.2
mg
|
Calcium:
206
mg
|
Iron:
0.5
mg
Need another appetizer idea? Try a Bacon Cheese Ball: