Being used to my hubby's picky eating, it always surprises me when he orders a Reuben at a restaurant. I decided to put together a Hot Reuben Dip just for him--and the family loved it too!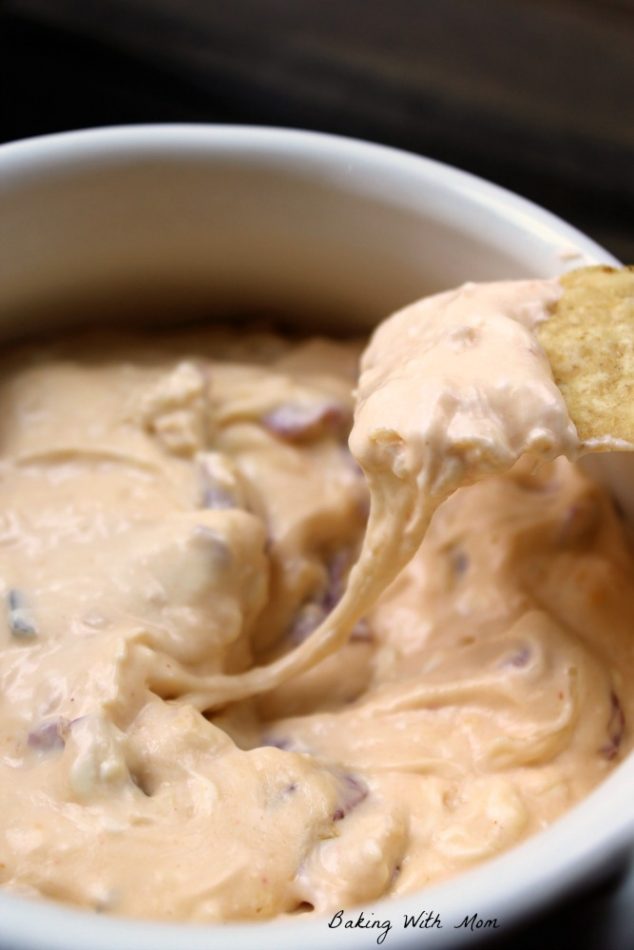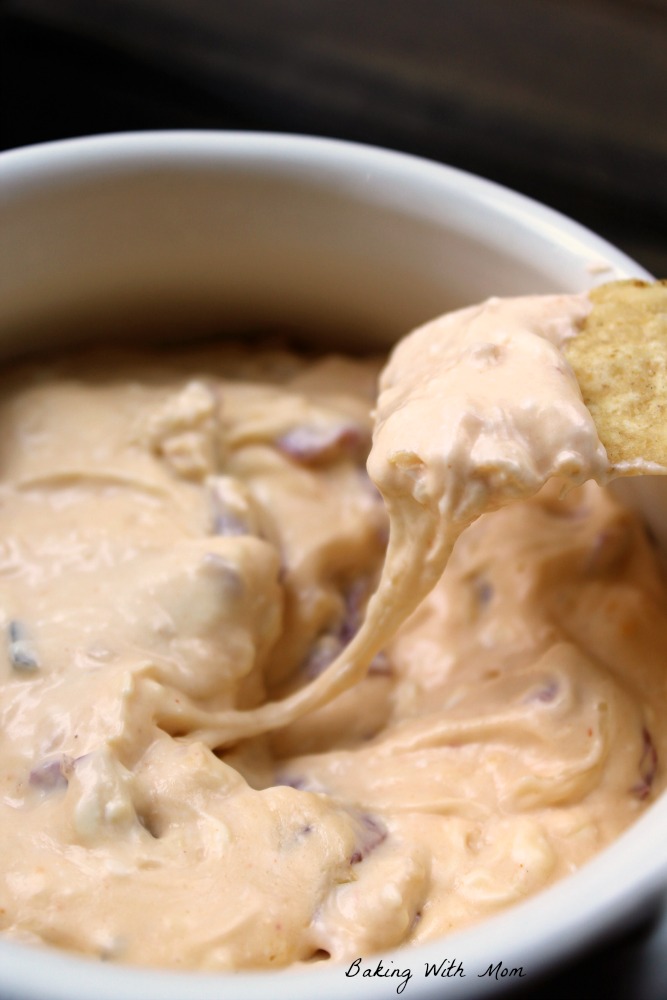 Hot Reuben Dip is something I never thought I would enjoy. I am not a fan of Thousand Island Dressing on salad, sauerkraut in Spicy Sausage and Tortellini Soup is good but don't talk to me about sauerkraut and Polish sausage. The smell lingers for days.
But this dip. This dip is scrumptious. It really is.
Corned Beef is not something I eat on a regular basis. Okay, ever. If I am being 100% truthful, Swiss Cheese can never take the place of Cheddar in my book.  I know, you are wondering how all these ingredients came together for something I enjoyed eating. The magic of cream cheese, I guess.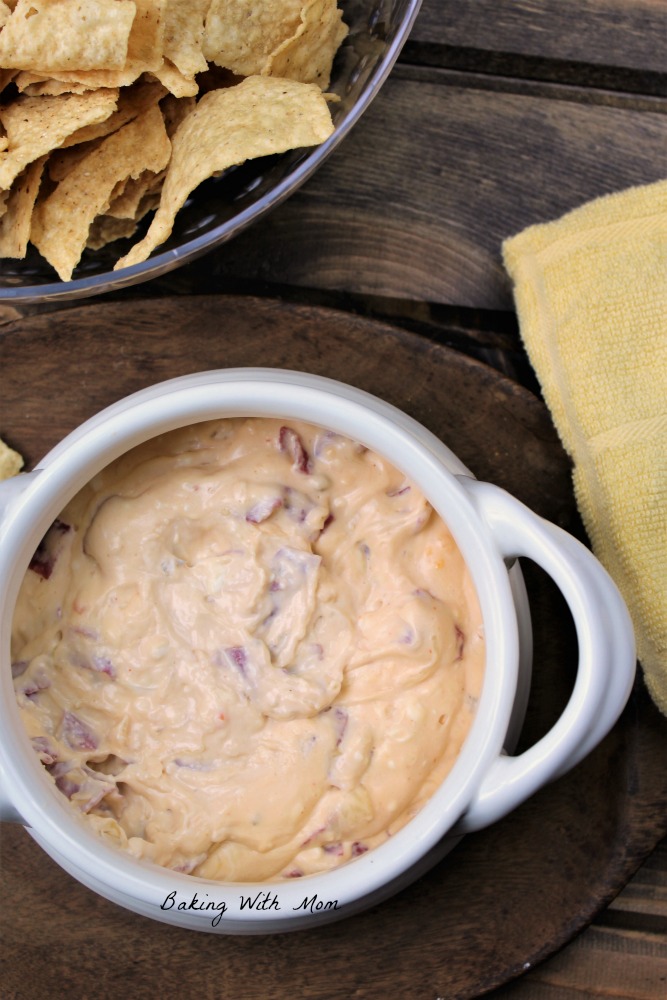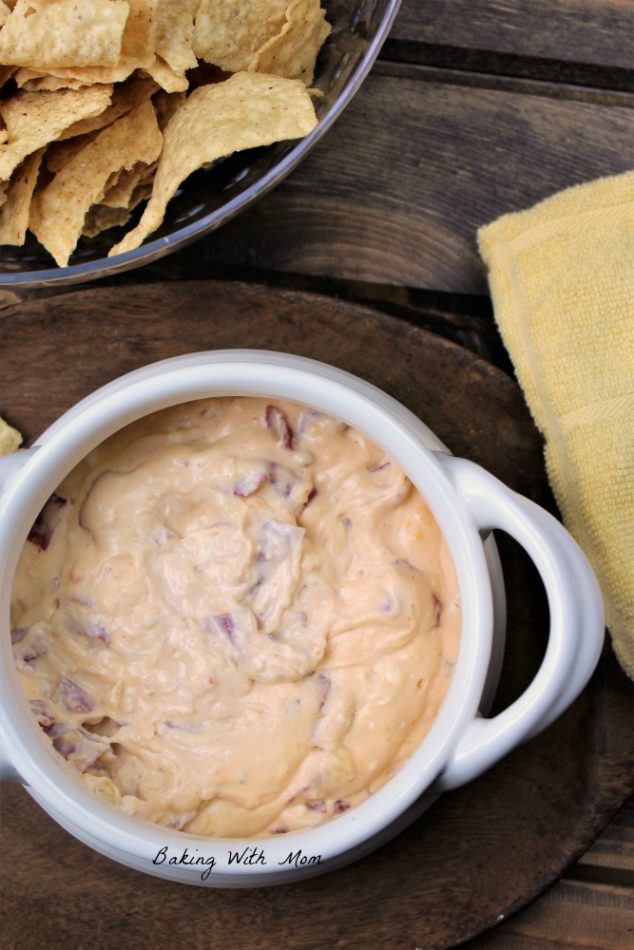 The Thousand Island dressing, sauerkraut, corned beef and cream cheese was put in a crock pot and out came deliciousness.
I have a small crock pot that I love using for dips, baked beans and baked potatoes. It travels well and usually works alongside my other, larger, massive family size crock pot. A small crock pot is perfect for this.
Instructions
All you need to do is add sour cream, cream cheese, corned beef, sauerkraut and Thousand Island dressing to a crock pot and cook on low for 2 hours, stirring occasionally.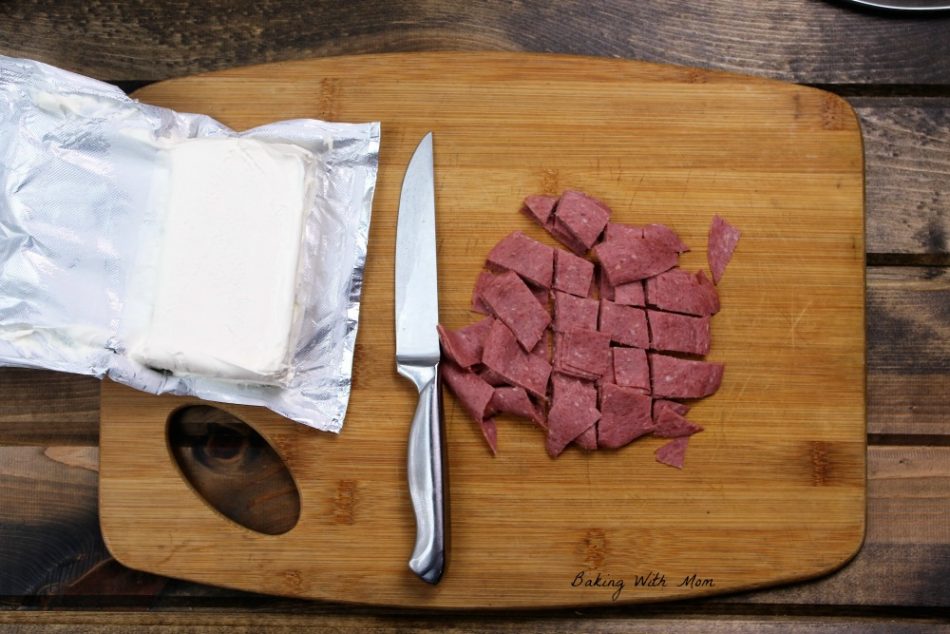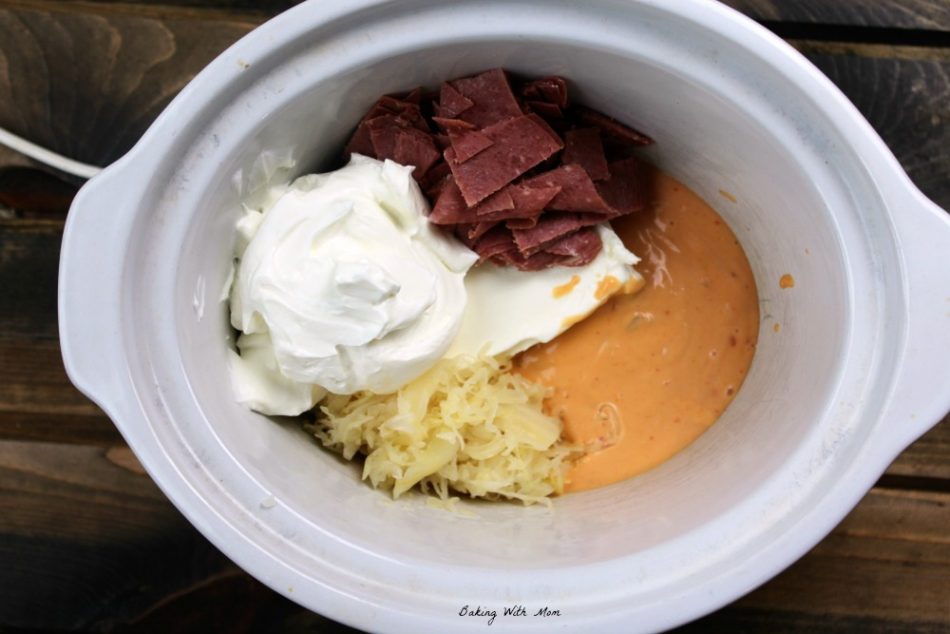 You are going to want to stir every 30 minutes while cooking so the ingredients blend together well. It also helps so nothing gets stuck to the sides of the crock pot.
Storage
You can store the dip in an air tight container in the fridge, but I recommend eating this dip right after it is made.
Want a recipe for a Reuben sandwich?
📖 Recipe
Hot Reuben Dip
The perfect appetizer or side dish for tailgating and football parties.
Ingredients
8

oz

cream cheese

¾

cup

sour cream

½

cup

Thousand Island Dressing

1

pkg

Budding Corned Beef

2 oz

¾

cup

sauerkraut

2

slices

Swiss Cheese

Tortilla Chips, Rye Bread, Wheat Thin Crackers
Instructions
Add cream cheese, sour cream, dressing, chopped corned beef, sauerkraut in a small Crock Pot on high, stirring every 30 minutes.

Reduce heat to low after an hour and place two slices of Swiss Cheese on top.

Stir after 30 minutes. Ready after another 30 minutes for a total of 2 hours.

Note: Your crock pot may run a little warmer. After adding the cheese, let cook for 30 more minutes. If the cheese is melty after 30 minutes, the dip can be done. If not, cook for another 30 for a total of 2 hours.
Nutrition
Calories:
172
kcal
|
Carbohydrates:
4
g
|
Protein:
3
g
|
Fat:
17
g
|
Saturated Fat:
8
g
|
Cholesterol:
40
mg
|
Sodium:
273
mg
|
Potassium:
87
mg
|
Fiber:
1
g
|
Sugar:
3
g
|
Vitamin A:
467
IU
|
Vitamin C:
2
mg
|
Calcium:
73
mg
|
Iron:
1
mg