I don't know about you, but this was a major treat for my family growing up. Homemade Baked Apples with cinnamon and brown sugar, baked until soft and the flavors just run together. This fall recipe is so unbelievably delicious.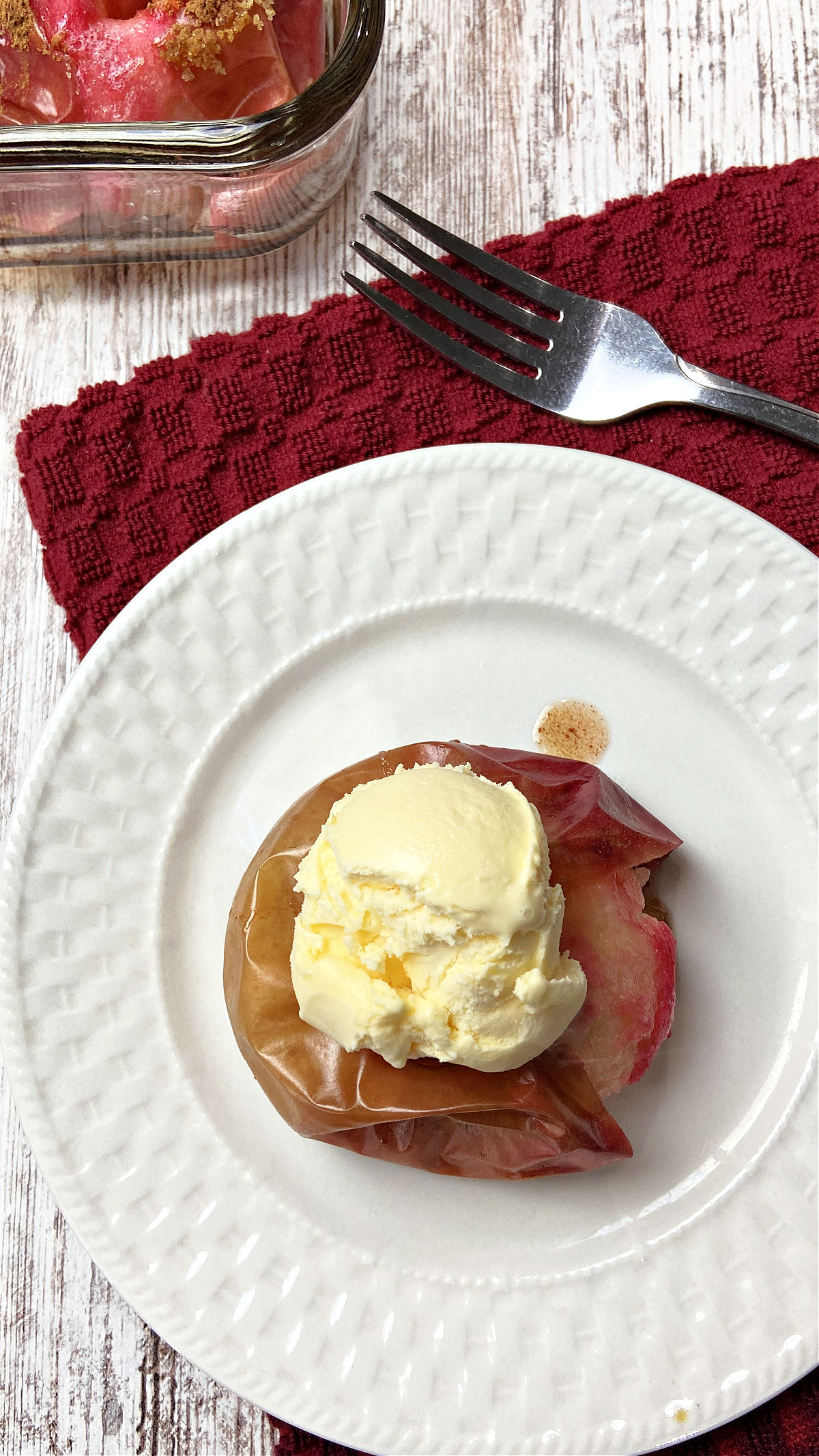 Apples can be so versatile, can't they? They can be made into pies, apple crisps, apple crumble and even savory meals like Brown Sugar Pork and Apples. Apples can also be made into Homemade Baked Apples.
As I mentioned above, baked apples were a special treat as a child. I'm not really sure why we didn't have them more often, but when we did, total excitement.
The baked apples usually had brown sugar and raisins in it and it would be baked in the oven for what seemed like forever! It was well worth the wait, though.
I have four different ways to make these baked apples for you. One way doesn't involve processed sugar and another involves chocolate. (Sounding good so far, doesn't it?)
Ingredients
apples
caramels
chocolate chips
brown sugar
dried cranberries
honey
cinnamon
apple juice (optional)
Those ingredients will not all go into one apple. That would be... interesting to say the least. However, combined right, they will make the apples soar with deliciousness. (Not bad, huh?)
Out with the core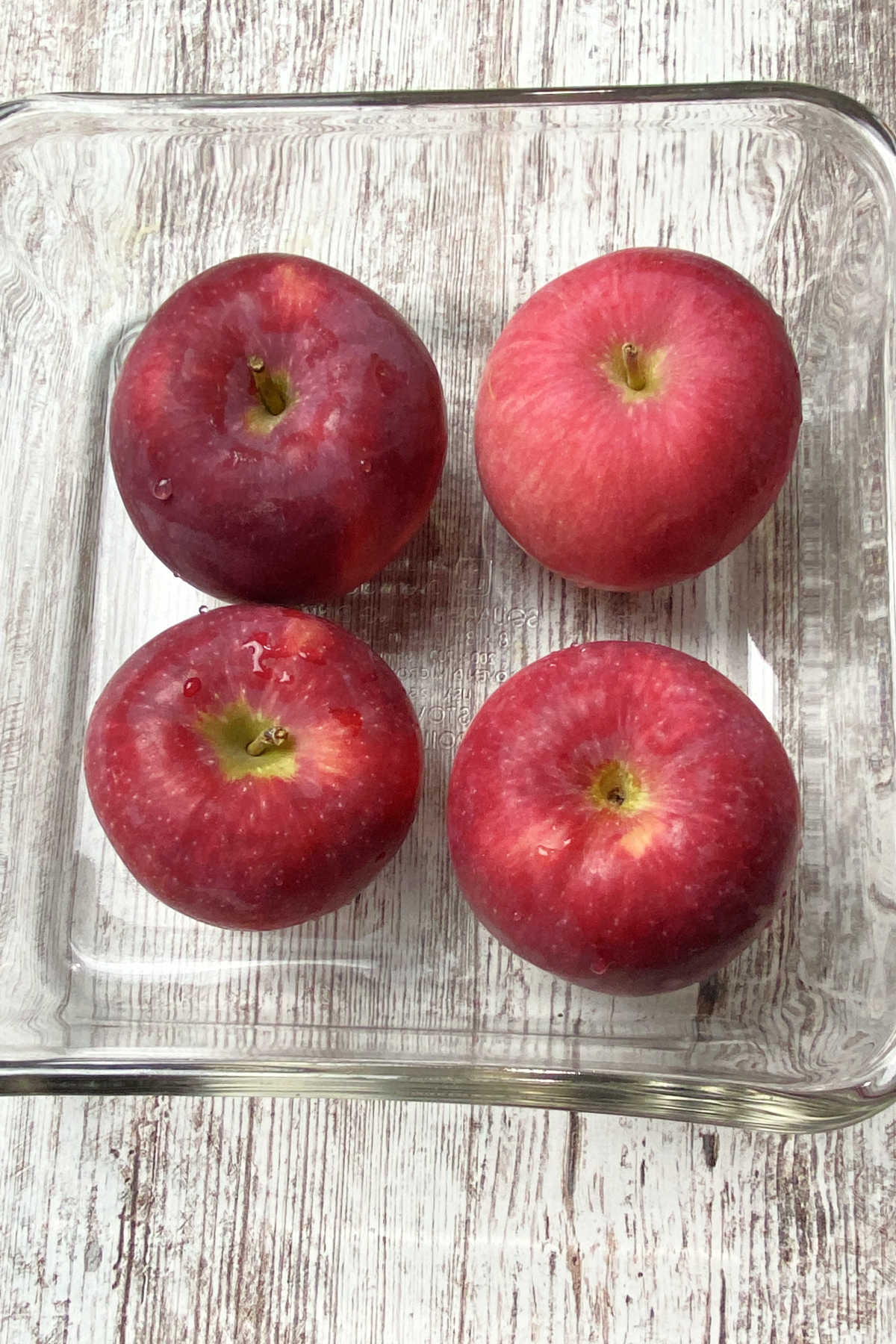 To make homemade baked apples, you need to get the core out of the apples. You can use a knife if you choose to cut out and scoop the seeds out of the apples. It isn't hard to do and only takes a few minutes.
Personally, I prefer to use an apple corer. I don't use it often but it is small and stays in my drawer until I need it. Then it does it's job rather well. An apple corer is like this one.
I really recommend an apple corer as it is easier but go with what you got.
Then, the toppings, or fillings, go into the center of the apple. When you bake the apple, the toppings will become one with the apple giving it great flavor.
What type of apple should I use?
A baking apple would be the best kind of apple to use. If you use something softer, it is likely to turn into mush which is great for homemade applesauce, not great for baked apples.
Fuji, Honeycrisp and Jonagold are great choices for a baking apple. Granny Smith is as well if you like an apple that is a little more tart. Avoid apples like Gala or Red Delicious.
If you need more apple ideas, I put together a chart of apples and their uses.
Four flavor combinations
I made up four flavor combinations for you to choose from.
:: Cinnamon and honey - I personally ate this one as I love our own homegrown honey. It is the least added sugar option. Yes, honey has sugar, but it is a natural sugar (straight from the bees knees, right?) verses white or brown sugar. To make this baked apples, put 1 teaspoon of honey in the middle with ½ teaspoon of cinnamon. You can also add dried cranberries.
:: Cinnamon, dried cranberries and brown sugar - it is the same as the honey, but with brown sugar. The brown sugar will turn a little caramel-like and help with the depth of the flavors. The dried cranberries adds a little sour/sweet to the mix. 1 teaspoon of brown sugar and ½ teaspoon of cinnamon in the core of the apple. You can fill the dried cranberries in as desired.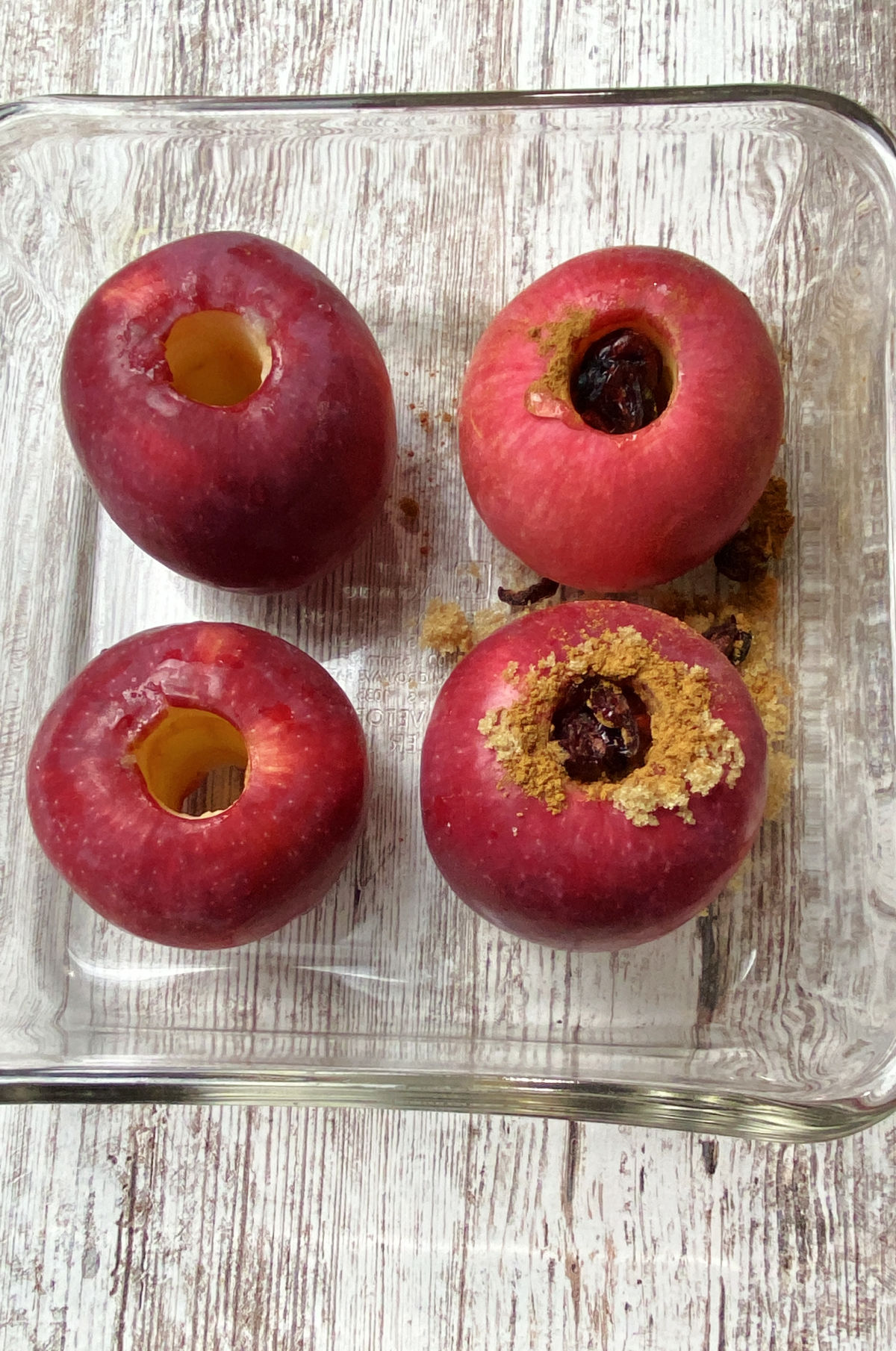 :: Chocolate and caramel - why not, right? This combination is a favorite when it comes to apple dips, so why not with a baked apple? Fill the caramel pieces and chocolate chips until the center if full. These are the caramel pieces I used, no unwrapping involved!
:: Caramel and toffee pieces - My husband said this one was the best. The caramel and toffee held hands and it worked well. Fill each apple core up with caramel bits and toffee then bake.
Bake
Before baking, you can add a little apple juice to the bottom of the pan. I recommend apple juice, but if you don't have any, water works well too. Use about ½ cup.
To bake the apples, put it in a 375* oven for 30 minutes then test the apples to see if they are done. Larger apples will take a little longer. Smaller apples will take less time. You want the apples to hold their shape but not to be hard. They should be soft but slightly firm.
Toppings
These apples can be eaten plain or can have ice cream added to the top or another drizzle of caramel.
FAQ
Does the apples keep well?
No, I don't find they store well. It is something to be eaten right away.
What are some other toppings I can use?
Apple juice can be poured over the top as the only topping. Also, raisins can be used.
Pin for later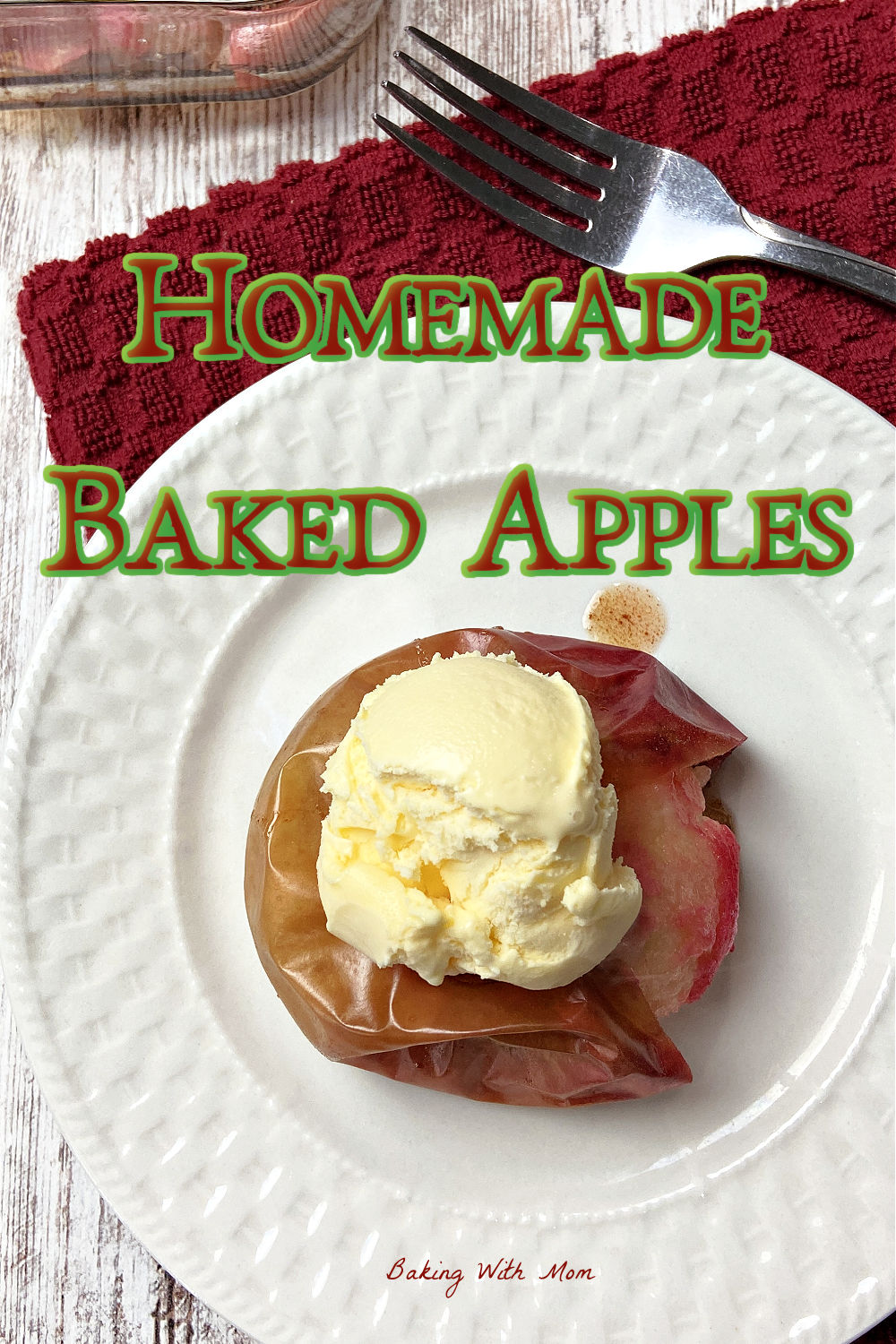 📖 Recipe
Homemade Baked Apples
Delicious and easy homemade baked apples with cinnamon, brown sugar and dried cranberries. Easy dessert recipe.
Ingredients
4

medium

apples

1

teaspoon

brown sugar

per apple

½

teaspoon

cinnamon

per apple

⅛

cup

dried cranberries

per apple

½

cup

apple juice

or water
Optional ingredients
chocolate chips

caramel

honey

toffee bits
Instructions
Place cored apple on the bottom of a 9 inch square baking dish.

Put ingredients (brown sugar, cinnamon and dried cranberries) in the center of the apple.

Pour apple juice (or water) on the bottom of the pan, not over the apples.

Bake at 375° for 30 minutes or until soft but still hold their shape. You may need to test it with a knife.

Remove from oven and serve. Can top with caramel drizzle or vanilla ice cream.
Notes
The nutritional values is for the brown sugar/cinnamon/cranberry option, not the chocolate options. 
For complete suggestions on how to incorporate the other add in options, see post above. 
Nutrition
Calories:
125
kcal
|
Carbohydrates:
33
g
|
Protein:
1
g
|
Fat:
0.4
g
|
Saturated Fat:
0.1
g
|
Polyunsaturated Fat:
0.1
g
|
Monounsaturated Fat:
0.03
g
|
Sodium:
4
mg
|
Potassium:
230
mg
|
Fiber:
5
g
|
Sugar:
26
g
|
Vitamin A:
99
IU
|
Vitamin C:
9
mg
|
Calcium:
17
mg
|
Iron:
0.3
mg