Gooey Birthday Cookies are soft and chewy. Made with only a few ingredients, these fun cookies will be a hit at any birthday party.
Gooey Birthday Cookies were a mom and Caleb day activity. If you have more than one child, you will understand the plight of the youngest child. Swallowed up by older sibling activities, Caleb gets put in his car seat often, told to wait a minute frequently and is always being told not to touch things that are near and dear to his brothers and sister's heart.
Oh, being the youngest.
We had Easter break last week so all of the kids were home from school. Then Ryan developed pink eye and was home an extra few days. Caleb was missing his alone time with his Momma.
After we dropped the kids off at school, it wasn't even 9:00 when he ran up to me, gave me a big hug and told me he loved me and he missed me.
Sniff...
It makes all the hard parenting times worth it, don't you think?
Anyway, I had to, had to do his favorite activity today because, after the "missed me" comment, how could I not? So, after snack time (and before bath time!) we got to bake together.
Gooey birthday cookies are an easy recipe I can tweak anyway I want. It is the same recipe as the Gooey Strawberry Cookies. It is perfect for baking with your children because it really doesn't require thought. And, if I am being totally honest, the recipe doesn't take a long time to make so a mom's patience doesn't wear out before the cookies are in the oven.
Just being honest. It's why you love me. ;-)
Caleb (he's three, by the way) got to stir the cream cheese and butter together. He also wanted to crack the egg, however he allowed me to help. I pushed for that one. He was in charge of the sprinkles. They go on before the cookies go in the oven and I think he did a pretty good job. (Meaning, he didn't eat them all!)
You know what really made his day? He got to tell all the kids how he made cookies with mom. Caleb also informed them he got to eat one first.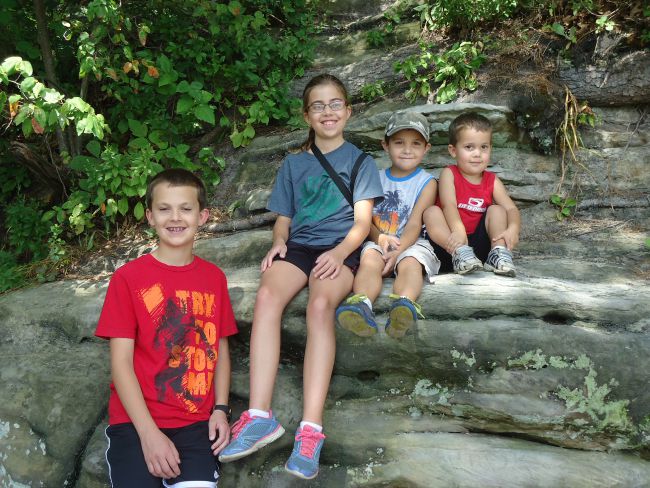 The joys of being three...
Gooey Birthday Cookies
Gooey Birthday Cookies recipe are a fun birthday party treat.
Ingredients
1

box white cake mix

1

stick of butter

1 8

oz

package of cream cheese

1

teaspoon

vanilla

1

egg

sprinkles
Instructions
Mix softened butter and cream cheese in a medium bowl

Stir in vanilla and egg

Stir in cake mix

Form 1 inch balls and roll the balls in sprinkles (you can use whatever you have on hand!)

Place on ungreased baking sheet

Bake at 350* for 7-8 minutes

*NOTE-about halfway through cooking, remove from oven and lightly press on the cookies with a spatula to flatten them. Return to oven to resume baking
Other Gooey Cookies: