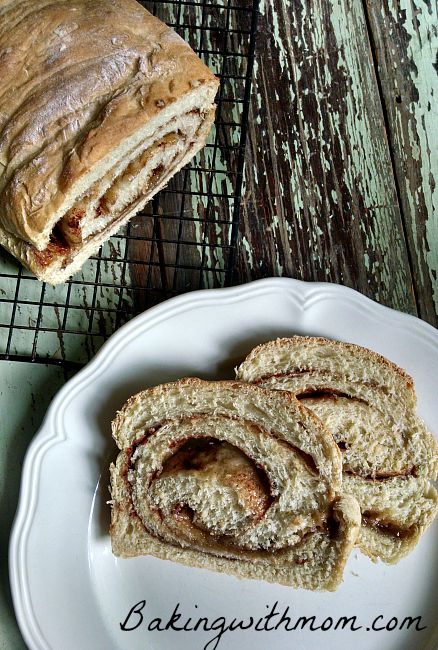 Do you know the sign of a good cookbook?  One that has oil stains, flour particles and cinnamon smears on it.  I have such a cookbook.  I would love to tell you the name of it but I can't.  It came with the bread machine I bought years ago.  It is so old, the cover is ripped off.  I have used and used those bread recipes.  I have used and used that bread machine!  My bread machine is on its last leg.  (Paddle?)
We like cinnamon bread at our house.  A lot.  Like, way too much. I try not to make it too much, but it is a great addition to the evening meal. On a cold day, I'll make it with Hamburger Soup.  On a hot summer day, I will make it just because. 😉 {I mean really, do we need a reason?}
You can make this bread with a bread machine or by hand.  I also use my Kitchen Aid mixer. If you are hesitant about making homemade bread, this bread is pretty forgiving. Meaning, you don't have to be a Master Baker to get this bread to come out delicious.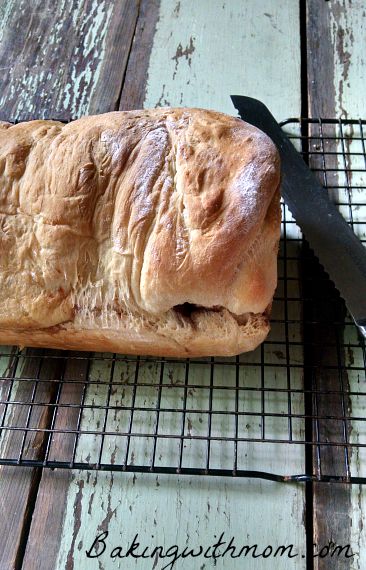 I sometimes will make this bread with a honey/cinnamon mixture when I am going for the healthier option. That tastes wonderful. If I am not going for the healthier option, I use butter, brown sugar and cinnamon mixture. Yes, that is rather delicious as well. Either way, you can't go wrong.
The Cinnamon Swirl of Cinnamon Bread
This cinnamon bread is a combination of cinnamon and brown sugar for a delightful addition to supper or breakfast.
Ingredients
1 1/4

cup

water

, heated to 80*

4

tsp

oil

3

T

brown sugar

1 1/2

tsp

salt

3

cups

unbleached flour

(or all purpose bleached)

2 1/2

tsp

active dry yeast
Instructions
Add all ingredients in order listed in bread machine

In bread machine, this loaf is a 1.5 lb loaf and put the machine on dough cycle

When dough cycle is done, take dough out of machine and roll in a rectangle, the width as wide as the loaf pan you will put the dough into

Spread 3 Tablespoons softened butter onto dough, covering all of dough

Sprinkle desired amount of cinnamon and brown sugar on top of butter

Roll up dough, starting with short side

Place in greased loaf pan, and let rise in a warm place while oven is preheating to 350*

Bake for 25 minutes or until crust is golden brown and is done
All nutrition facts seen here are estimates. You can read more on our nutrition page.