Peach Dumplings is an old family recipe with a twist. This recipe cooks on the stove in one pan and is warm, appetizing and flavorful.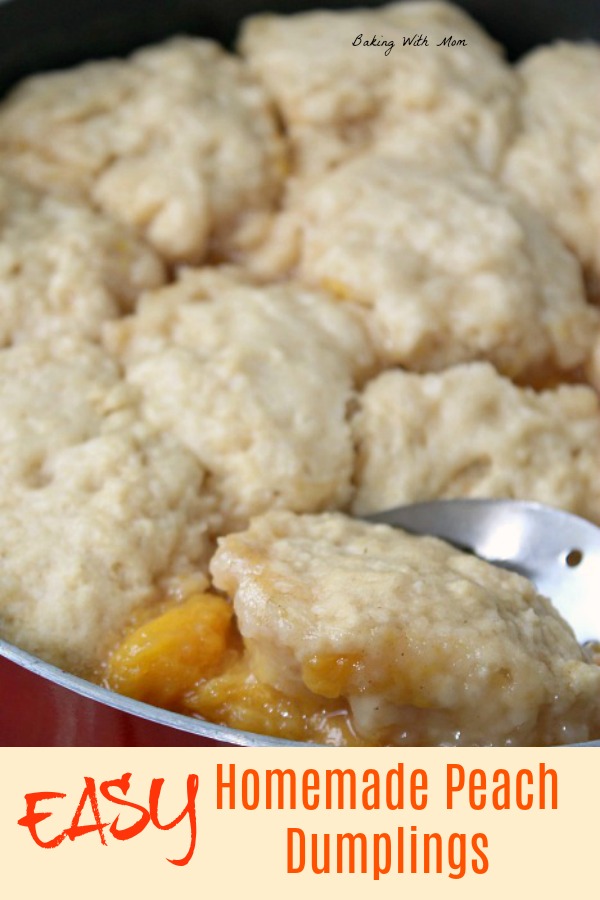 *This post contains affiliate links. If you click on a link and make a purchase, I will receive a small commission at no additional cost to you. 
Variety is the spice of life and I wanted some variety. Sometimes as a stay at home mom I fall into a routine. I will make the same things, wear the same sweatshirts, make the bed at the same time every day. Sometimes, we need to spice it up a bit to keep life interesting. Like making peach dumplings.
Now, I know that to most people making easy homemade peach dumplings isn't exactly wild and wacky. However, it is to a stay at home mom. It is to a mom who lives in the kitchen. It was spontaneous.
Yeah, you all know what I mean.
Spontaneous actions fly out the door when you are a mom. Life circles around eating times, bath times, nap times, potty break times and, when they are older, school times.
So how does peach dumplings fit in to all of this? Well, for as much as I love the cookie, I needed to make something different. Out of a little corner of my mind, this recipe from my husband's past surfaced and before I knew it I was tweaking it and it was bubbling away on the stove.
And I was giddy.
Do I use frozen peaches or fresh peaches?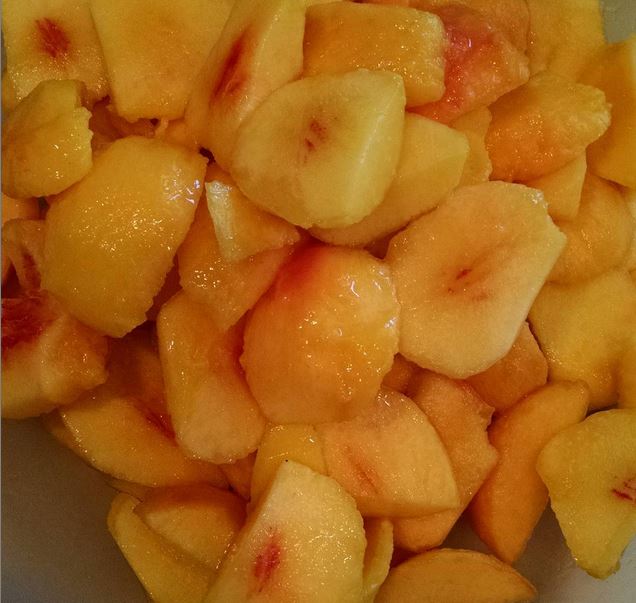 Well, either. Or both, depending on how you look at  it.
We have bags after bags of frozen peaches in our upright freezer because we buy from a farmer and freeze them. Sometimes I make peach butter with them too. Yum! (This peeler would be handy for peaches. Did you know they had something like this? I have one for apples, but not for peaches. Who knew??)
If you have fresh peaches on hand, I would use those. If you froze some over the summer like I did, those work great as well. Just make sure they are thawed.
I just thawed the peaches in the large Rachael Ray skillet I was using (LOVE the skillet! It is deep and non-stick and perfect for this!) and the dumpling ingredients come together easily.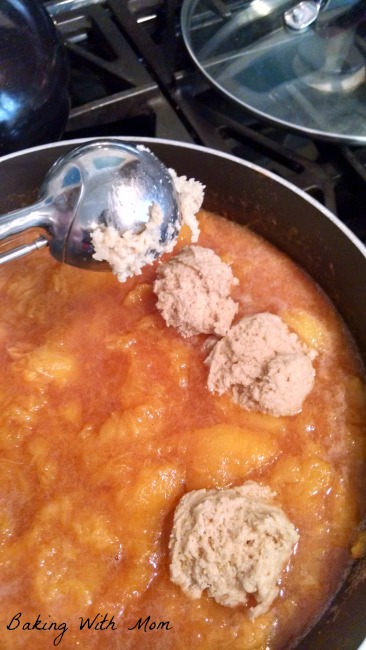 Do I add the dough right on top of the peaches?
Yes, you do! So easy! The dumplings then just cook on top of the warmed peaches and the peaches make a cinnamon bed for the dumpling dough. Poetic, isn't it?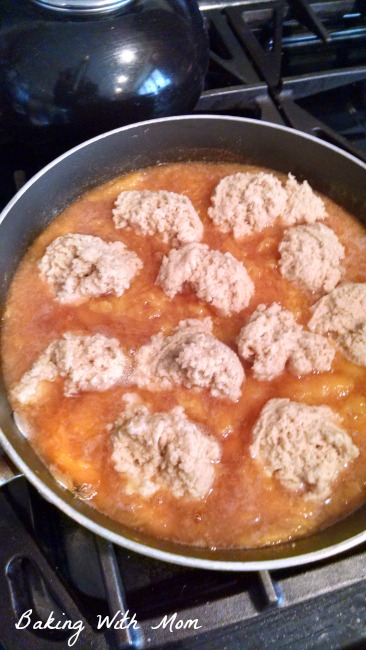 Now simply let the dough simmer in the pan for 15-20 minutes while the pan is covered. The dough cooks and it is a soft, delicious dumpling when it is through cooking.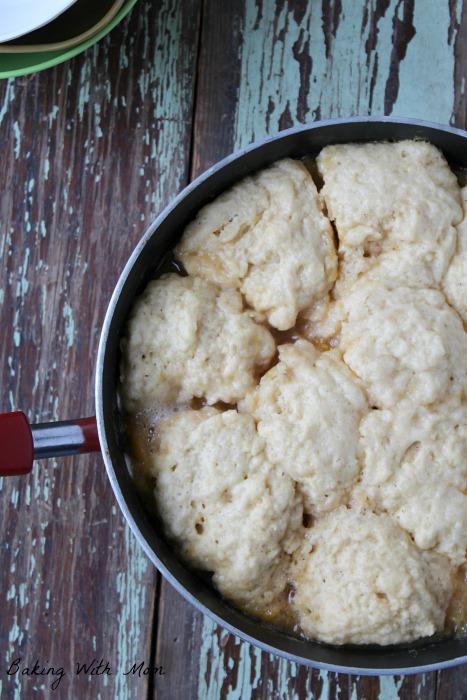 My husband called this spontaneous dessert a success. My children thought it was yummy. Me? I was happy for a change of pace. Something new to have and to try on that pre-spring day. Everyone was happy.
📖 Recipe
Peach Dumplings
This old family favorite, Easy Homemade Peach Dumplings with warm peach filling and a cinnamon dough on top.
Ingredients
5

cups

frozen peaches

or fresh, peeled and sliced

2

teaspoon

cinnamon

1 ¼

cup

flour

⅓

cup

sugar

2

teaspoon

baking powder

½

teaspoon

salt

2

teaspoon

vanilla

¾

cup

milk
Instructions
Put peaches in in large skillet and cook until they are thawed over medium/low heat, stirring often. If using fresh, until they are softened. You may want to add about ¼-1/2 cup of water while cooking the peaches if using fresh peaches. Add cinnamon to the peaches while cooking

Mix flour, sugar, baking powder, salt, vanilla and milk in a medium bowl

Stir well

Using 1 inch scoop, scoop dough mixture on top of peaches

Over very low heat, simmer for 15-20 minutes in a covered skillet

Remove from heat and serve warm

You can add whipping cream or cool whip to the top of the peach dumplings. Vanilla ice cream would be great as well
Nutrition
Calories:
104
kcal
|
Carbohydrates:
23
g
|
Protein:
2
g
|
Fat:
1
g
|
Saturated Fat:
1
g
|
Cholesterol:
1
mg
|
Sodium:
104
mg
|
Potassium:
225
mg
|
Fiber:
2
g
|
Sugar:
12
g
|
Vitamin A:
240
IU
|
Vitamin C:
4.2
mg
|
Calcium:
57
mg
|
Iron:
0.9
mg
Like Desserts?
Peanut Butter Chocolate Ice Cream Cake