Easy, slow cooker homemade peach butter is so easy to make and it will become a favorite in your home. It makes your home smell delicious while it is cooking. Cinnamon, brown sugar, and a little time and you have a spread that is great on toast, biscuits or ice cream!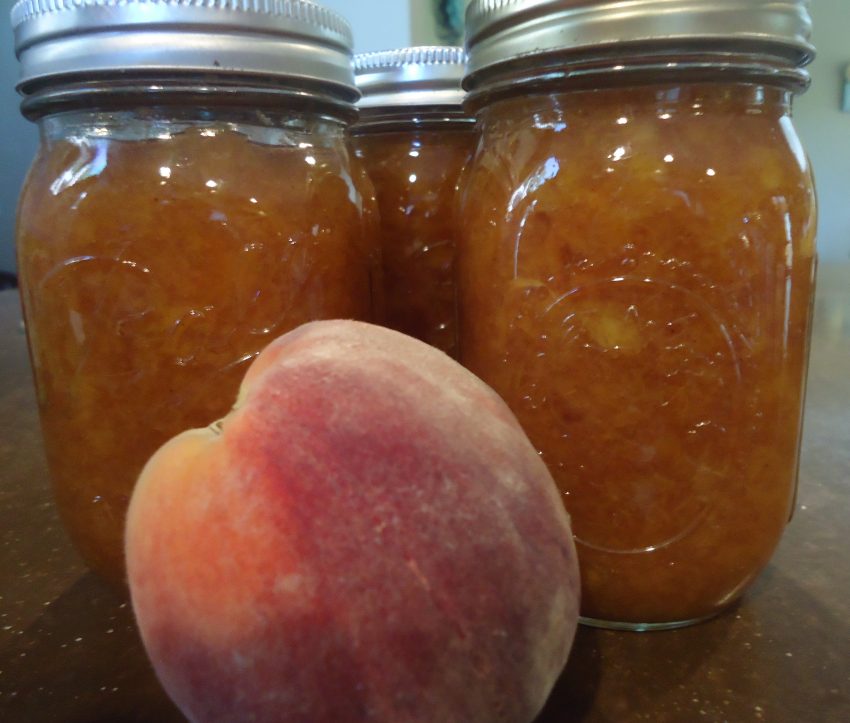 The other day, I talked about how our peaches came in. I had made homemade peach butter in the past and thought I would give it a try again.
I had forgotten how good the house smells, how good it tastes, and how unbelievably sticky my kitchen gets.
Oh, well--the price we pay for goodness.
How To Make Homemade Peach Butter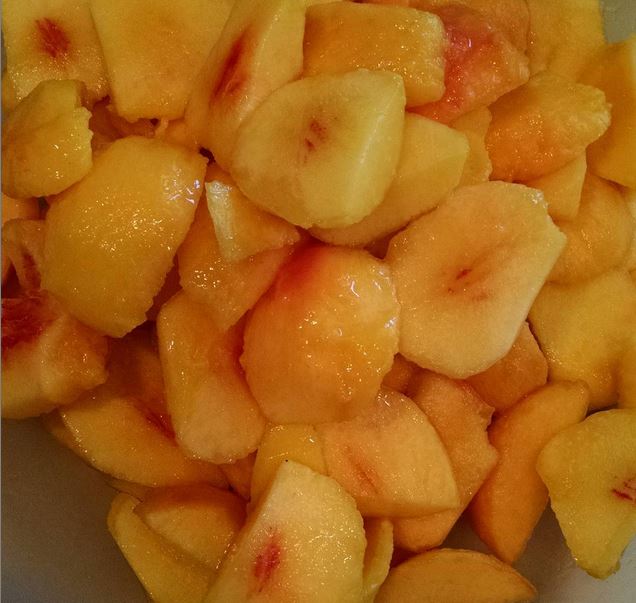 Homemade peach butter is so easy.  Take and peel enough peaches to fill your slow cooker as full as you want.  I probably filled it ¾ full. 
The amount of peaches used was about 15 medium peaches. Add cinnamon and all spice (about 2 teaspoon of cinnamon and ½ teaspoon of all spice). I added 1 ½ cups of brown sugar for ¾ full slow cooker.
Cook on low for 8 hours or more, depending on your preference of lumps or no lumps.  If you want a lump free butter, cook longer.
I also suggest putting something (like a butter knife) across the top of the slow cooker, then setting your lid down on that.  It will help the steam escape, making it less watery.
Blend it up
After the butter is done cooking, you will need to blend it up. *This is where you need to be careful. It can splatter on you and everything else. Plus it is hot! Mix with care.
I use a regular hand mixer, but I imagine one of those stick hand mixers would work great.  Blend until it is the consistency you want, then pour into containers.  I can mine.
How do I can this or can I freeze it?
If you want a great book on canning, I suggest Complete Guide to Home Canning and Preserving. This book is helpful and tells you everything you need to know. you can also freeze the homemade peach butter.
To freeze it, pour it into air tight freezer containers leaving ½ inch at the top. Let the mixture cool completely, then freeze. It should be good for up to one year.
When you want to use it, you will need to pull it out of the freezer and let it sit in the refrigerator at least overnight, if not for 24 hours.
The slow cooker peach butter is delicious and so easy to make. It also goes great on so many food items. We will put the butter on rolls, ice cream, toast, etc...
📖 Recipe
Homemade Peach Butter
Made in the slow cooker, this peach butter is easy to make and so delicious. Makes your home smell wonderful too!
Ingredients
15

medium

peaches

peeled, sliced

2

teaspoon

cinnamon

½

teaspoon

all spice

¾

cup

brown sugar
Instructions
Place peeled and sliced peaches in slow cooker

Place spices in slow cooker as well and mix

Cook on low for 8 hours *read below*

After cooking blend well with hand mixer

Remove from slow cooker and can according to canning process, freeze or eat

Peach butter can stay fresh in fridge for up to two weeks

*For tips on cooking the peach butter, see instructions in post*
Nutrition
Calories:
152
kcal
|
Carbohydrates:
38
g
|
Protein:
2
g
|
Fat:
1
g
|
Saturated Fat:
1
g
|
Sodium:
5
mg
|
Potassium:
449
mg
|
Fiber:
4
g
|
Sugar:
35
g
|
Vitamin A:
734
IU
|
Vitamin C:
15
mg
|
Calcium:
31
mg
|
Iron:
1
mg
Other peach recipes: