Using a flattop grill, making these Grilled Bacon Brussel Sprouts are easy and delicious. Smoky bacon and the bacon drippings help make Brussel Sprouts and "yes, please" instead of a "no thanks"!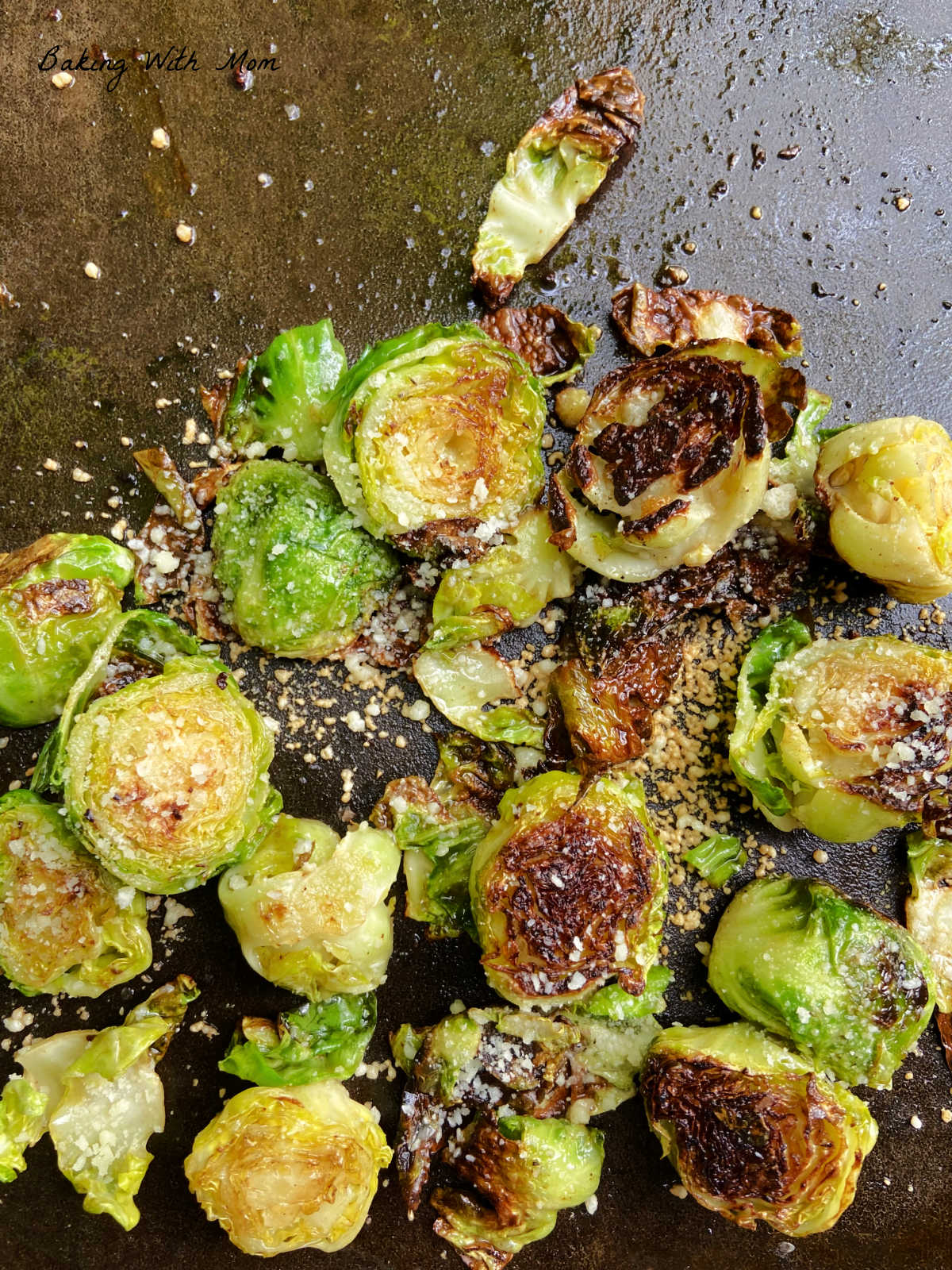 A tough question: Do you like Brussel sprouts? Let's be real... they aren't chocolate. They aren't apples. And they certainly aren't a warm chocolate swirl cookie.
No, they are unique indeed. This vegetable can have a very bitter flavor. If they are boiled, they leave a stench that can make you want to go crying into the night.
So, why oh why would I even develop a recipe for this? Because these little guys need a break. A little love, if you will. What can make this vegetable sing?
Well, bacon of course.
What are Brussel Sprouts?
Brussel sprouts (or some call it Brussels Sprouts) are a lot like little cabbages. They certainly look like little cabbages. The sprouts are related to kale and cauliflower and are loaded with nutrients.
The calorie count are low in these (though certainly not if you add bacon!) and are high in fiber. You can also count on Vitamin A, Vitamin K and Vitamin C.
What is a Flattop Grill?
Glad you asked. A flat top grill is an outdoor (or small indoor) grill without a rack and you cook on a flat surface, much like the grill at a restaurant. It provides a lot of space and you can cook many things at once.
We got it when our old grill finally gave up and we haven't looked back. You can see what an outdoor flat top grill looks like and here is an indoor flat top grill.
I have made breakfast foods and dinner on it. It is easy clean up as well. Ours has a cast iron top too so it is durable.
Instructions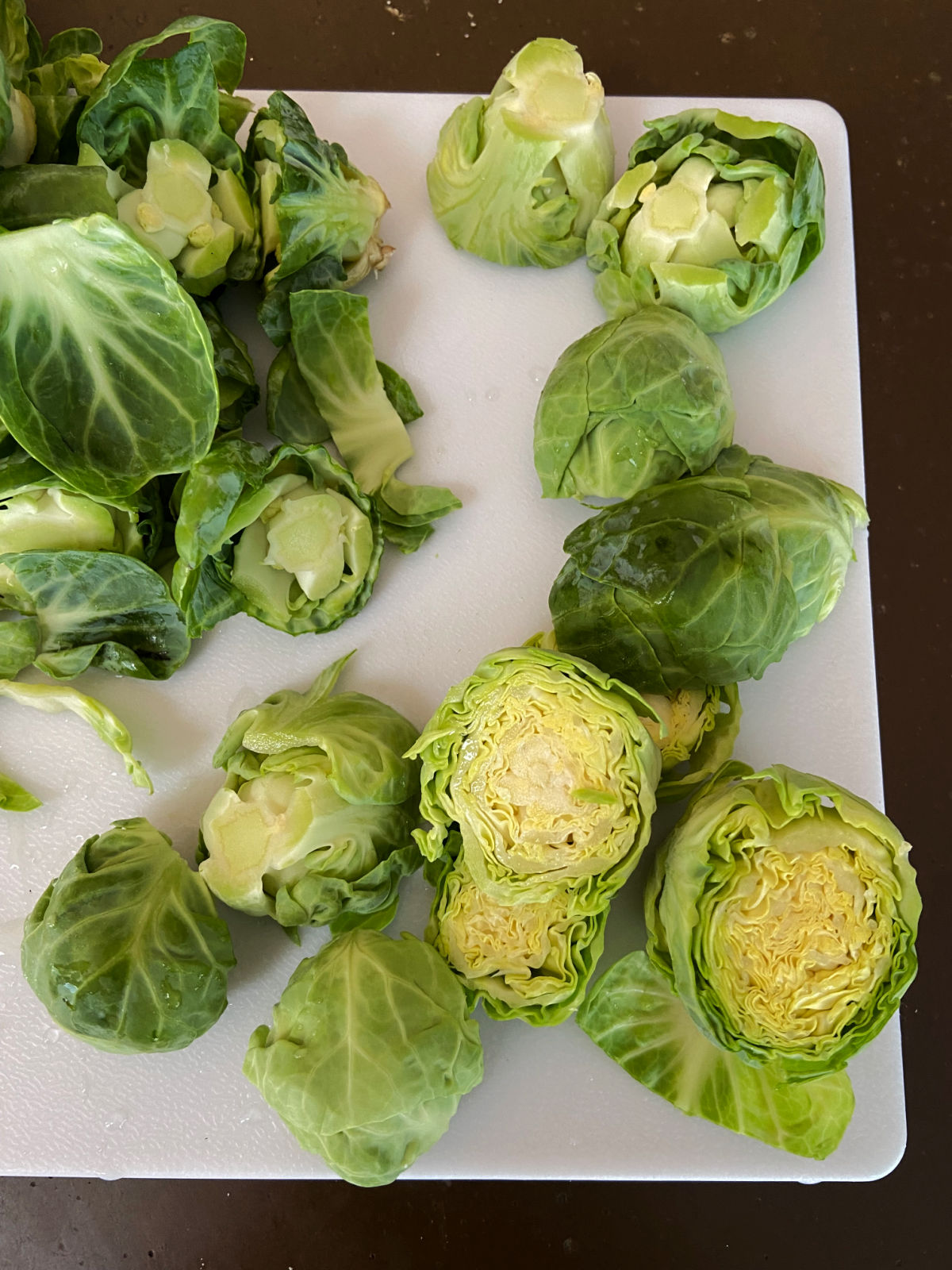 To start, you need to clean the sprouts. Rinse them in cold water, then remove the outer one or two layers of leaves. I like to remove two layers to make sure they are clean. Remove the base of the sprout. You can also cut the sprout in half if you choose.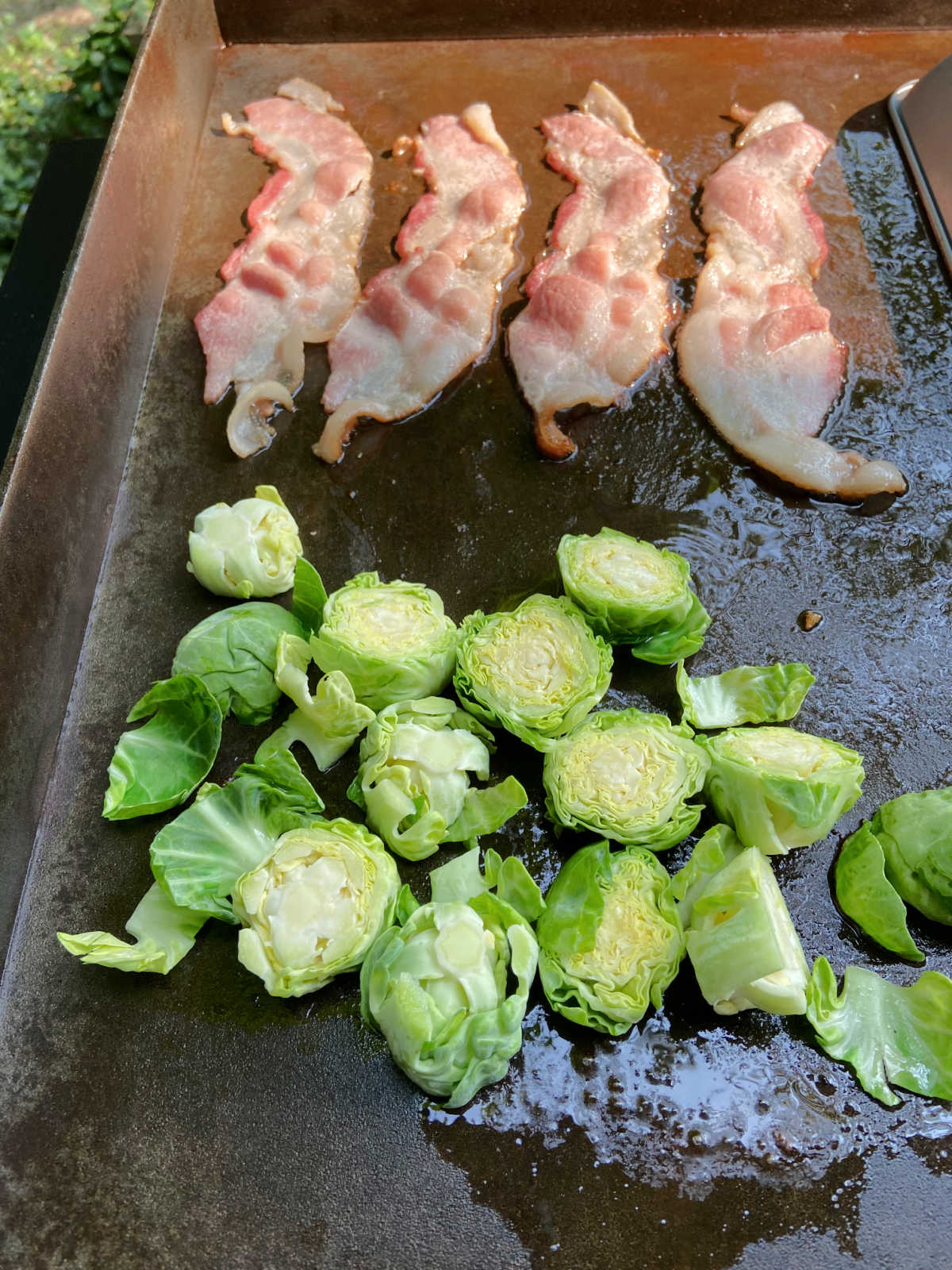 Fire up your grill and place a little olive oil on the spot where the sprouts will be. Start cooking your bacon above the sprouts and while the bacon is cooking, use the bacon grease to help flavor the sprouts.
What I mean is to take your spatula (using caution as the surface and grease is hot) and moving some of the grease to the sprouts. Then moving the sprouts around so they cook in some of the bacon grease.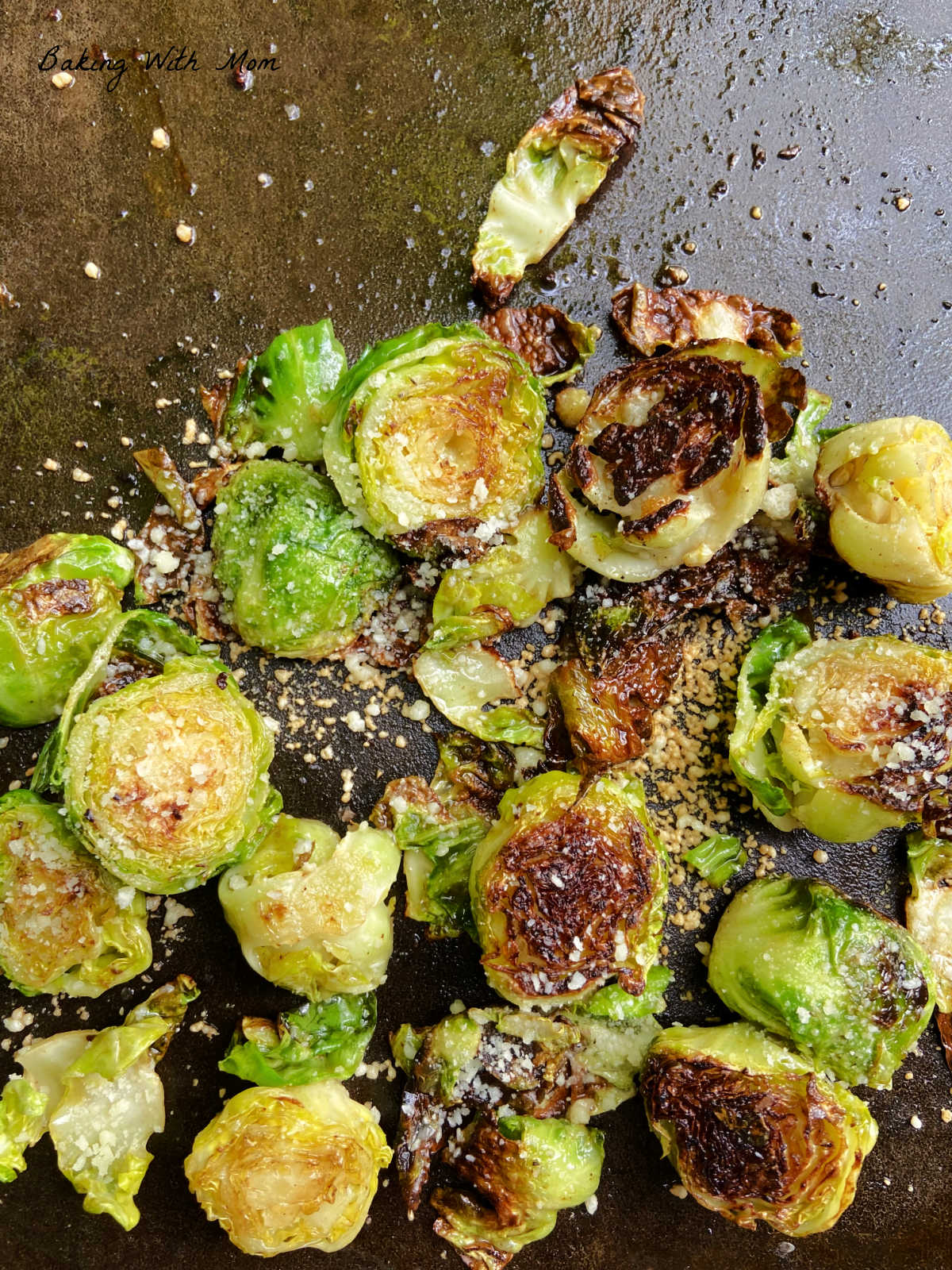 The sprouts will take about 10 minutes to cook on medium/low heat. You will want to turn them over to avoid burning, though a little brown is good.
While cooking you will want to add salt and pepper. At minute 8, sprinkle on some grated parmesan cheese. You can dice up the bacon and serve the sprouts with the bacon bits as well, if you desire. The flavor of the smoky bacon and cheese combine to make this side dish delicious.
What can I do with leftover Brussel Sprouts?
I don't feel they keep well. You can try to refrigerate them for one day, in a covered airtight container.
Personally, I like to use them the day I make them. I feel they don't keep well.
Can I adapt this for the stove top?
Yes, you can! It will take a few more dishes, but cook the bacon in a pan on the stove, and reserve the grease. Take two tablespoons of the grease and put it in the bottom of another pan and place the sprouts on it. Cook as directed for the flat top.
Do you have an air fryer? You could try Air Fryer Brussel Sprouts. Like vegetable recipes? You could try Orange Vegetable Stir Fry.
Pin for later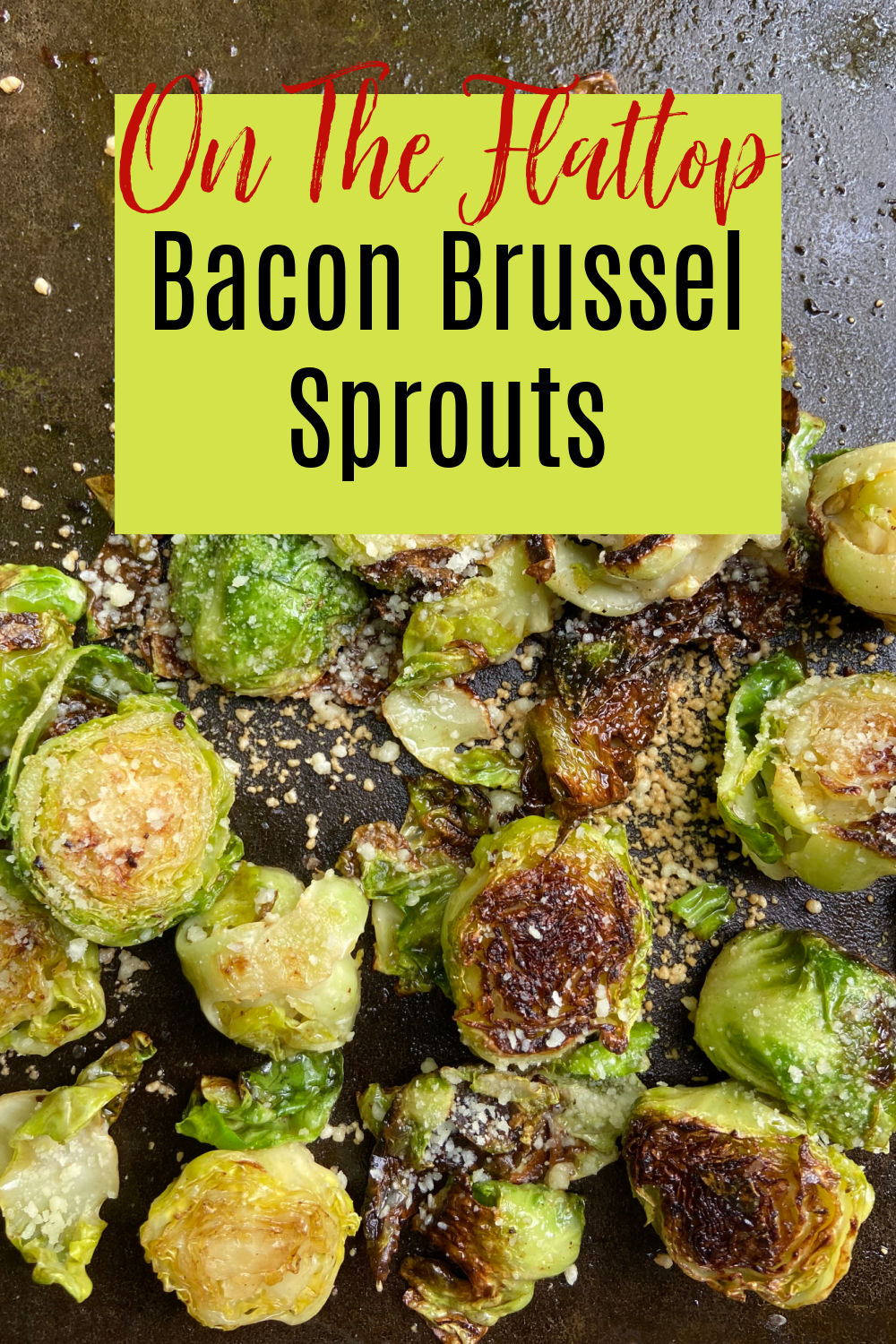 📖 Recipe
Grilled Bacon Brussel Sprouts
An easy side dish recipe, grilled bacon Brussel sprouts with parmesan cheese is flavorful and a new way to eat sprouts.
Ingredients
18

Brussel Spouts

4

strips

bacon

2

Tablespoon

olive oil

2

Tablespoon

parmesan cheese
Instructions
Wash Brussel Sprouts in cold water and peel back 1-2 layers of leaves

Heat up flat top grill on medium/low (or stove top, see post for instructions)

Place sprouts on grill drizzled with olive oil. Cook

Cook bacon while cooking sprouts and use spatula to mix some bacon grease over to sprouts. Let sprouts cook in 1-2 tablespoons bacon grease

After 5 minutes, turn sprouts. Cook for another 5 minutes, being careful not to burn

Sprinkle Parmesan cheese on top of sprouts and cook for another 2 minutes

Mix in diced, cooked bacon if desired and serve
Nutrition
Calories:
200
kcal
|
Carbohydrates:
8
g
|
Protein:
7
g
|
Fat:
17
g
|
Saturated Fat:
4
g
|
Polyunsaturated Fat:
2
g
|
Monounsaturated Fat:
9
g
|
Trans Fat:
1
g
|
Cholesterol:
16
mg
|
Sodium:
207
mg
|
Potassium:
379
mg
|
Fiber:
3
g
|
Sugar:
2
g
|
Vitamin A:
672
IU
|
Vitamin C:
73
mg
|
Calcium:
67
mg
|
Iron:
1
mg
Like the grill? Try: