My family has been begging me to try making grilled pizza. Grilling pizza on a stone is not hard at all and the smokey taste is delicious!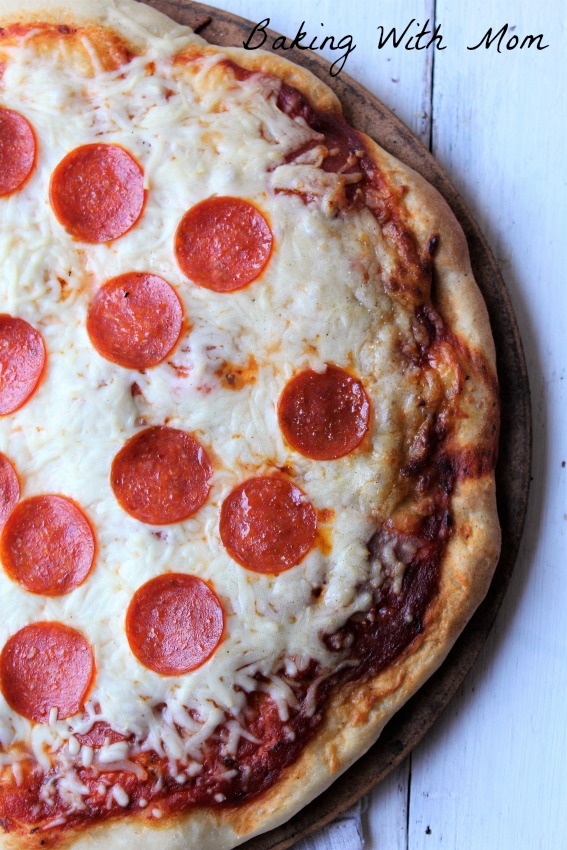 *This site uses affiliate links. If you click on a link and make a purchase, I will receive a small commission at no additional cost to you. You can read our disclosure here.
The crust is crisp, the cheese has a smokey flavor and is melted to perfection. Yes, that is what grilling pizza on a stone is all about.
As I mentioned above, my family had heard about grilled pizza before and really, really wanted me to try to make it. Always wanting to please my family, I agreed.
After all, I was already grilling brats I had gotten on sale Krogers. I also had chicken ready to grill as well. Might as well throw a pizza on there too! (Why not?!?) I use a stone I had gotten a while back but didn't fully appreciate the stone until recently. Have you ever made a pizza in the oven with it?
Oh, yum!
They aren't expensive to buy and they make the crust crisp and fluffy (can pizza crusts be fluffy??) and yum. That is a technical baking term, yum. ;-) You can see a pizza stone here.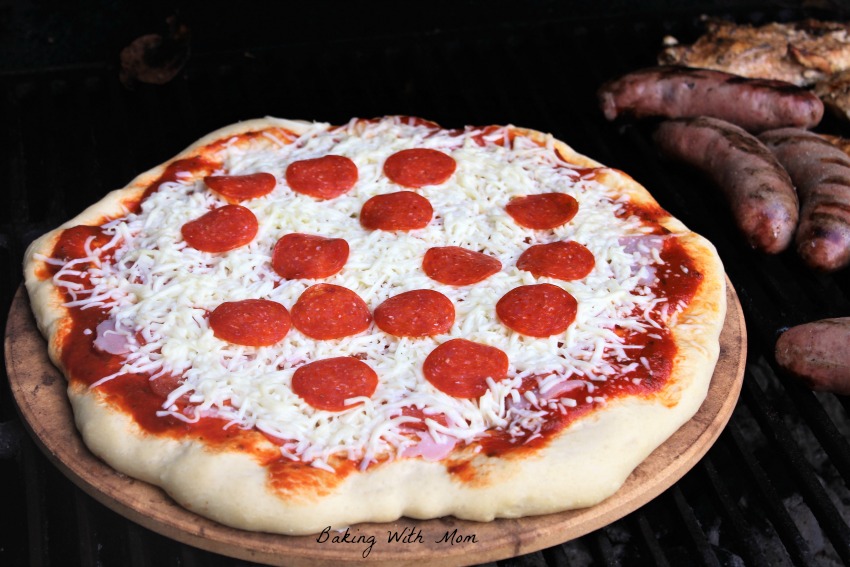 Grilling Pizza On A Stone
You don't need a particular pizza crust recipe, you can use your favorite one. The one I use will be listed below. (The recipe is enough for two crusts.) This pizza is a ham and pepperoni pizza which was delicious. (Pineapple would have been wonderful on it as well!) Chose your favorite pizza sauce, top with toppings and mozzarella cheese.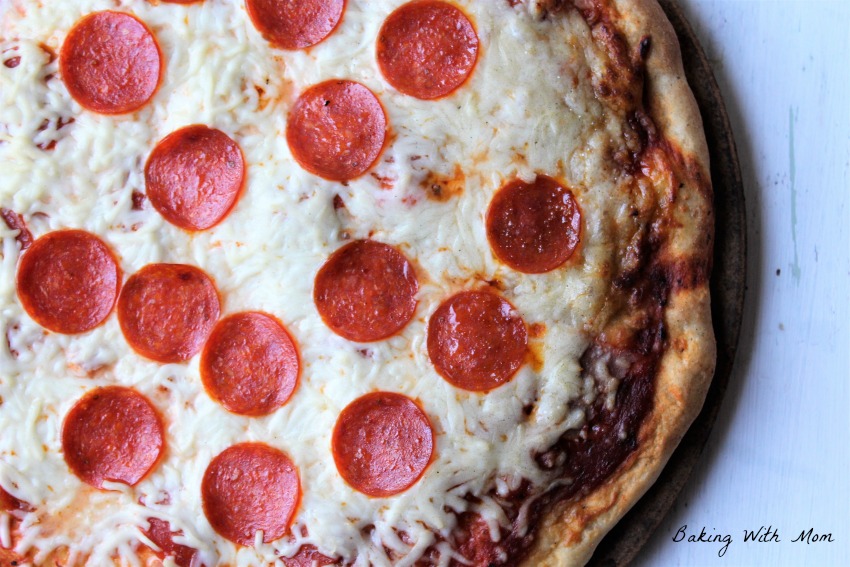 Tips for grilling pizza:
:: I have a charcoal grill so I can only speak to that. Make sure the coals are nice and hot. Don't put the pizza in the grill until you have great heat going, at the least 300*.
:: Make sure you let the stone heat up in your oven first or on the grill with nothing on it.
:: Remove the stone carefully from the oven or grill (it will be hot!)
:: Use cornmeal on top of the stone. That will help the pizza not to stick.
:: After the cornmeal, spread dough on top of stone. **Since stone is hot, roll the dough out on another pizza pan or countertop. Transfer dough onto stone carefully.
:: Add desired toppings. Place stone carefully on grill.
:: Check the pizza after about 7 minutes. That will determine how much longer it will need to cook. The pizza I made took about 15 minutes.
Grilling pizza on a stone is not hard and I already have requests to make it again. I want to try a lot of different toppings, though it is safe to say my family is not into the mushrooms and peppers like I am. :-)
📖 Recipe
Grilling Pizza On A Stone
Recipe for homemade pizza crust. This recipe makes two crusts. Grilling pizza on a stone.
Ingredients
1 ½

cup

warm water (80*)

2

T

oil

2

T

sugar

1

teaspoon

salt

4 ½

cups

all purpose flour (I used unbleached)

2

teaspoon

active dry yeast
Instructions
Layer ingredients in the order given in a bread machine or KitchenAid mixer

KitchenAid: Mix on low then beat with a kneading attachment for 5 minutes on medium speed. Place in a warm place until double in size

Bread Machine: Place machine on dough setting. When done, remove from machine and use
Nutrition
Calories:
150
kcal
|
Carbohydrates:
28
g
|
Protein:
3
g
|
Fat:
2
g
|
Sodium:
147
mg
|
Potassium:
42
mg
|
Fiber:
1
g
|
Sugar:
1
g
|
Calcium:
6
mg
|
Iron:
1.6
mg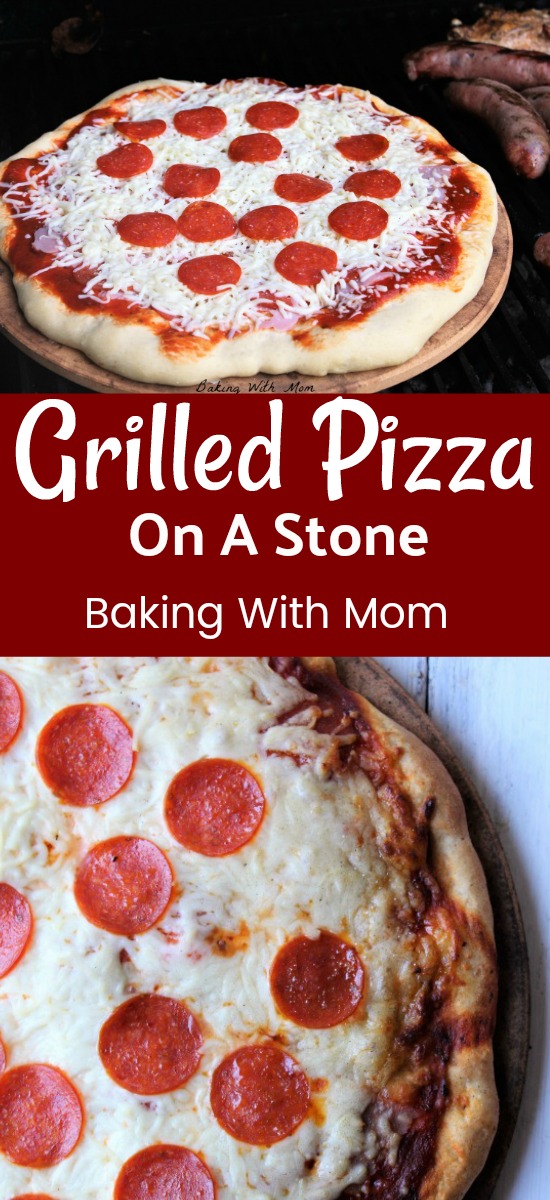 Delicious supper recipes at Baking With Mom!