This simple and delicious ice cream dessert is a family favorite. Only three ingredients, the mint of this easy summer Grasshopper Ice Cream Dessert just makes the flavors pop. The secret? It's all in the cookies, of course!
Ever have a dessert that is requested time and time again? I do. The Grasshopper Ice Cream Dessert is a favorite in our family. Not just our immediate family but our extended family as well.
I enjoy it because it only has three EASY ingredients and they love it because it is so delicious. In fact, not only is it a great summer recipe, I actually make it more at Christmastime than any other time. Ice cream would make one think more summer thoughts but it is the mint that says Christmas.
What are the ingredients?
The ingredients to make this dessert is mint chocolate chip ice cream, Cool Whip and mint OREO cookies. You also will need just a little bit of margarine or butter but I don't count that as an ingredient because the amount is so little. It isn't always necessary either. (More on that later!)
Can I substitute the OREO cookies?
Yes, you can substitute the mint OREO cookies for Keebler Grasshopper Cookies if you want to. I have used both and both taste good. However, I have found the mint OREO cookies have a bit more pop to the flavor and the cream filling is a nice addition to the grasshopper flavor and texture.
The cookies in these pictures and I used for this Grasshopper dessert is indeed the Keebler Grasshopper Cookies. I looked for the mint OREO cookies and they were out. Tasted great!
Do I need to bake this?
Yes, for about 7 minutes at 350*. Just the crust, of course. Baked ice cream doesn't turn out well, unless it is of course, Mexican Fried Ice Cream.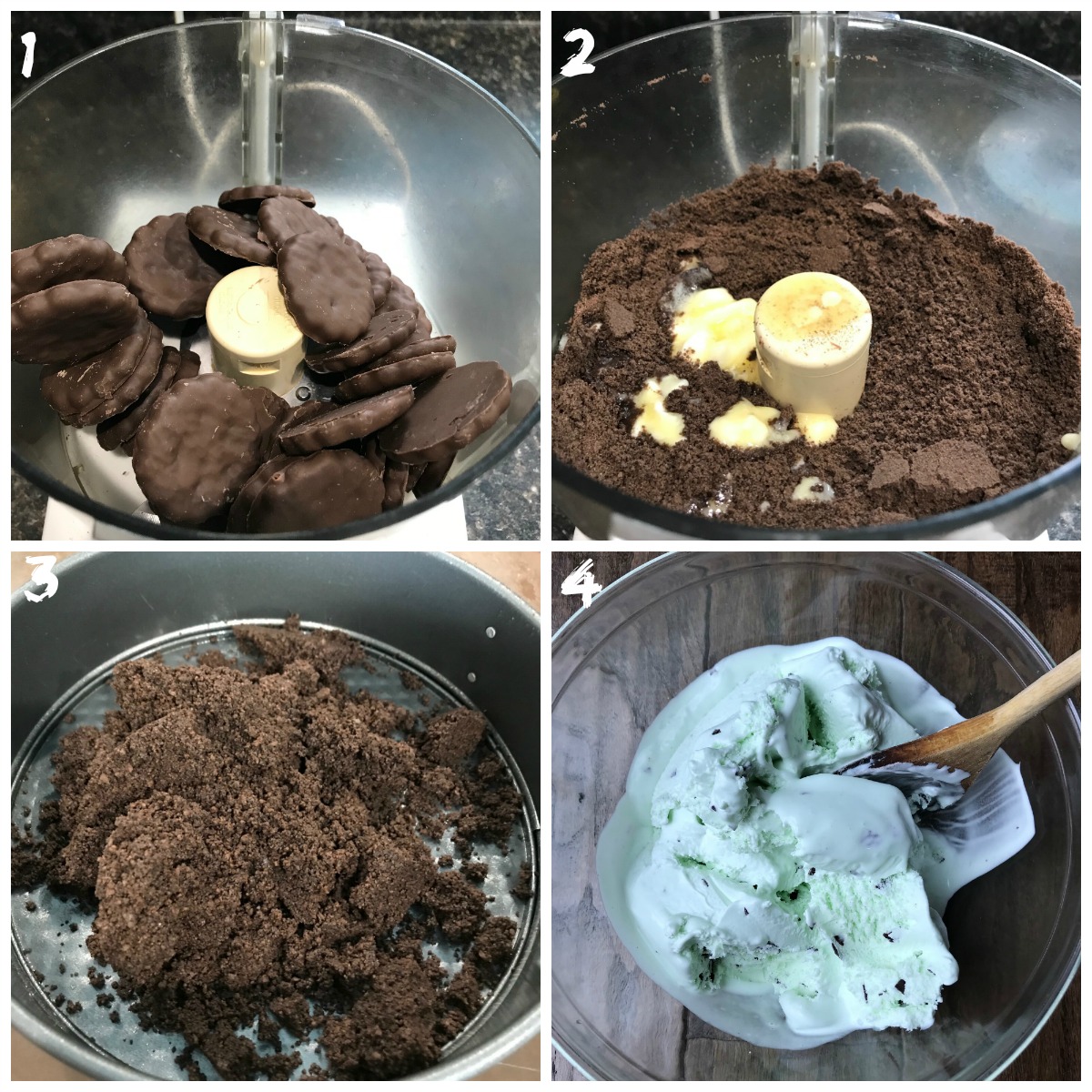 This is were the little bit of butter comes in. You only need a little bit to hold the cookie crumbs together. It doesn't take much, as the chocolate molds together while baking.
How long should it stay in the freezer?
It should stay in the freezer for AT LEAST 5 hours. The best option would be to let it set up overnight. However, if you don't have that much time, 5 hours will usually serve you well.
Place the finished dessert flat in freezer, covered with foil.
Storage options
There are a few ways to store this ice cream dessert. You can simply cover with foil and place in freezer. I do that most often. Then my family serves themselves from the pan or springform plate.
You could also place leftovers, sliced, in a freezer container. The dessert will be good for up to a week.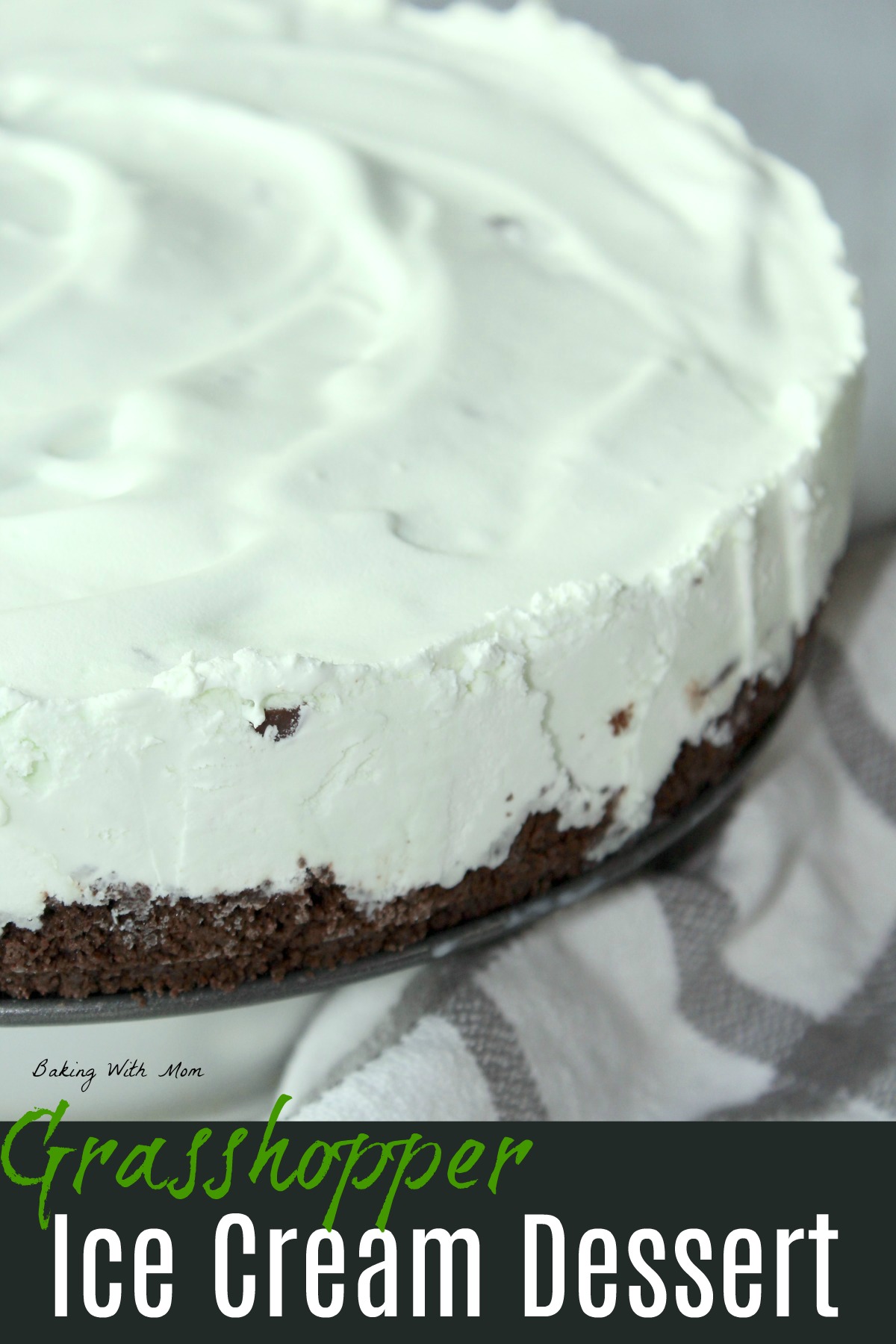 📖 Recipe
Grasshopper Ice Cream Dessert
An easy to make ice cream recipe with delicious mint flavor and rested on a bed of mint cookie crumbs.
Ingredients
10

oz

grasshopper cookies

8

oz

Cool Whip

2

T

butter

melted

1.5

quart

mint chocolate chip ice cream

any brand
Instructions
Set the mint ice cream on counter to thaw while you are making the cookie crust

Crush mint cookies in a food processor or by hand. If you crush them by hand, place them in a large Ziplock bag and crush with a rolling pin. Add melted butter to crushed cookies and mix well

Place crushed cookies on bottom of a lightly greased springform pan. (You can also use a 9x13 cake pan.)

Bake in a 350* oven for 7 minutes

Remove cookie crust from oven and let cool

Mix softened ice cream and Cool Whip in a large bowl

Spread ice cream mixture on top of cookie crust

Place in freezer for at least 5 hours or overnight, covered with foil

Serve grasshopper dessert
Nutrition
Calories:
411
kcal
|
Carbohydrates:
55
g
|
Protein:
6
g
|
Fat:
21
g
|
Saturated Fat:
11
g
|
Cholesterol:
48
mg
|
Sodium:
229
mg
|
Potassium:
366
mg
|
Fiber:
2
g
|
Sugar:
43
g
|
Vitamin A:
584
IU
|
Vitamin C:
1
mg
|
Calcium:
155
mg
|
Iron:
3
mg
Enjoy ice cream? Try these ice cream recipes!