Delicious and easy family friendly casserole with pasta, chicken and broccoli.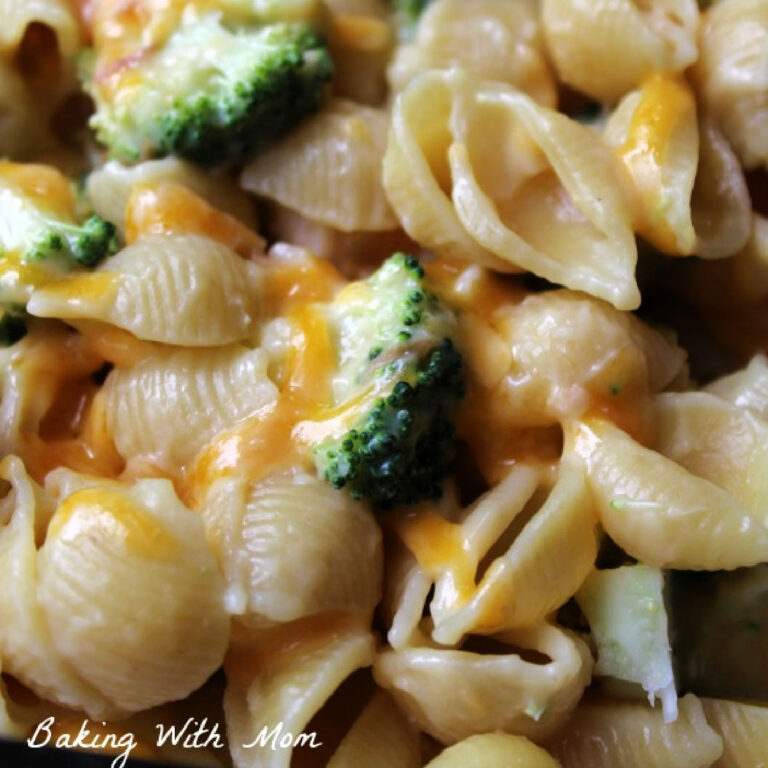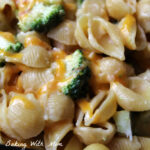 Easy Cheesy Broccoli Chicken Casserole-so simple to make even on the busiest of nights. You family will love this casserole for the taste, you will love it for the simplicity!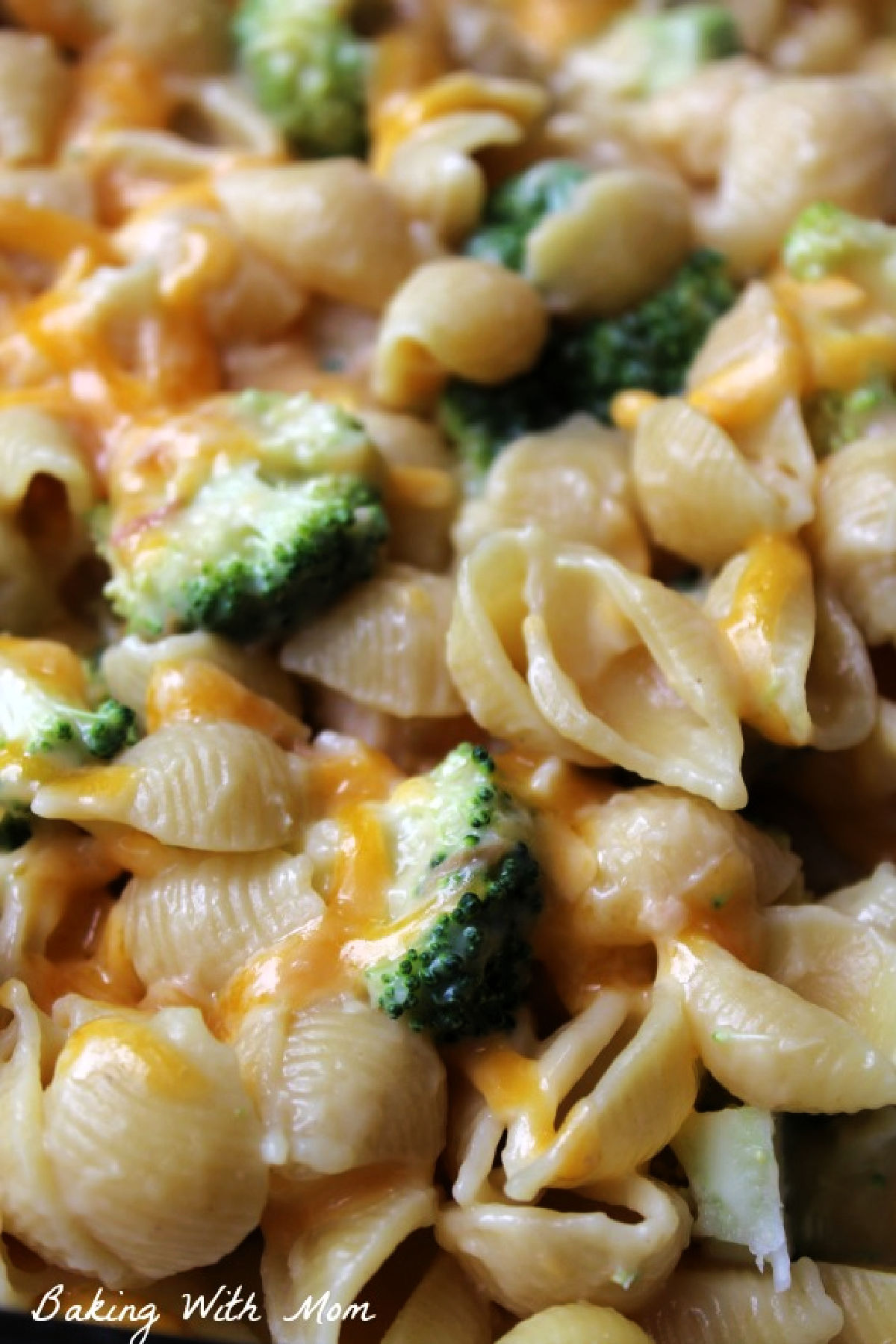 Easy Cheesy Broccoli Chicken Casserole only has a few ingredients. What is really great is they are mostly items you can find in your pantry or in your fridge.
Gotta love that, wouldn't you say??
As I have mentioned before, I live with a family of meatatarians.  (As with this ever popular Hamburger Casserole recipe.)
They love fruits and some veggies, especially if they are grown from the garden, but broccoli is strictly forbidden. However, every once in a while, I make something with broccoli that gets a slight smile and nod.
Couldn't admit they like it completely, after all, they have reputations to uphold. ;-)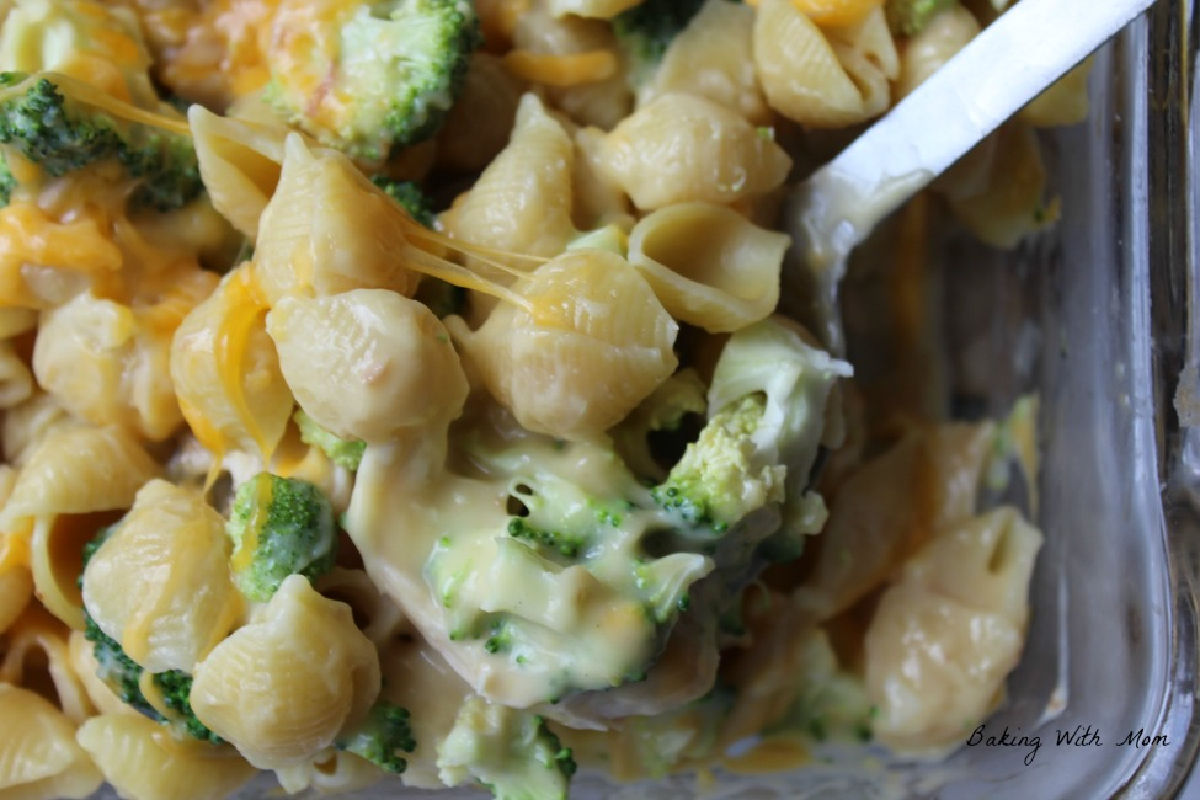 Ingredients
diced chicken
pasta shells
cheddar cheese
broccoli
cream of chicken soup
milk
9x13 casserole pan
This casserole has all the yummy ingredients you would want such as chicken, broccoli, cheddar cheese, pasta shells, cream of chicken soup. I also add milk but if your family is allergic, I would add water instead.
The Steps
To make this casserole, cook and drain the pasta. Then mix the chicken, pasta, broccoli and soup in a large bowl. Then spread on the bottom of a greased 9x13 casserole dish.
Sprinkle the cheese on top. If you want to be a little more generous with the cheese, no harm in that. This chicken casserole bakes up in about 30 minutes. I like to cover it with foil for the first 20 minutes, then take the foil off and cook for the remaining 10 minutes.
FAQ & Tips
Can I use Almond Milk for this recipe?
I don't recommend it. If you can't have milk (like I can't), just replace the milk for water.
Does the chicken need to be fully cooked?
Yes! The chicken does need to be fully cooked when it is placed in the casserole. I like to have chicken already cooked and in the freezer for future recipes. It makes prepping meals like this so much quicker and easier.
How do I store leftovers?
You can place any leftovers in an airtight container and place in the fridge. Be sure to eat any leftovers up within 48 hours. Chicken shouldn't be left in the fridge longer than 48 hours.
Can I freeze this?
I don't recommend it. I feel pasta is touchy when it comes to freezing. Sometimes I have had good experience with freezing pasta and others, it turns to mush. The cream of chicken soup also, I don't feel, freezes well. Again, you can make the chicken ahead of time for quicker prep.
So, how do I freeze chicken?
You can freeze chicken by cooking it in a crock pot or oven until internal temperature reaches 165*. Then, when the chicken has cooled enough to touch, you can shred or dice and place in a freezer bag and place in the freezer.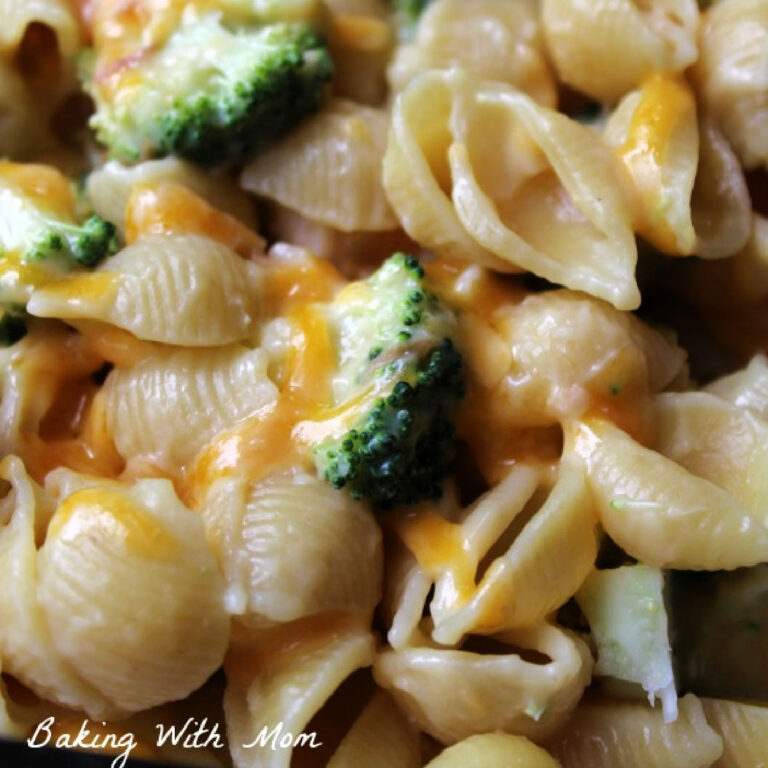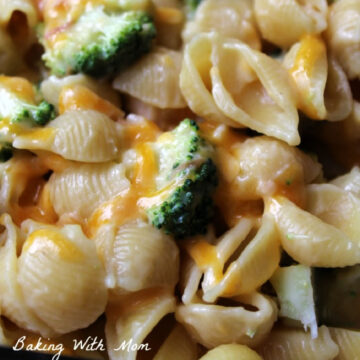 Easy Cheesy Broccoli Chicken Casserole
Delicious and easy family friendly casserole with pasta, chicken and broccoli.
Ingredients
1

lb

pasta shells

1

can

cream of chicken soup

1 ½

cups

cooked chicken

cubed or shredded

1

cup

broccoli

chopped, fresh or frozen

½

cup

milk or water

1 ½

cups

cheddar cheese

2

tablespoons

melted butter

or margarine
Instructions
Grease 9x13 baking dish and preheat oven to 375*

Cook pasta shells according to package directions. Drain

Combine pasta shells, cream of chicken soup, cooked chicken, broccoli, milk, melted butter and ½ cup cheese in a greased 9x13 baking dish

Sprinkle with remaining cheese and cover with foil

Place in a 375* oven and bake for 30 minutes

Remove from oven and let cool for 5 minutes. Serve
Nutrition
Calories:
330
kcal
Carbohydrates:
38
g
Protein:
17
g
Fat:
12
g
Saturated Fat:
6
g
Polyunsaturated Fat:
1
g
Monounsaturated Fat:
3
g
Trans Fat:
0.1
g
Cholesterol:
43
mg
Sodium:
369
mg
Potassium:
225
mg
Fiber:
2
g
Sugar:
2
g
Vitamin A:
380
IU
Vitamin C:
8
mg
Calcium:
156
mg
Iron:
1
mg
Follow me on Pinterest and Facebook for more delicious recipes!