A delicious chicken recipe, this baked honey glazed chicken is loaded with flavor, can be baked OR grilled and can be made into sandwiches. Honey, orange juice, peppercorns and tomato sauce is used to marinate this delicious and flavor supper recipe.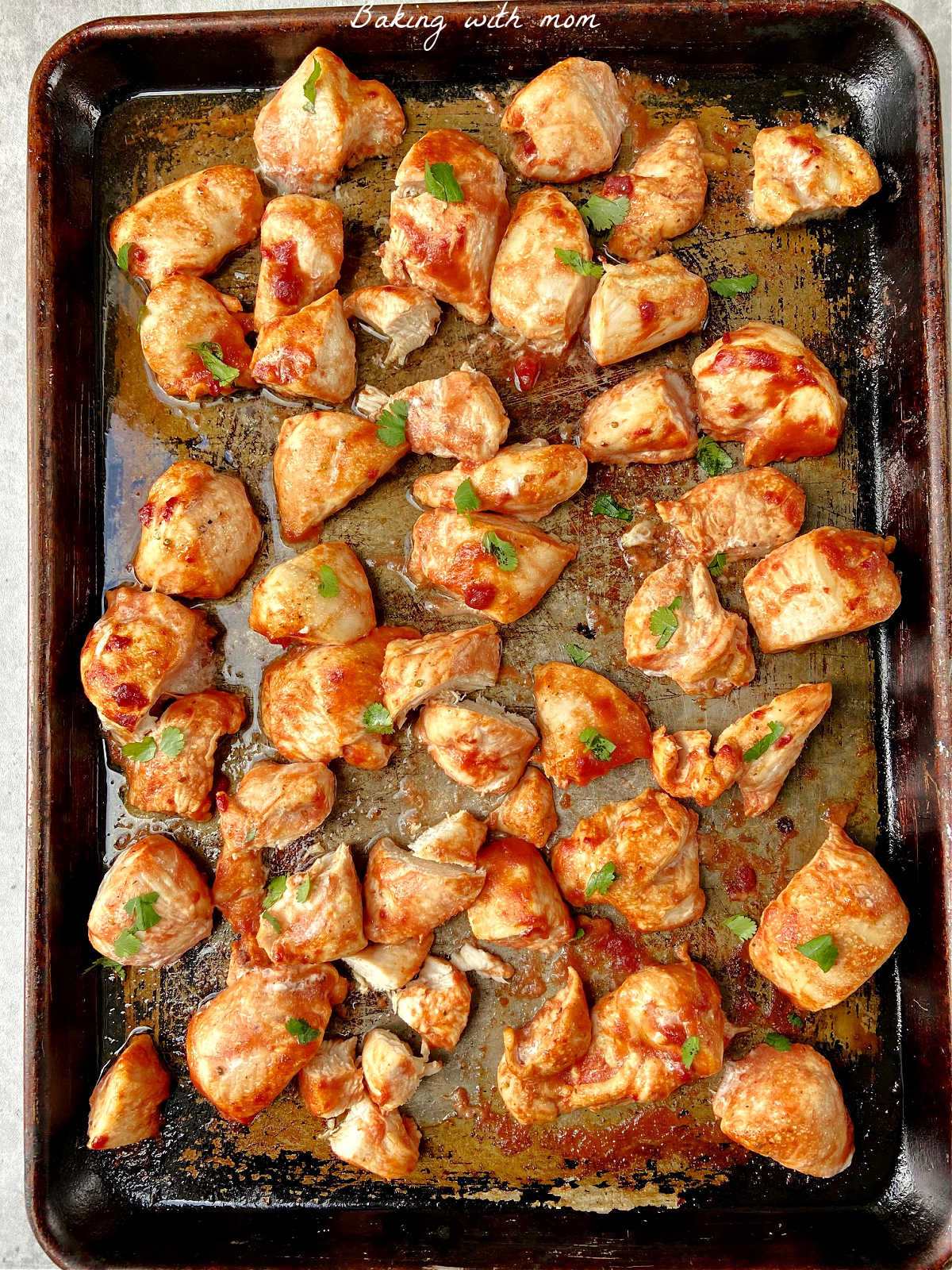 Marinating chicken is so easy, I honestly don't know why I don't do it more. It adds such flavor to the chicken and can be baked in the oven or grilled. Like this Easy Chicken Marinade.
This Baked Honey Glazed Chicken has that sweet and sassy flavor that we have come to love in a marinade.
What is a marinade?
A marinade is ingredients mixed together that is poured on meat. The meat then sits and soaks in the ingredients to add flavor to the meat.
There is usually an acid ingredient such as a vinegar as well as spices. It oftentimes include a sweet ingredient such as honey.
How long does it take to marinade?
Ideally, the chicken will be soaked in the marinade or sauce overnight to really soften the meat and add flavor.
However, if you forget to get the meat in the marinade the night before, no worries. You can place the meat in the marinade for at least 3-4 hours. The overnight is best but 3-4 hours will work.
It also depends on the type of meat. Fish for example should only be sitting in the sauce for about 30 minutes to 2 hours depending on the type.
Ingredients
Tomato sauce
oil
orange juice
vinegar
oregano
salt
peppercorns
dry mustard
garlic powder
honey
The process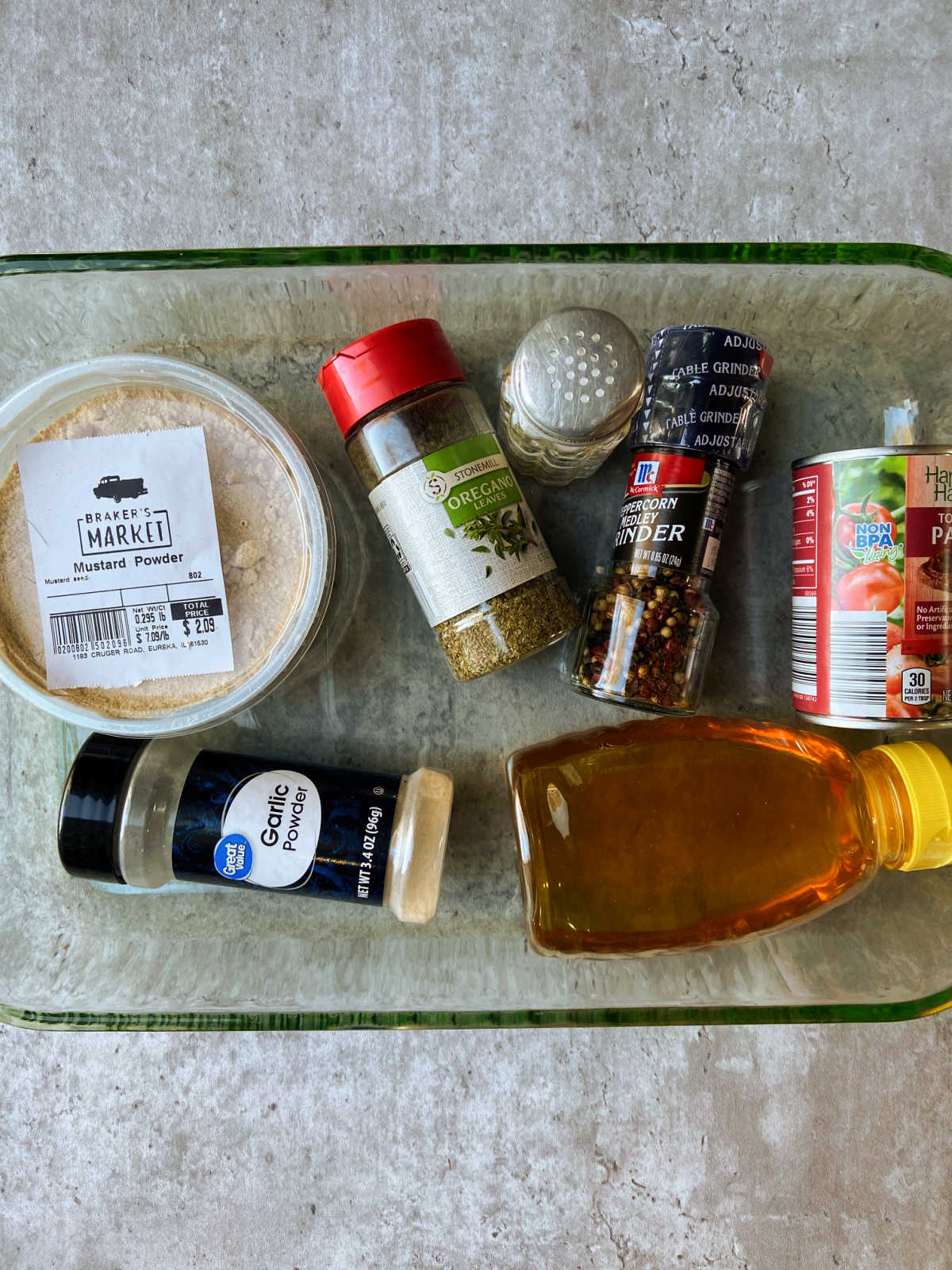 The honey you see above is straight from our backyard. I strongly recommend finding a local bee keeper in your area and buying honey off of them.
The flavor is much better than store bought and it is less processed.
The process of making this baked honey glazed chicken is very simple. First, mix together all the marinade ingredients in a large bowl.
Then, pour it on top of the chicken breasts. I chose to cut the chicken into chunks as we are going to put it on pretzel buns. (More on that in a minute!)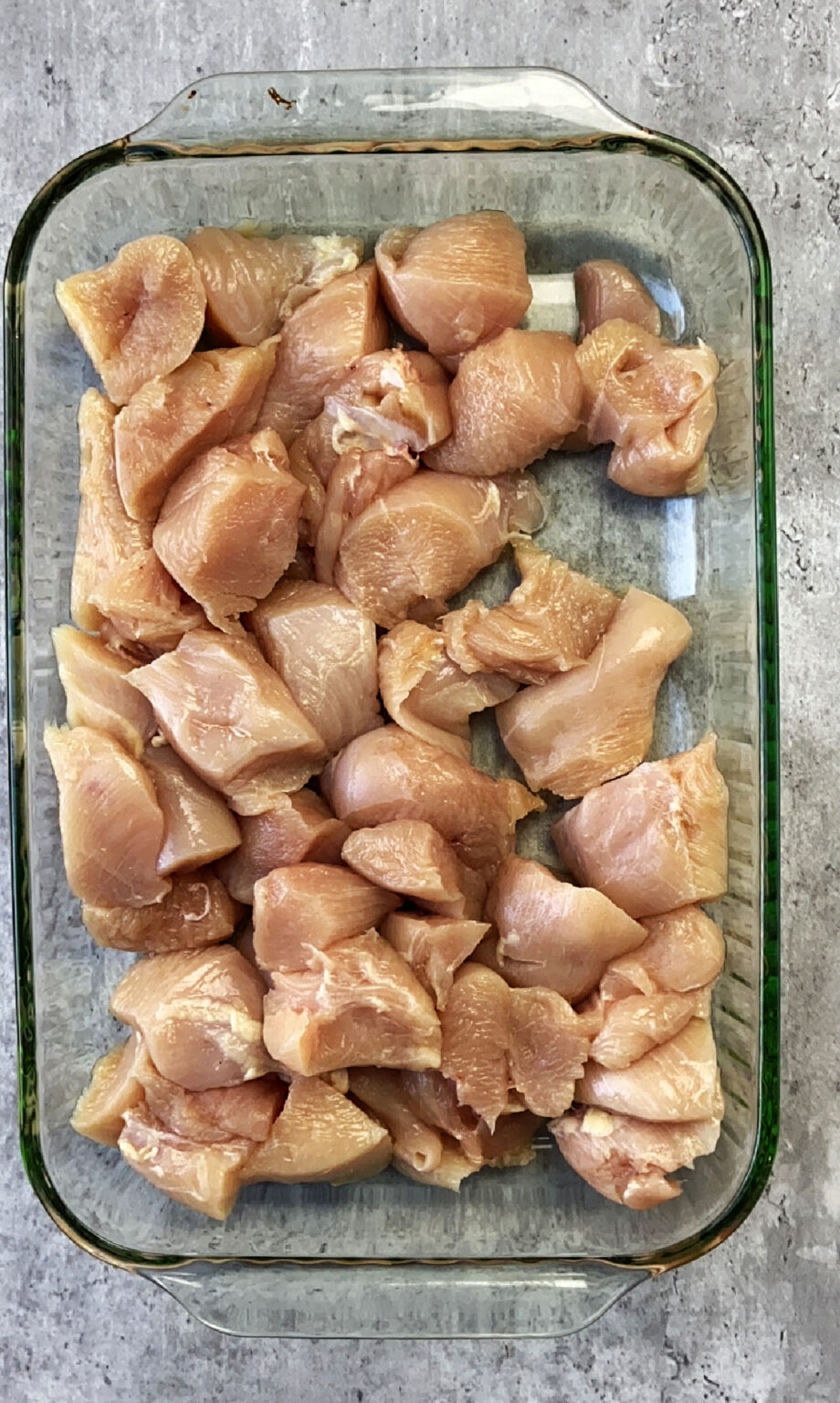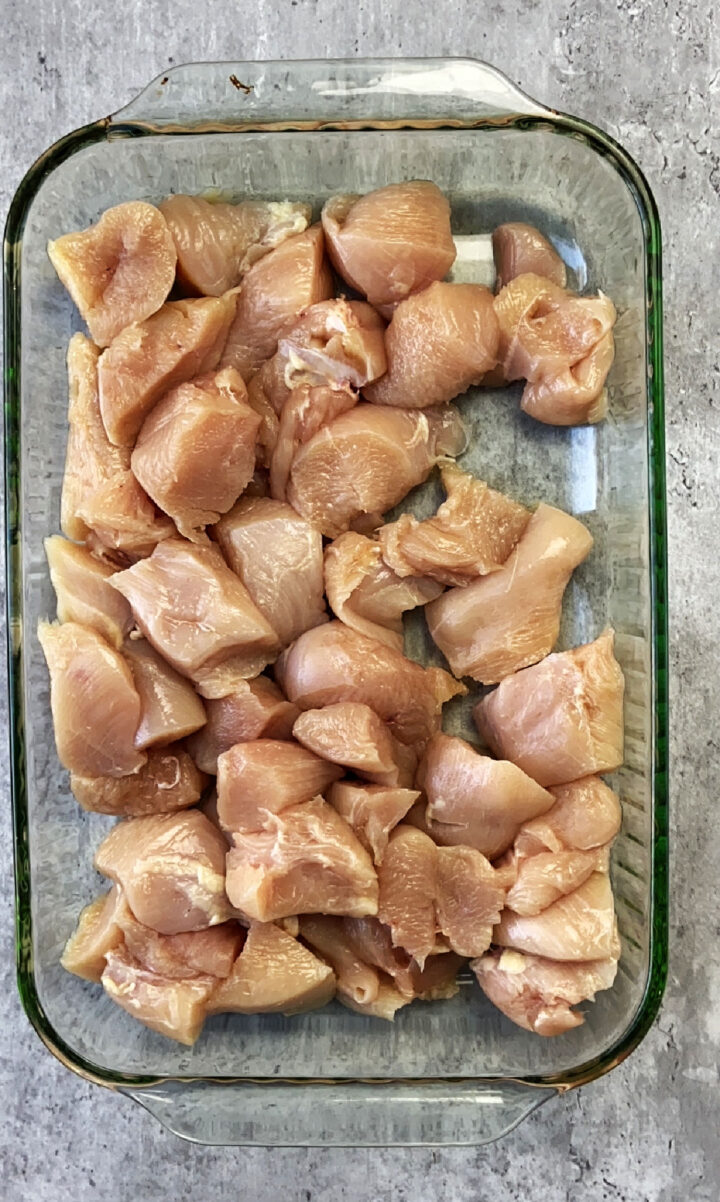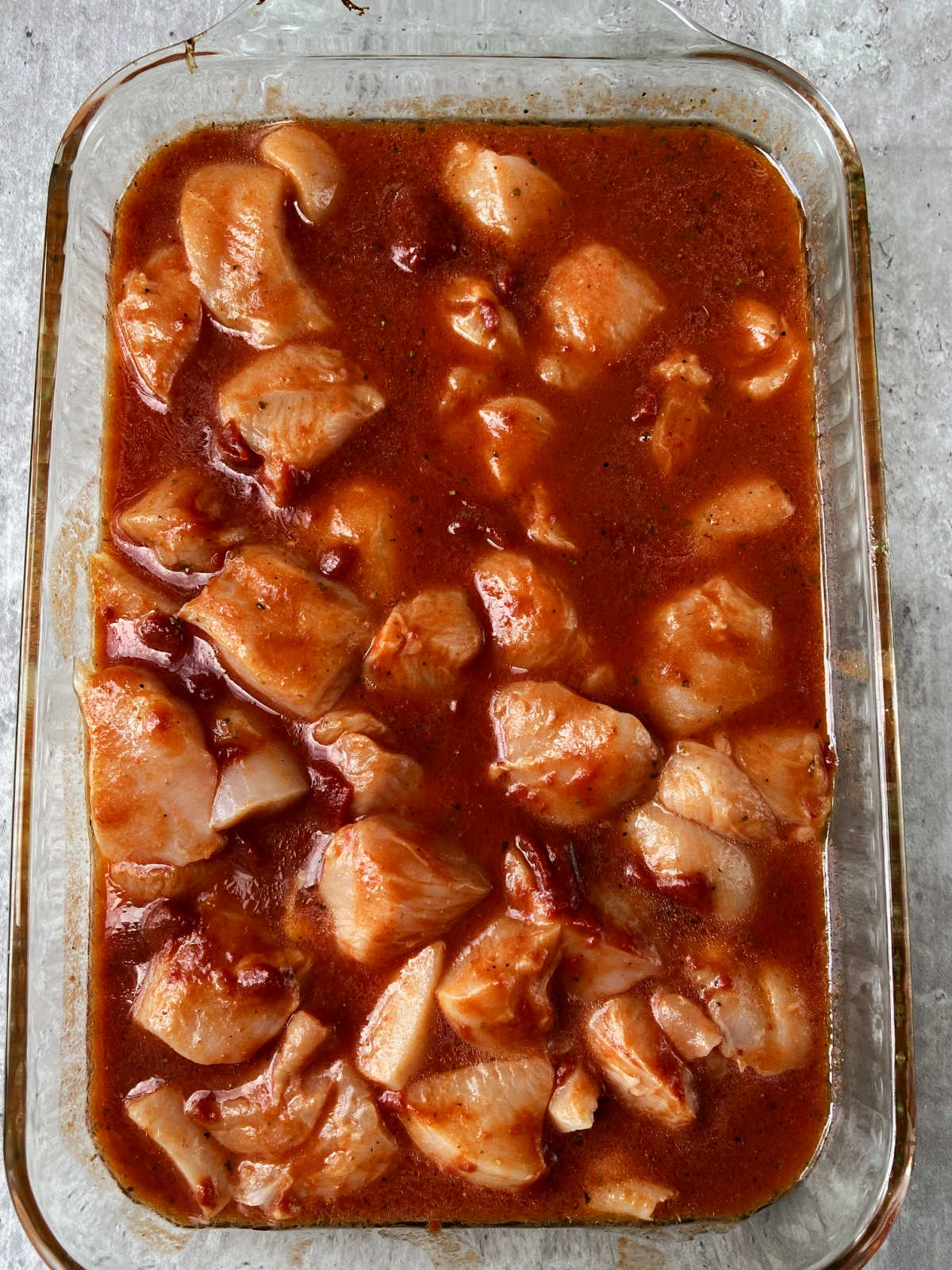 The bake
After the chicken has marinated the proper time, you can do two things. Bake or grill. This post is about baked chicken (as it is 20* outside) but I will update it on instructions for grilling in the future.
You will want to take the chicken and place it on a very well greased baking sheet.
How long depends if you left the chicken breasts whole or you made honey glazed chicken chunks. Whole chicken breast will take about 30 minutes to get them to 165 degrees F. Smaller portions of chicken will take less time, 15-20 minutes. Always use a meat thermometer.
A good eye indicator is if the juices run clear when cut in the middle of the chicken.
FAQ
Can I put the marinade sauce and chicken in a large Ziplock bag?
Yes you can! I didn't because I didn't have any. A large baking pan works just fine as well.
Should the pan be covered in the refrigerator?
Yes, it should. If you use a pan, cover it with foil.
Can I use other types of chicken with this marinade?
Sure! Chicken legs or thighs would be good as well. Be sure to adjust cooking time for the chicken as this recipe is based on chicken breasts.
Serving
This baked chicken recipe can served by itself or served over rice. It would be good over egg noodles as well.
It can also be served as sandwiches. I found these pretzel buns from King's Hawaiian. The buns can be bought at Walmart for much cheaper, the link above is just for reference.
Need a drink recipe with this chicken recipe? Try: Homemade Lemonade
Pin for later!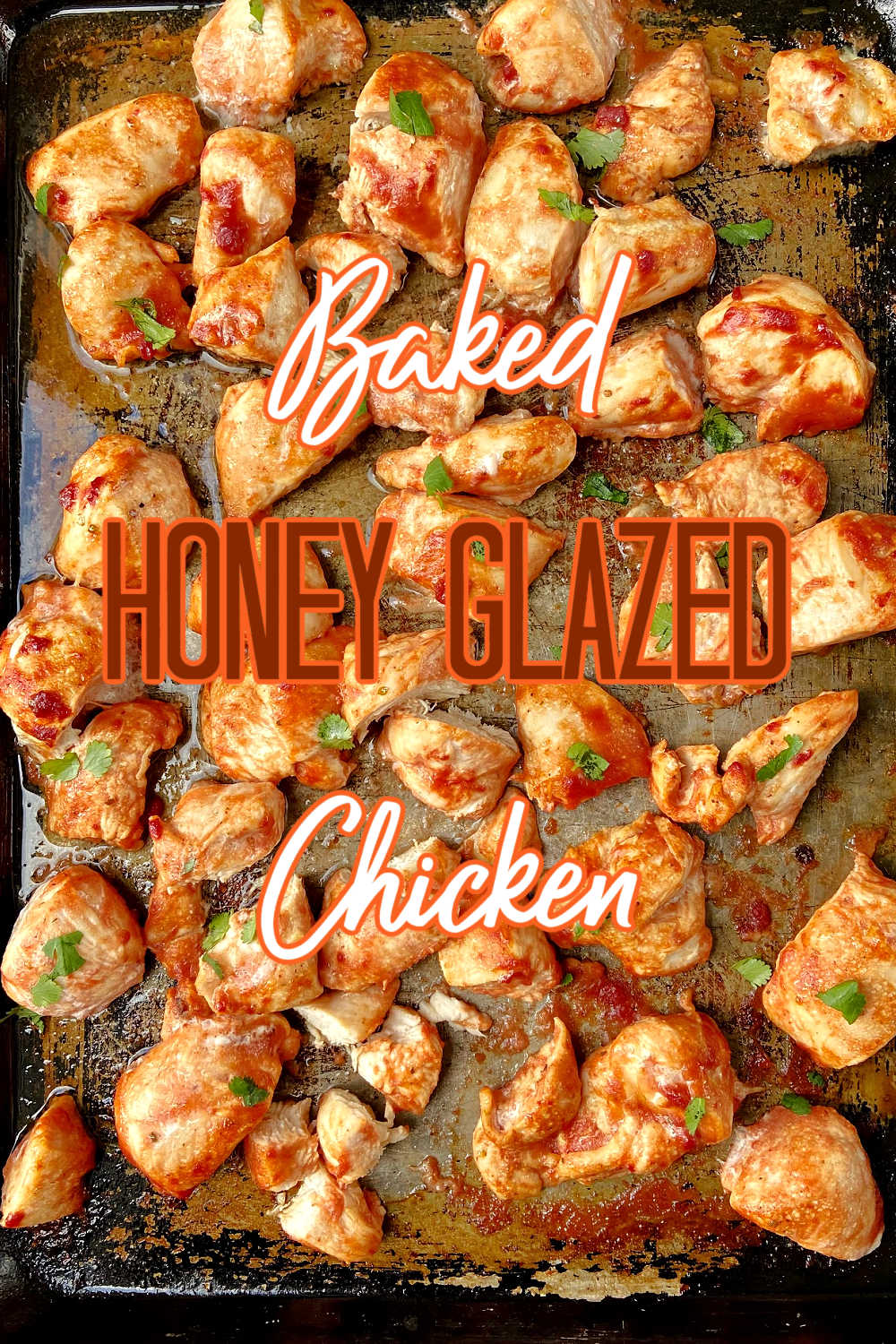 📖 Recipe
Baked Honey Glazed Chicken
A delicious chicken recipe made with honey and spices. Great for ovens or grilling.
Ingredients
4

oz

tomato sauce

½

cup

oil

¾

cup

orange juice

⅓

cup

white vinegar

1 ¼

teaspoon

oregano

2

teaspoon

salt

2

teaspoon

ground peppercorns

1

teaspoon

dry mustard

1

teaspoon

garlic powder

½

cup

honey

5

chicken breasts
Instructions
Mix all ingredients, except the chicken together in a large bowl.

Leave chicken breasts whole or chop into small pieces.

Add chicken breasts to a large baking pan or a Ziplock bag and pour mixed ingredients over top.

Marinate chicken for at least four hours or overnight.

Cover chicken (if in a pan) with foil.
Cooking The Chicken
Remove chicken from bag or pan and place on a very well greased baking pan.

Bake for 30 minutes for full chicken breasts or until juices run clear. A meat thermometer should read 165°.
Nutrition
Calories:
371
kcal
|
Carbohydrates:
22
g
|
Protein:
31
g
|
Fat:
18
g
|
Saturated Fat:
2
g
|
Polyunsaturated Fat:
5
g
|
Monounsaturated Fat:
10
g
|
Trans Fat:
1
g
|
Cholesterol:
90
mg
|
Sodium:
821
mg
|
Potassium:
652
mg
|
Fiber:
1
g
|
Sugar:
20
g
|
Vitamin A:
162
IU
|
Vitamin C:
14
mg
|
Calcium:
25
mg
|
Iron:
1
mg