Caramel Shortbread Cookies with delicious (and easy to make) shortbread topped with caramel and chocolate. Add to the top salty pretzels and you have yourself a "WOW" dessert!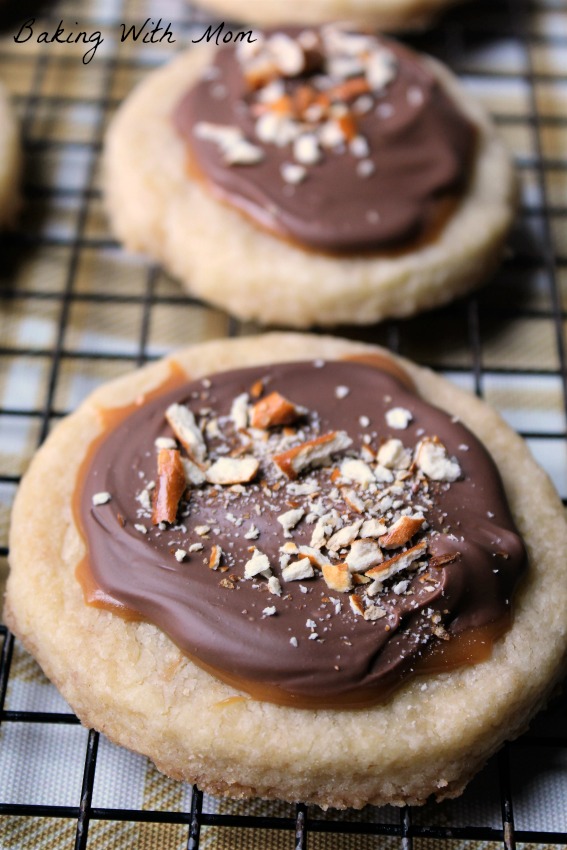 I love sending our oldest, Ryan, food texts. After I make something delicious and worthy of cyber-fame, I send it to him to make him long for home. It's not cruel, it's just to remind him the fast food he is eating with the cross country team after a meet is no way better than my cooking. It's job security.
The caramel shortbread cookies deserved to be sent through cyberspace. And I got a text back from him. Except this time, he was at a race he wasn't running in, it got delayed and he was there hours longer than he thought he would have to be and on the way home he didn't have money to buy the food the team was buying.
He may, MAY have been a little disgruntled. You know. Because of the hunger.
He did appreciate the caramel shortbread cookies once he got home. He also begged for more than one.
May I also point out that my 15 year old son also will show the food I send him to his friends (on occasion) and I am well known for my homemade cinnamon rolls. Just thought I would share. :-)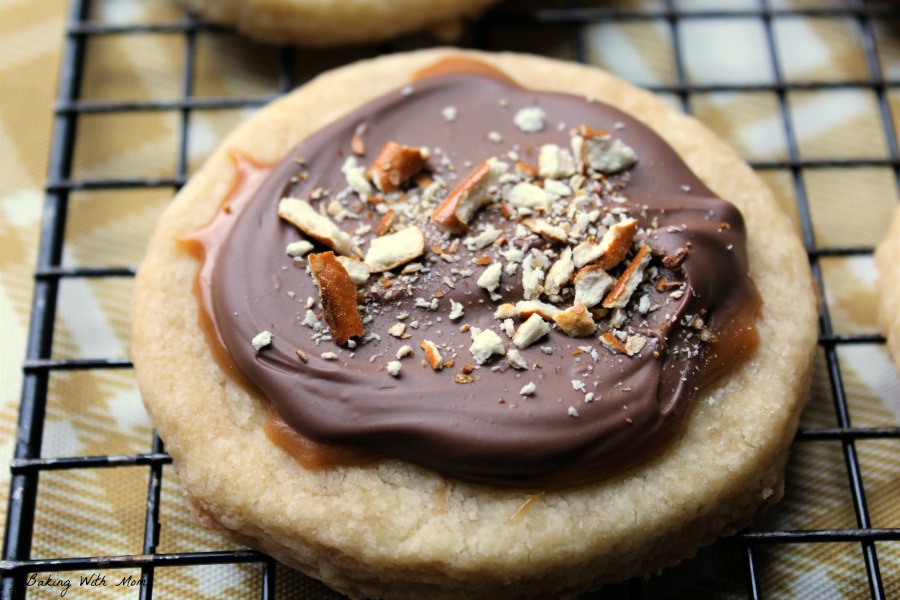 Caramel Shortbread Cookies
The shortbread cookie itself only has a few ingredients to it. There is 1 cup of butter (real butter) so it is not a frugal recipe but it is so good, it is easy to overlook.
After making the shortbread cookie, you add the caramel on top. Then the melted chocolate chips. After each layer, you let it cool. It doesn't take very long, just a few minutes in the fridge will do it.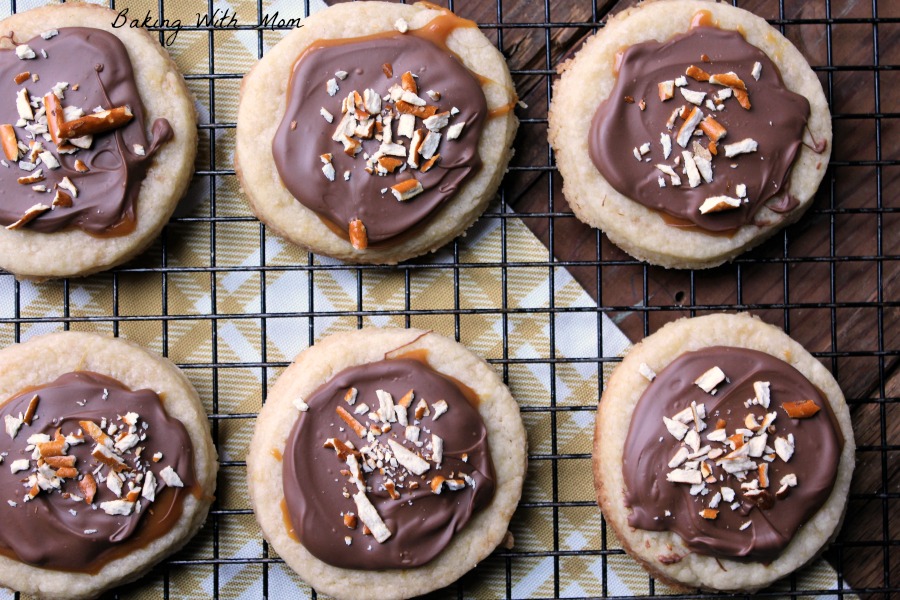 The flaky shortbread, the rich caramel and the yummy chocolate topped with crushed pretzels makes a dessert your family will love.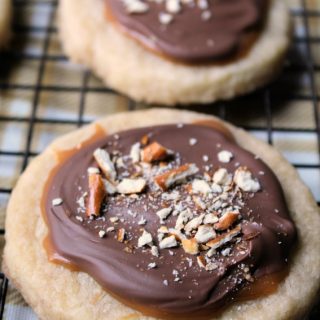 Caramel Shortbread Cookies
A flaky shortbread cookie topped with caramel and melted chocolate.
Ingredients
1

cup

butter

softened

2

cup

flour

2

tsp

vanilla

1

cup

sugar

1

cup

caramel

1

cup

milk chocolate chips
Instructions
Mix the butter and sugar together in large bowl

Add in flour, a little at a time until fully mixed. You can add in a little water (tsp at a time) to mixture to help the dough stick together

Turn out on a floured surface and roll out, about 1/2 inch thick

Using a circle dough cutter, cut out dough for cookies

Bake on ungreased cookie sheet for 7 minutes at 375*

When cookies are done, let cool

Melt caramel according to package directions

Spread caramel on cookie. Let cool completely

Melt chocolate chips in microwave for 30 seconds. Stir. Melt 15 second at a time, stirring each time until melted

Spread on top of cooled caramel. Sprinkle crushed pretzels on top of melted chocolate. Let cool. Serve
Nutrition
Calories:
300
kcal
Carbohydrates:
37
g
Protein:
2
g
Fat:
15
g
Saturated Fat:
9
g
Cholesterol:
34
mg
Sodium:
128
mg
Potassium:
31
mg
Sugar:
24
g
Vitamin A:
405
IU
Vitamin C:
0.1
mg
Calcium:
27
mg
Iron:
0.9
mg