A delicious and filling soup recipe our family loves! This So Easy Taco Soup is loaded with flavor and cooks in the crock pot all day while you are away.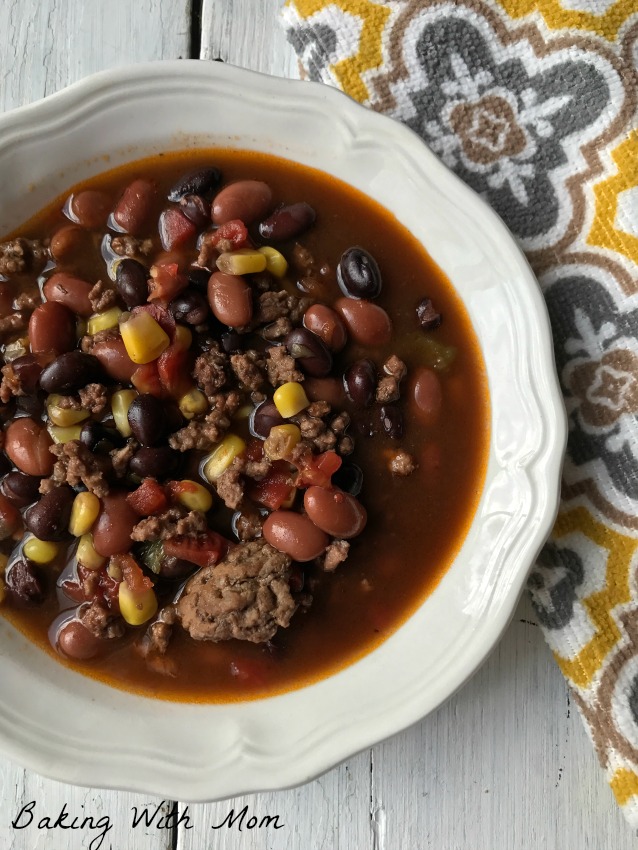 *Post and picture updated on 08/24/2017
I know what you are thinking:
These people eat a lot of soup.  We also eat a lot of tacos.  So what else can we make but Taco Soup?
Soup is comforting, warm (anybody else FREEZING today?!?) and very frugal.  It also cooks all day in my crock pot so I don't have any worries come supper time. It is hot and bubbly and ready to eat.  Taco soup is a favorite around here.  (As with all things taco.)  I dump all the ingredients into the crock pot and walk away.  If I already have fried up hamburger in the freezer, than it is really quick and easy.  When you have four kids, two in activities, easy is the only way to have it.
I enjoy making this soup.  It receives little complaints while it is being put on the table.  The combinations with this soup is unlimited.  You can have spicy or not. You can put cheese on it or don't.  You can eat it with tortilla chips or with crackers.  Sour cream fans?  No problem, put that on as well!  Sometimes, we will make white rice (or you could use brown) and put it in the bottom of our bowl.  We will then pour the soup on top.  Even better.  Yes, folks.  Taco soup is delightfully good.
Taco Soup Recipe:
Want to watch a video of this recipe? Check out my Taco Soup video on Facebook!
Taco Soup
Taco soup is an open cans and pour into a slow cooker kind of soup. Flavorful and easy to make!
Ingredients
1

lb

hamburger

(cooked and seasoned with salt, pepper and garlic powder to taste)

1

can chili beans

(hot or mild)

2

cans black beans

1

small can tomato sauce

1

can Rotel diced tomatoes

(hot or mild)

1

can chicken broth

1/2

pkg taco seasoning
Instructions
Put all ingredients in crock pot.

Cook on low all day or high for 4-5 hours.

Pour in bowls and garnish with sour cream, cheese, chips, etc...
 Other Soup Recipes By Baking With Mom: