Sweet Cheerios Mix has all the great flavors of sweet and salty in one fabulous snack mix. Enjoy for a great on the go snack or for movie night!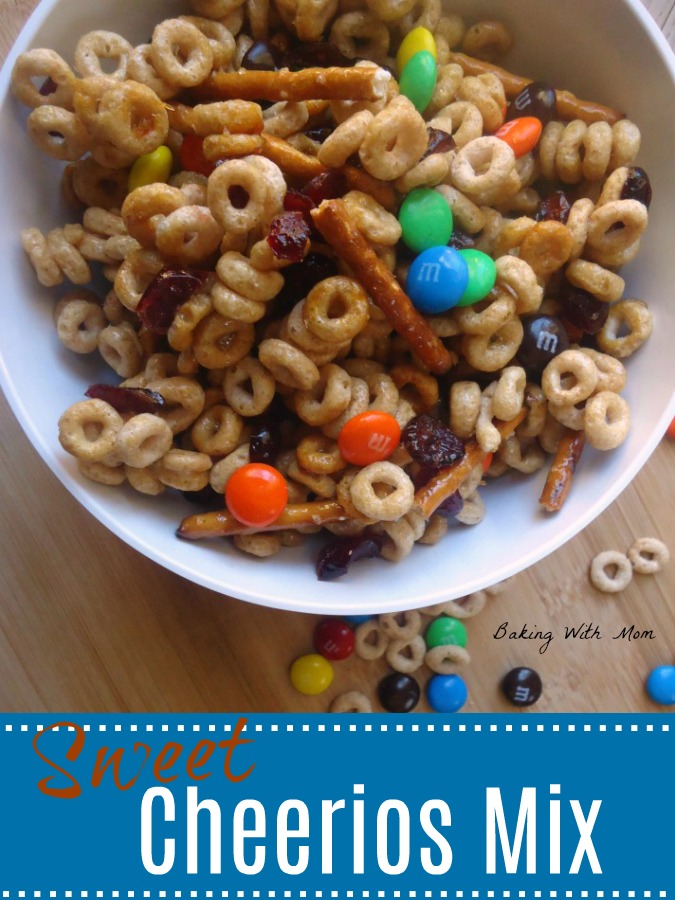 I have a weakness, I do like snack mixes. This Sweet Cheerios Mix is sweet and salty.  Crunchy and soft. Chocolate and, well, chocolate.  Enough said.
A snack mix is the cat's meow.
Sweet And Salty Snack Mix
The kids can pack this Sweet Cheerios Mix in their lunches or for snack at school.  (There isn't peanut butter in it so it can be taken in the classroom.)  This would also make a great Christmas gift for teachers.  Make a batch of this sweet mix and put it in Christmas treat bags.  Teachers, AWANA leaders, Sunday School teachers, oh, they would all be thrilled to have it. :-)
The sweet and the salt of the M&M's and pretzels combine for a delicious treat. The brown sugar syrup you will pour on top is pretty tasty as well.
How do I make Sweet Cheerios Mix
You most likely have the ingredients for this mix in your pantry.  They only thing you may not have is the M&M's. (Especially if your hubby is like mine so when you go to use the M&M's, you realize they have been eaten by your beloved spouse.)
I think it took about 10 minutes for me to put together (besides baking) and it stores well in an air-tight container. You can use dried cranberries or if you would prefer, dried cherries or blueberries. You could also add peanuts to this baked snack mix but remember to not include any nuts in a mix you are taking to a school.
When you bake the snack mix, remember not to add the M&M's until after baking or they will get too soft. You can stir them in afterwards.
Also, make sure you spread the mixture out on the baking sheets evenly so the mixture cooks evenly.
Enjoy this sweet snack mix. Moms, it will be great for those on the go days of after school sports!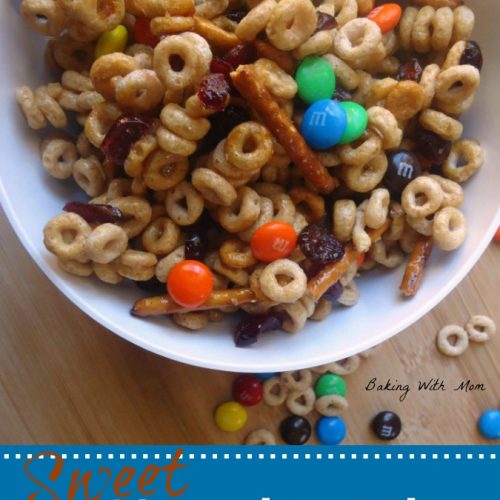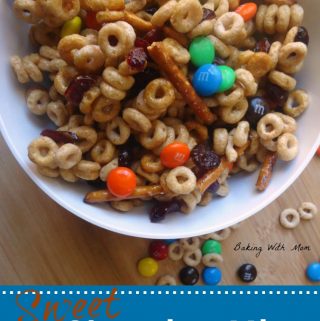 Sweet Cheerios Mix
Sweet Cheerios Mix with dried cranberries, M&M's and pretzels has a delicious brown sugar syrup poured over the top then baked in the oven.
Ingredients
1

cup

brown sugar

1/2

cup

butter

1/4

cup

light corn syrup

1/2

tsp

salt

1/2

tsp

baking soda

6

cups

Cheerios

1

cup

Craisins

1

cup

pretzel sticks

2

cups

M&M's
Instructions
Preheat oven to 250*. Combine Craisins, pretzels, Cheerios in a bowl.

Place brown sugar, butter, corn syrup and salt in a medium saucepan and heat until bubbles. (Stirring often) Cook for two minutes.

Remove from heat and add baking soda. Stirring until foamy.

Pour over mix and mix well. Spread mix on cookie sheets and bake for 15 minutes.

Remove from oven and spread on wax paper to cool. Add M&M's.
Nutrition
Calories:
252
kcal
Carbohydrates:
40
g
Protein:
2
g
Fat:
10
g
Saturated Fat:
6
g
Cholesterol:
15
mg
Sodium:
222
mg
Potassium:
61
mg
Fiber:
2
g
Sugar:
31
g
Vitamin A:
395
IU
Vitamin C:
1.5
mg
Calcium:
62
mg
Iron:
2.6
mg