Classic Vanilla Crunch Mix with rice cereal, M&M's and vanilla almond bark, is a simple and delicious snack mix for those last minute Christmas preparations. Kid friendly and adult friendly too!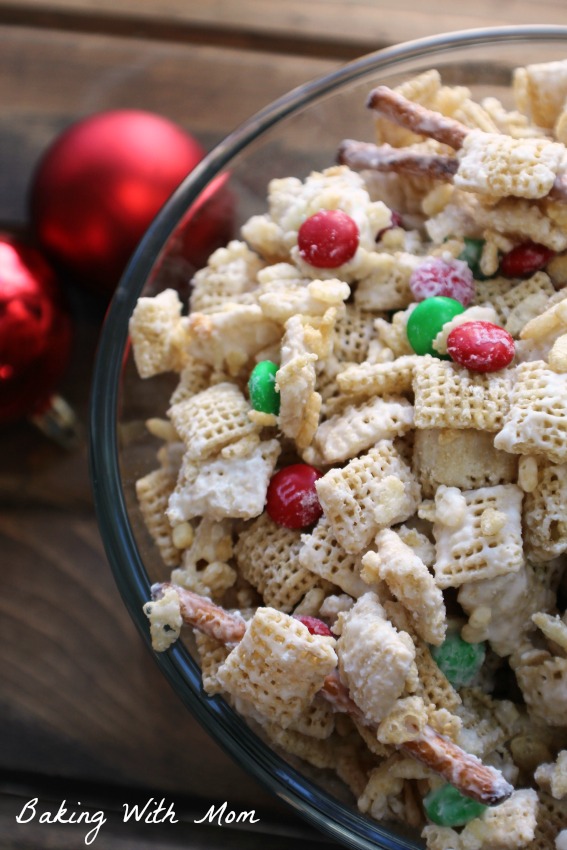 Any last minute plans you have to make for Christmas? Any Christmas parties you signed up for at the school that you forgot you needed to bring a snack too? Well, I have an EASY and SIMPLE snack you can make.
This Classic Vanilla Crunch Mix is loaded with pretzels, M&M's, Rice Cereal and Vanilla Almond Bark. No baking required, just melted almond bark.
I didn't sign up for any Christmas party treats but I did sign up for napkins. Should have signed up for treats, I guess. ;-) These Christmas cookies would have been a great idea as well.
Classic Vanilla Crunch Mix
This Christmas snack mix can really have anything in it. If you would rather have peanut butter M&M's you can or mint M&M's. I added Rice Krispies cereal but you don't have to if you don't have it. The extra crunch is what I was going for.
You could even use chocolate almond bark with you wanted to. I feel the vanilla is better (hence the title) but chocolate would work too.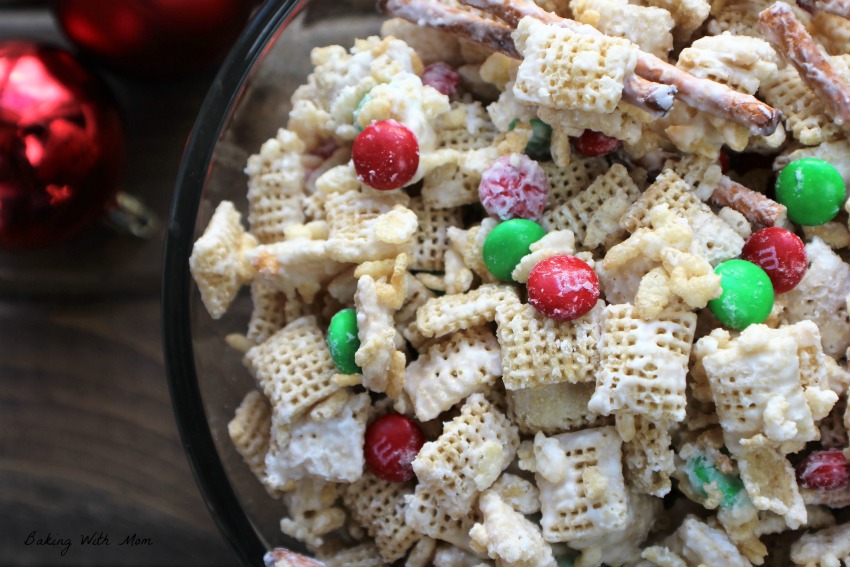 To Make Classic Vanilla Crunch Mix
Mix pretzels, rice cereal, M&M's and Rice Krispies in a large bowl.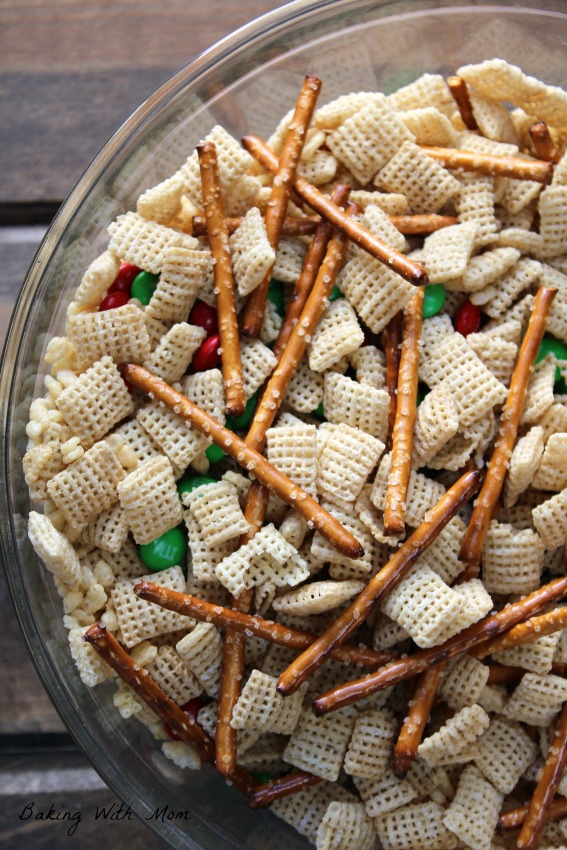 Then melt vanilla almond bark in microwave according to package directions. Pour over cereal mixture.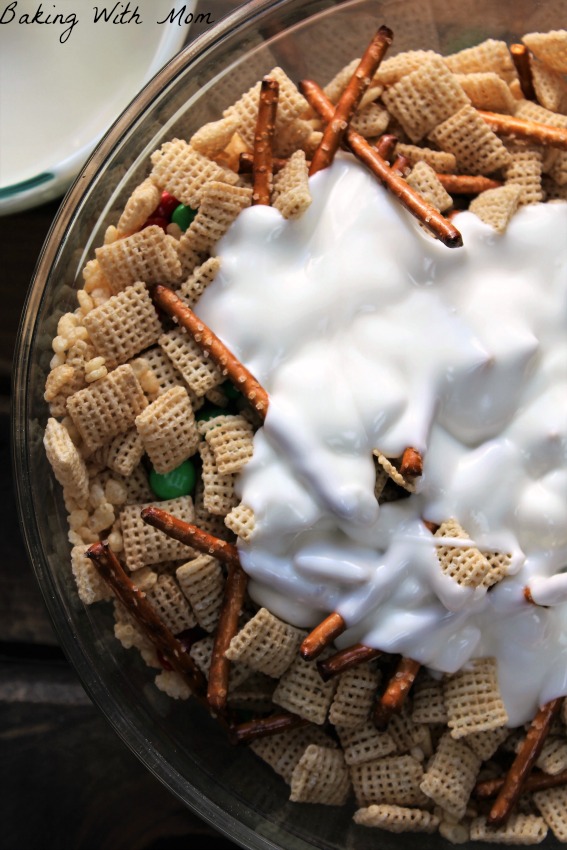 After mixing well, spread mixture on top of wax paper to cool. After cooling, you will need to break the mix up into little bite sized pieces.
You can serve this classic vanilla crunch mix for teacher's gifts, in a clear bowl, or as a centerpiece and the Christmas mix can be munched on throughout the party.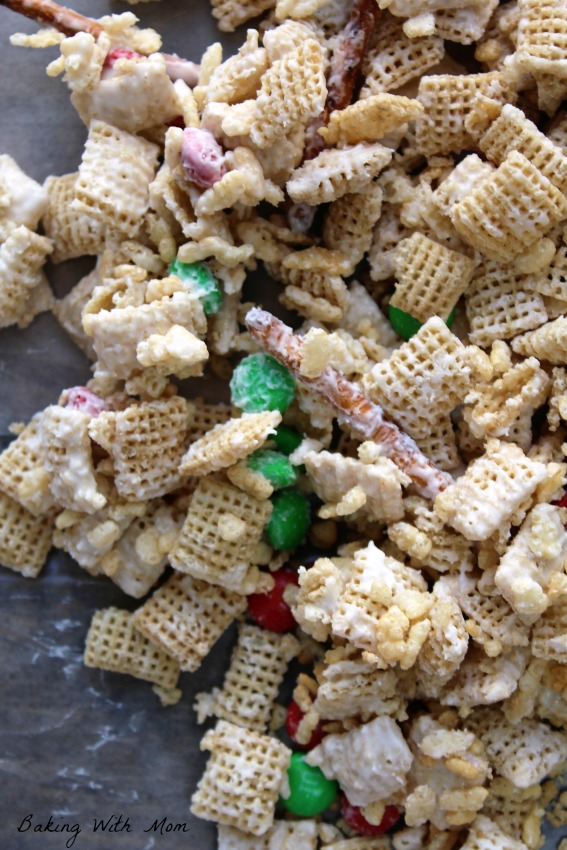 Yes, this easy Christmas snack mix will be a hit at the party. The kiddos will love it!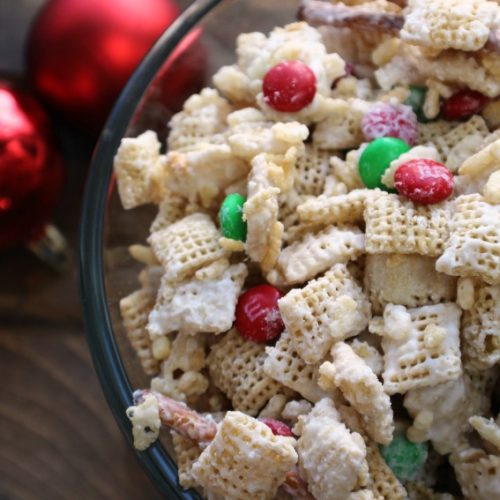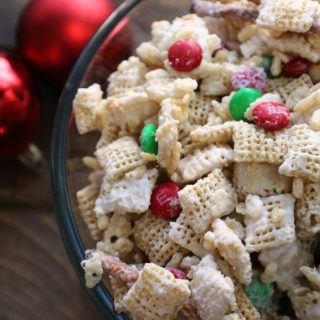 Classic Vanilla Crunch Mix
Classic Vanilla Crunch Mix with pretzels, cereal, M&M's and vanilla almond bark, is great Christmas snack mix perfect for kiddos.
Ingredients
6

Squares

Vanilla Almond Bark

6

cups

Rice Chex

1

cup

Rice Krispies

2

cups

pretzel sticks

1

cup

M&M's
Instructions
Mix cereals, pretzels and M&M's in a large bowl

Melt Vanilla Almond Bark in a bowl according to package directions

Pour over cereal and mix well

Spread cereal over wax paper to cool for 15 minutes

Break into bite sized pieces and place in airtight container
Nutrition
Calories:
190
kcal
Carbohydrates:
29
g
Protein:
1
g
Fat:
6
g
Saturated Fat:
5
g
Cholesterol:
1
mg
Sodium:
162
mg
Potassium:
20
mg
Sugar:
17
g
Vitamin A:
265
IU
Vitamin C:
2.7
mg
Calcium:
43
mg
Iron:
3.5
mg