Strawberry Raspberry Cheesecake With OREO Crumb Crust is a delicious easy to make a cheesecake. Simple ingredients with big cheesecake flavor.
*This post contains affiliate links. If you click on a link and make a purchase, I will receive a small commission at no additional cost to you. You can read our full disclosure here. 
Father's Day 2017 sort of, well, gave upon us without much warning. You see, we were knee deep in salty Gulf of Mexico waters the week before. It was about 3 days before Father's Day when I realized it was sneaking up on the calendar. I know, but on vacation, what is a calendar?
As my hubby loves cheesecake, I told him we would make him a special cheesecake. A strawberry raspberry cheesecake with OREO crumb crust to be exact.
While in Gulf Shores, my husband and I had the joy of visiting Hope's Cheesecake. It was our 20th anniversary and we decided to ditch the kids, ahem, encourage our 15 year old to watch them in the condo so we could go out by ourselves for a couple of hours. We went to a favorite place of ours, Hope's Cheesecake.
I had the TWIX cheesecake and the hubby had White Chocolate Cheesecake with a strawberry topping. Yum-O, I tell ya.
Well, as I mentioned earlier, 1 slice of cheesecake isn't enough for the hubs so the strawberry raspberry cheesecake with OREO crumb crust was born. I knew I could make something like the cheesecake in Gulf Shores and I love to bake so I thought I would give it a try. Oh, did it work.

Strawberry Raspberry Cheesecake With OREO Crumb Crust
The secret in this cheesecake is a white chocolate filling. The topping is made from strawberry and raspberry puree (which you can get from your garden, if you have it!).
This cheesecake also has an OREO crumb crust. I debating using a typically graham cracker crumb crust, but the OREO won out. Because, really, what is better than OREO with a white chocolate filling. Yes, I know.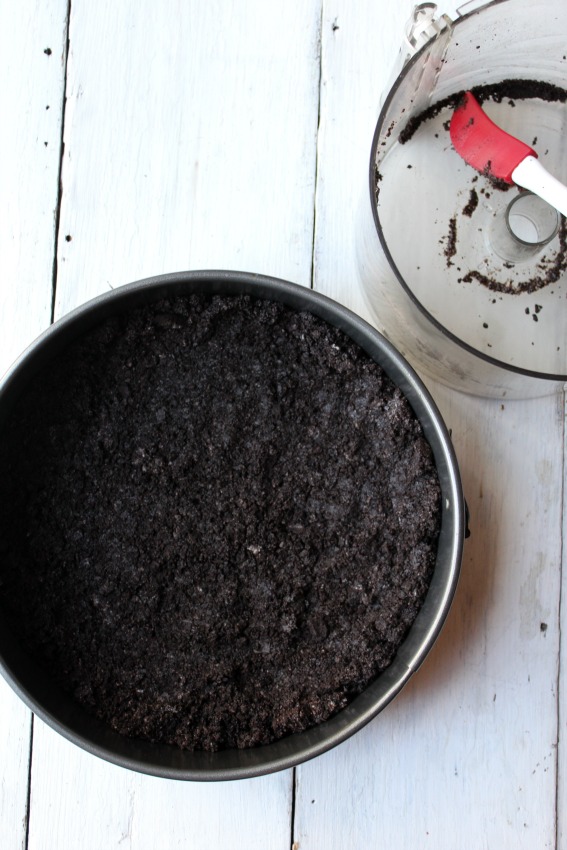 By the way, have you ever taken a bite of OREO crumbs with melted butter? It is delightfully delicious. Grab a spoon after you blend them in the food processor and enjoy. Be sure to save some for the crust. ;-)
Our 8 year old advised me to tell all of my readers that the crust is supposed to look like that. It is, after all, an OREO Crust. It isn't burned. He is looking out for all of you!  ;-)
Some tips
: To prevent cracking on top of your cheesecake, make sure you don't check on the cheesecake too much. Keep the oven door closed!
: Don't over bake your cheesecake.
: The best way to cool a cheesecake is to turn off of the oven and open the oven door. Let the cheesecake cool in the oven for 20 minutes before placing it in the fridge.
: Make sure the cream cheese is room temperature. That will help the cheesecake to be smooth and creamy, with no lumps.
: Seriously, Philadelphia is expensive, but it is the best. It has the most flavor. Use it.
Products used to make this cheesecake recipe:
📖 Recipe
Strawberry Raspberry Cheesecake With OREO Crumb Topping
A delicious dessert recipe as good as a bakery! Impress your guests with this simple cheesecake dessert!
Ingredients
4

8 oz bars

Philadelphia Cream Cheese

room temperature

¾

cups

white sugar

2

teaspoon

vanilla

4

eggs

6

oz

white chocolate

8

strawberries, washed and chopped, stems removed

1

cup

raspberries

2

teaspoon

cornstarch

1

package

OREO Cookies

⅓

cup

margarine
Instructions
Mix cream cheese and sugar in a Kitchen Aid Mixer or with a hand mixer until mixed well

Mix in melted white chocolate (melt according to package directions)

Beat in eggs, one at a time, just until mixed. Very important not to over mix.

In a food processor, crush cookies into crumbs

Spread on the bottom and up the sides of a 9 inch springform pan

Pour cream cheese batter on top of OREO crust

Bake for 50 minutes or until cheesecake is almost completely set in the middle. It will still be a little wobbly in the center

Turn off oven and open door to let cheesecake cool in oven slowly for about 20 minutes

Remove from oven and place in refrigerator for at least four hours

Take strawberries and raspberries and place in blender or Magic Bullet

Blend. Pour into a small saucepan. Cook on medium heat until starts to bubble, stirring often. Mix cornstarch with water. Pour in fruit mixture and stir until mixture starts to thicken

Spread on cooled cheesecake and place back into oven for 30 minutes
Nutrition
Calories:
607
kcal
|
Carbohydrates:
61
g
|
Protein:
8
g
|
Fat:
37
g
|
Saturated Fat:
16
g
|
Cholesterol:
118
mg
|
Sodium:
466
mg
|
Potassium:
251
mg
|
Fiber:
2
g
|
Sugar:
45
g
|
Vitamin A:
980
IU
|
Vitamin C:
3.2
mg
|
Calcium:
103
mg
|
Iron:
4.5
mg