Making a homemade strawberry topping for your ice cream, waffles or pancakes and cheesecake is really quite easy and only needs a few ingredients! This Homemade Strawberry Sauce will the perfect addition to your recipe box.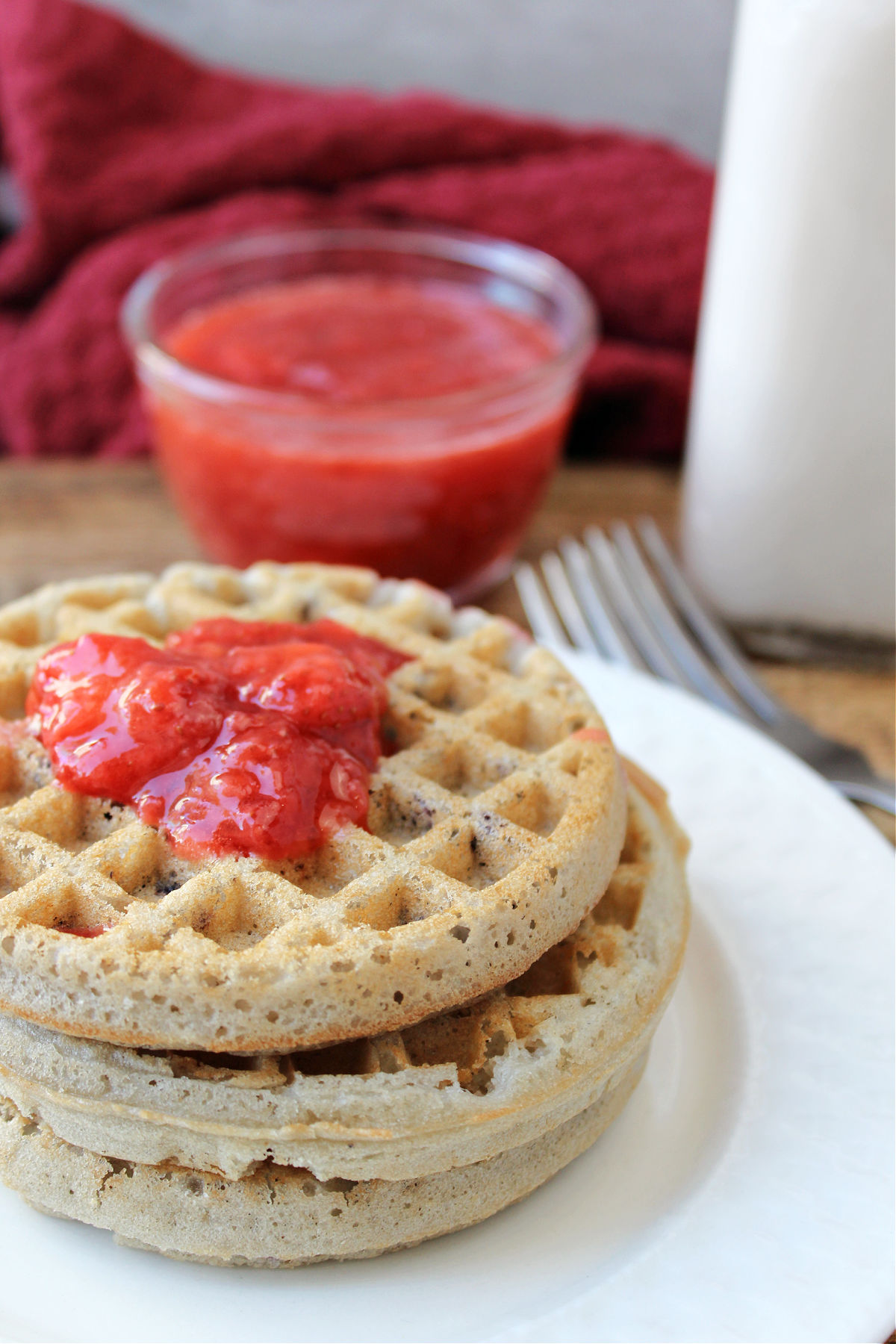 Homemade strawberry sauce is the perfect topping for many dessert or breakfast items. In fact, I bet you could think outside the recipe box and put this sweet strawberry topping on a variety of food items.
Ingredients
Fresh or frozen strawberries
Cornstarch
Water
Sugar
Using frozen strawberries
This recipe can be made year around because fresh or frozen strawberries can be used. Ripe, fresh berries are always the first choice, however, in the cold days of winter, frozen work great as well.
I used these frozen strawberries for this homemade strawberry topping.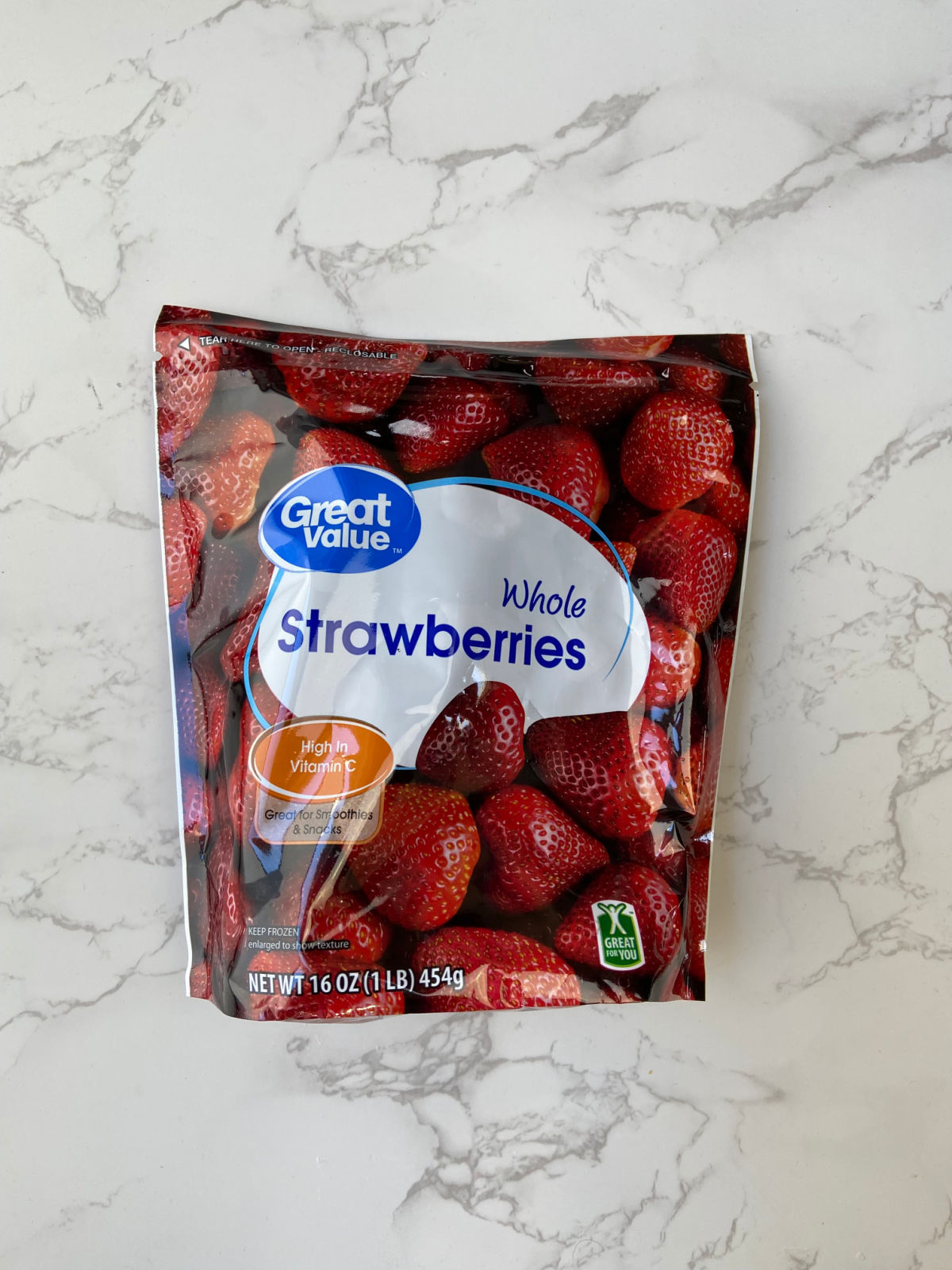 Chopped or whole strawberries will work. The whole strawberries will need a little more mashing than the chopped strawberries.
Strawberry sauce recipes
These recipes would be great with this strawberry topping.
Using cornstarch as the thickening agent
I prefer to use cornstarch in this recipe. I think cornstarch is easy to work with and simple to add.
There are a few tricks to adding cornstarch to a sauce to avoid lumps.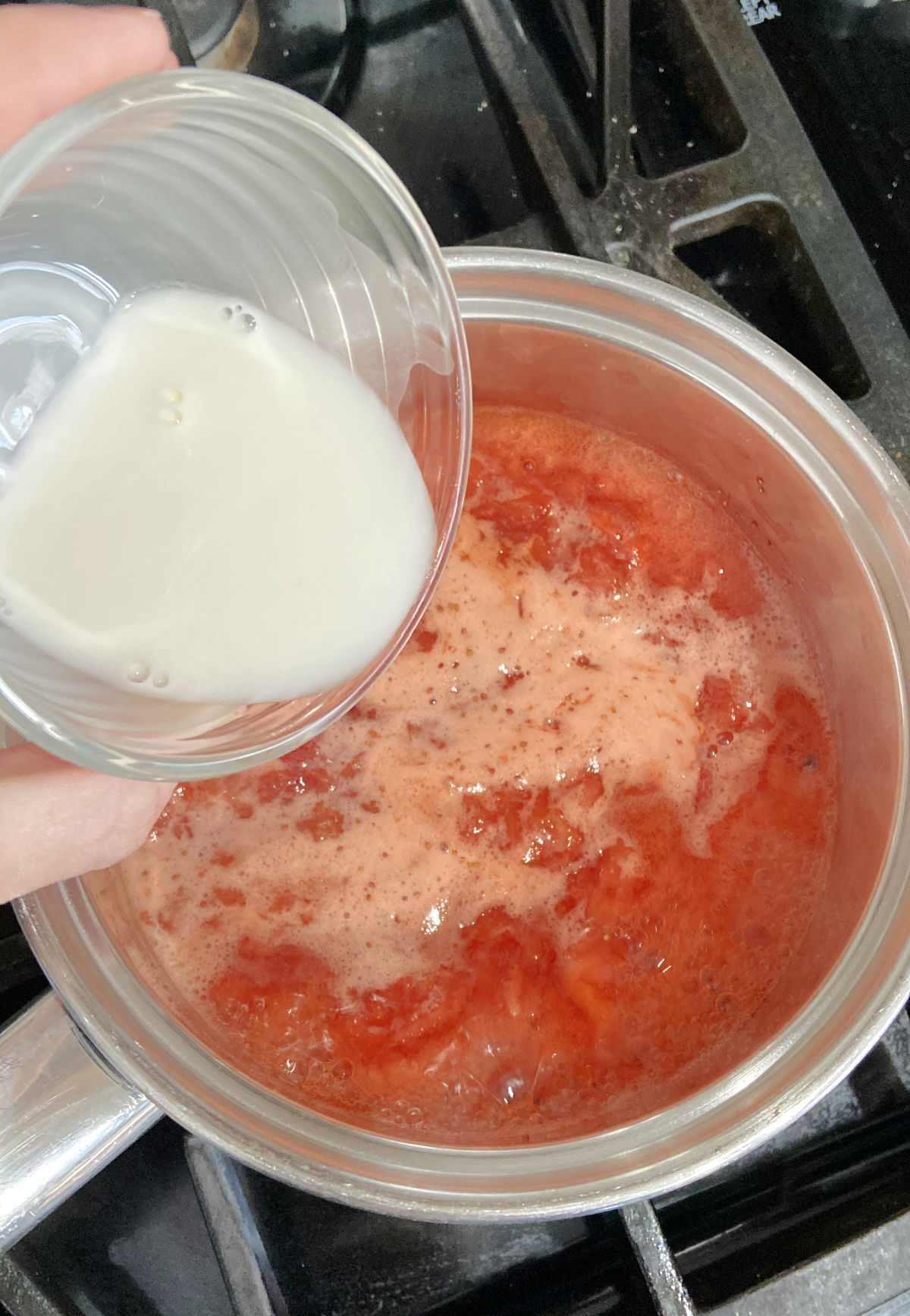 To avoid lumps when adding cornstarch to a recipe, always mix the cornstarch with a little water and stir. Then, you will add the cornstarch mixture to the strawberry sauce.
Another tip when adding cornstarch is to make sure the liquid (in this case the strawberry sauce) is boiling. The cornstarch needs the heat to help the cornstarch to mix in well and to thicken the sauce.
Once the cornstarch is added, reduce the heat to medium/low and stir so the cornstarch gets incorporated and the sauce doesn't stick while thickening.
Breaking down the strawberries
The strawberries need to be broken down from whole to mashed during this process. The heat will soften the berries, also the sugar and water will help with that.
However, the berries will need to be mashed as well.
You can do this one of two ways: with a blender or with a glass (or other masher like a potato masher).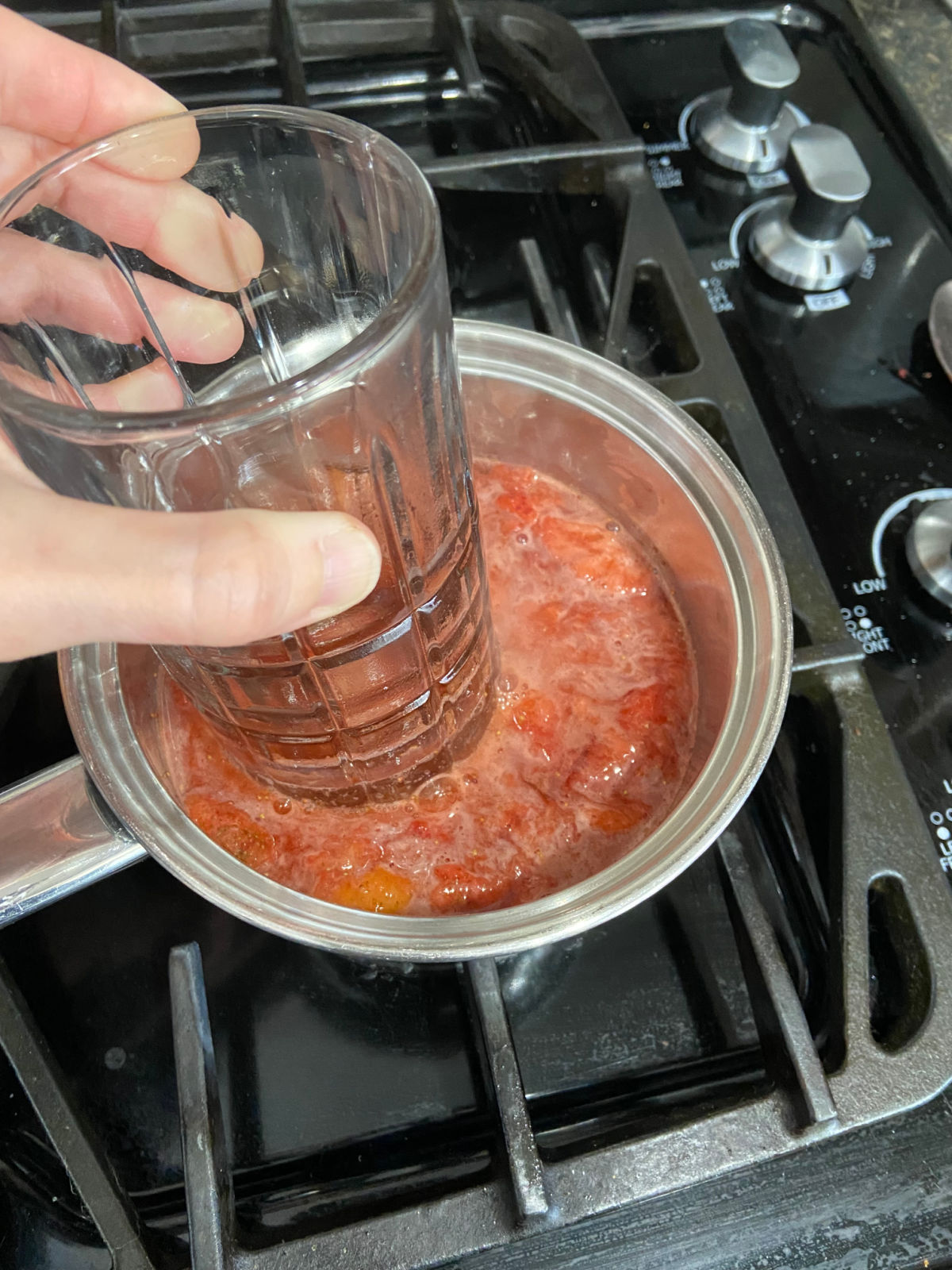 I chose the glass method because I didn't want to dirty up the blender. The blender will blend the strawberries better and the finished product will be smoother.
The glass (or other masher) the strawberries will stay a little more whole which is what we wanted. Take precaution that the hot strawberry sauce doesn't splatter on you when mashing the berries.
Be gentle when mashing the berries and it will be fine. Use a tall glass or something with a large handle to keep your hand clear of the heat.
Finishing the strawberry sauce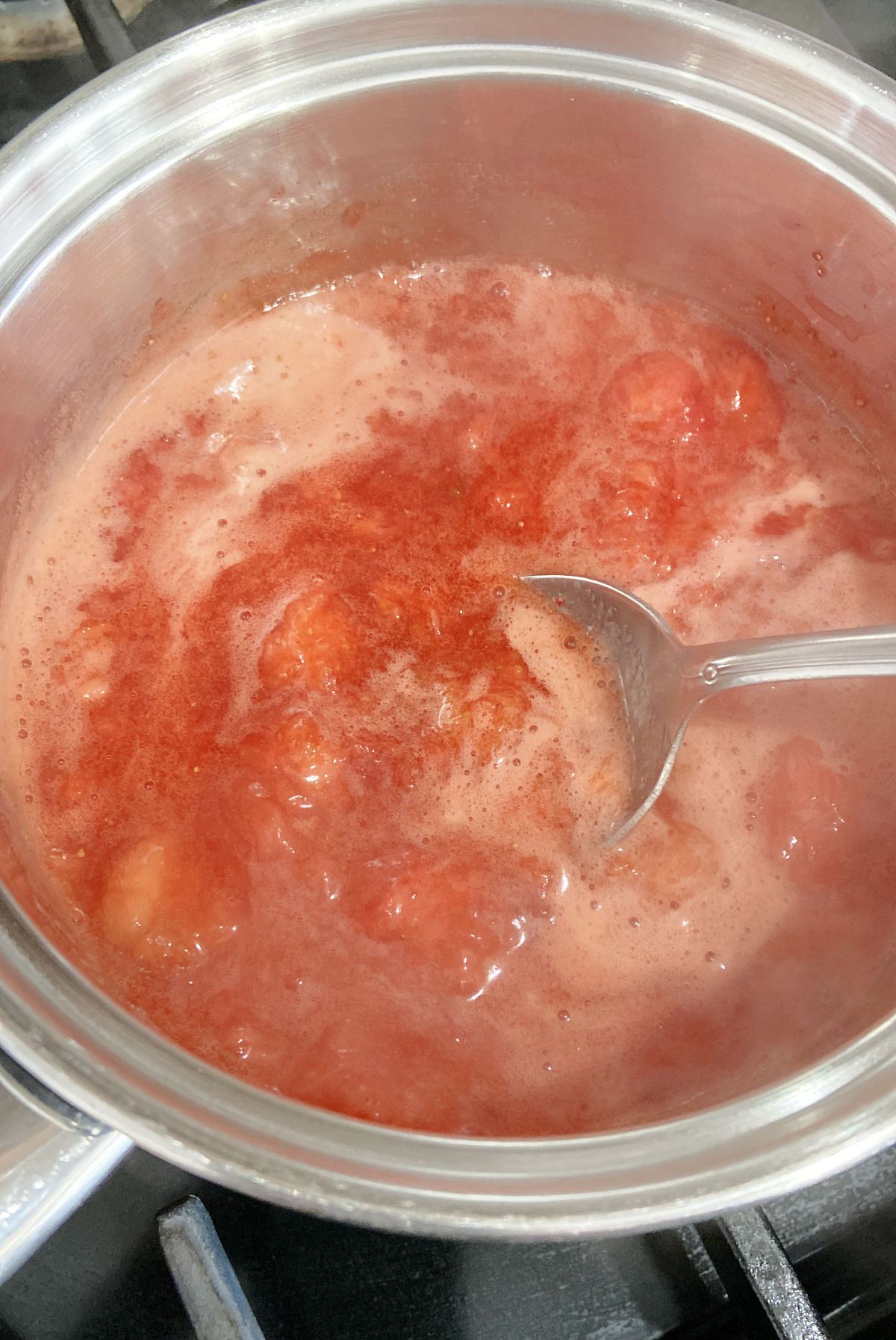 The strawberry sauce is complete after about 3-4 minutes of stirring after adding the cornstarch.
The sauce will thicken then it is done.
Storage
To store the sauce, place it in an airtight container or jar and place in refrigerator for up to 5 days.
FAQ
Can I use another type of fruit to make a sauce?
Yes, blueberries would work well with this recipe.
Do I have to use the cornstarch?
No, you don't. The strawberry sauce won't be as thick, and it will be more runny. However, the cornstarch isn't necessary.
Enjoy this easy to make strawberry sauce recipe. Only four ingredients and you will have a sweet topping for so many recipes!
Pin for later!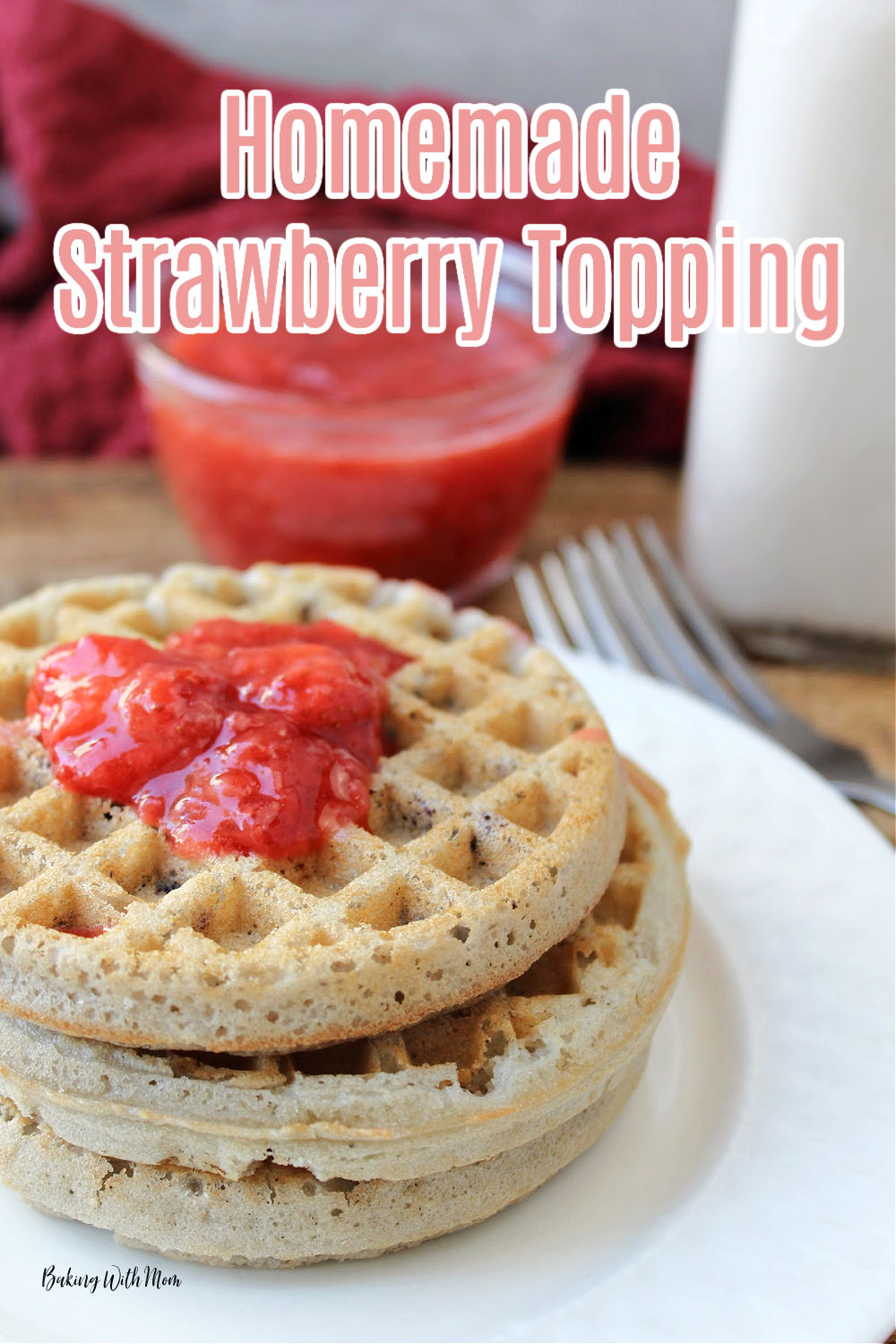 📖 Recipe
Homemade Strawberry Sauce
Easy to make strawberry topping with four ingredients. A sweet addition to cheesecakes, cakes and ice cream!
Ingredients
10

oz

fresh or frozen strawberries

½

cup

water

divided

1

tablespoon

cornstarch

1

tablespoon

sugar
Instructions
Place strawberries, water and sugar in medium saucepan and cook on medium/high.

Cook strawberries, stirring occasionally for 5-7 minutes or until strawberries start to soften.

Take large glass, potato masher and crush strawberries. If using a blender, place strawberries in a blend and blend, then return to pan. See note below.

Bring strawberries to a boil.

Meanwhile, take cornstarch and place in a small cup. Add ¼ cup water to the cornstarch and stir.

Once strawberries are boiling, reduce heat to medium/low and add cornstarch mixture to the strawberries, stirring frequently.

Turn off heat when strawberry mixture is thickened, about 3 minutes.

Let cool until desired temperature and serve.
Notes
Be sure to take care when mashing berries, they will be hot. You can skip this step if desired, the sauce will still be delicious. 
Nutrition
Calories:
21
kcal
|
Carbohydrates:
5
g
|
Protein:
0.2
g
|
Fat:
0.1
g
|
Saturated Fat:
0.01
g
|
Polyunsaturated Fat:
0.1
g
|
Monounsaturated Fat:
0.01
g
|
Sodium:
1
mg
|
Potassium:
54
mg
|
Fiber:
1
g
|
Sugar:
3
g
|
Vitamin A:
4
IU
|
Vitamin C:
21
mg
|
Calcium:
6
mg
|
Iron:
0.2
mg