It is a staple to most cheesecake recipes and dessert. The crust on the bottom makes or breaks the dessert. This Easy Graham Cracker Crust Recipe will inspire you to give cheesecake making a go. You won't be sorry.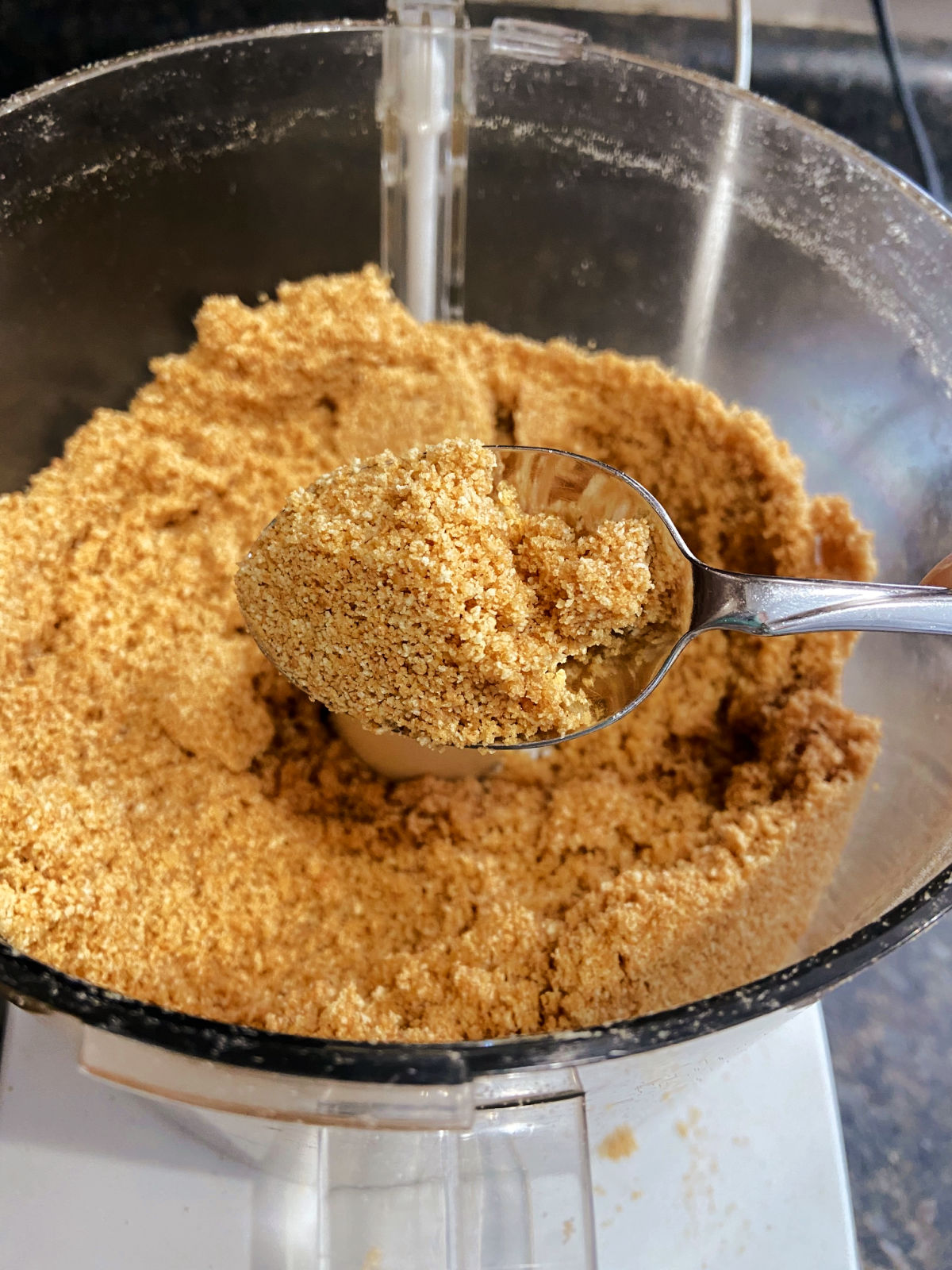 Can anyone else eat graham cracker crumbs with a spoon? I certain can. In fact, when I make this easy graham cracker crumb recipe that is the part I look forward to the most.
Taste testing.
Oh come on, how many of you grab a bite of this soft, powdery goodness when you whip up a batch. Show of hands.
Me too.
If you haven't ever made your own graham cracker crust before, I strongly encourage you to do so. Despite being good for desserts such as these triple layer brownies, but it is a must have for cheesecakes.
What are graham crackers?
Graham crackers are made with graham flour and are slightly sweetened by sugar and honey. They have been around since the late 1880's. Graham crackers are also dairy free.
They are a staple in many homes as kids and adults use them for snack, crusts (such as this) and of course S'mores. I do love a S'more.
Does anything need to be added to the crackers to make the crust?
Yes, butter (or margarine) and sugar. The sugar is needed to help harden the crust so the crust will stay firm when sliced and eaten.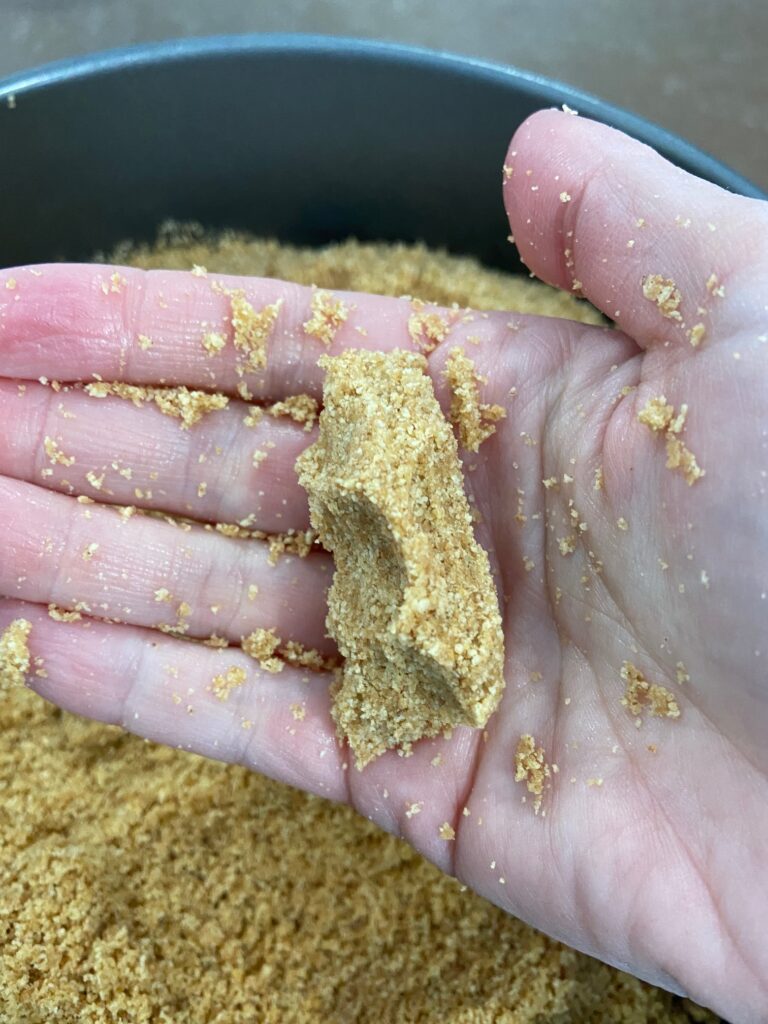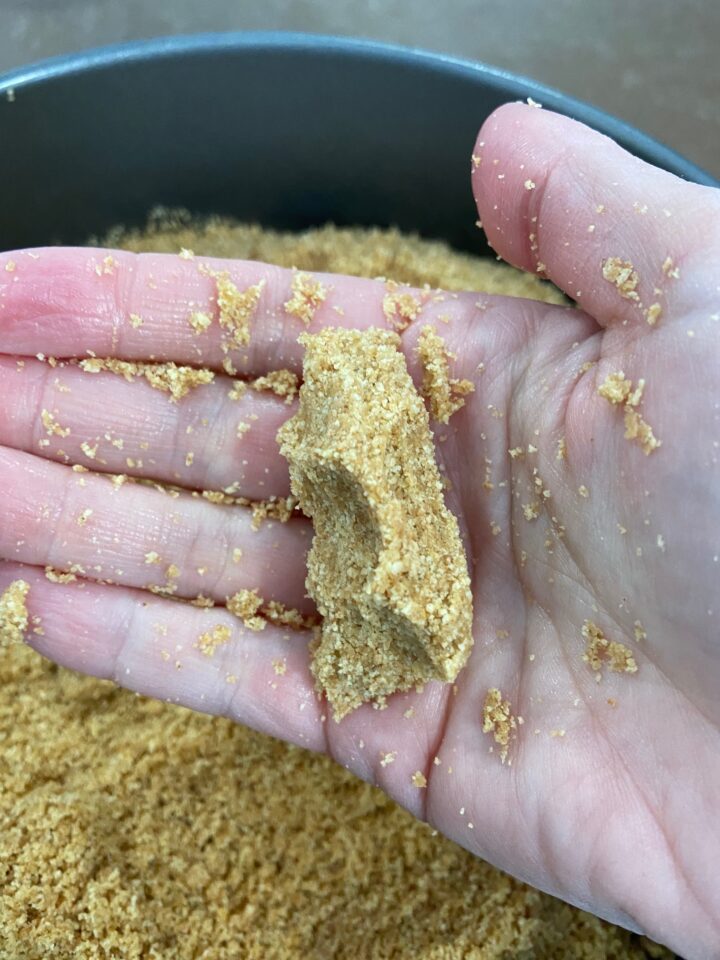 The process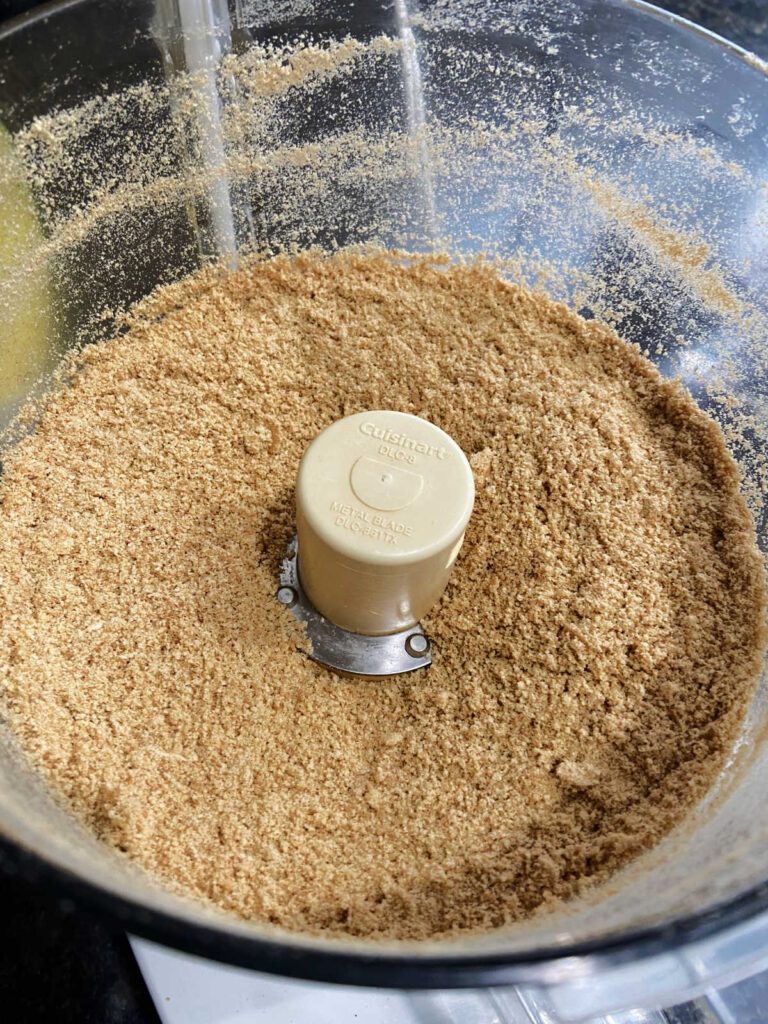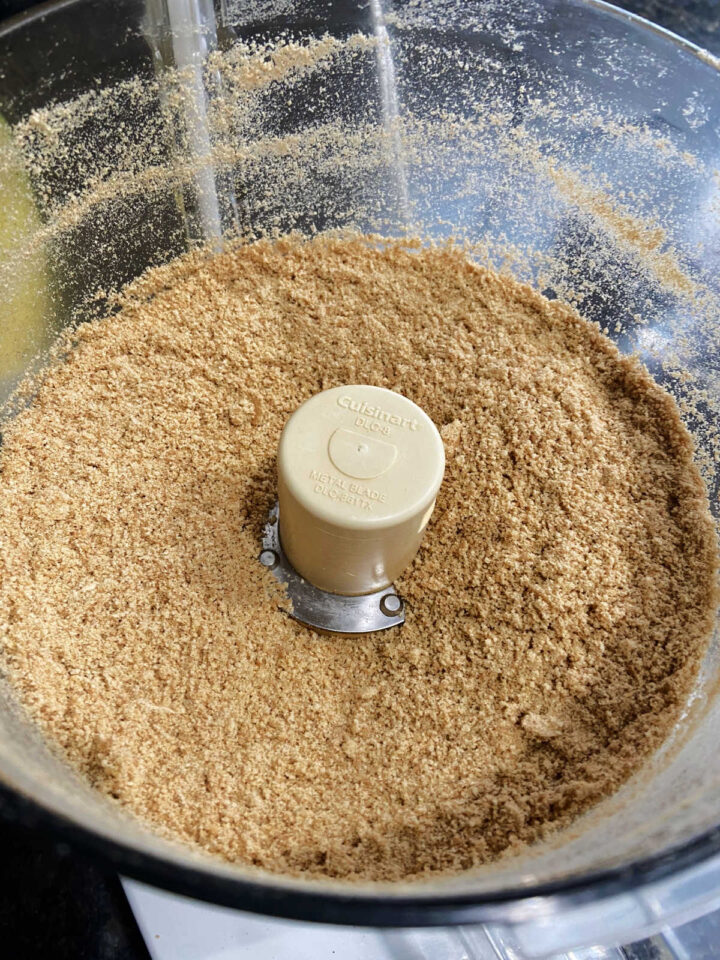 The process of making a graham cracker crust is an easy one. You will start with the desired amount of crackers. I usually recommend 14-16 whole crackers for a springform pan. (A cheesecake pan.)
Place the graham crackers in the food processor and pulse until the crackers are finely ground.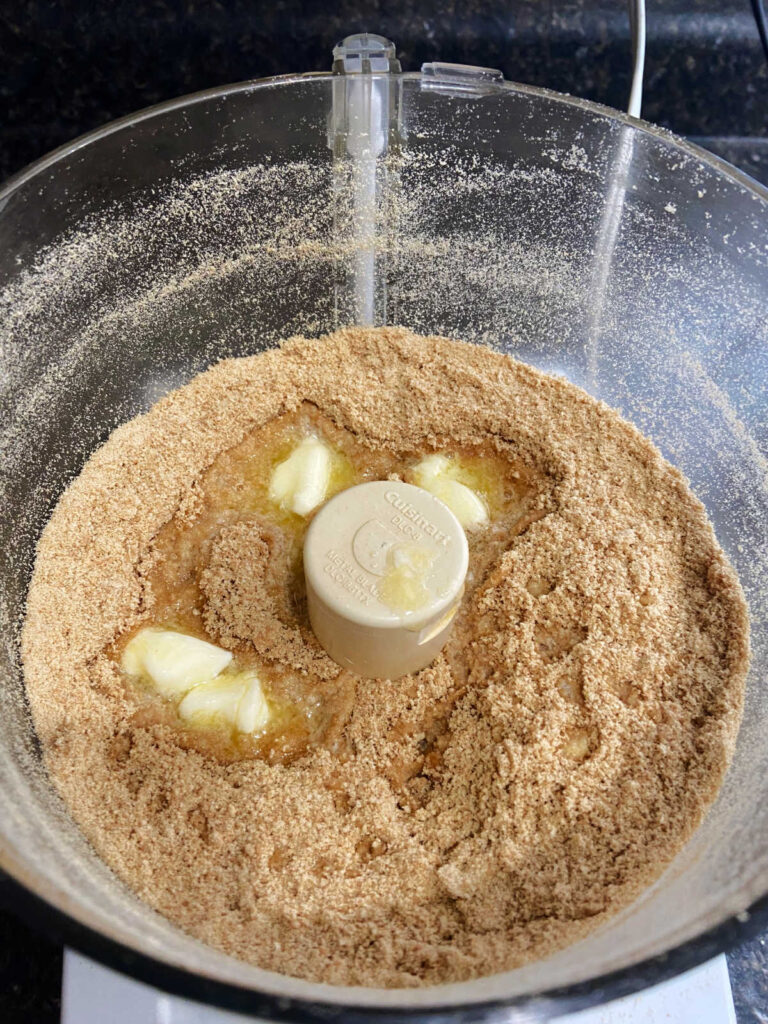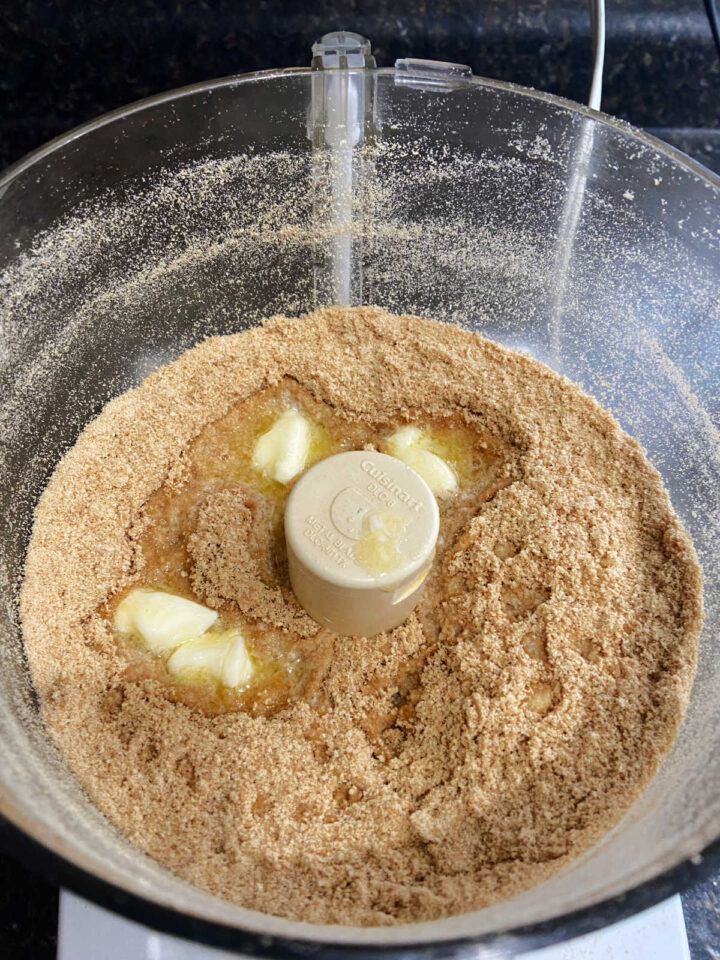 Then, you need to add the melted butter and sugar. Simply mix it all together. It should only take a few pulses to mix the cracker crumbs and butter together. The mixture should look like sand on the beach.
Not the gulf coast sand, the ocean sand. ;-)
This is when it is helpful to take a little and hold it in your hand and squeeze. If the crumbs stay together (see the picture above) then the mixture is ready to be put into the pan. If it doesn't stay together, then I would add another tablespoon of butter or margarine and pulse it a few times.
Then test again.
Bake or no bake
That is the question, right?
If you use this crust for a baked dessert, then there is no need to prebake. The crust will get baked with the dessert.
If you want this graham cracker crust for something like a no bake key lime pie, then you will want to bake the crust for 8-9 minutes at 350*. Be watchful not to overcook the crust and allowing it to brown.
The baking process helps the crust to know to stick together when you slice and eat it. It isn't always necessary to prebake the crust even if it is a no bake recipe, but I always feel it is a gamble and I am not a risk taker.
Just bake the crust for a few minutes. Don't let the crumbs run wild.
FAQ
Do I need a food processor?
No, you don't. I feel it makes the whole process easier. My food processor isn't something I take off my shelf often, but when I do, I appreciate it. If you don't have a processor, crush the crumbs in Ziplock bag, then mix the butter and sugar in a bowl with the crumbs.
Does brown sugar work instead of white sugar?
Yes, it does. That said, I prefer the traditional white sugar over the brown. You can use either, the brown sugar will produce a sweeter crust, which for some recipes, may be what you want.
Can I use a regular pie pan instead of a springform pan?
Yup. You can also use 9x13 pans or cake pans. Whatever the recipe calls for.
📖 Recipe
Graham Cracker Crust
Graham cracker crust for a pie or dessert.
Ingredients
16

graham crackers

whole

½

cup

white sugar

4

Tablespoon

margarine

or butter
Instructions
Crush graham cracker crumbs in a food processor or by hand in a Ziplock bag

Mix melted butter, sugar and crumbs together by pulsing the processor until mixture resembles fine sand or mix together in a bowl

Spread in a pan and either bake for 8-9 minutes at 350° if it is for a no bake recipe or fill it with baked recipe and bake according to recipe instructions
Nutrition
Calories:
174
kcal
|
Carbohydrates:
27
g
|
Protein:
2
g
|
Fat:
7
g
|
Saturated Fat:
1
g
|
Sodium:
201
mg
|
Potassium:
42
mg
|
Fiber:
1
g
|
Sugar:
15
g
|
Vitamin A:
200
IU
|
Vitamin C:
1
mg
|
Calcium:
19
mg
|
Iron:
1
mg
Pin for later!