Who wants a fall dessert with a fun twist? This pumpkin pie ice cream roll would be just what you are looking for. Delicious pumpkin flavor will satisfy any pumpkin craving.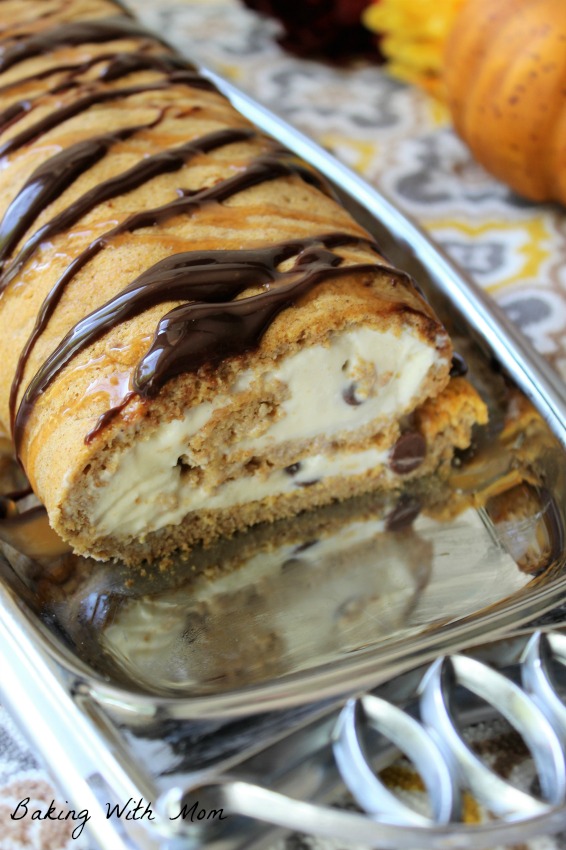 *This post contains affiliate links. You can read our full affiliate disclosure here. 
I hadn't actually made any desserts in a while over in the Strawn Homestead. Let me tell you, that has the potential of causing a riot. When your mom/wife is a food blogger, there are certain expectations that the family has of me. One would be desserts. So on a beautiful Saturday, I put together this Pumpkin Pie Ice Cream Roll before the town wide garage sales.
Then I hit the garage sales and found a queen air mattress for $4, Coleman and almost brand new!  But back to the pumpkin pie ice cream roll. I just had to figure out a way to tell you about my deal. ;-)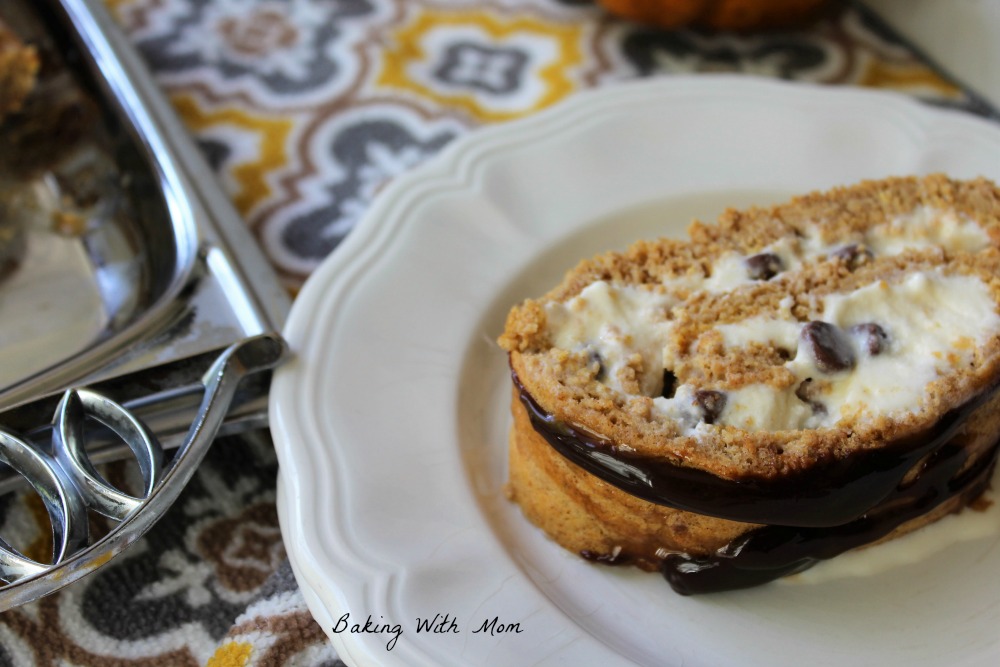 This dessert has it all. It is a pumpkin cake, with vanilla ice cream spread on top, chocolate chips sprinkled throughout, drizzled with chocolate and caramel topping.
Oh, baby.
It was declared a hit by all. From hubby to five year old. I can't have dairy due to asthma reasons, but I MAY have had a bite or two. Or three. I couldn't help it. The caramel, cinnamon, chocolate and pumpkin flavors called to me. The blending of the fall flavors is my favorite.
All I needed was some hot cocoa, a crackling fire in the fireplace and my comfy sweats and it would have been complete. Of course, it was 75* outside so I may need to wait for a few of those things. ;-)
Pumpkin Pie Ice Cream Roll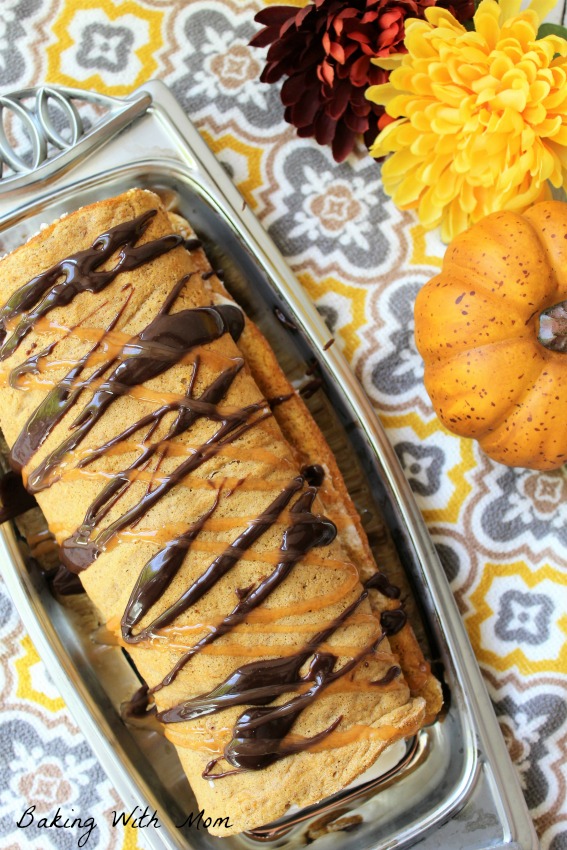 Don't let the multi-step process worry you. This blog is all about simple recipes to feed that family of yours and I promise, this recipe is easy.
Make sure you have a jelly roll pan (Rachael Ray cookware is a favorite of mine!) and it does help to have parchment paper on hand. I didn't use any for this pumpkin pie ice cream cake and it was okay, but I prefer to use it because why not? If it takes away the chance of the cake sticking when turned out, go for it!
The toppings are optional and you can certainly add nuts to the top of the roll. Why? Well some like nuts on baked goods. I do not. But you can read more about that here. :-)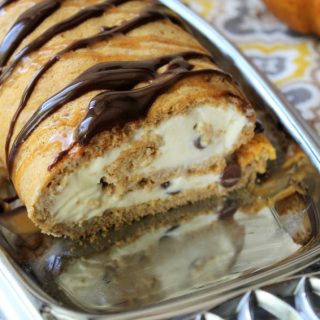 Pumpkin Pie Ice Cream Roll
Pumpkin Pie Ice Cream Roll with vanilla ice cream, pumpkin pie spices and drizzled with caramel and chocolate.
Ingredients
3

eggs

yolks and whites divided

1

tsp

vanilla

1/3

cup

sugar

1/2

cup

canned pumpkin

1/2

cup

sugar

1-2

cups

vanilla ice cream

1/2

cup

chocolate chips

1/2

cup

unbleached flour (or bleached)

1

tsp

baking powder

1

tsp

cinnamon

1/4

tsp

cloves

1/4

tsp

ginger

caramel and chocolate ice cream topping
Instructions
Mix the eggs yolks and vanilla with a Kitchen Aid mixer or hand mixer on high speed until yolks are thick (about 5 minutes). Add in the 1/3 cup of sugar, on high until sugar is thoroughly mixed. Stir in the pumpkin

In another bowl, beat egg whites on medium speed until soft peaks form. Add 1/2 cup sugar and beat until stiff peaks form. Fold the yolk mixture into the whites mixture

In another bowl, mix flour, baking powder and cinnamon, cloves and ginger. Add to the egg mixture, stirring until just combined

Spread into a greased (and use parchment paper if desired) jelly roll pan. Bake at 375*. Bake until top springs back when touched about 12 minutes

Turn out onto a towel with powder sugar sprinkled on it. (Loosen sides of cake first)

Roll up starting with the short end, towel included. Set on a cooling rack

When completely cooled, unroll cake and spread slightly softened ice cream on top of cake


Sprinkle with chocolate chips

Roll the cake back up, set on plate. Drizzle with chocolate and caramel if desired
Nutrition
Calories:
338
kcal
Carbohydrates:
40
g
Protein:
13
g
Fat:
13
g
Saturated Fat:
5
g
Cholesterol:
347
mg
Sodium:
152
mg
Potassium:
261
mg
Fiber:
1
g
Sugar:
32
g
Vitamin A:
2970
IU
Vitamin C:
0.7
mg
Calcium:
120
mg
Iron:
2.4
mg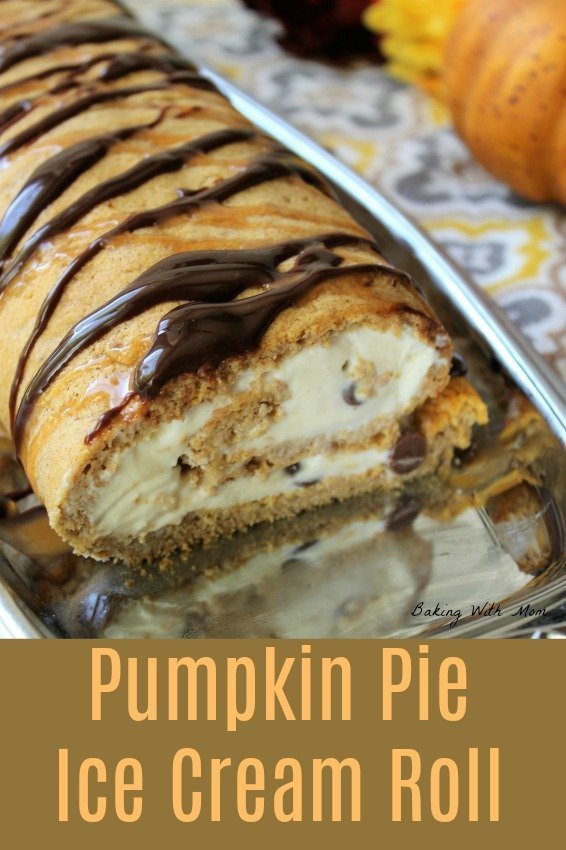 Need more pumpkin recipes?