Peppermint Snack Mix is perfect for teacher's gifts. You could also use it for entertaining guests. If you are like me, you could just make a bowl to munch on. It's all good.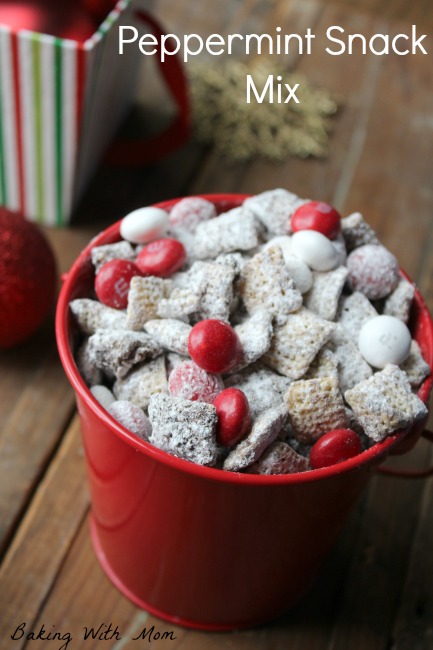 There are many, many names for snack mix like this. Muddy Buddies or Puppy Chow are two of the most popular.  I happen to really, really enjoy snack mix like this. I mean, I could eat and eat and eat it. Little to no self control. It's true. When I made this Peppermint Snack Mix, I kept walking by to grab a "piece". Just one piece. I didn't end up eating just a "piece".
We won't talk about how much I ate. I don't want you to think less of me.
This snack mix has the perfect blend of chocolate, peppermint and powdered sugar. It also has a fantastic crunch when you eat it and did I mention the peppermint M&M'S?
It is the perfect combination.
During Christmas, as I mention in this post, trying to come up with ideas for teachers and neighbors can get a little tough. This peppermint snack mix looks great in a bucket, such as in the picture above, decorated bags or in a Christmas tub.
To make this mix, I used Peppermint M&M'S plus peppermint extract. It adds the extra flavor. You can use peanut butter or you can use peanut butter chips like I did. I had bought some on sale and wanted to use them up. I also am running low on peanut butter, which is a major mistake, so I didn't want to use it. I mean, can you imagine school lunches without peanut butter?
I can't either. I may have a riot on my hands. :-)
📖 Recipe
Peppermint Snack Mix
Peppermint Snack Mix Christmas gifts and for you! Peppermint, chocolate, peanut butter and powdered sugar make a delicious snack mix.
Ingredients
8

cups

Rice Chex

½

peanut butter chips

1 ½

cups

semi sweet chocolate chips

¼

cup

butter

1

teaspoon

peppermint extract

Powdered sugar

1

cup

Peppermint M&M'S
Instructions
Melt chocolate chips, peanut butter chips and butter in a medium saucepan, stirring constantly over low heat

Mix in peppermint extract

Place Chex in a large bowl

Pour chocolate mixture over Chex and mix well until well coated

Place in large bag with a cup of powdered sugar

Shake well

Pour on waxed paper to cool

Stir in M&M'S