One dish cheesy chicken pasta is easy to put together. With chicken already cooked and in the freezer, this one dish recipe will be easy to make.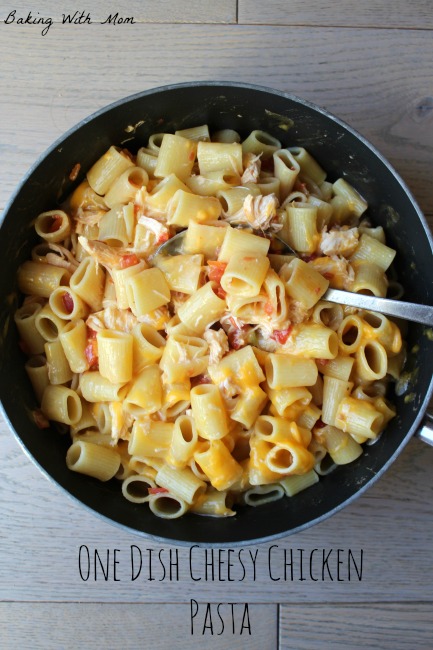 *This post contains affiliate links. You can see our disclosure here.
One dish cheesy chicken pasta is an easy recipe I whipped up the other day. I had another plan in mind, but really wasn't in the mood for what I had down. I like making menu plans, but sometimes I don't feel like making (or eating) what I had down. There is nothing wrong with changing the game plan if you have the time and the ingredients already on hand. I did have the ingredients on had for this chicken recipe because it is only 5 ingredients. 5 staple ingredients, that is.
This meal is a perfect example of buying meat at the store and cooking it before you pop it into the freezer. I came home from the store the other day and had bought a large package of boneless, skinless chicken breasts. Instead of wrapping it and putting it into the freezer, I turned on the oven and cooked them all. After they were cooked and cooled, I put them in a freezer bag and popped them in the freezer. When it came to making this one dish cheesy chicken pasta, I simply pulled out one chicken breast and thawed it in the microwave. It was ready to go in the pan in a few minutes.
Prepping ahead of time makes mealtime so much easier. It also allows you to be a little flexible when the meal you planned really doesn't please the palate that night. :-)
One Dish Cheesy Chicken Pasta
This chicken recipe has chicken broth, chicken, pasta, tomatoes and cheese. It is a great 5 ingredient recipe cooked in my favorite large Rachael Ray pan. I seriously use that pan for many, many one dish recipes and it is a perfect fit. (Use a 30% off coupon if you have one. You could get a great price on the pan!)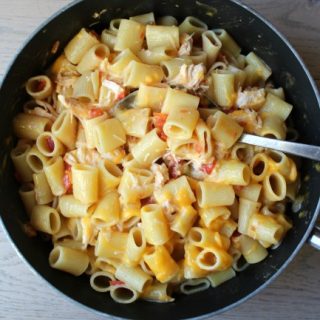 One Dish Cheesy Chicken Pasta
One Dish Cheesy Chicken Pasta will be on your supper table in less than 30 minutes. Only uses one pan and your family will love the cheesy chicken taste!
Ingredients
1

cooked and diced chicken breast

1

can diced tomatoes with chili's

1

can chicken broth + 2 cups water

1

lb

pasta

(any type)

1

cup

cheddar cheese

, shredded
Instructions
Place diced chicken, tomatoes, broth and water in a large pan

Cook on medium high heat until starts to boil

Add pasta

Reduce heat to medium

Cook until noodles are tender, stirring occasionally

Reduce heat to low and sprinkle cheese on top

Serve
Would you like other one dish recipes?