One dish taco goulash is an easy to make meal. Put the ingredients in a pan and in a few minutes, dinner is served.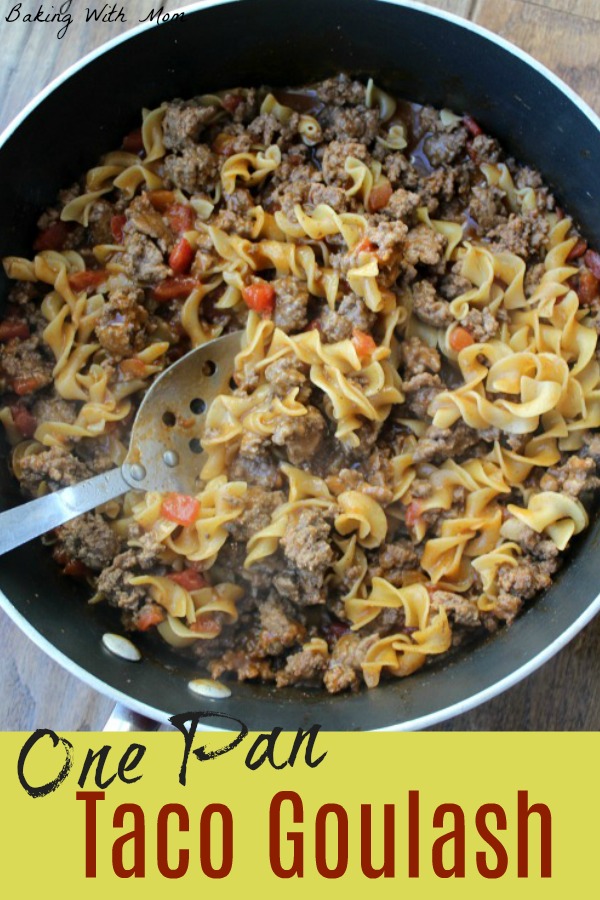 *This post contains affiliate links. If you click on a link and make a purchase, I will receive a small commission at no additional cost to you. 
One dish taco goulash was a Sunday Dinner meal.  When we get home from church, it is usually past lunchtime and we have hungry kids and a very tired three year old. Not to mention, we are rather tired ourselves.
Sometimes, when the morning isn't rushed, I can get food in the slow cooker before we go or at least have a plan of action for when we get home. Sometimes, I do well just to get the children out the door with matching shoes on and hair combed. Okay, I feel rather glad when I remember to put on matching shoes.
Sunday mornings are chaotic to say the least. I don't know why we can all get out the door every morning for school in a rather dignified fashion but when it comes to church, it is chaos and no one likes each other. Well, I know why.
One Dish Taco Goulash
So on those days when I didn't plan ahead lunch, but did manage to have all the children in clothes without wrinkles, this taco goulash is perfect. You can use tomatoes with spices or without spices. You can add taco seasoning or leave it with out. I really like adjustable recipes!
Now, I have to give a shout out to the pan I used. I have a set of Rachael Ray's pans that I got from my sister. She was selling them at our garage sale and she had an extra set. Yes, I snatched them up before anyone else could. :-)
I used the 3 qt saute pan for this dish. It is deep enough and big enough to hold all the ingredients. Rachael Ray's cookware is so durable. (Thanks Sis.)
What is in Taco Goulash?
If you have hamburger already cooked up and in the freezer, this dish is even more simple. You can add a variety of taco favorites but I recommend egg noodles, hamburger with taco seasoning and spicy tomatoes. It can be as spicy or non-spicy as your family likes.
The hamburger cooks up then you add the broth, tomato sauce and tomatoes and egg noodles.
Let the the ingredients cook together and let the egg noodles soften. It will take about 10-15 minutes. You can serve this will cheese or sour cream. So delicious!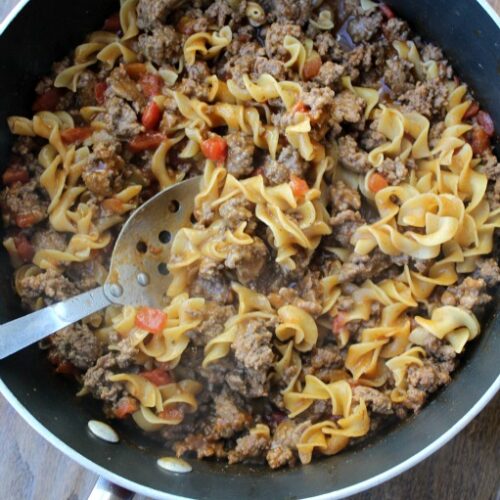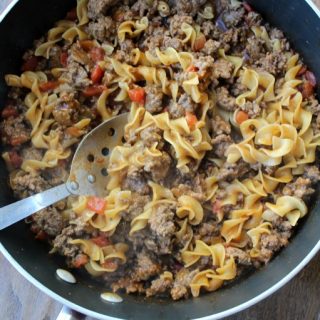 One Dish Taco Goulash
One Dish Taco Goulash has all the great flavors of tacos, in one easy to make recipe!
Ingredients
1 ½

lb

hamburger

3

tablespoons

tomato sauce

2

cups

beef broth

1

can

diced tomatoes with chili's

drained

1

tablespoon

taco seasoning

3

cups

uncooked egg noodles
Instructions
Cook hamburger until no longer pink, drain

Add tomato sauce, broth, tomatoes, taco seasoning and egg noodles

Cook on medium heat, stirring occasionally

Cook for 10 minutes or until noodles are soft

Serve with cheese and/or sour cream
Nutrition
Calories:
285
kcal
Carbohydrates:
12
g
Protein:
17
g
Fat:
17
g
Saturated Fat:
6
g
Cholesterol:
72
mg
Sodium:
343
mg
Potassium:
412
mg
Fiber:
1
g
Sugar:
1
g
Vitamin A:
125
IU
Vitamin C:
5.3
mg
Calcium:
40
mg
Iron:
2.6
mg