Remember the yesteryear with the sweet taste of a homemade Orange Julius. Great orange with vanilla flavoring. This recipe is made dairy free so all can enjoy its great taste! Simple ingredients and this drink recipe can be made in minutes. It is a great and delicious summertime treat.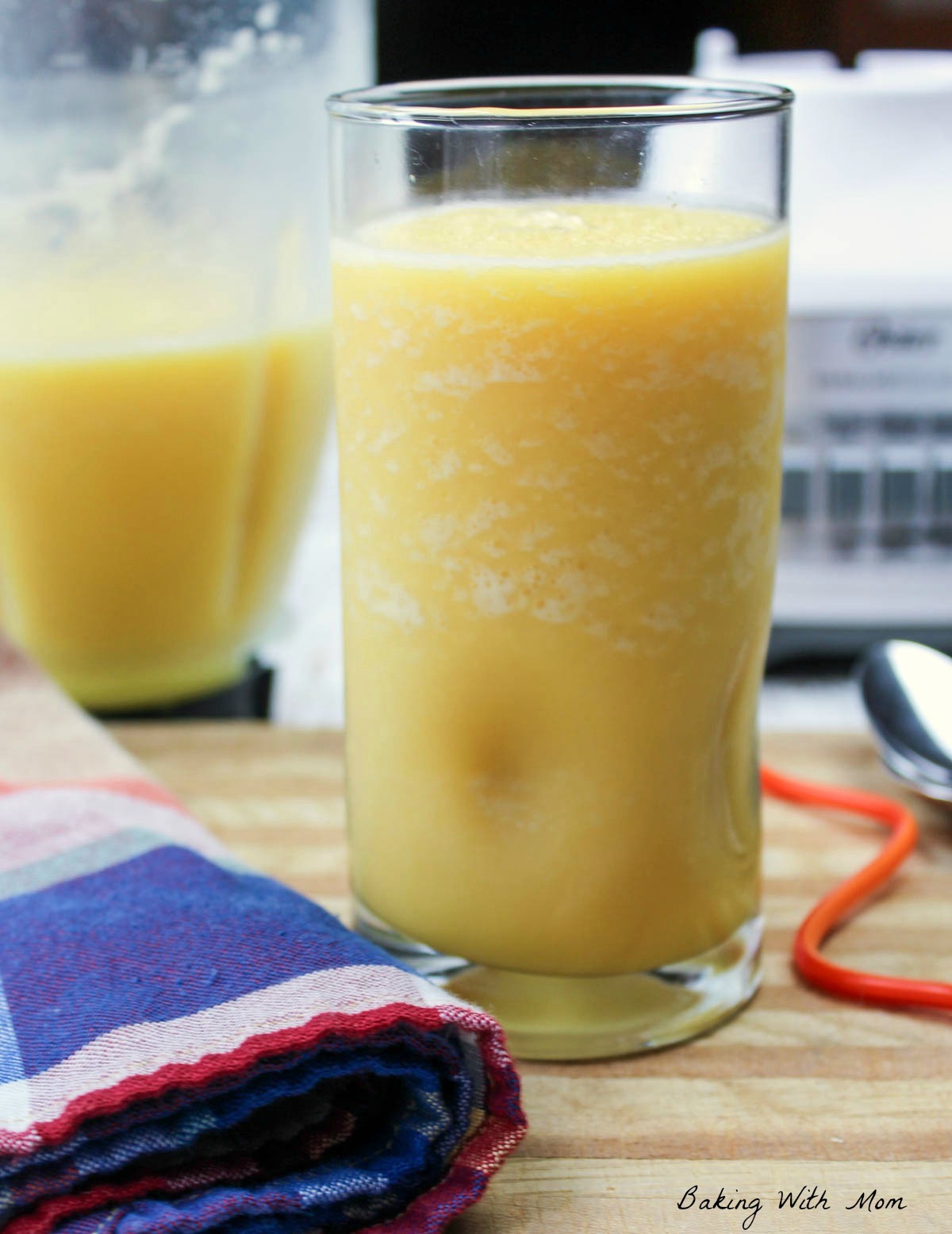 Do you remember walking into the mall when you were a child? We lived about 30 miles away and back then, that was far. When we would go, three things must happen:
We had to stop at KB Toy Store
We had to get cheese popcorn
We had to get an Orange Julius
Why not bring one of those three into my own home? Not only that, but to make a homemade Orange Julius dairy free as well so food allergies won't prevent anyone from enjoying it. Delicious.
What is an Orange Julius?
An Orange Julius is a mix of frozen orange juice concentrate, milk, ice, sugar. It also used to have eggs in it. (No eggs in this recipe!) It used to be in malls across the country but the actual chain was bought by Dairy Queen. Though they are no longer serving most of the Orange Julius drinks. Even more reason to make it at home, right?
How do you make it dairy free?
You can certainly use regular milk, if you choose but we drink mostly almond milk around this house. Of course, that won't work for you if you have a nut allergy. If that is the case, simply swap the almond milk for regular cow's milk or you could also use sow milk.
I don't recommend you leave out the milk all together because it does add flavor and texture to the drink and leaving it out, wouldn't be the same.
Do you drink dairy? This 3 Ingredient Orange Frosty will hit the spot.
What do I need to make it?
You need a blender or an Immersion Blender. Ice is also needed. It can be regular from the freezer ice or cubed, crushed. The crushed would work better with the immersion blender.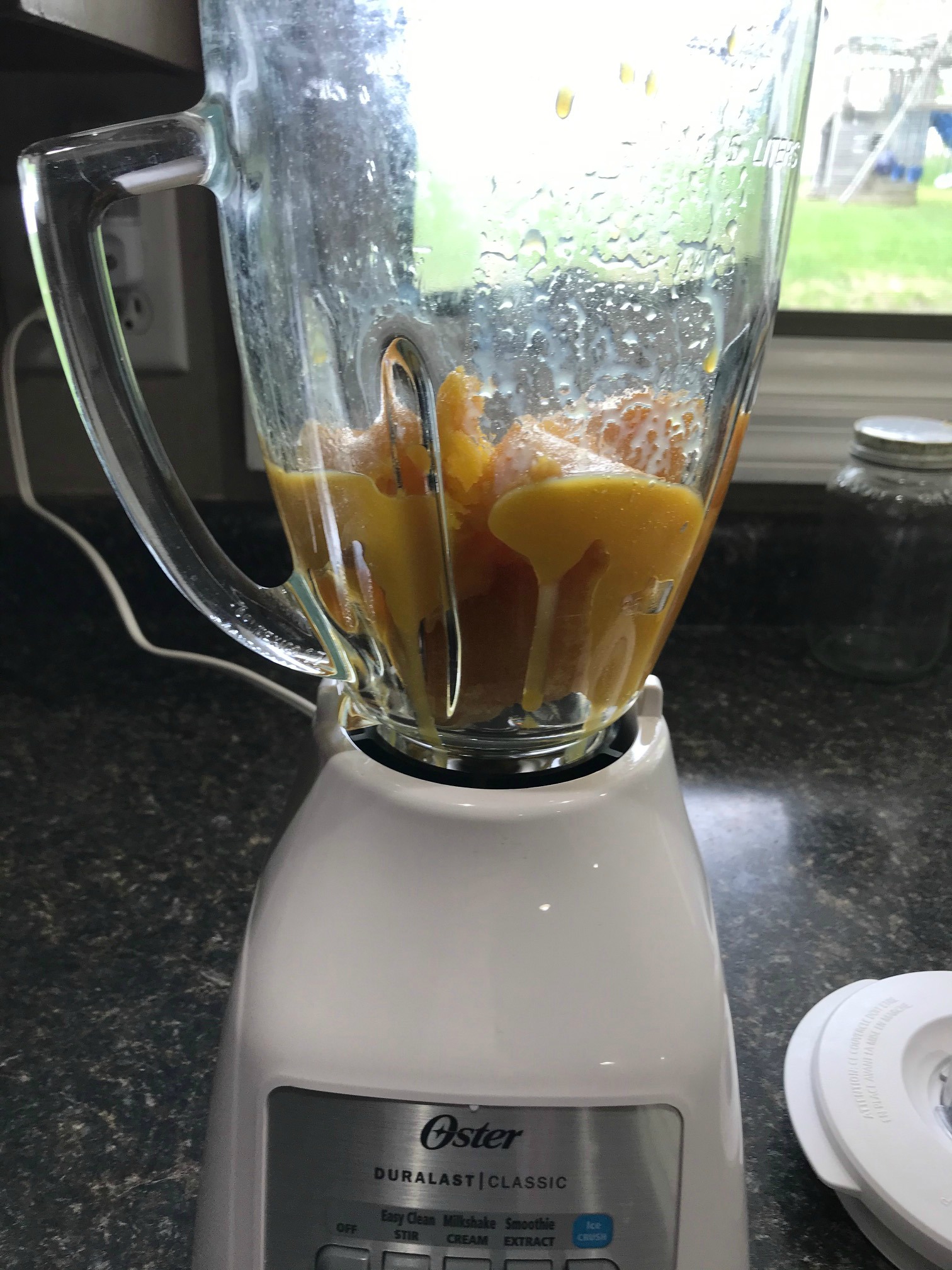 To make this summertime drink recipe, just add all the ingredients into the blender and mix. It makes (5) 1 cup servings. To make it for a crowd, double or triple the recipe. After blending, you could then add it to a punch bowl and have floating orange slices on top. It would look (and taste!) beautiful!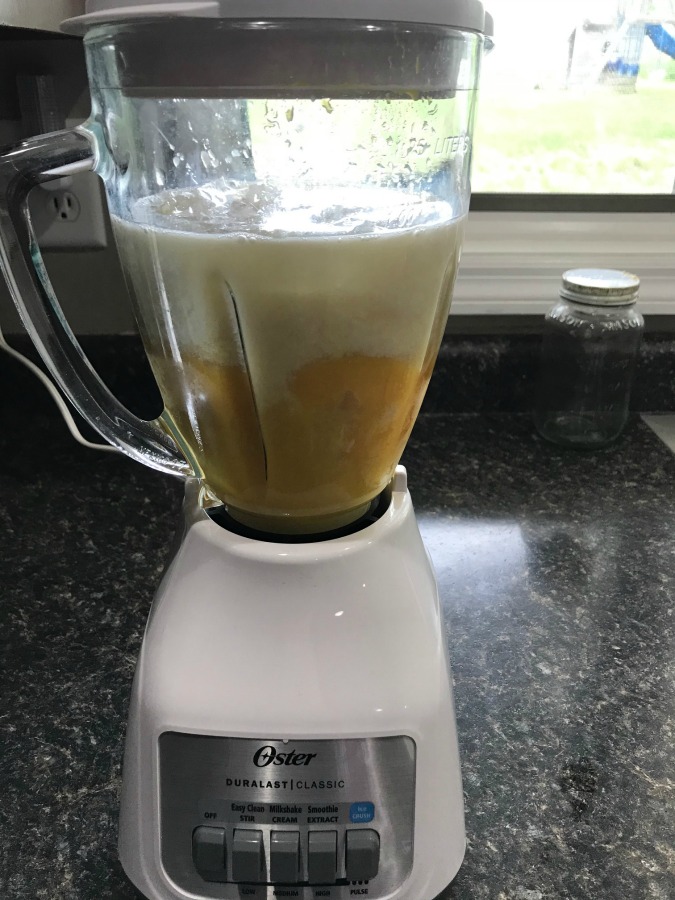 Pin for later!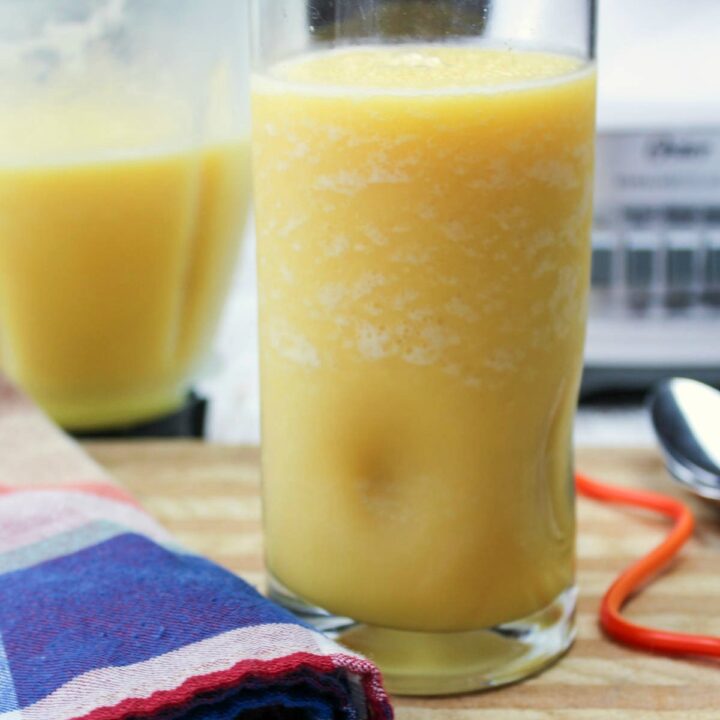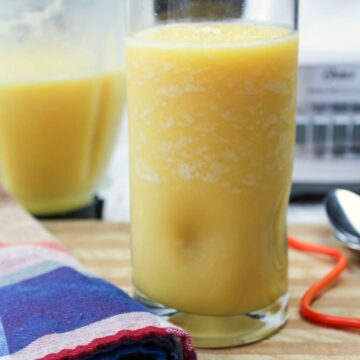 Homemade Orange Julius
Summertime drink recipe with only a handful of ingredients. Orange juice, ice and a dairy free option!
Ingredients
6

oz

frozen orange juice

concentrate

1

cup

water

1

cup

almond milk

vanilla

½

cup

sugar

7

ice cubes
Instructions
Mix together frozen orange juice, water, almond milk, sugar, and ice cubes in a blender

Pulse 5 times for 10 seconds each

Mix on medium speed for 30 seconds more
Nutrition
Calories:
138
kcal
Carbohydrates:
33
g
Protein:
1
g
Fat:
1
g
Saturated Fat:
1
g
Sodium:
69
mg
Potassium:
229
mg
Fiber:
1
g
Sugar:
33
g
Vitamin A:
129
IU
Vitamin C:
47
mg
Calcium:
71
mg
Iron:
1
mg
Need more non-alcoholic drink?