Easy blueberry cheesecake bars would be a perfect summertime treat for your family. Graham cracker crust pairs wonderfully with the sweet taste of berries.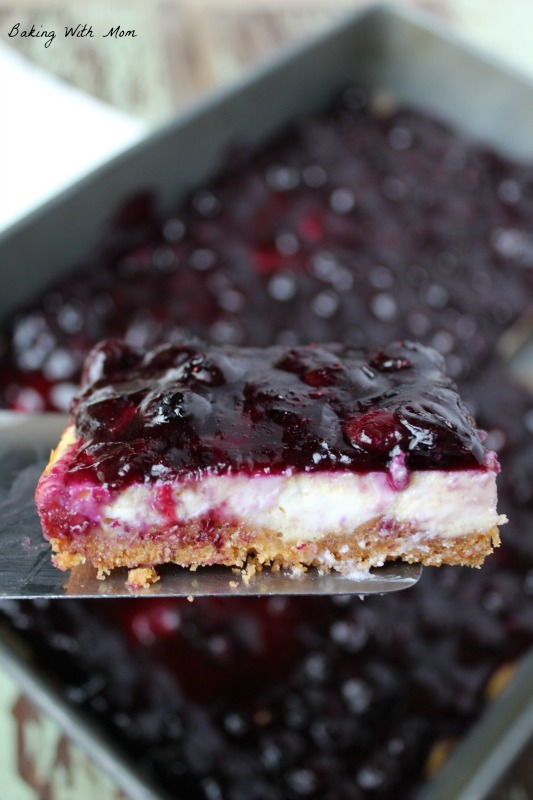 *This post contains affiliate links. If you click on a link and make a purchase, I will receive a small commission at no additional cost to you. 
Remember in my post for the Best Baked Beans I stated it was a dark and stormy day? Well, this was the same dark and stormy day. And a dark and stormy day calls for easy blueberry cheesecake bars, don't you think?
Apparently it also called for baked beans as well, but that is all understood, right? :-)
Cheesecake is a hubby's best friend. (At least my hubby's.)
I so enjoy making a new treat for my family. I really like inventing recipes from ingredients we have. When I planned my grocery trip, I didn't have these bars in the meal making radar. However, on that cold, stormy day I remembered we had a few blueberry bags left in the freezer, two packages of cream cheese in the fridge and graham crackers in the pantry. So, what else was I to make?
Well, I guess I could have made a regular cheesecake, but really, why not bars?
Don't think the blueberry sauce was complex. It really wasn't. Simply take blueberries, water and mix in sugar in a saucepan on medium heat. Stir and let the blueberries soften. Add in cornstarch to thicken the blueberry mixture and you have blueberry topping. The fridge helps make the sauce thicker and gel-ier too. (Sure it's a word.) ;-)
The crust is a simple graham cracker, sugar and butter mixture. Easy to make with a rolling pin or if you want the really easy peasy way, a food processor. I have said before how I really like my food processor. I don't use it every day, but it is really handy to have around! It not only will chop the crackers into crumbs, but will mix in the sugar and butter like a dream too.
The cheesecake mixture is a simple recipe, using my Kitchen Aid stand mixer. Another must have in my book, but I also use my hand mixer as well for these types of recipes. Either works, a stand mixer is easy to walk away from when it is mixing.  It also mixes in the eggs quite well.
I put the mixture into a common 9x13 cake pan. Do yourself a favor. If you are wondering what kind of cake pan to buy, go with a little nicer one that may cost a few dollars more. I have nice ones. I have cheaper ones. The cheaper ones bend and warp while the others hold their shape. My two cents for the day.
So many times I hear people say they can't bake anything. Yes you can! These bars have a few steps to them, but they are easy. You will be serving easy blueberry cheesecake bars to your family in no time!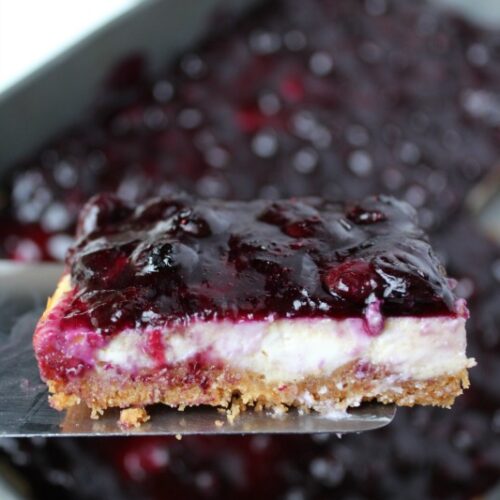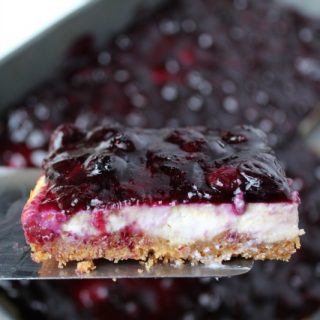 Easy Blueberry Cheesecake Bars
Easy Blueberry Cheesecake Bars are a sweet blend of cheesecake, blueberries and a cracker crust. Delicious and your family will rave!
Ingredients
2

cups

blueberries

(frozen or fresh)

½

cup

sugar

½

cup

water

cornstarch
Crust
15

graham crackers

½

cup

sugar

½

cup

melted butter
Cheesecake
16

oz

cream cheese

½

cup

sugar

3

eggs

1

teaspoon

vanilla

½

cup

sour cream
Instructions
Crush crackers in food processor (or in a bag)

Pulse crackers, sugar and butter together until texture is like wet sand

(if using a bag to crush crackers, mix crushed crackers, butter and sugar in a bowl)

Place on the bottom of a slightly greased jelly roll pan

Set aside

Mix cream cheese and sugar in a bowl until well blended

Blend in sour cream and vanilla

Add in eggs one at a time, stirring just until incorporated

Pour onto the graham cracker crust and bake at 350* for 20 minutes, or until cheesecake is firm

Set aside and let cook

While cooling, take blueberries, water and sugar and bring to low boil on the stove in a medium saucepan stirring occasionally

After the blueberries have broken down slightly (softer, lost the firmness), add a cornstarch/water mixture **3 Tablespoons of cornstarch plus ¼ cup water, mixed in a small bowl**

Add mixture slowly while stirring. You may not use all of mixture, stop adding when mixture starts to thicken, almost like jello almost set

Turn off heat and let cool for about 5 minutes

Pour on top of cheesecake and place immediately into fridge for 2 hours to firm

Cut squares and serve
Nutrition
Calories:
417
kcal
Carbohydrates:
43
g
Protein:
5
g
Fat:
25
g
Saturated Fat:
13
g
Cholesterol:
107
mg
Sodium:
328
mg
Potassium:
130
mg
Fiber:
1
g
Sugar:
33
g
Vitamin A:
875
IU
Vitamin C:
2.5
mg
Calcium:
71
mg
Iron:
1.2
mg