This simple to make Easy Homemade Blueberry Sauce can be made up in minutes and tastes great too! Great for cheesecake, ice cream or pancakes. This sauce is sugar free and just filled with sweet blueberry flavor.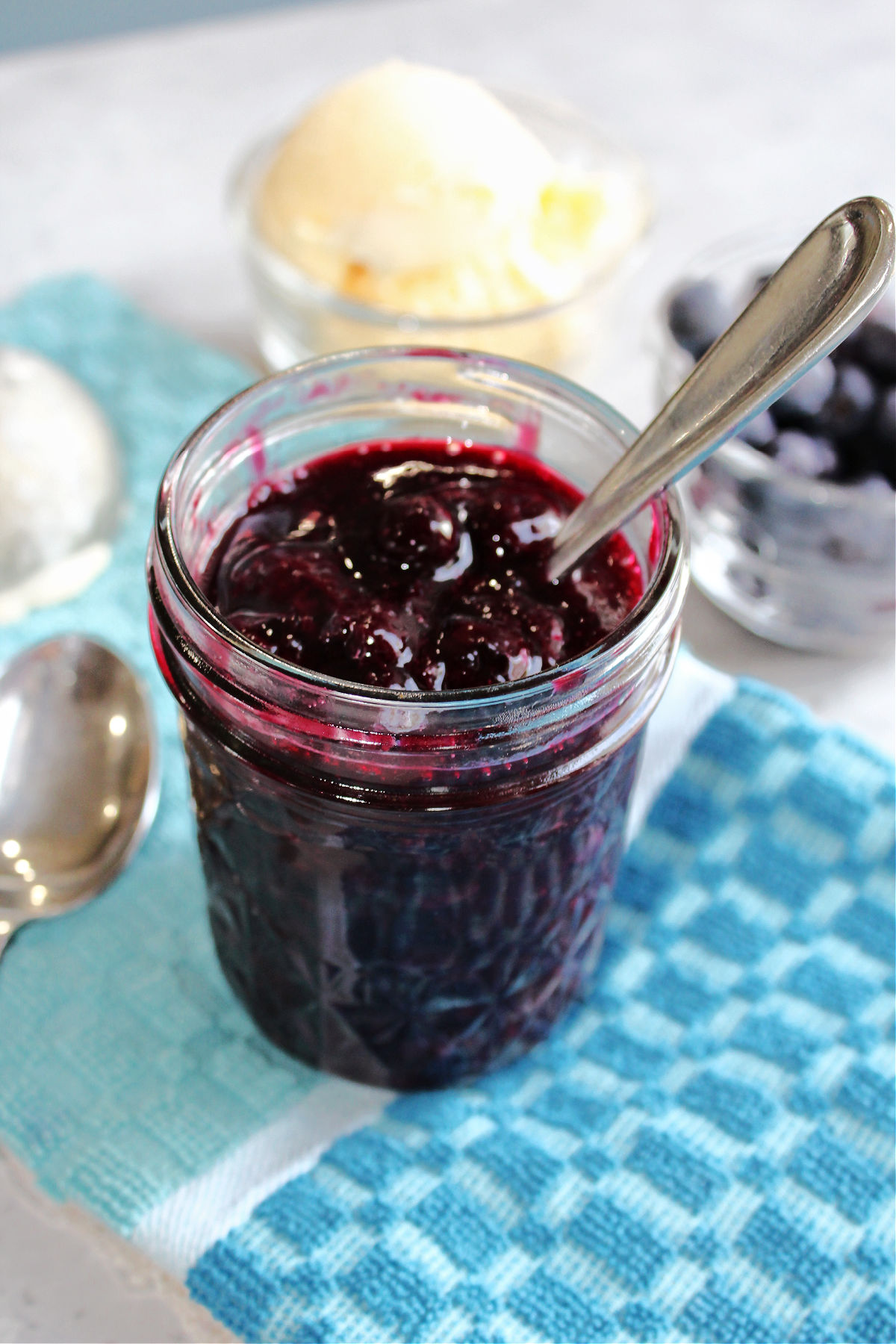 This easy homemade blueberry sauce is the perfect addition to your recipe box. This blueberry sauce recipe can be the topping for cheesecake, ice cream, buttermilk pancakes or even a fruit dip.
It is three ingredients and is sugar free. You can add sugar if you want, but when added to ice cream and cheesecake, the natural flavor of the blueberries really does not need any sugar.
Ingredients
Fresh or frozen blueberries
Water
Cornstarch
That is it for the ingredients. Very simple and likely for you to have on hand to make this ice cream topping.
The cornstarch
So why is cornstarch needed and what is it? Cornstarch is the ingredient needed to help thicken up the sauce. It is a thickening agent.
There are a variety of ways they people use to thicken up gravy or sauces, but I like the cornstarch method. Some think baking soda or powder can be used in place of cornstarch but it is not recommended.
Baking powder and baking soda has a rising agent in it and it is used in baking. The rising agent may not produce the same thickening result you want in soups, stews or sauces.
Adding the cornstarch directly to the sauce could result in clumps. Premixing the cornstarch in a little bit of water, reduces the chances of clumps forming in your sauce. The key is to mix the cornstarch with water because nobody wants clumps in any sauce.
Fresh or frozen blueberries
Should we use fresh or frozen blueberries in this blueberry topping? Either work! I had blueberries that were frozen when I made this recipe and it works absolutely the same as fresh blueberries.
In fact, my blueberries had some ice on them from the freezer and they were perfectly fine to use. The cooking time is the same for both using fresh or frozen blueberries.
The boiling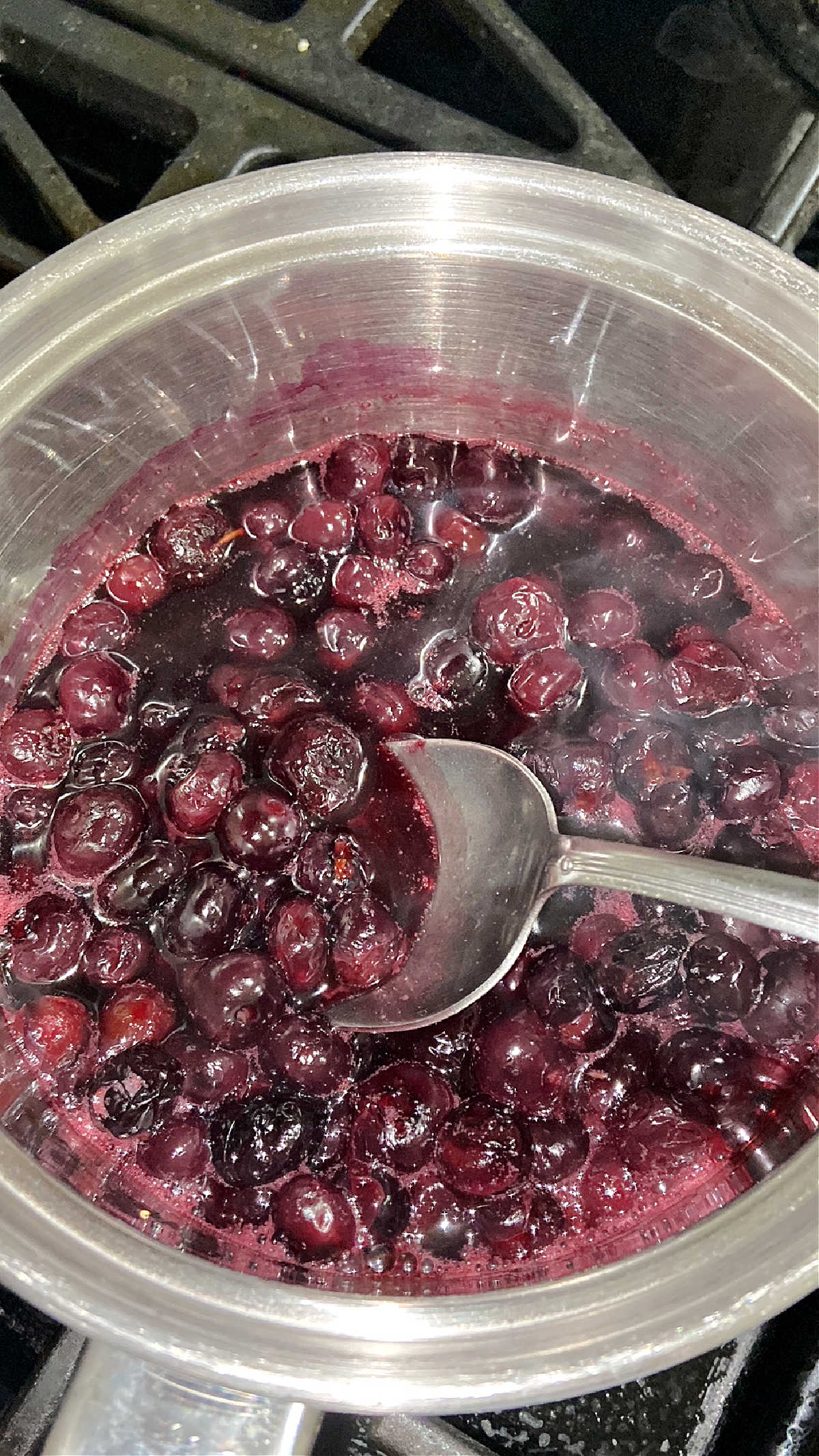 First, you will place the blueberries a small cooking pot. ⅓ cup of water will needed to be added to the bottom of the pot. This helps encourage the blueberries to start cooking and not to burn.
It is important to stir the blueberries while they are reducing down so the blueberries won't stick and all they will cook evenly.
What does reducing mean?
Reducing the blueberries means to let them cook down enough so they essentially break down. When they break down, the blueberries split open, the juices run out and the sauce because even more flavorful.
The blueberries won't stay whole while cooking and that is what you want. During cooking, I even will take my spoon and smash the blueberries against the side of the pot. Not necessary, but no worries if you want to speed the process along.
Thickening the sauce
Once the blueberry topping has simmered for 5 minutes, you will add the cornstarch. The cornstarch will be added to a small amount of water. Then, while stirring the blueberry mixture, add the cornstarch slowly.
The mixture will start to thicken up almost instantly. Reduce the heat to low and let the mixture cook for about 1 minute longer, stirring occasionally.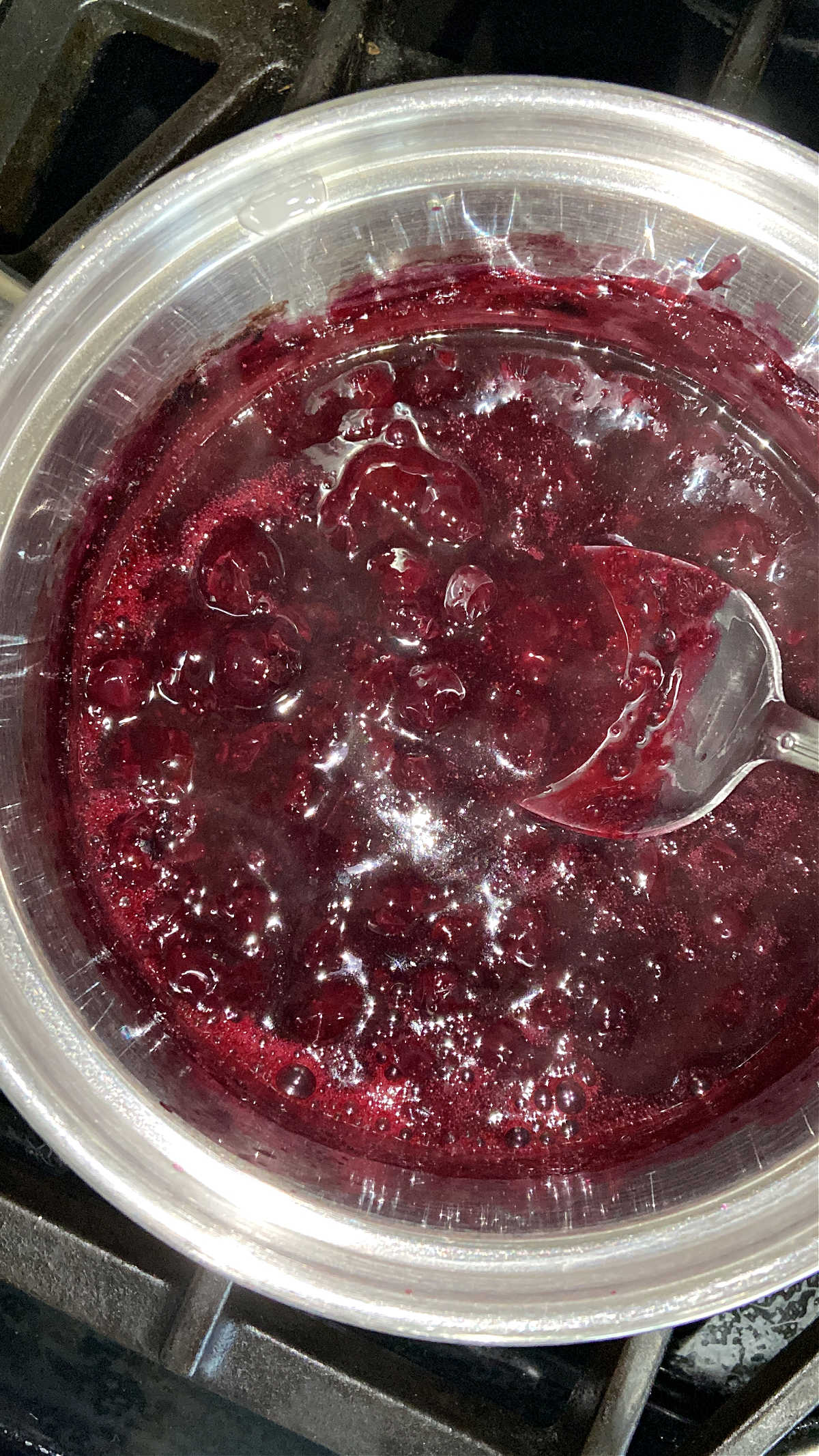 You can serve this sauce warm or wait for it to cool a bit.
Of course, if you add it to ice cream, the ice will melt slightly if the sauce is cool. I don't believe that to be a bad thing. It would be like a warm pie with ice cream.
Oh yum.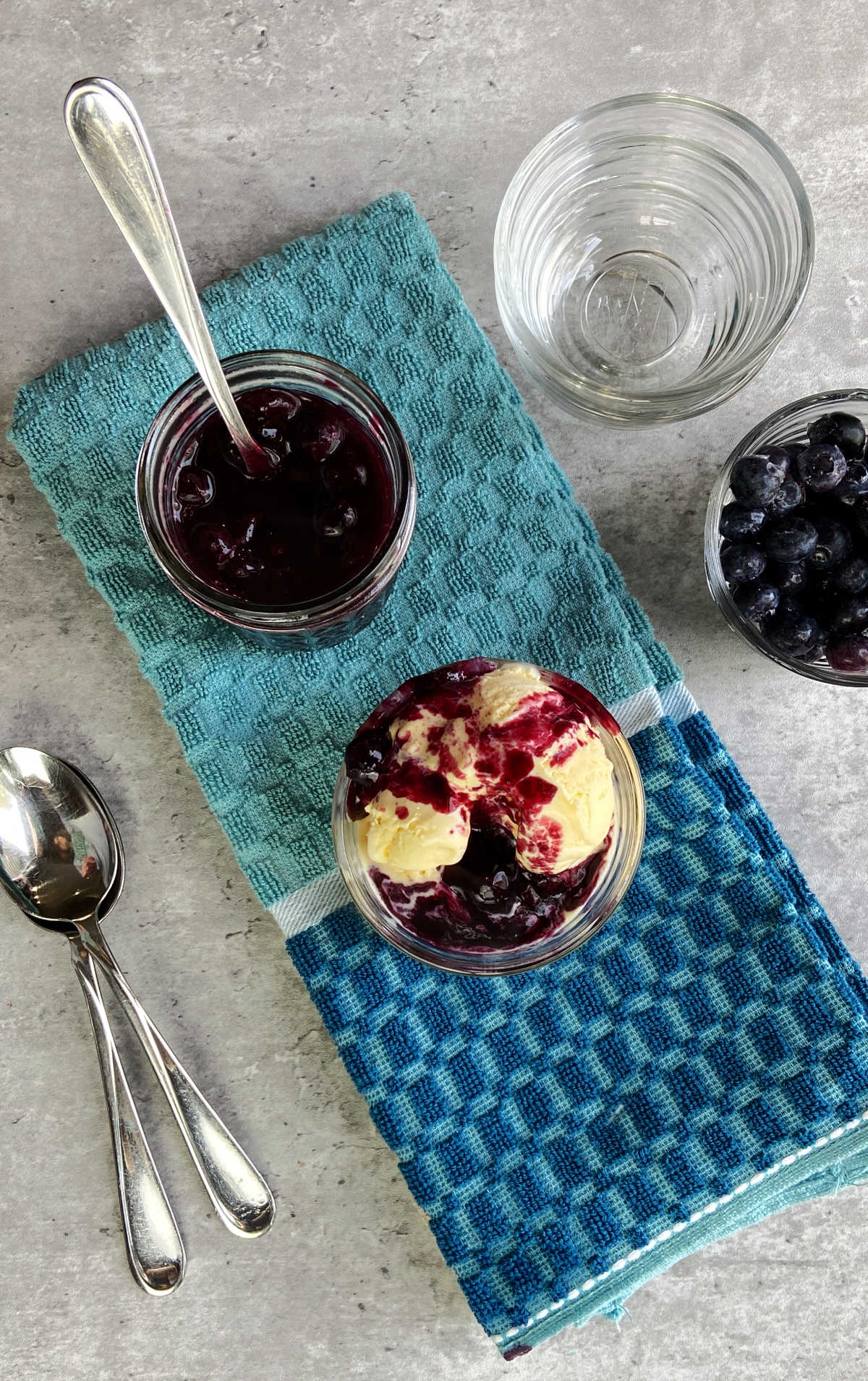 What about the sugar?
This blueberry sauce is sugar free. If you want to add sugar to your recipe, you would add about ½ cup sugar when you add the blueberries to the pan. Everything else would stay the same. It is completely optional and per your taste buds. If you have ripe blueberries the sugar, in my opinion, would not be necessary.
Pin for later!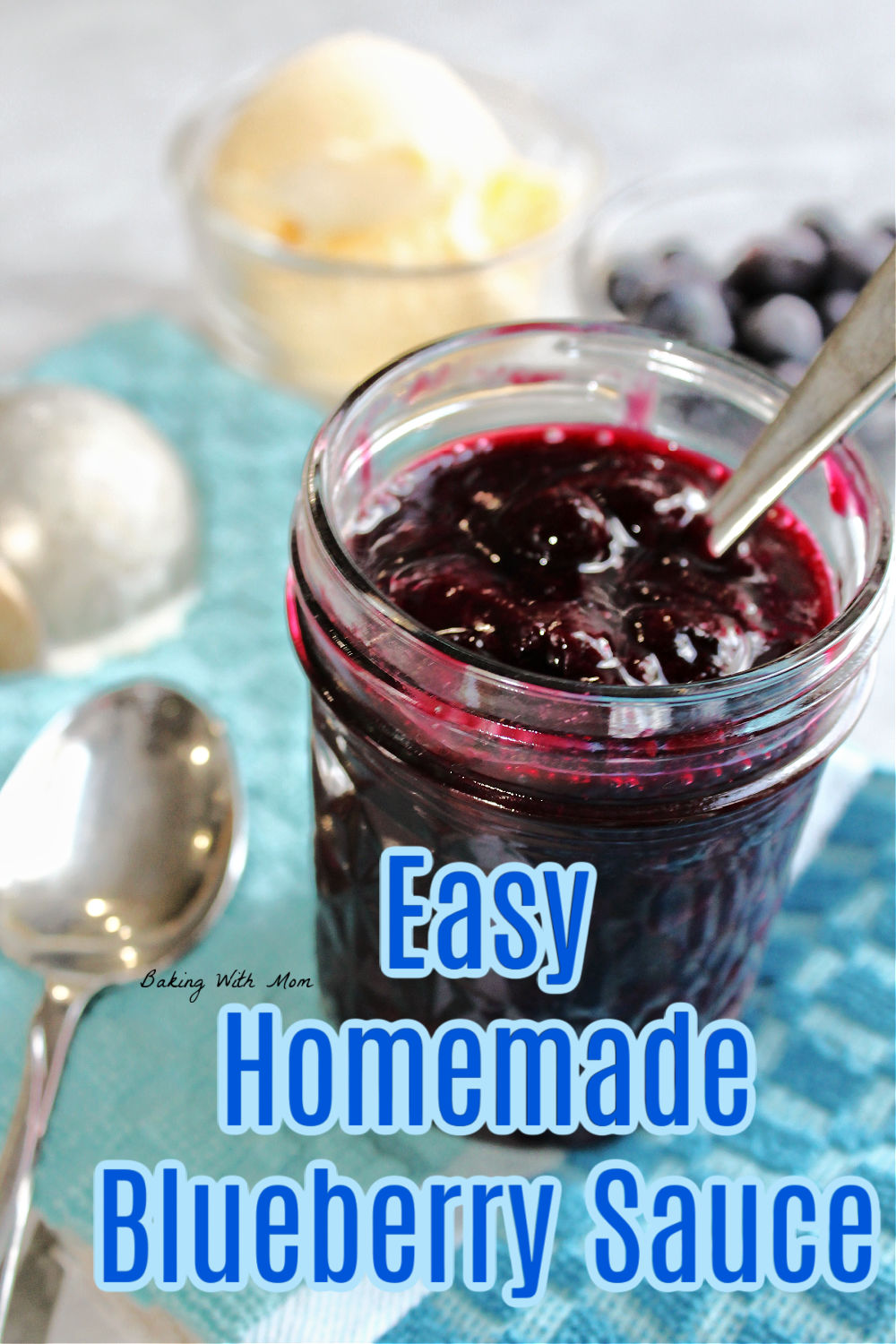 📖 Recipe
Easy Homemade Blueberry Sauce
Homemade blueberry sauce recipe great for ice cream, pancakes and cheesecake topping.
Ingredients
2

cups

blueberries

fresh or frozen

⅓

cup

water

2

teaspoon

cornstarch

plus ½ cup water
Instructions
Place blueberries and add them to a small saucepan on medium heat with ⅓ cup water.

Bring to a boil, stirring occasionally. Boil for 5 minutes.

Take ½ cup of water and add the cornstarch to the water. Stir.

Stir in cornstarch/water mixture and bring blueberries to a boil, stirring occasionally.

Cook on low for 1-2 minutes, stirring occasionally.

Let cool for 3 minutes then serve.
Notes
You can add ½ cup sugar, if desired. Add sugar to the blueberries and water. 
Nutrition
Calories:
12
kcal
|
Carbohydrates:
3
g
|
Protein:
1
g
|
Fat:
1
g
|
Saturated Fat:
1
g
|
Polyunsaturated Fat:
1
g
|
Monounsaturated Fat:
1
g
|
Sodium:
1
mg
|
Potassium:
15
mg
|
Fiber:
1
g
|
Sugar:
2
g
|
Vitamin A:
11
IU
|
Vitamin C:
2
mg
|
Calcium:
1
mg
|
Iron:
1
mg