Do you like tacos at your house? We do here! This Cheesy Taco Hashbrown Casserole is a delicious flavorful casserole full of your favorite taco flavors.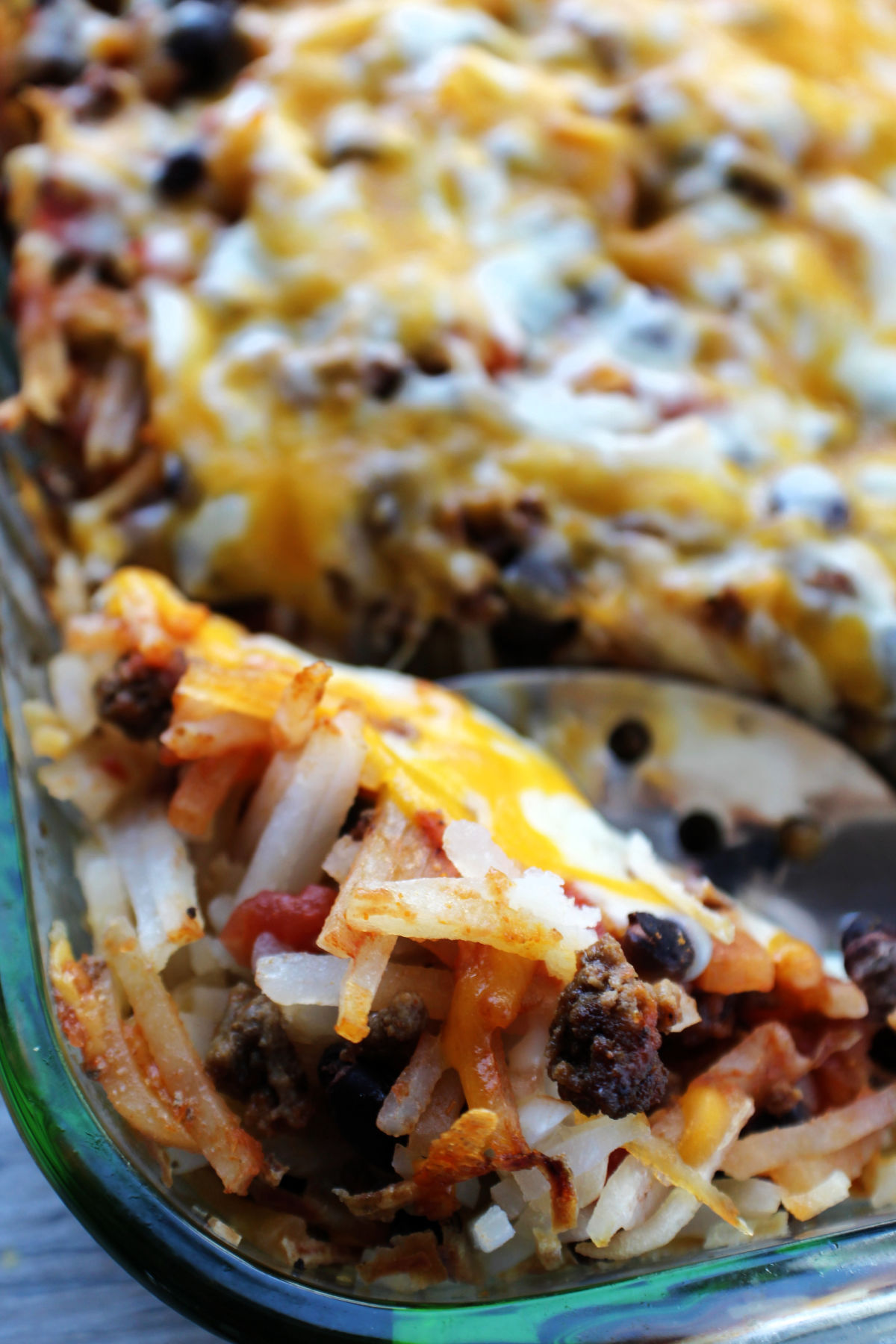 We enjoy all things tacos over here. Any reason to eat meat seasoned with taco seasoning and add cheese and spicy tomatoes, I'm on it. This Cheesy Taco Hashbrown Casserole is all that and more.
It has hashbrowns.
How yum is that?!? Now some people spell hashbrowns like hash browns as two words. I only use one. Please forgive me if that is not how you spell them. Maybe it is an Illinois thing.
Ingredients
black beans drained
diced tomatoes with chili's drained
tomato sauce
hamburger
taco seasoning
hashbrowns
cheddar cheese divided, can also use taco cheese
Variations
It actually can be pretty versatile based on what your family likes. I put in black beans, spicy tomatoes, taco seasoned ground beef and some tomato sauce.
You could certainly add in green onions or green peppers. Chopped onions would be good. Also, corn would be a great addition as well.
This recipe is for hashbrown casserole with taco meat. Of course, if you don't like the spicy of taco seasoning, you could keep the hamburger plain.
Does this casserole take a while to cook?
Yes, it does. I would recommend cooking it for 45 minutes or so. If you don't mind a firmer hashbrown, then you can shorten the cook time. We like the hashbrown potatoes nice and soft.
Process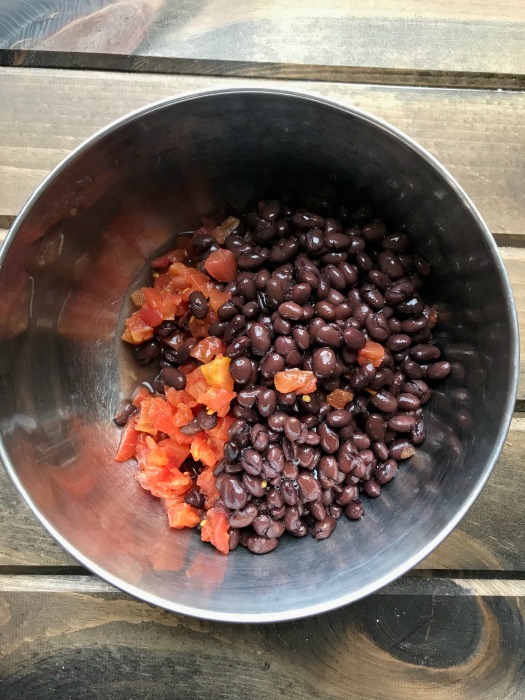 First, I put the drained black beans and drained spicy tomatoes in a bowl. I then added the tomato sauce and mixed in about ½ cup of shredded cheddar cheese.
I then set the bowl aside.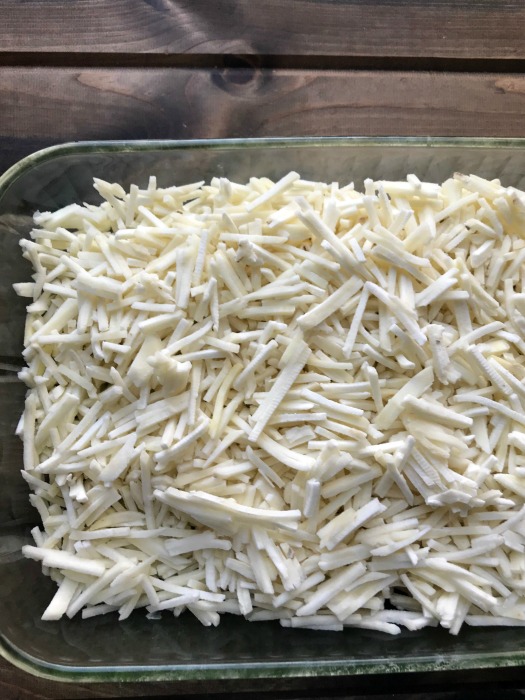 Next, cook the hamburger in a large frying pan. While the hamburger is cooking, put the shredded hashbrowns in a greased baking dish.
After the hamburger is cooked through, mix the bean mixture and the hamburger mixture in the hashbrowns.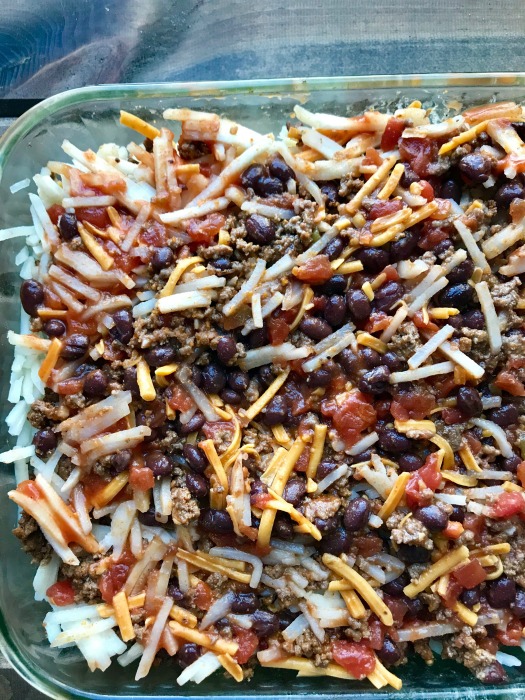 Cover with foil and place in a preheated 375* oven. Bake for about 45 minutes. After the 45 minutes is done, I took the foil off and added more cheese.
Because, hey, we all need more cheese right? Then let the taco casserole bake for about 7 more minutes or until the cheese is melted and bubbly.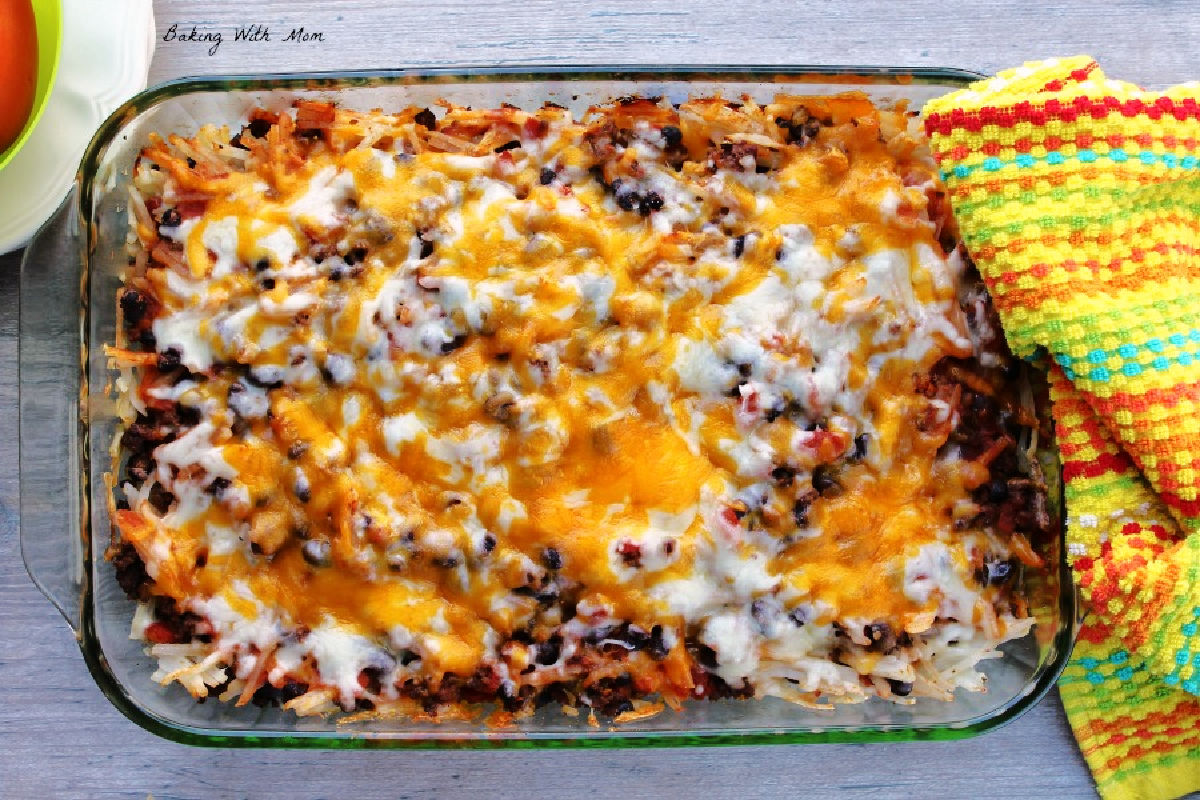 Now, your taco casserole is ready to serve. Sour cream with green onions sprinkled on top would be a good addition. Also, a great side would be blueberry applesauce or grape Jello salad.
Pin for later!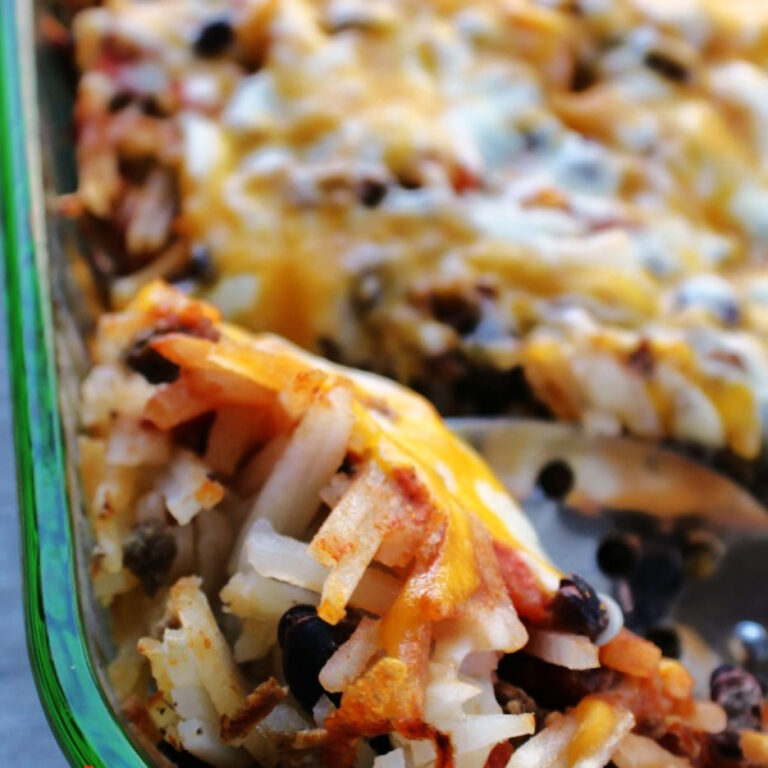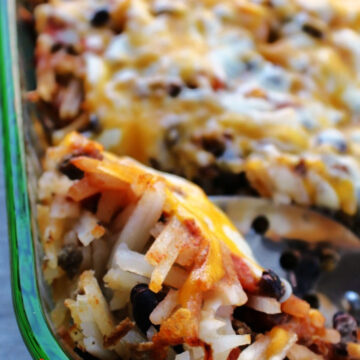 Cheesy Taco Hashbrown Casserole
Cheesy Taco Hashbrown Casserole is a delicious taco casserole recipe using all of your taco favorites. Beans, tomatoes, hamburger and cheese combined with shredded hashbrowns.
Ingredients
15

oz

black beans

drained

10

oz

diced tomatoes with chili's

drained

8

oz

tomato sauce

1

lb

hamburger

2

tablespoons

taco seasoning

30

oz

hashbrowns

2

cups

cheddar cheese

divided, can also use taco cheese
Instructions
Mix together the beans, tomatoes, ½ cup cheese and tomato sauce in a small bowl, set aside

Cook up hamburger in large skillet until no longer pink. Drain any grease

Add in taco seasoning and stir

Place hashbrowns on the bottom of a greased 9x13 baking dish

Pour bean mixture and hamburger over top of hashbrowns and stir. Cover with foil and bake at 375* for 45 minutes. Remove foil and add 1 ½ cups of cheese on top. Bake for another 7 minutes or until cheesy is melted and bubbly

Let sit for 5 minutes before serving
Nutrition
Calories:
230
kcal
Carbohydrates:
19
g
Protein:
13
g
Fat:
12
g
Saturated Fat:
5
g
Polyunsaturated Fat:
1
g
Monounsaturated Fat:
4
g
Trans Fat:
1
g
Cholesterol:
37
mg
Sodium:
232
mg
Potassium:
436
mg
Fiber:
4
g
Sugar:
1
g
Vitamin A:
272
IU
Vitamin C:
8
mg
Calcium:
133
mg
Iron:
2
mg