Not a complicated recipe, Cheesy Buttered Noodles has a slight twist that most don't have. Green Onions.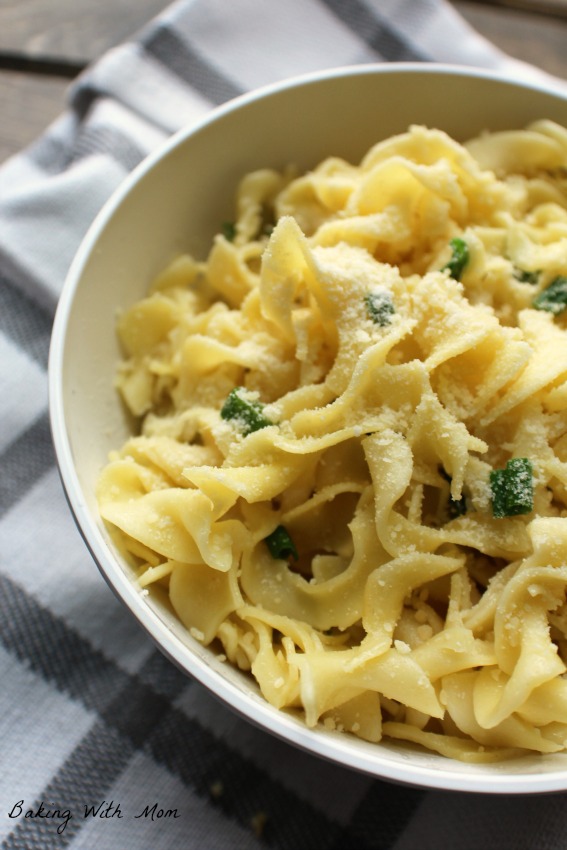 Buttered noodles certainly is not a new recipe. It has been done many times before and with added Parmesan cheese, it is a classic quick side dish. I also know that some people add a garlic flare to their buttered noodles.
In this classic Cheesy Buttered Noodles side dish, I added a new twist: green onions.
Green onions have such a great flavor. In our family, they don't like to bite into pieces of a regular onion, but will allow green onions into their recipes.
(See what I have to deal with here?) ;-)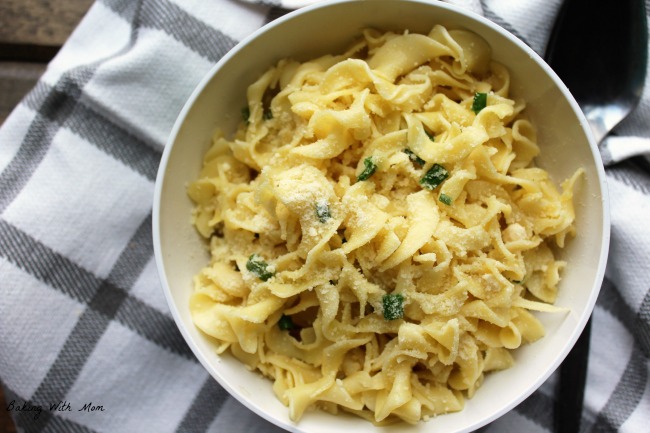 The onions add such a nice, subtle kick to the flavor and when you couple that with the Parmesan cheese, it is a delicious side dish to add to recipes such as Pork Chops, 3 ingredient roast beef or easy grilled chicken.
Cheesy Buttered Noodles
So, you have your main dish planned and you are looking to add a quick side dish recipe to your menu. To make this quick recipe boil the water and add the egg noodles. Cook them according to package directions.
It doesn't matter how much you make. If there is only two of you to cook for, follow the package directions for that. If you have a family of 6, follow the directions for that.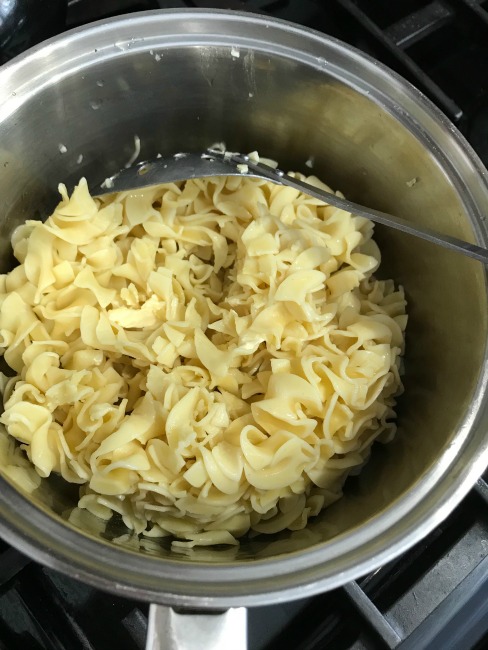 Drain the water and add 1-3 Tablespoons of butter. I would recommend 1 Tablespoon for a serving for two and 3 Tablespoons for a serving for 6 or more.
Stir in the butter so the noodles are covered lightly.
Chop up the green onions and add to the noodles on low heat. Mix well.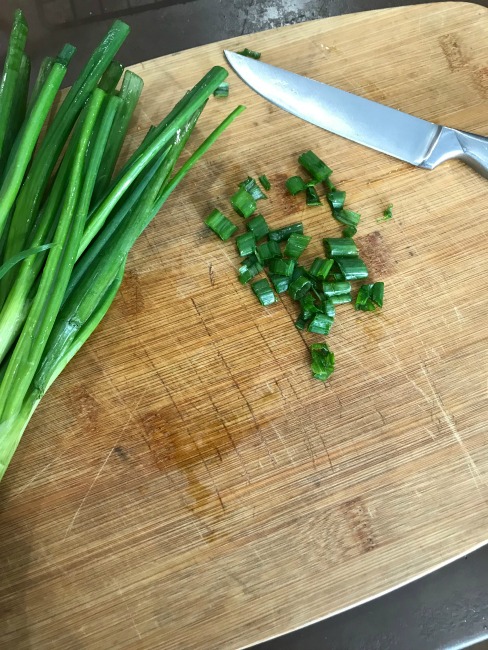 Cook on low for about 3-4 minutes while stirring. Remove from heat and place in bowl. Add Parmesan cheese.
Serving up these easy noodles alongside any dish is a quick solution to "What's For Dinner". Recipes do not have to be complicated to be good. :-)
📖 Recipe
Cheesy Buttered Noodles
Cheesy Buttered Noodles has a unique twist in this classic side dish recipe. Green onions.
Ingredients
6

cups

noodles

4

qt

water

3

T

butter or margarine

½

cup

chopped green onions

½

cup

Parmesan cheese
Instructions
Add noodles and reduce heat to medium, stirring occasionally for 6-8 minutes

Chop green onions, set aside

Drain noodles and return to pan. On the lowest heat setting possible, add butter to noodles and stir

Stir in green onions for about 3-4 minutes

Remove from pan and place in serving dish. Stir in Parmesan cheese
Nutrition
Calories:
308
kcal
|
Carbohydrates:
45
g
|
Protein:
11
g
|
Fat:
8
g
|
Saturated Fat:
5
g
|
Cholesterol:
20
mg
|
Sodium:
220
mg
|
Potassium:
164
mg
|
Fiber:
2
g
|
Sugar:
1
g
|
Vitamin A:
325
IU
|
Vitamin C:
1.6
mg
|
Calcium:
138
mg
|
Iron:
1
mg