Simple to make Air Fryer Apple Chips are sprinkled with cinnamon and a cinch to make! This sweet snack can be made anytime, any season. With an air fryer, these apples will be ready to munch on in minutes!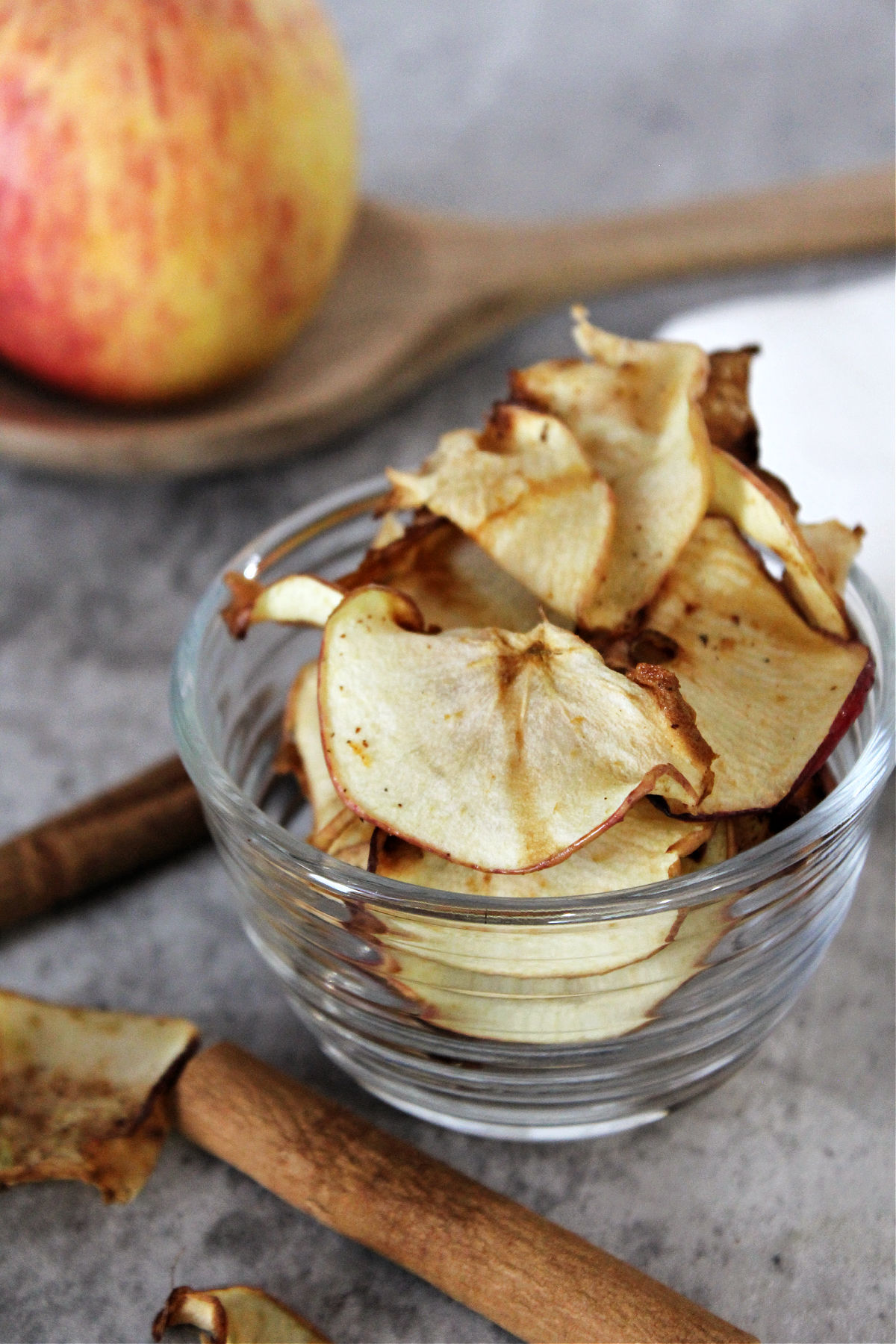 Fall means all things apple and I love apples! Apples are the sweet treat that you can eat at any meal, for snack or dessert.
Air fryer apple chips are a healthier way to snack. These chips have that sweet taste to satisfy your sweet tooth but without the sugar of other snack treats.
Of course, we have plenty of ideas for desserts with apple such as Apple Pie Twists or Apple Cake With Caramel Drizzle. This recipe is more in line with Homemade Chunky Applesauce. We are just going to let the apple do the talking.
Jump to:
Ingredients
Apples - Gala works well, as does a Golden Delicious. Pink Lady would be delicious!
Cinnamon - to sprinkle on top
Cooking Spray - to spray the air fryer
Sugar - optional if you want to add a little extra sweet
Equipment
Air fryers come in a sorts of shapes and sizes. My family had recently purchased one as I want to try it for the family and here on Baking With Mom.
I could go on and on about my new found love of the air fryer but that is for a different time. Talk about a game changer for recipes!
Here are a list of air fryer recipes you may enjoy.
Air fryer apple chips verses dehydrator
Both the air fryer and dehydrator can be used to make homemade apple chips. I have done both. The difference is time.
A dehydrator takes all day/night to make the apple chips. The dehydrator also makes a larger batch, depending on the size of your air fryer.
An air fryer is done quickly, within minutes. However, as mentioned above, more batches may have to be made due to size.
How to make the air fryer apple chips
Start by washing the apples. Then the apples will need to be sliced. A Mandoline Slicer is an easy way to slice fruits or veggies. If you don't have one, a knife works. Just make sure they are sliced about ⅛ inch. It can get hard to slice that thin, so take care.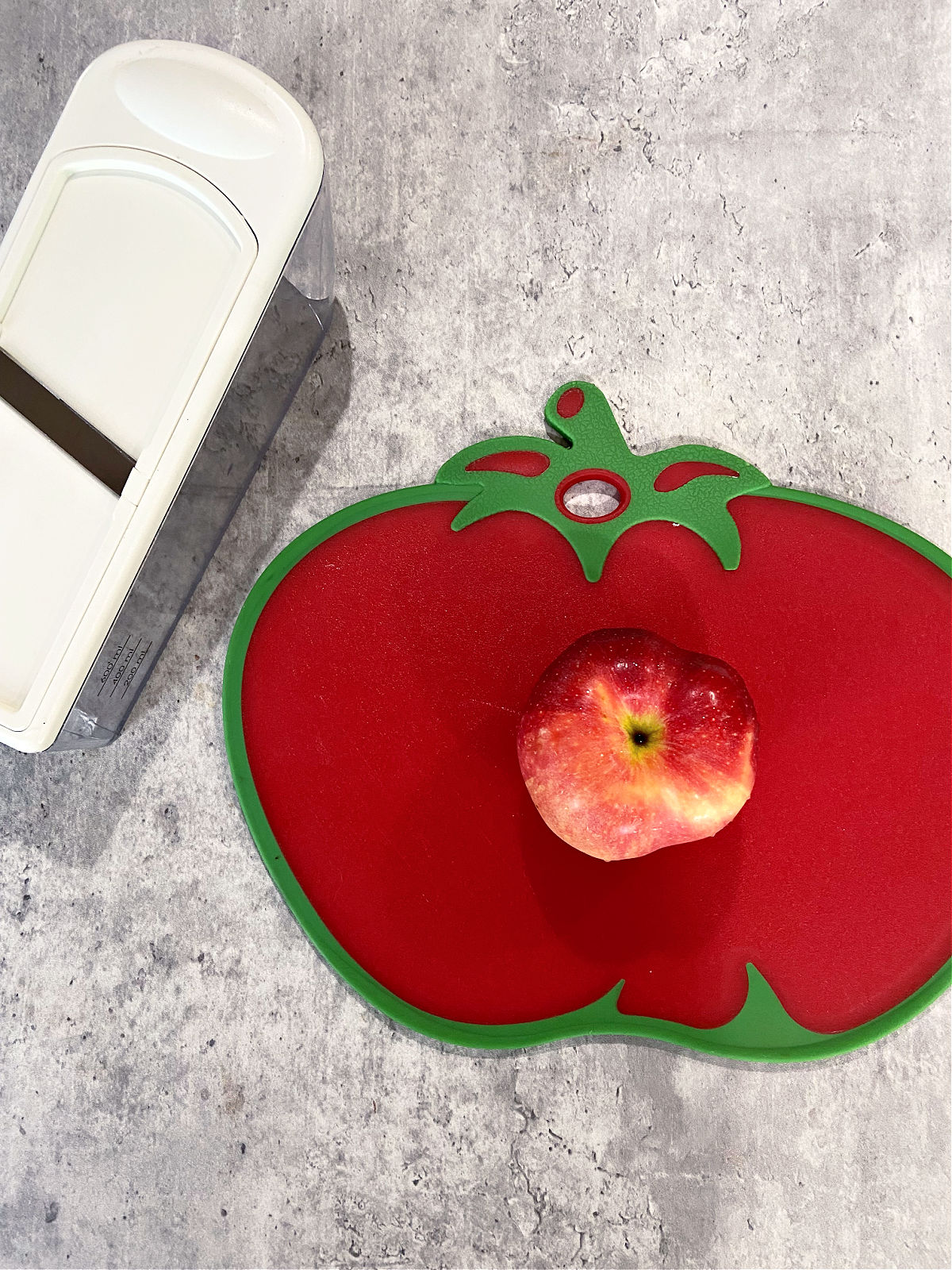 Start slicing and let the apples pile up. Apples do start to turn when the oxygen hits the white of the apple.
With air fryer apple slices, you really don't have to worry about the discoloration of the apple, as you will put cinnamon on top. However, if you desire, you can sprinkle some Fruit Fresh on top. Fruit fresh will help your fruit from discoloration.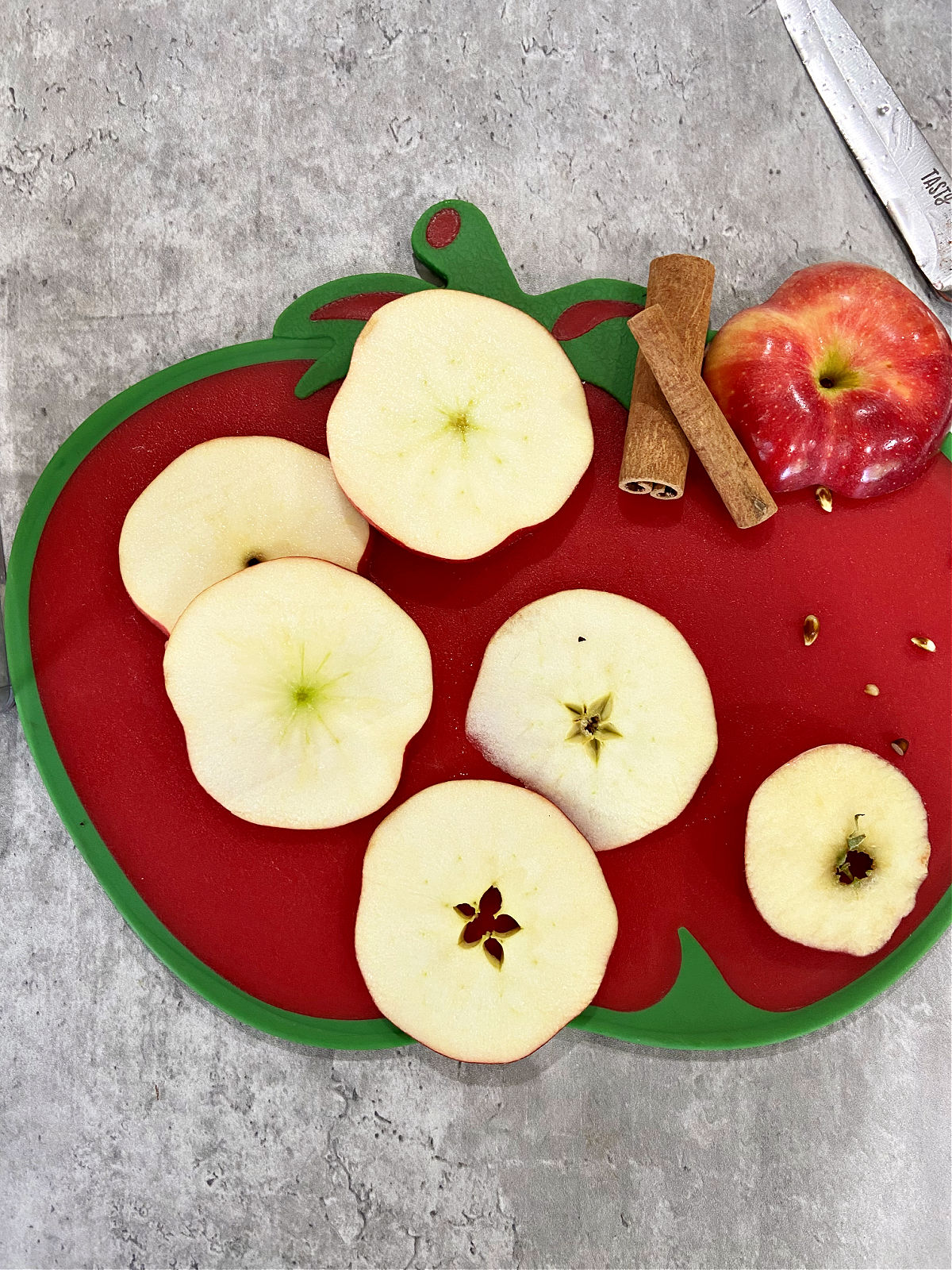 Using cinnamon on the apple slices
Sprinkle cinnamon of top of the uncooked apple slices.
This is where you can put a little cinnamon sugar mixture of top. If you do, make sure the ratio is more sugar than cinnamon. For example, if you are going to mix up a batch of cinnamon sugar mixture, make it one part cinnamon to two parts sugar.
Using the air fryer
The air fryer needs to be preheated at 350 degrees for 3 minutes. Then, be sure to spray the inside of the air fryer so the apples won't stick.
The apple chips will be cooked for about 6 minutes, turning them at about 3 minutes. This time will be altered a bit, depending on how thick the apples are. If they are thicker, they will need longer time.
Keep in mind also, the apples chips will still be a little soft when they are pulled out of the air fryer. They will need about 10-15 minutes to crisp up outside of the air fryer.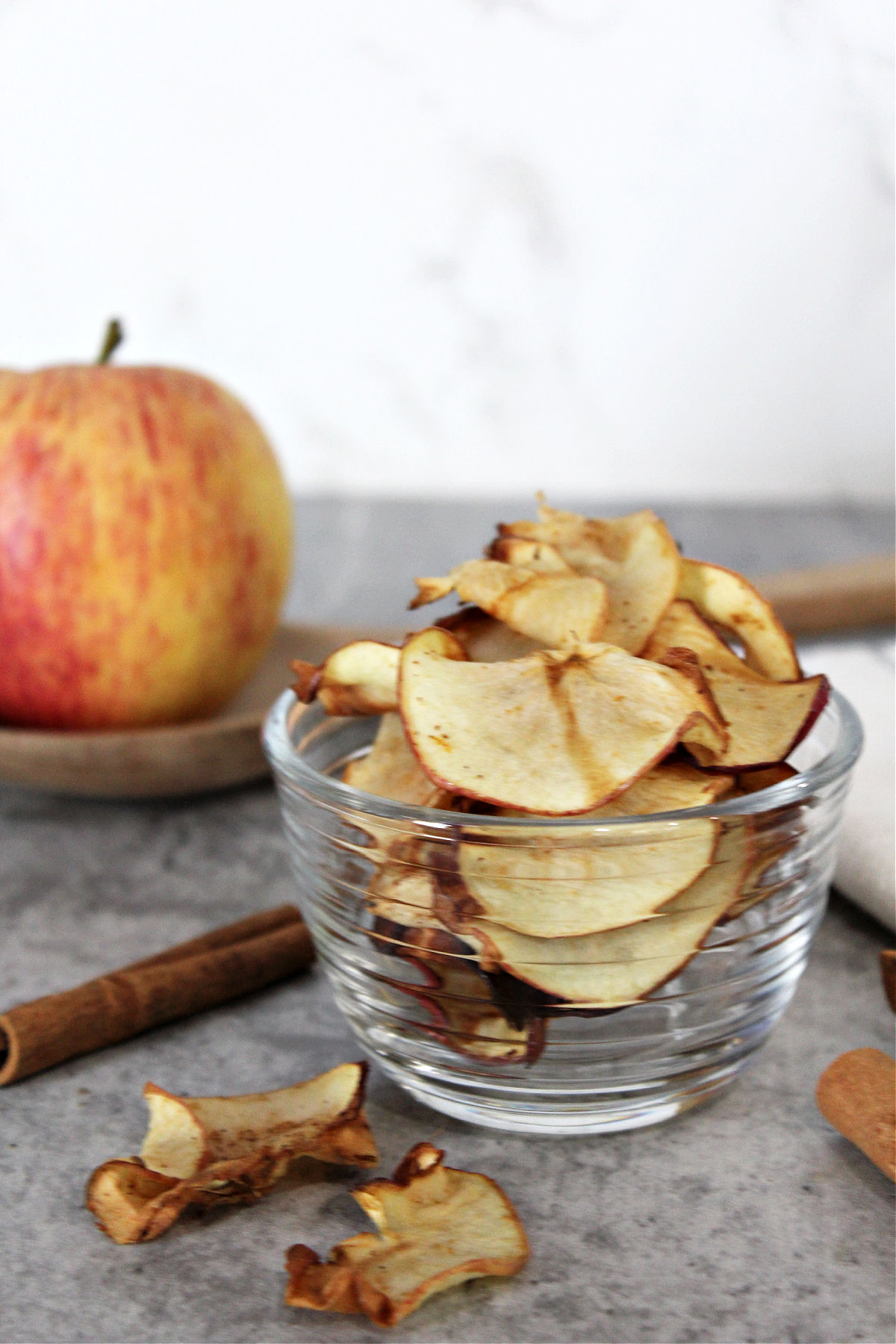 Storage
Air fryer apple chips are easy to store. Place them in an air tight container or a zipped plastic bag for up to 3 days. They can be left on the counter, out of sunlight.
These air fryer apple chips are quick to make, a delicious snack for the family and so full of flavor. Make up a batch and enjoy the fall flavors of apples and cinnamon!
📖 Recipe
Air Fryer Apple Chips
Air fryer apple chips are a healthier snack for your family. Only a few ingredients, these apple chips are sweet, crunchy and delicious!
Ingredients
2

apples

medium

1

teaspoon

cinnamon

2

teaspoon

sugar

if desired, not necessary

cooking spray
Instructions
Using a mandoline slicer or a knife, slice apples ⅛ inch thick.

Preheat air fryer to 350 degrees for 3 minutes.

Sprinkle cinnamon on apple slices.

When air fryer is done preheating, grease rack inside of air fryer.

Place apple slices in basket, do not overlap.

Set timer for 6 minutes. After 3 minutes, turn the apples over.

Air fry until completed. Take the apple chips out to let crisp for 15 minutes - 30 minutes.

Apple chips can be stored in an air tight container or in a zip lock bag.
Notes
The nutrition facts include the sugar. 
If you slice your apple thicker, it will take longer in the air fryer.
Nutrition
Calories:
113
kcal
|
Carbohydrates:
30
g
|
Protein:
1
g
|
Fat:
0.3
g
|
Saturated Fat:
0.1
g
|
Polyunsaturated Fat:
0.1
g
|
Monounsaturated Fat:
0.01
g
|
Sodium:
2
mg
|
Potassium:
199
mg
|
Fiber:
5
g
|
Sugar:
23
g
|
Vitamin A:
101
IU
|
Vitamin C:
8
mg
|
Calcium:
21
mg
|
Iron:
0.3
mg
Pin for later!