4 Ingredient Pasta Salad with a surprise little twist at the end, is easy to make and easy to enjoy.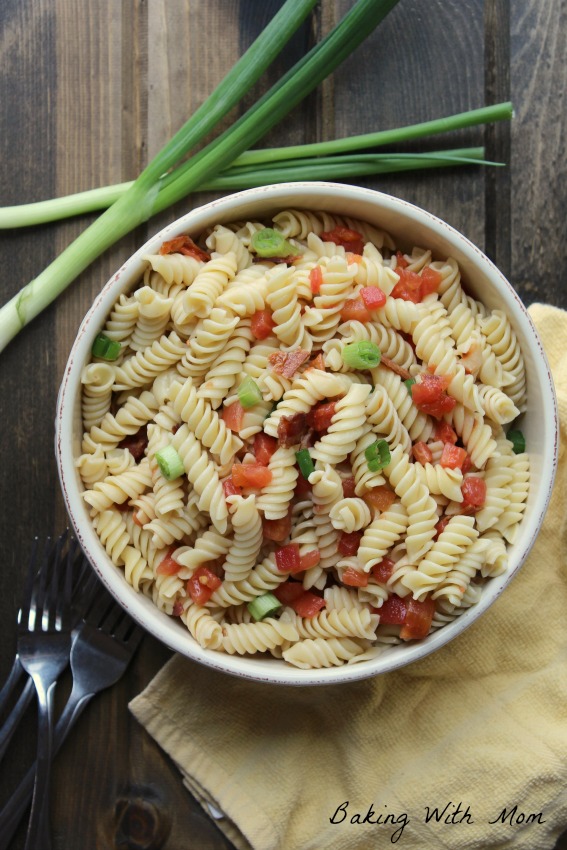 *This post contains affiliate links. If you click on a link and make a purchase, I could receive a small commission at no extra cost to you. You can read our disclosure here.
Do you see the boards in this picture? It is part of the new food props I am putting together with help from my wonderful hubby. The boards are perfect to help highlight this 4 ingredient pasta salad.
Simple recipes are the name of the game. I mean, who has time for complicated recipes when you have children to cart around to various activities?
Not this mom.
It is beginning to be a different stage in our lives. Starting next school year, I won't have a little one at home with me anymore. While I can't really fathom the thought (it's been 16 years and all!), I am trying to see the bright side in it. One of them being creating and developing more easy delicious recipes for Baking With Mom like this 4 ingredient pasta salad.
So while I am sniffling through the tears and shock of the "empty nest" (at least during the school day), I will be making yummy recipes.
I can do that. :-)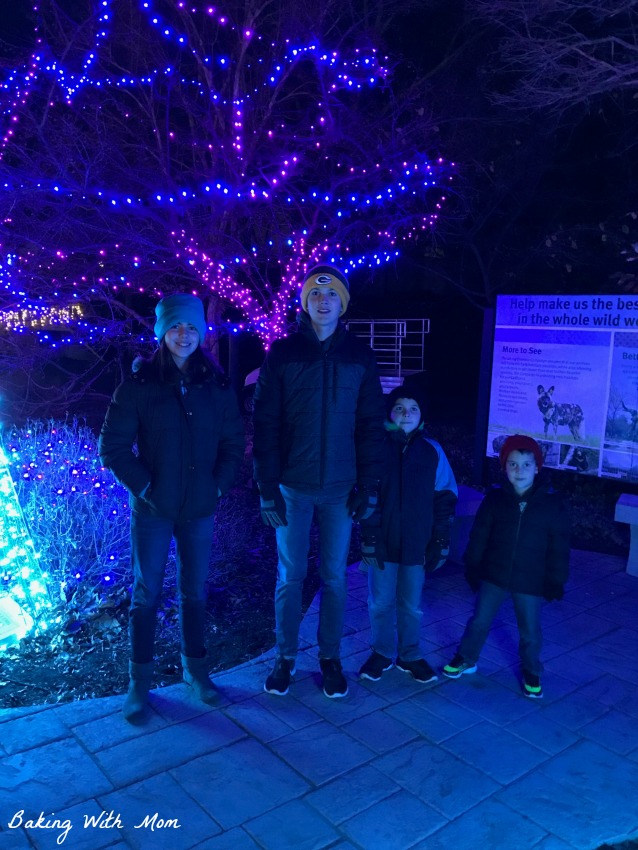 They grow up quick, ya know.
(At the St. Louis Zoo Wild Lights)
4 Ingredient Pasta Salad
This simple and easy pasta salad is whipped up in no time. In fact, you can cook the pasta on the stove and bake the bacon in the oven at the same time. (By the way, see my FAVORITE kitchen hack ever. It involves the bacon.)
This pasta salad is healthier than most and better for you then other pasta salads. There isn't any mayonnaise or sugars in it. It is simple, easy ingredients. Some you can even grow in your garden if you have one. Okay, maybe just the green onions but wouldn't it be lovely if you could grow bacon in your garden? I think so too.
There is a surprise ingredient at the end. I don't know if you have ever used Pink Himalayan Sea Salt before, but it is my favorite salt to use. I think it has a great flavor and adds such depth to the recipe. It looks like this.
Like this recipe? Be sure to rate it below!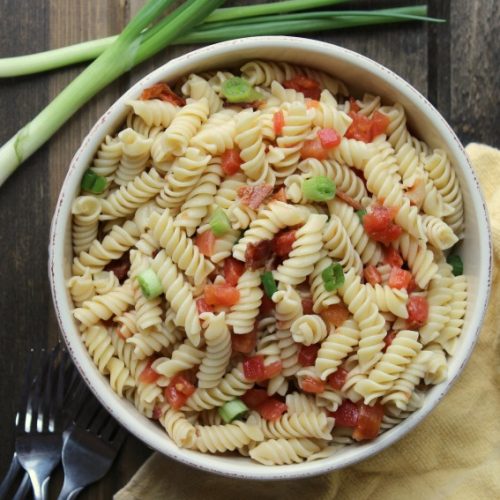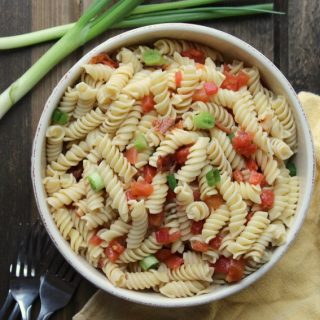 4 Ingredient Pasta Salad
4 Ingredient Pasta Salad with green onions, bacon and tomatoes.
Ingredients
½

lb

corkscrew pasta

½

cup

diced tomatoes with juice

¼

cup

green onion, chopped

4

strips

cooked bacon, crumbled

1

tsp

Pink Himalayan Sea Salt
Instructions
Cook pasta according to package directions. Drain pasta and rinse in cold water

Cook bacon in oven at 400* for 12-15 minutes or until desired crispness. Remove from pan and place on paper towel lined plate to drain

Mix pasta, green onions, bacon and tomatoes (canned or fresh) in medium bowl. Sprinkle Pink Himalayan Sea Salt on top and stir

Refrigerate for 1 hour. Serve. Refrigerate leftovers
Nutrition
Calories:
154
kcal
Carbohydrates:
22
g
Protein:
5
g
Fat:
4
g
Saturated Fat:
1
g
Cholesterol:
7
mg
Sodium:
367
mg
Potassium:
121
mg
Fiber:
1
g
Sugar:
1
g
Vitamin A:
50
IU
Vitamin C:
2
mg
Calcium:
13
mg
Iron:
0.6
mg