This red potato salad is full of flavor using skin on red potatoes and seasoned with dill. Great for picnics and BBQ's this potato salad recipe will be a favorite at gatherings this summer! It's so easy to make too!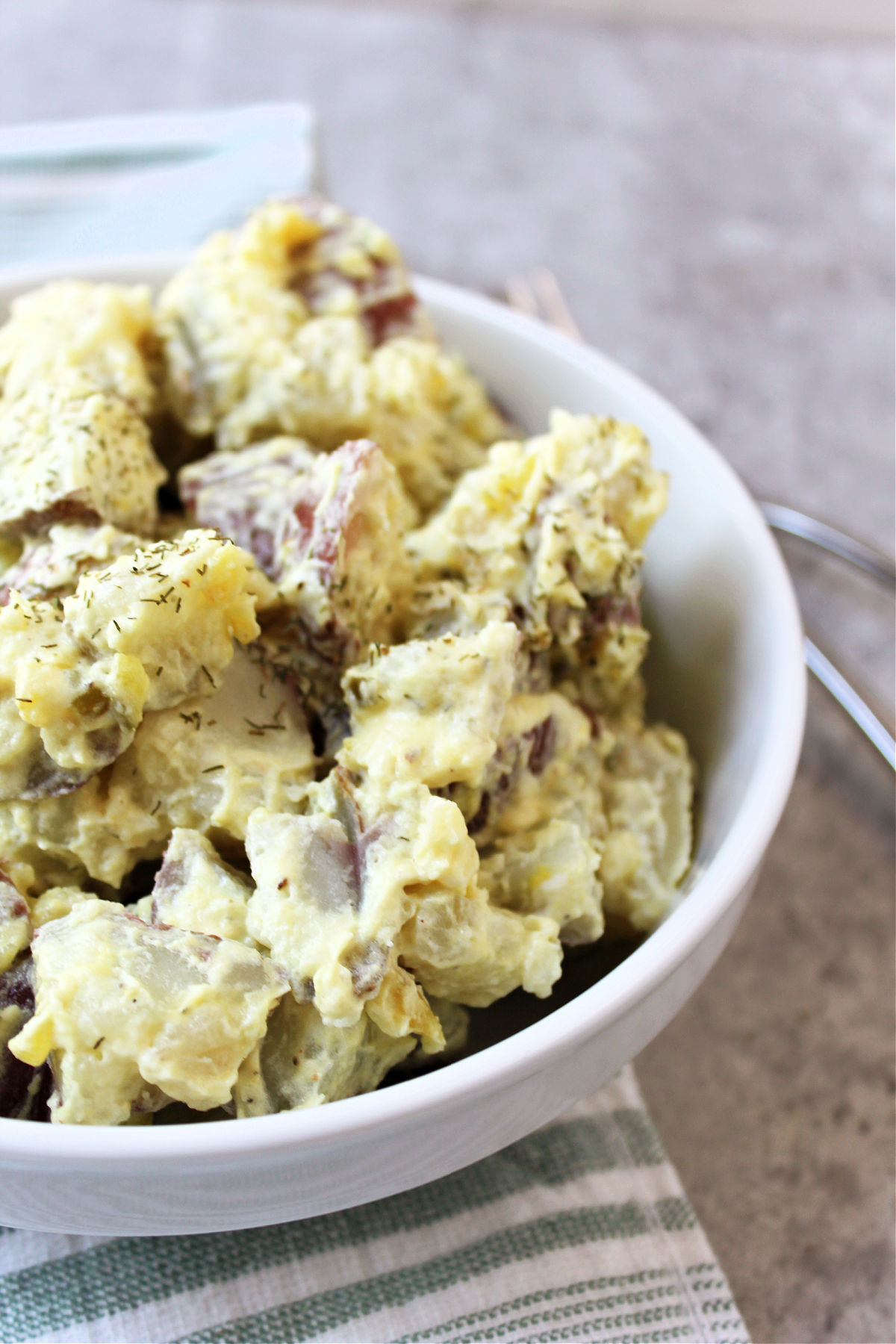 On the list of picnic classics, potato salad is near the top. Baked beans and Jello salad like this Grape Jello Salad is near the list of picnic favorites as well. Red Potato Salad uses skin on potatoes so you don't even have to peel potatoes for this recipe!
Ingredients
red potatoes - leave the peels on
sour cream - any brand
Miracle Whip - we prefer Miracle Whip in our house, regular mayo would work.
mustard - we use Plochman's
dill relish - use dill over sweet relish
garlic powder - or use garlic salt, and omit the salt
salt - see above
pepper - ground pepper
dill weed - a little of this goes a long way
minced dried onions - or you can use fresh, whichever you prefer
mustard powder (optional) - not necessary but adds a little something
celery (optional) - highly subjective to your tastes. It is appreciated by some, loathed by many. It is up to you!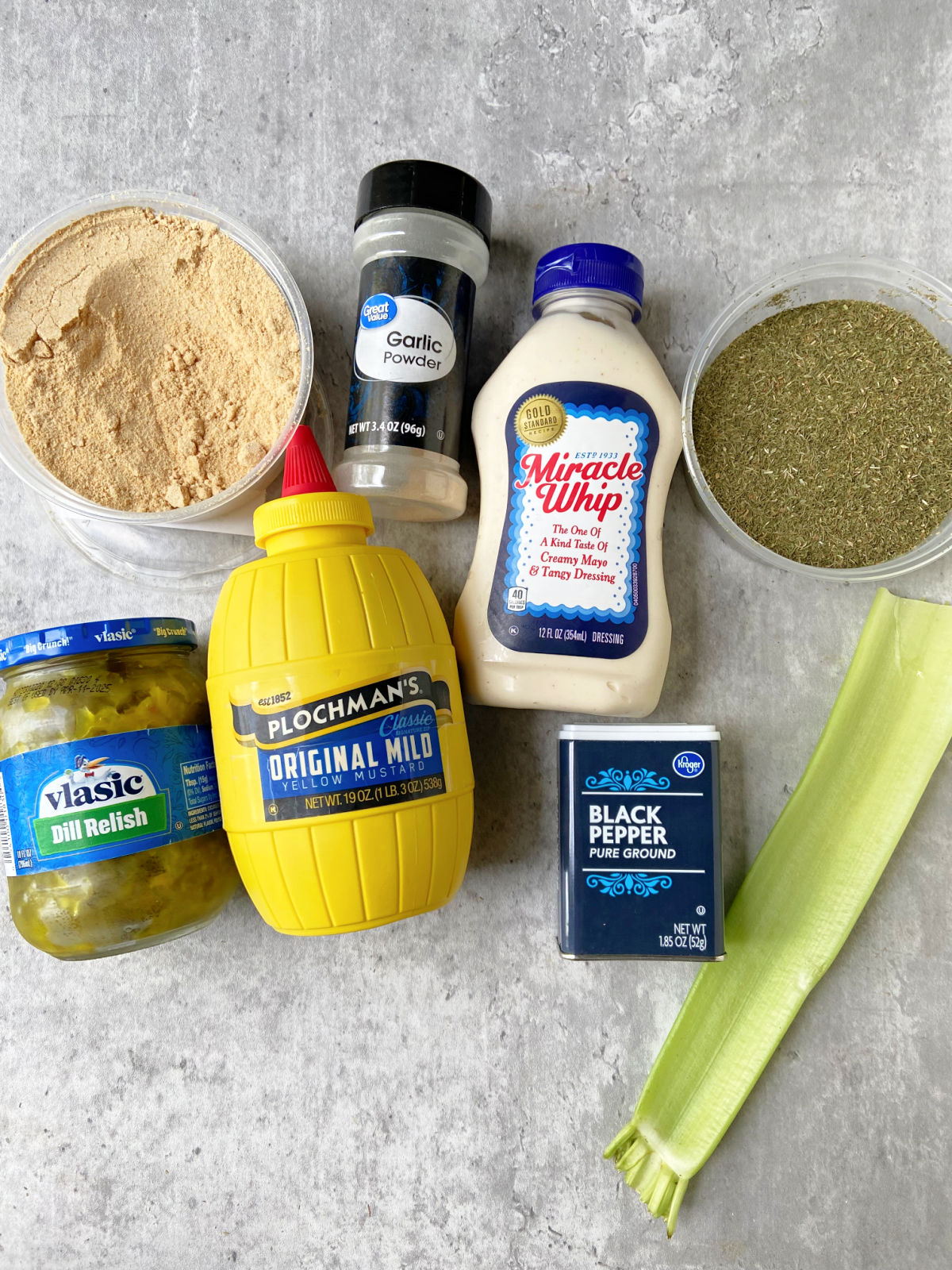 Cooking the red potatoes
This varies by person. This recipe calls for the potatoes to be cooked after cutting them. Other recipes may call for the whole potatoes to be cooked, then cut.
I like cutting them first while they are cold. The red potatoes cook faster and they are easier cut when they are cold.
The potatoes will need to be washed and cut into bite sized pieces. There is no reason to peel red potatoes (unless you want to!) and can be eaten with skin on.
The potatoes will be placed in a pot of water and brought to a boil. If you add salt to the potatoes while cooking, the salt will cook into the potatoes. It is optional.
You can tell the potatoes are done when you can pierce the potato with a fork and it goes in easily, but make sure you don't wait too long that the potato falls apart.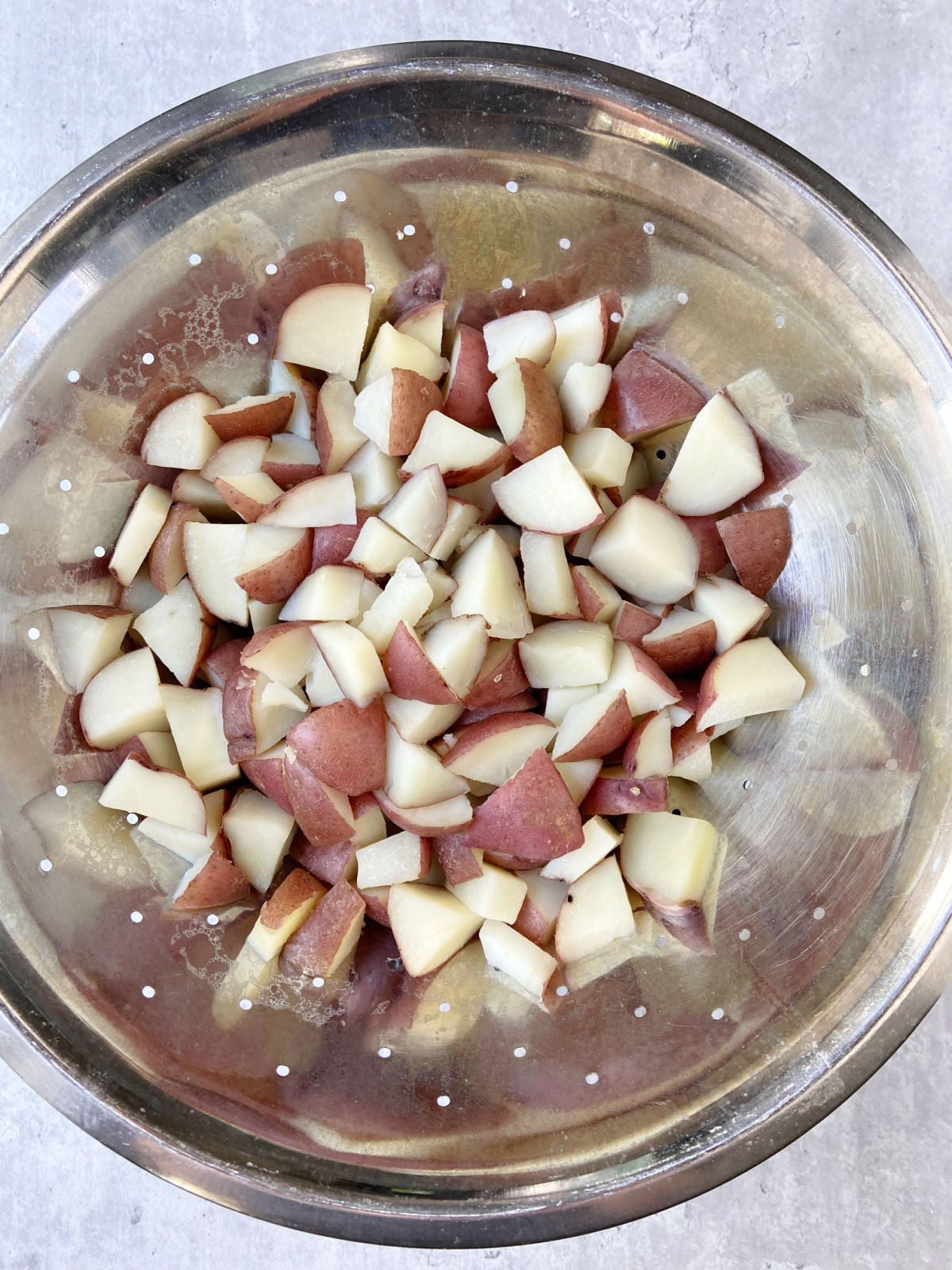 Adding the ingredients
The potatoes will need to be drained and cooled. I recommend letting the potatoes cool for at least 30 minutes.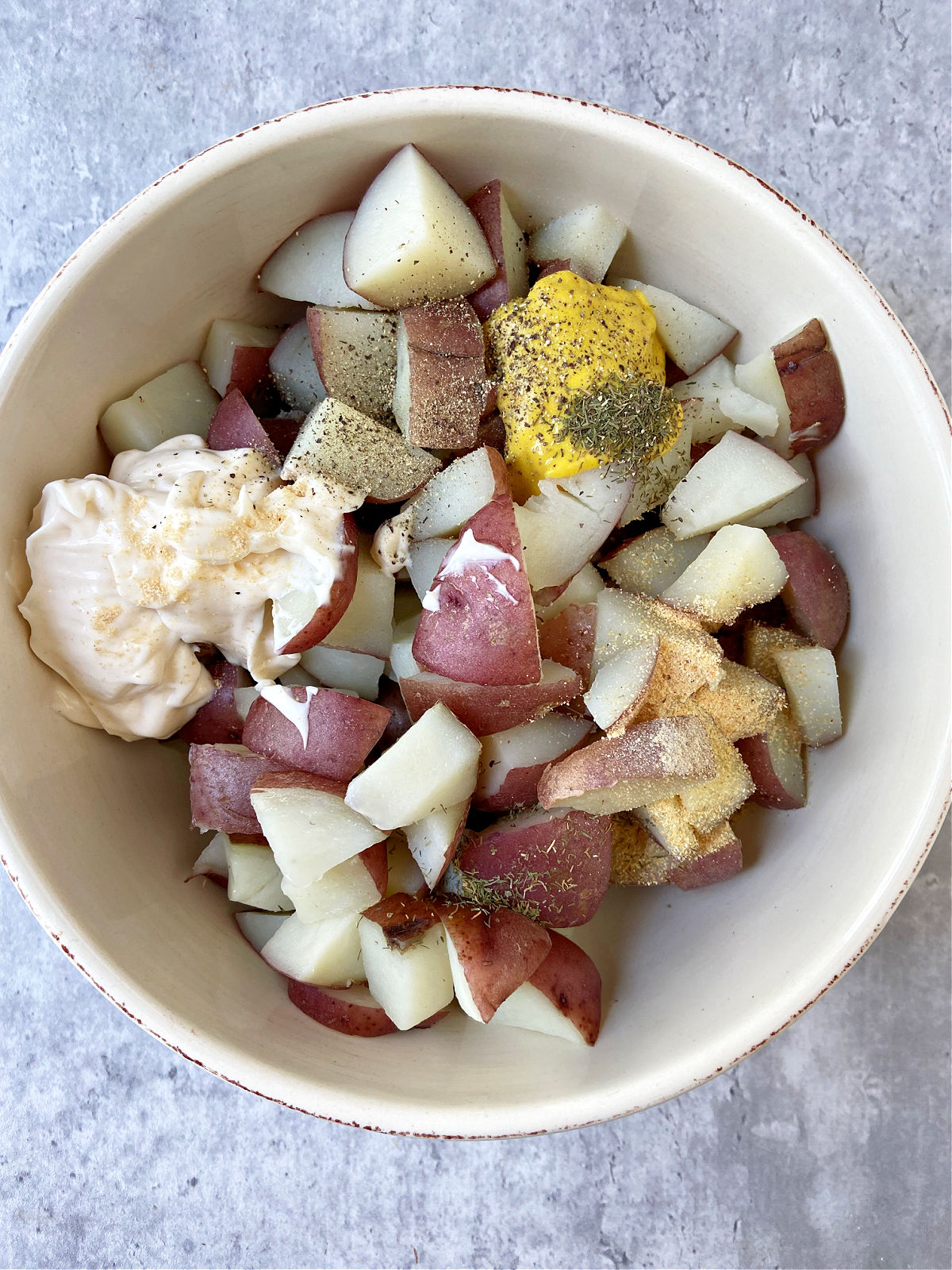 Then fold in the ingredients.
I recommend folding the ingredients in instead of mixing because you don't want the potatoes to fall apart while mixing. Like with Jello salad, the salad shouldn't be broken down by stirring.
The ingredients can be added in at once or the dill relish can be folded in at the end separately.
Variations
The best thing about this red potato salad is the fact it is adaptable to your family's tastes. If your family loves dill relish, add a little more. If you prefer more salt, add more salt.
What I am giving you is a base and tastes great, but you can add or subtract per your wishes.
Chill
This salad needs to chill for the flavors to hang out and get to know each other before you serve it. Mayonnaise needs to remained chilled so if this recipe is going to be taken to a picnic, be sure to keep it cool with a bowl with ice.
The salad will keep up to 3 days in the refrigerator, covered.
Pin for later!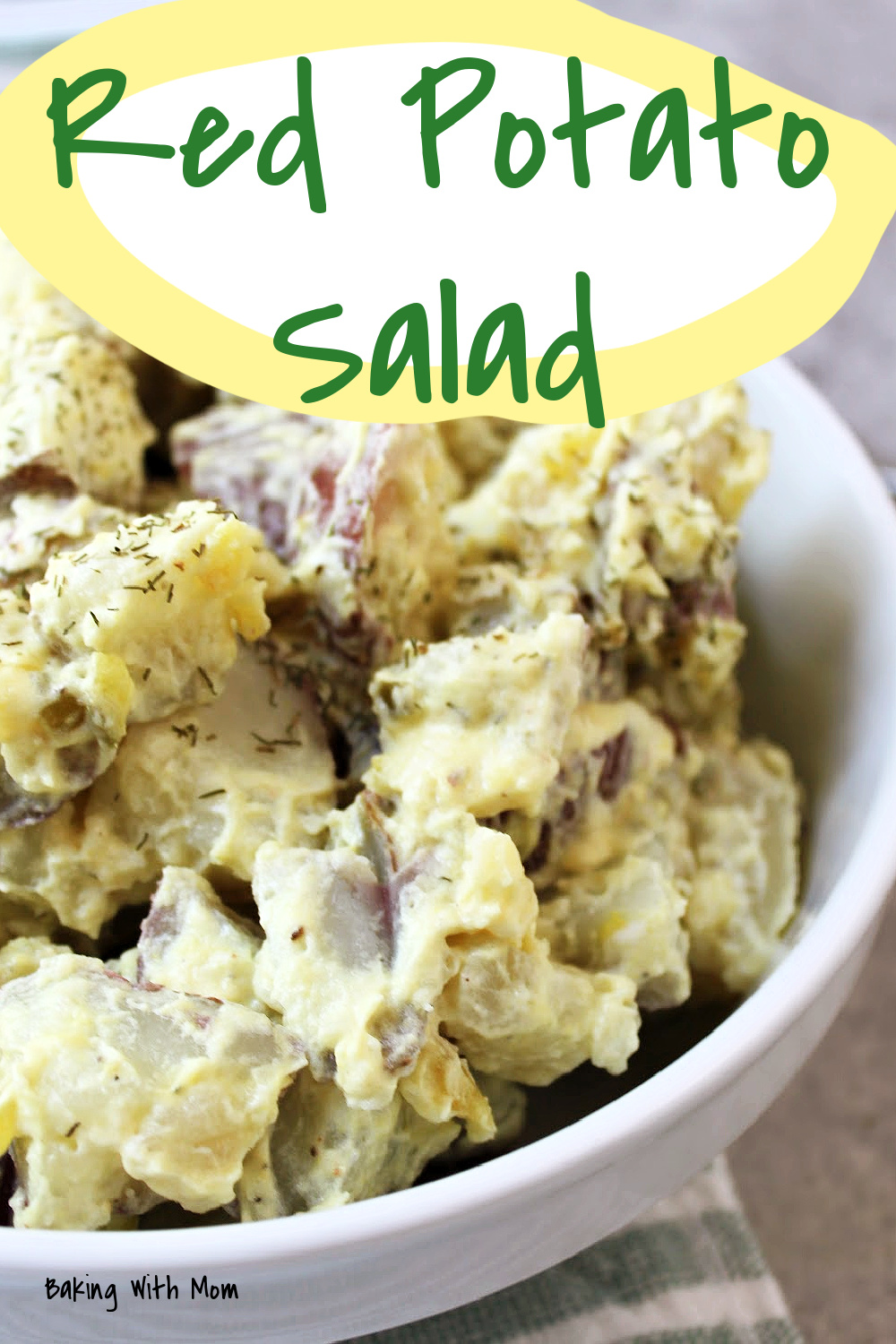 Enjoy this picnic and BBQ favorite. Red potato salad is creamy and delicious. Enjoy!
📖 Recipe
Red Potato Salad
Red potato salad is a skin on potato salad made with Miracle Whip, mustard and dill relish.
Ingredients
10

red potatoes

washed

½

cup

Miracle Whip

or mayonnaise

¼

cup

mustard

2

teaspoon

salt

1

teaspoon

black pepper

3

tablespoons

dill relish

2

teaspoon

garlic powder

2

teaspoon

dill weed

1

tablespoon

minced dried onion

or you can use chopped fresh onion

1

stalk

celery

washed and chopped, optional
Instructions
Cut the washed red potatoes into bite sized pieces.

Place into a pot of water and bring to a boil. You can season with 1 teaspoon of salt, if desired.

Simmer for 10-12 minutes or until a fork can pierce the potato easily, but not too long so the potato falls apart. Keep an eye on the potatoes while cooking.

Drain the potatoes and let cool for 30 minutes.

In a medium bowl, fold the potatoes and the rest of the ingredients together.

Chill in the refrigerator for at least 2 hours. If it is going to be longer, cover the bowl with plastic wrap.
Notes
After you fold the ingredients together, give the potato salad a taste and see if you would want to add a little more salt or relish. Remember, however, that before chilling the flavors haven't had a chance to blend together. 
Nutrition
Calories:
215
kcal
|
Carbohydrates:
48
g
|
Protein:
6
g
|
Fat:
1
g
|
Saturated Fat:
0.2
g
|
Polyunsaturated Fat:
0.2
g
|
Monounsaturated Fat:
0.2
g
|
Trans Fat:
0.001
g
|
Cholesterol:
1
mg
|
Sodium:
902
mg
|
Potassium:
1258
mg
|
Fiber:
5
g
|
Sugar:
5
g
|
Vitamin A:
48
IU
|
Vitamin C:
23
mg
|
Calcium:
36
mg
|
Iron:
2
mg