Rainbow sherbet cake with a two layers of cake and a swirl of rainbow sherbet in between is the perfect dessert for a hot summer day. Okay, even a cold winter day. This dessert recipe is easy and can be made ahead of time for guests or for a family supper. So delicious!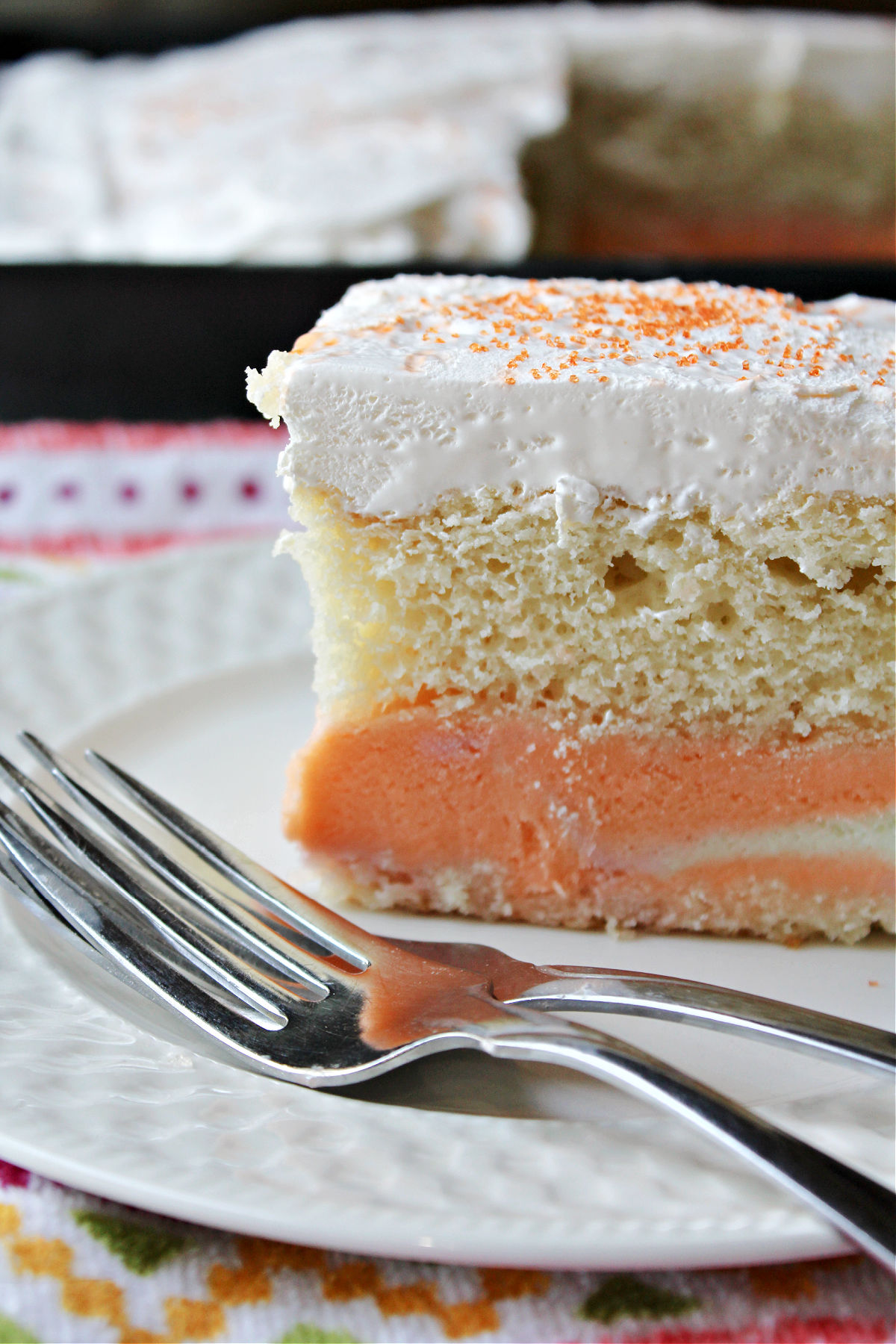 To make this cake dessert recipe is to understand easy. It is only a handful of ingredients (as most of my recipes are on here!) and it comes together in 1-2-3.
Rainbow Sherbet Cake is simply a cake mix with all the ingredients, sherbet and whipped cream. This cake is cool and refreshing.
What is sherbet?
Sherbet (or sherbert as my family calls it) is a cross between ice cream and sorbet. Sorbet is made of fruit and sugar. Ice cream has sugar and dairy. Sherbet is dairy and some fruit and water.
It's a mix.
There are a lot of different flavors such as orange, lime or raspberry. You can use any of them in this sherbet cake. I like the rainbow flavors so that is the sherbet I used.
Ingredients
Cake mix
Rainbow sherbet
Cool whip (or whipping cream)
Cake mix ingredients according to package directions (such as eggs, oil and water)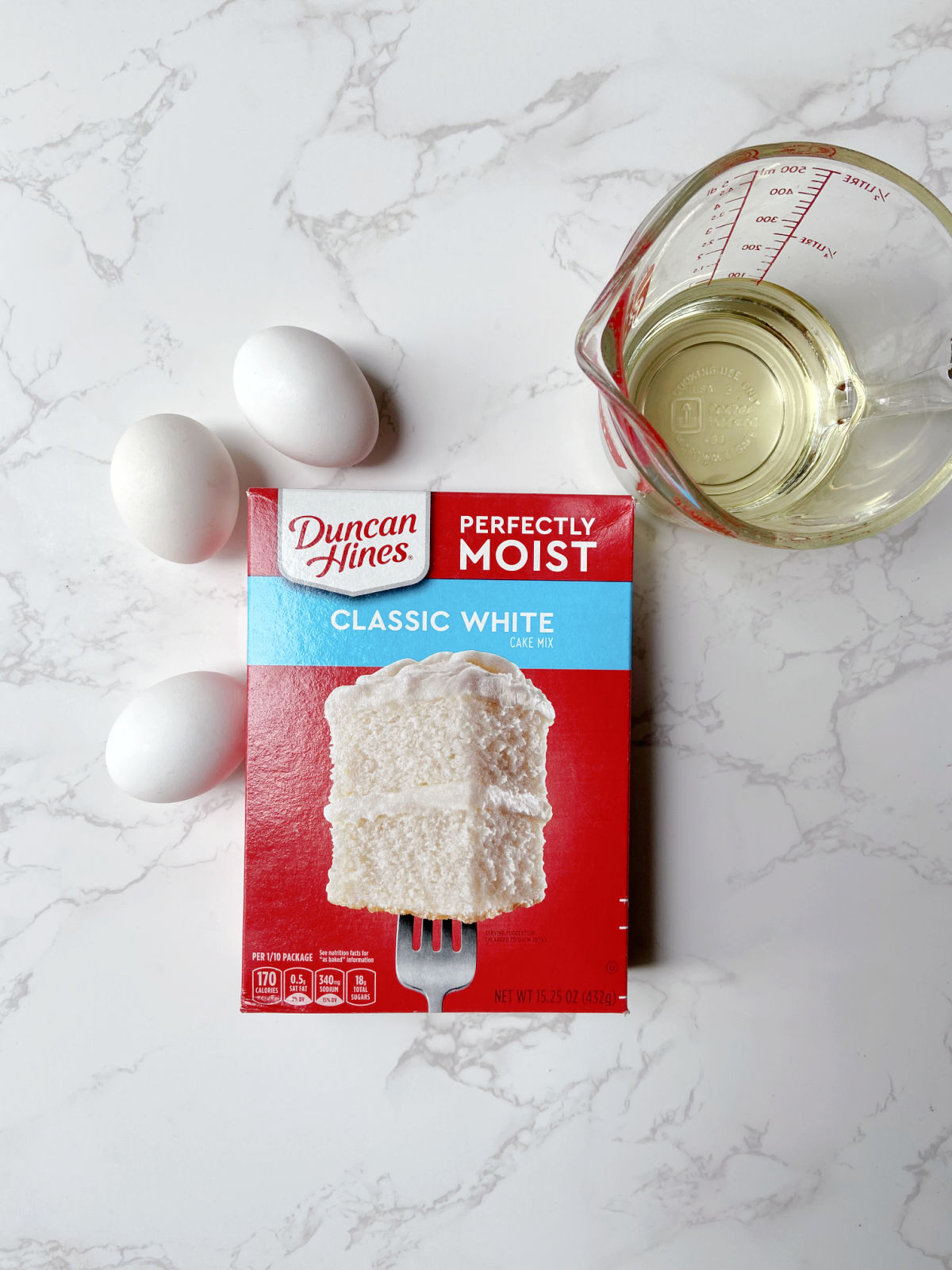 The type of cake mix you can use is either a yellow cake mix or a white cake mix. Either will work.
Don't worry about what brand to use. I used Duncan Hines for this recipe because I probably got it on sale sometime. Watch for sales, you should be able to get the mix for under a dollar.
The Cool Whip can be found on sale for $.98. Generic can work but I really like the name brand. I just used the store bought sherbet.
Mixing the cake for the base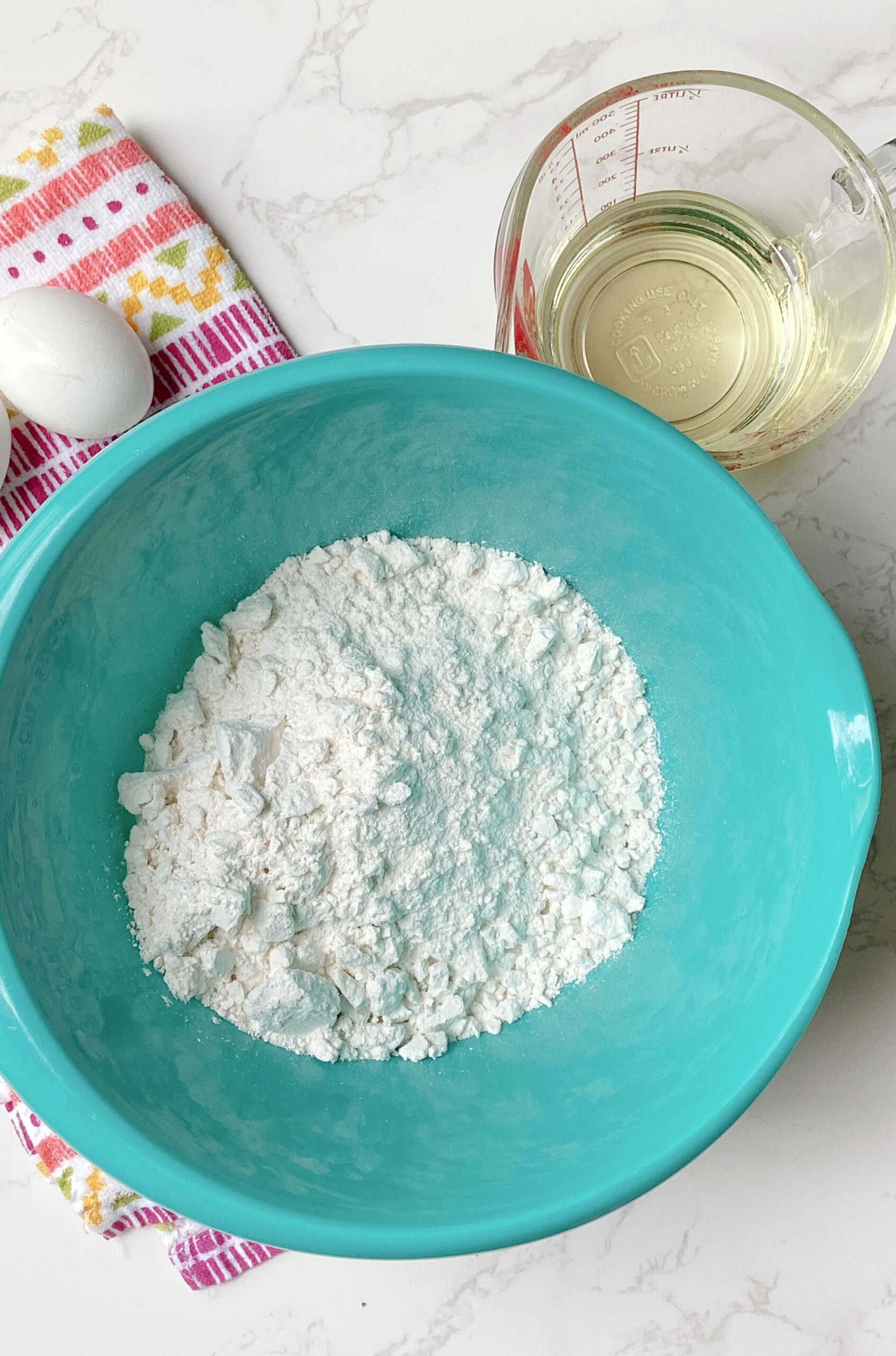 You will use the ingredients listed on the back of the cake mix box. Typically, it is eggs, water and oil.
Follow the directions on making the cake mix that are listed on the box, as well. In other words, it is a regular cake mix with nothing special added to it. You will bake as instructed too.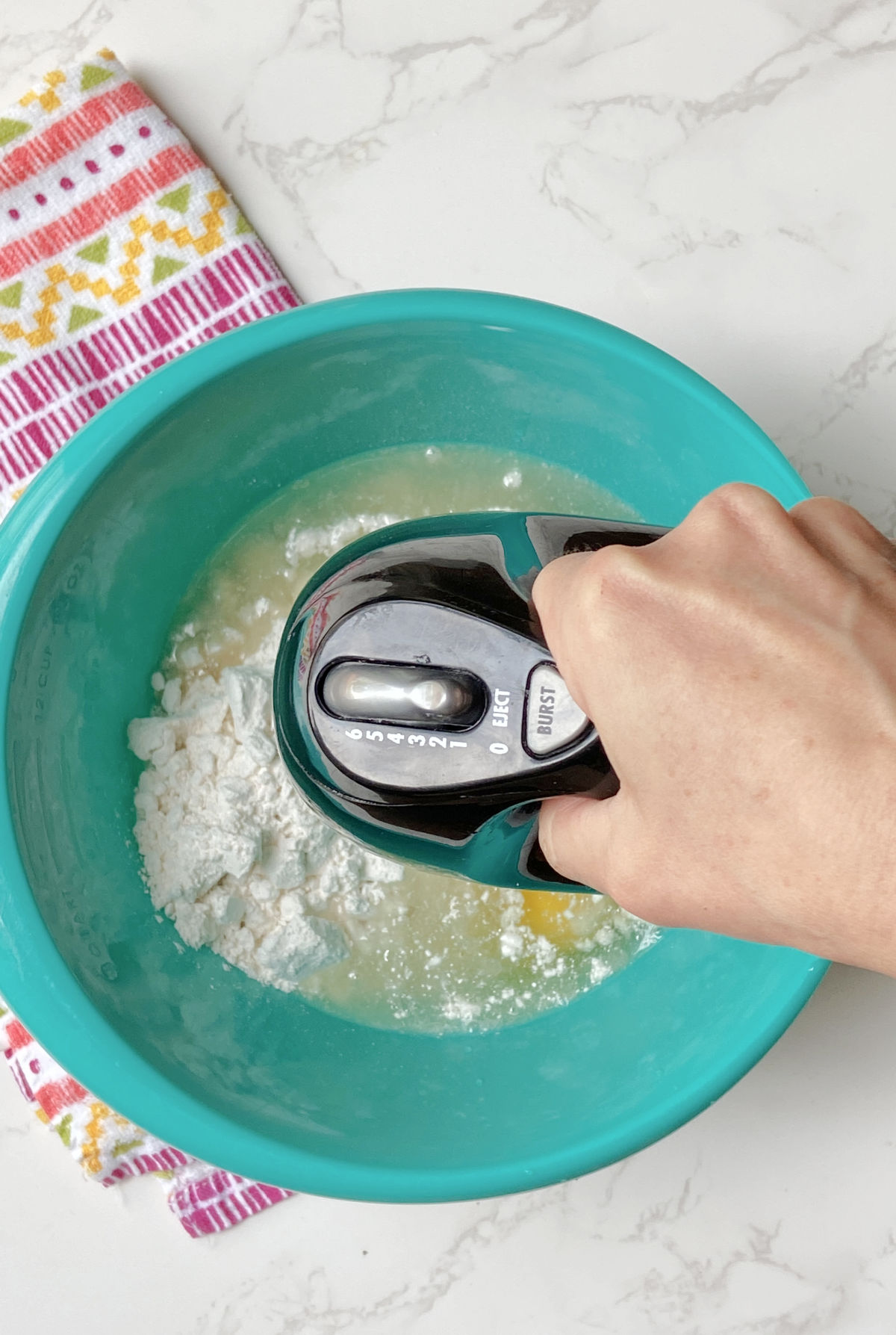 Mix the cake batter using a hand mixer or stand mixer.
Adding the sherbet
After the cake is baked, is when the showstopping ingredient is added.
The sherbet.
It simply goes in the middle of the baked cake.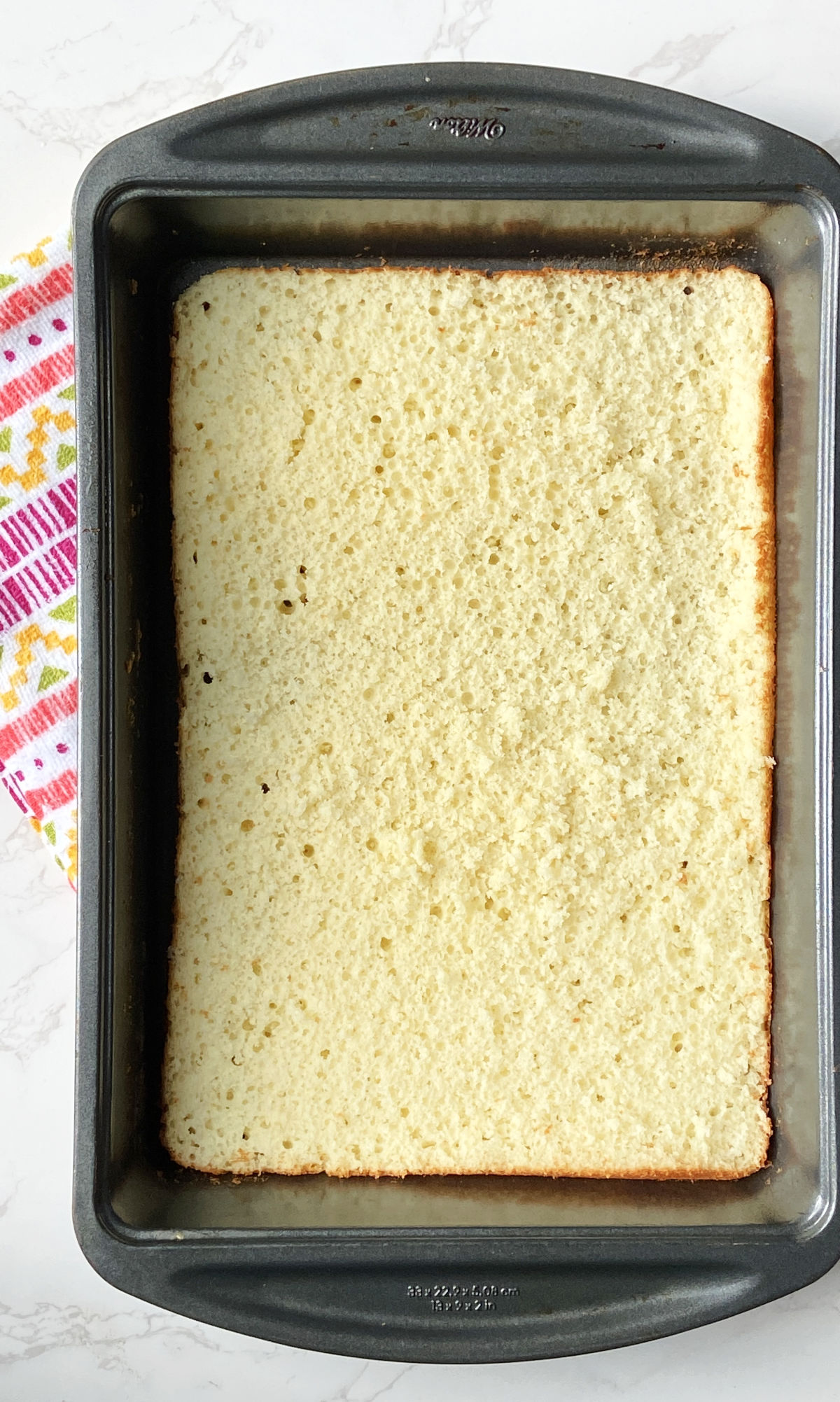 Tips for cutting the cake in half:
Make sure to grease the cake pan properly before adding the cake batter. that will insure the cake will turn out easily and without falling apart.
Wait for at least 10 minutes before trying to turn the cake out of the pan. After 10 minutes, take a knife and run it along the edge of the pan.
Place a cooling rack over the top of the pan and turn it over so the cake pan is upside down, with the opening over the cooling rack.
The cake should slide out of the pan onto the cooling rack.
Next, cut the cake in half, lengthwise. Use a long bread knife.
Take the top part of the cake and set it aside and place the bottom of the cake back into the pan. You can also place it on a large serving dish if you wish, I like to place it back in the pan.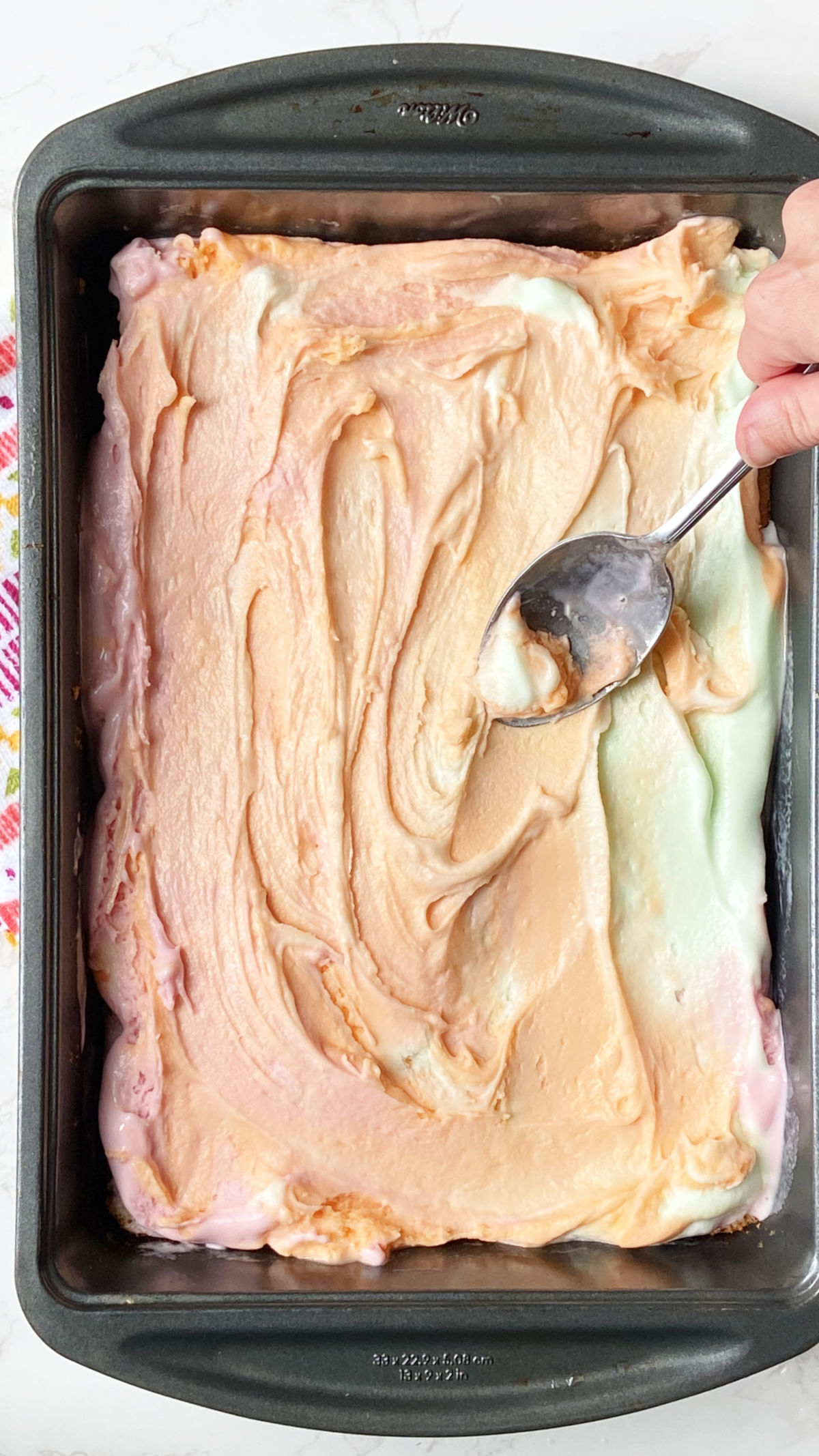 Spread the sherbet on the bottom of the cake pan. Next, put the top layer of cake on top. Top with whipped cream.
Freezing the rainbow sherbet cake
This cake needs to be kept frozen and it also needs to be frozen for a while before you eat it. You can eat it right away, but honestly, it doesn't hold up and you will have a plateful of melting sherbet.
It truly is best to let it sit in the freezer for at least 4 hours. I really prefer overnight.
Storage
Place leftover rainbow sherbet cake covered, in the freezer. Cover it with foil or a freezer safe lid.
FAQ
Can I use any flavor sherbet?
Yes you can! Lime would be tasty as would raspberry.
Can I use sorbet?
I never have. I fear it would a little bit on the softer side. But, you can always give it a try.
Can I use a bundt pan for this sherbet cake?
A bundt pan would be pretty! Getting it out of the pan would be a bit trickier. However, the results would be worth it.
Pin for later!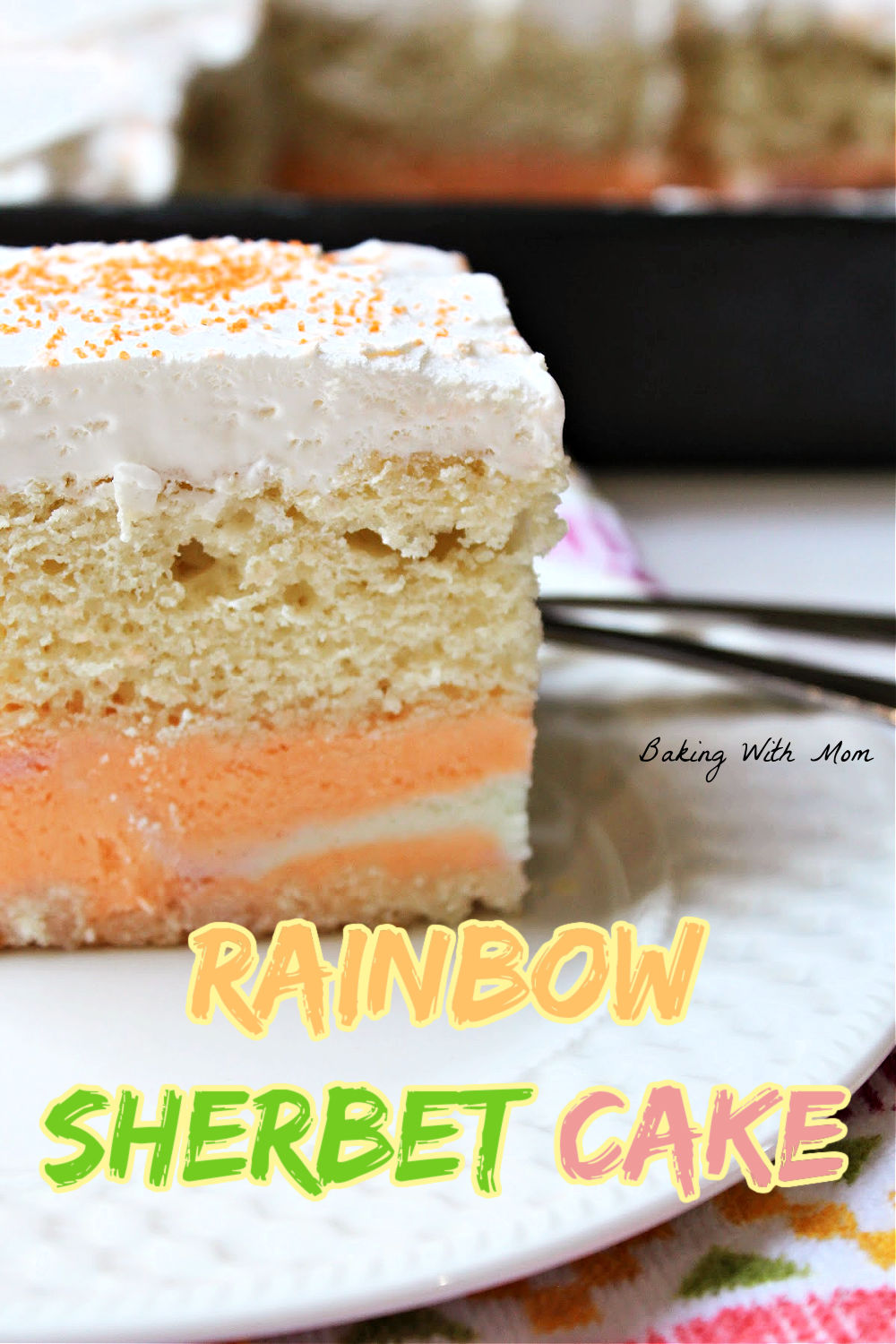 📖 Recipe
Rainbow Sherbet Cake
This sherbet cake with ribbons of rainbow sherbet and layers of soft cake is a delicious and easy dessert recipe for the family.
Equipment
1 medium bowl

1 9x13 baking pan
Ingredients
1

box

cake mix

ingredients listed on the back of the box

1.5

quart

rainbow sherbet

8

oz

whipped cream
Instructions
Grease bottom and sides of 9x13 baking pan with cooking spray.

Mix cake mix according to package directions.

Bake according to package directions.

Let cool for at least 10 minutes, then turn over on a cooling rack.

**See notes in post**

Cut the cake in half lengthwise when cake is completely cooled.

Place bottom half of cake back in the cake pan.

Spread softened sherbet on top of the bottom layer of cake.

Place top layer of cake on top of sherbet.

Spread whipped cream on top of cake.

Place covered with foil in freezer for at least 4 hours or overnight for best results.
Nutrition
Calories:
303
kcal
|
Carbohydrates:
59
g
|
Protein:
3
g
|
Fat:
7
g
|
Saturated Fat:
4
g
|
Polyunsaturated Fat:
0.3
g
|
Monounsaturated Fat:
2
g
|
Trans Fat:
0.1
g
|
Cholesterol:
12
mg
|
Sodium:
284
mg
|
Potassium:
134
mg
|
Fiber:
2
g
|
Sugar:
39
g
|
Vitamin A:
147
IU
|
Vitamin C:
2
mg
|
Calcium:
142
mg
|
Iron:
1
mg