Making your own homemade pie crust can be a bit on the daunting side. However, if you use a food processor, this task can be easy and fast! Food processor pie crust made with shortening is flaky and delicious and ready for you to fill with your favorite pie filling.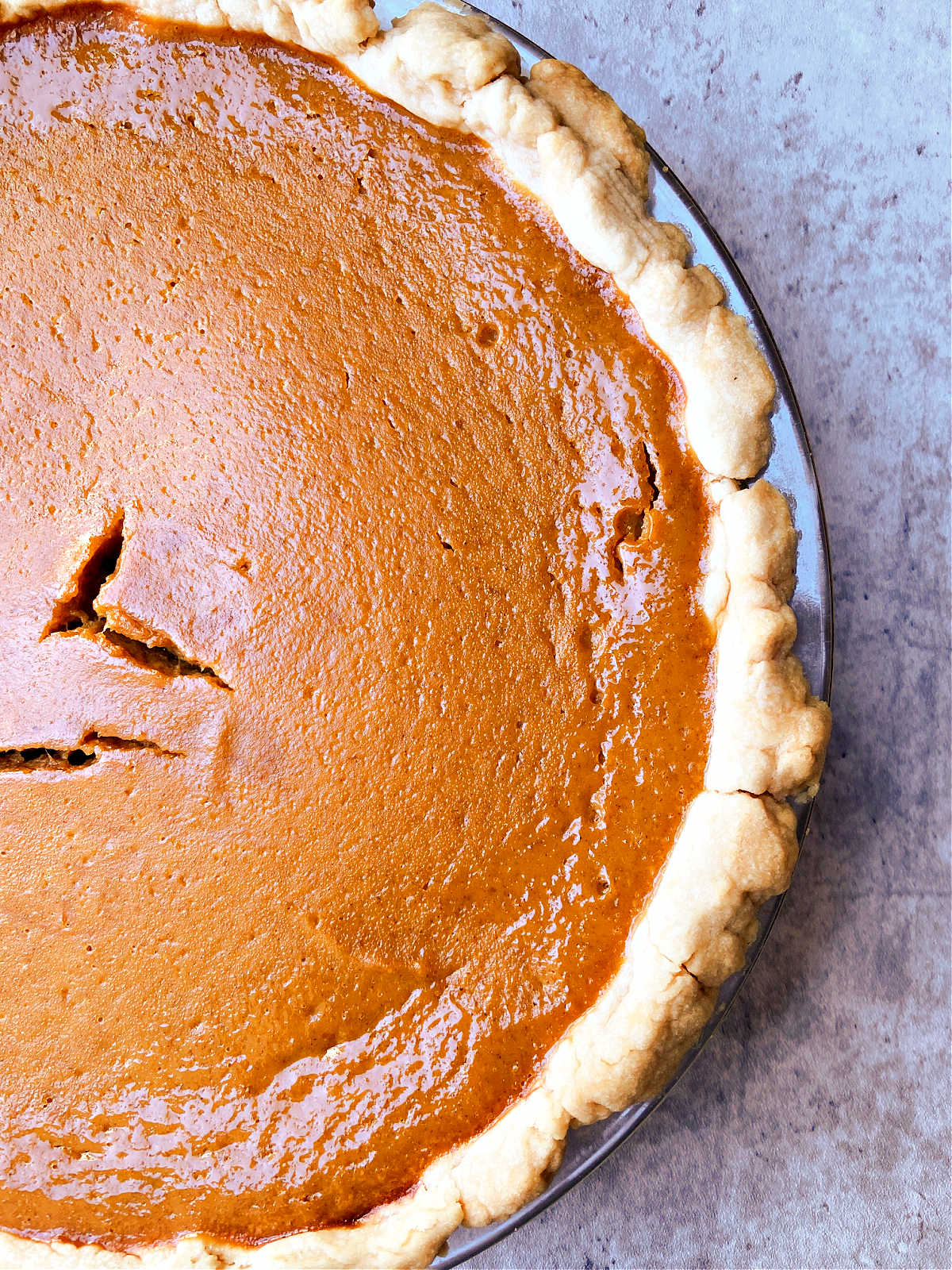 Does making a pie seem like a big task for you? The art of making the crust just right is an important part of the process.
Fork, water, fork, water...
Right? Did you watch your grandma make pies? Grandma's back then, with the flour covered apron and all, didn't have what we are blessed to have.
Food processors.
A food processor pie crust makes the job easy and quick.
Food processor
A food processor is something I don't use very often, but when I do, I appreciate it greatly. When making a pie crust, you can add the water from the top while the flour mixture is mixing.
I have a processor I can recommend, it is the Cuisinart brand processor. It chops, mixes and blends. And makes pie crusts.
Butter verses shortening
The difference between butter and shortening is part factual and part opinion. If you use butter in the pie crust, you will definitely have a more flaky pie crust. However, it is more finicky and needs to be handled carefully to achieve those layers.
You can also taste the butter in the crust.
Shortening melts quicker and you can roll the dough out easier. It incorporates easier into the crust.
If you want to use shortening but want some butter taste, you can use butter shortening.
For this recipe, we will use shortening.
Side note, my sister-in-law uses lard in her pie crusts and she makes the best pies of anyone ever. I don't have her recipe. This recipe for pie crust is quite good. I'll be honest, it doesn't top hers. :-)
Process
The process of making pie crust with a food processor is a simple one. First, you start with flour, salt and the shortening.
Then blend it until it looks like cornmeal. Almost like sand.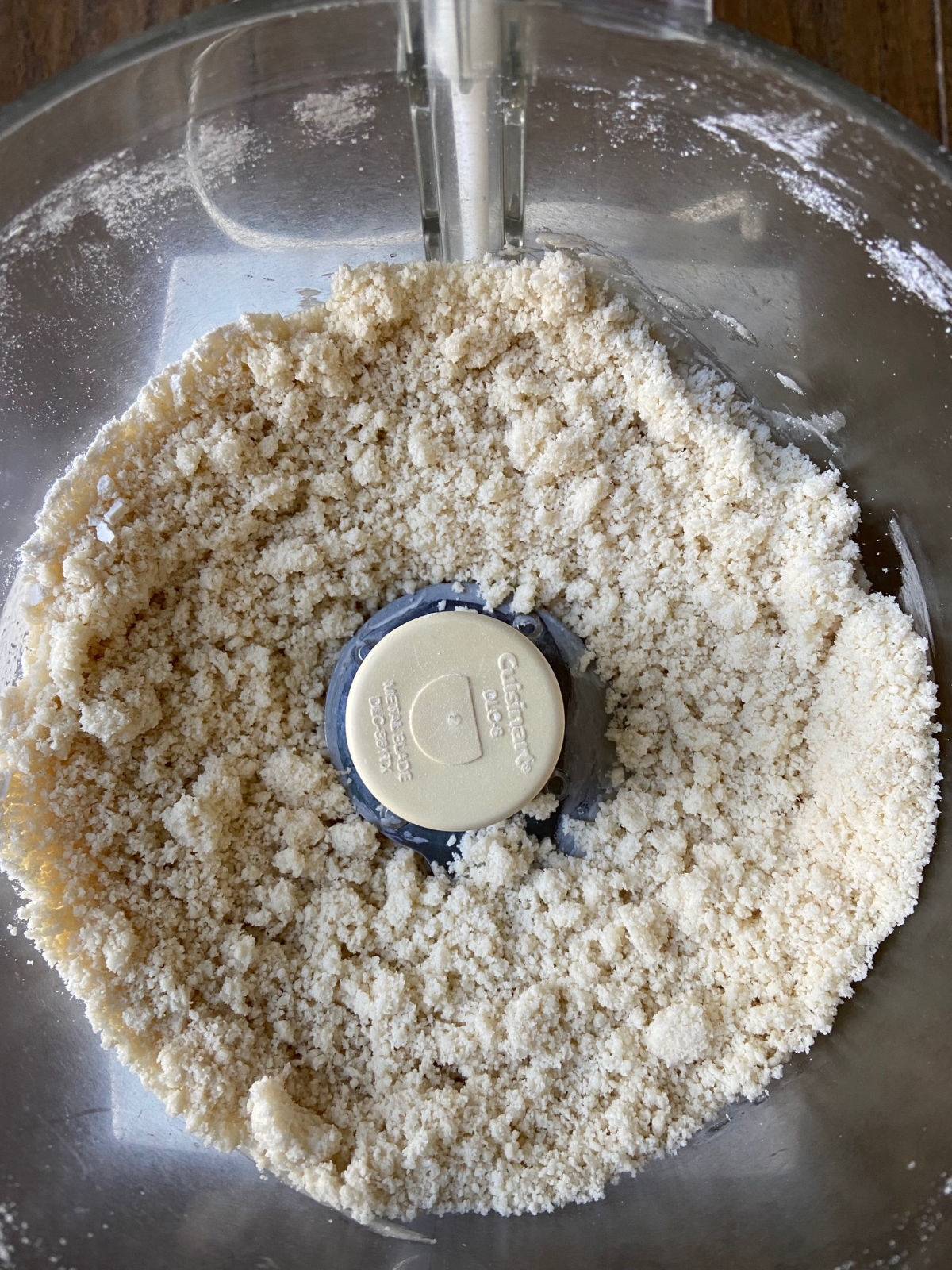 Next, as the processor is running, add the water one tablespoon at a time. As soon as the water has been added, stop the processor.
Now pulse two times. The dough should start to come together as in a ball. You may need to add a little more water to get the dough to stick together.
The rolling
Place the dough on a lightly floured surface. You will want to form the dough into a ball. Take your floured rolling pin and start rolling the dough out.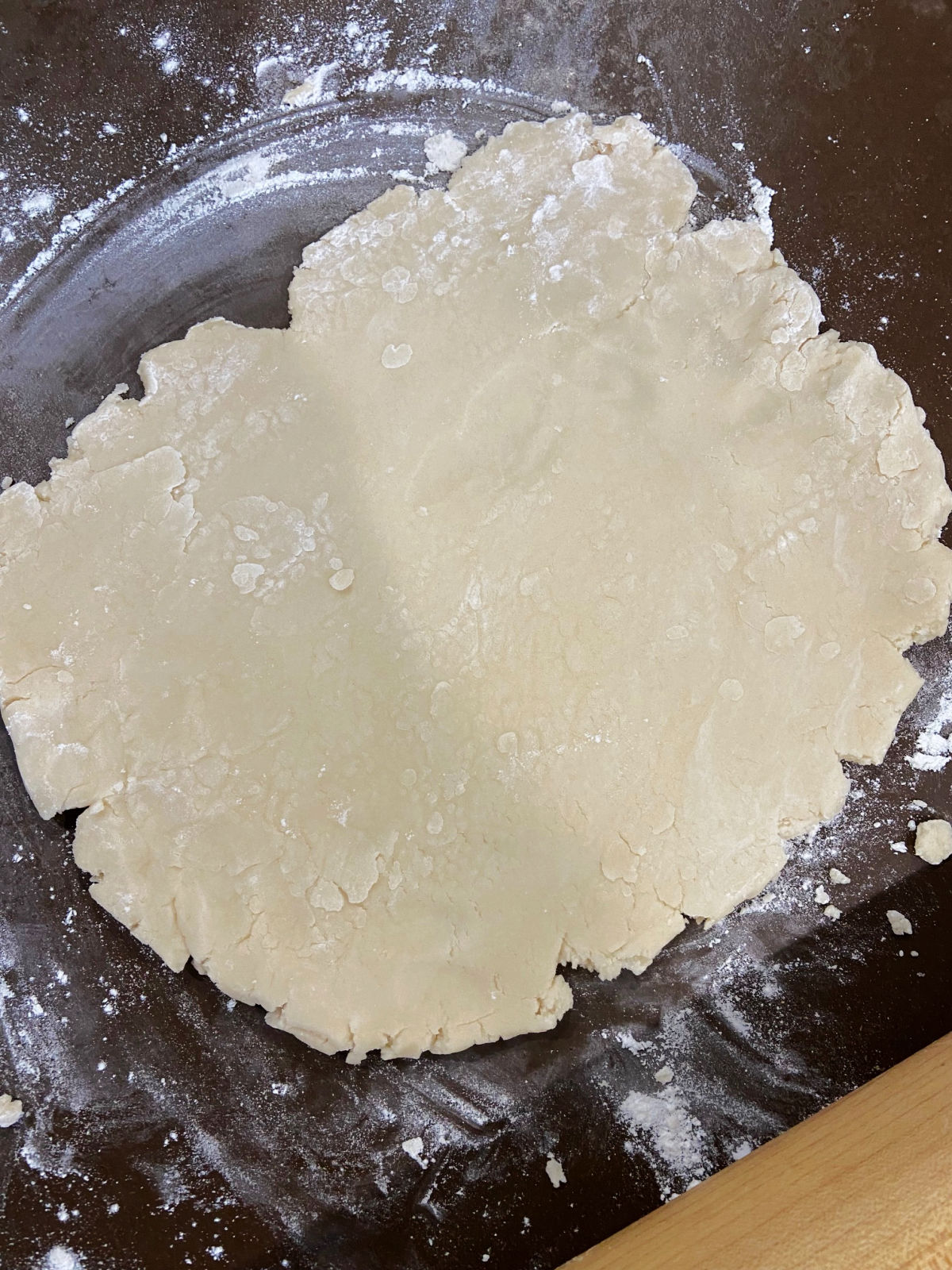 A tip:
After each pass with your rolling pin over the dough, rotate the dough ¼ clockwise. That will help your dough from sticking and ensure an even pie crust.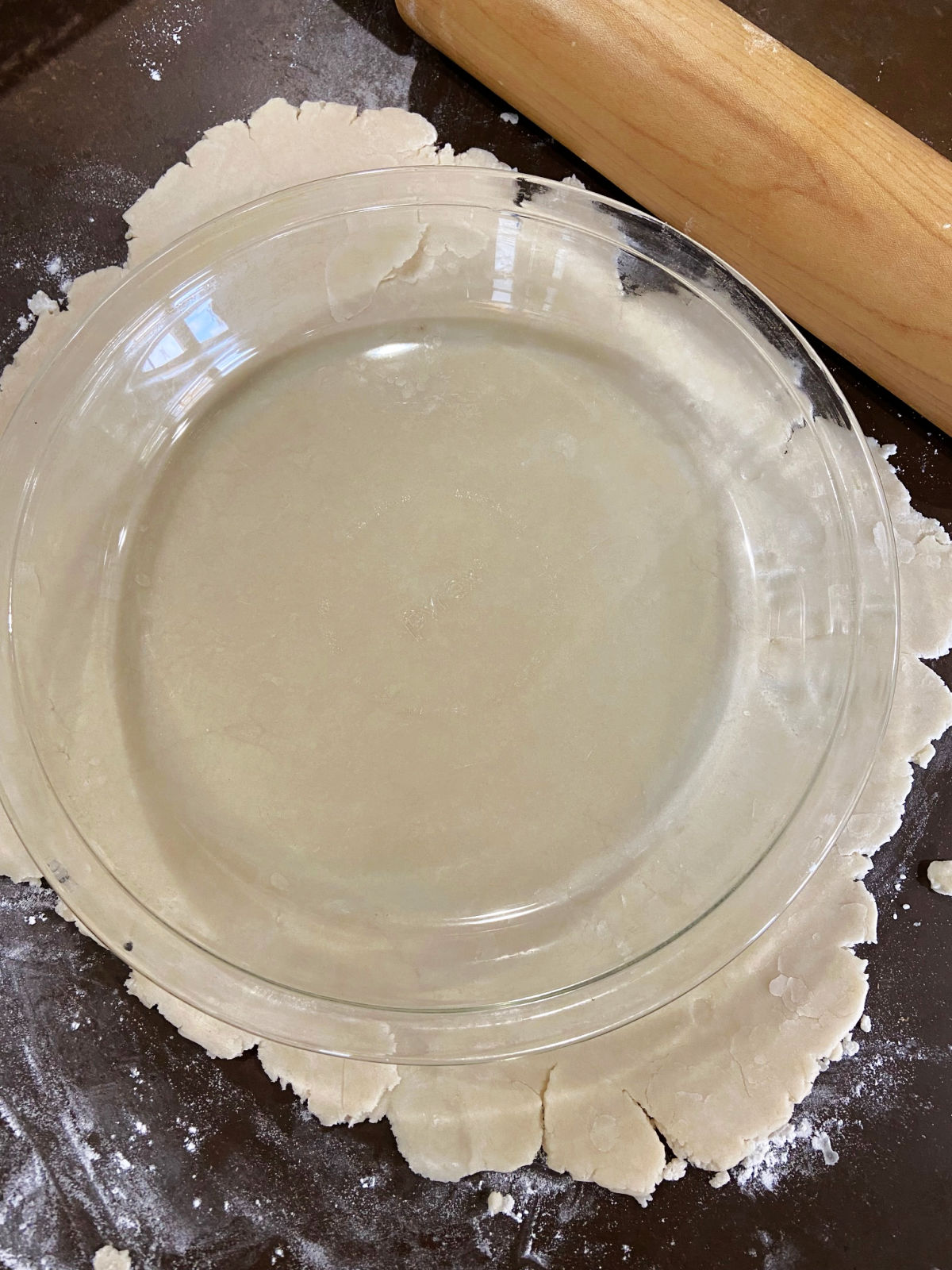 The crust only needs to be rolled out as big (actually a little bigger) as the pie pan. So my rule of thumb is to the edges + at least 1 inch.
Crimping the edges
I'm not going to reinvent the wheel here. Other people talk about how to crimp the edges of a pie and I could repeat it or just send you to them.
To be real, if you are going to enter your pie in a pie baking contest, have really nice crimped edges. If you are feeding your family, the perfect edges really don't matter. Just fold over any extra dough and seal. It all tastes the same.
Baked shell and unbaked shell
If this crust is for a pie that will be unbaked, you still need to bake the crust. After putting the crust in the pie pan, using a fork, prick holes in the bottom of the crust, especially nearing the sides.
Then bake at 450 degrees for 7 minutes, remove the foil, then bake for 5 minutes more.
What foil?
The foil will help prevent the crust from turning too brown while baking. Most recipes will tell you how long to cook the pie with the foil on the crust.
To make the foil, take a section of foil about as big as the pie pan and cut a circle out of the middle. Remember how to make construction paper hearts?
It is just like that but with a circle. Or a heart, nobody will know. Then cover the edges of the pie with the foil.
Whether you make a rolled crust like this one or a shortbread type crust like with this Strawberry Pie, all pie crusts add such flavor to the pie. When done right, can be the talk of the pie.
Need a good pumpkin pie recipe? Try this: Simple Easy Pumpkin Pie!
Pin for later!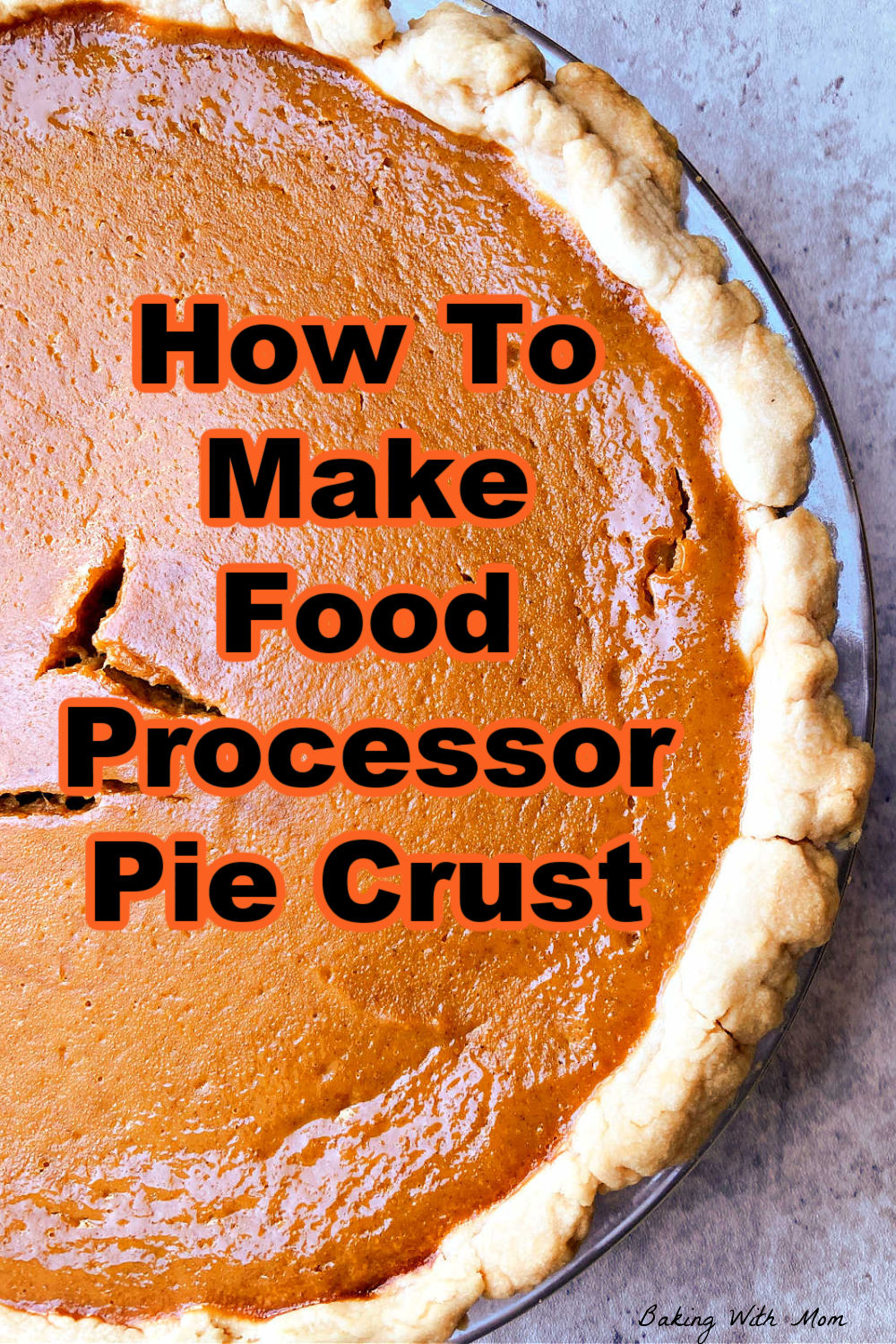 📖 Recipe
Food Processor Pie Crust
This pie crust can be whipped up in a hurry for a delicious homemade pie.
Ingredients
1 ¼

cups

flour

all purpose

¼

teaspoon

salt

⅓

cup

shortening

3

Tablespoons

cold water
Instructions
Note: This recipe is for 1 crust. Double it for a 2 crust pie

In the bowl of the processor, add the flour, salt and shortening

Cover and process until mixture resembles sand or cornmeal

With processor on, quickly add 3 tablespoons cold water through the opening in the processor lid

Stop the processor as soon as all the water is added

Process 2 more times with the on/off switch, until the dough starts to come together

Remove from bowl and place on a lightly floured surface

Roll out with a lightly floured rolling pin, to the size of the pie pan + 1 inch all the way around

Place in an ungreased 9 inch pie pan and trim edges and crimp as desired

Fill with pie filling or bake according to recipe
Nutrition
Calories:
147
kcal
|
Carbohydrates:
15
g
|
Protein:
2
g
|
Fat:
9
g
|
Saturated Fat:
2
g
|
Polyunsaturated Fat:
2
g
|
Monounsaturated Fat:
4
g
|
Trans Fat:
1
g
|
Sodium:
73
mg
|
Potassium:
21
mg
|
Fiber:
1
g
|
Sugar:
1
g
|
Calcium:
3
mg
|
Iron:
1
mg