Need a perfect (and easy!) strawberry dip for Valentine's Day? I have just the one. This Easy Strawberry Fluff Dip only has 3 simple ingredients. In fact, this dip will be great for strawberry season, Easter dinner or anytime!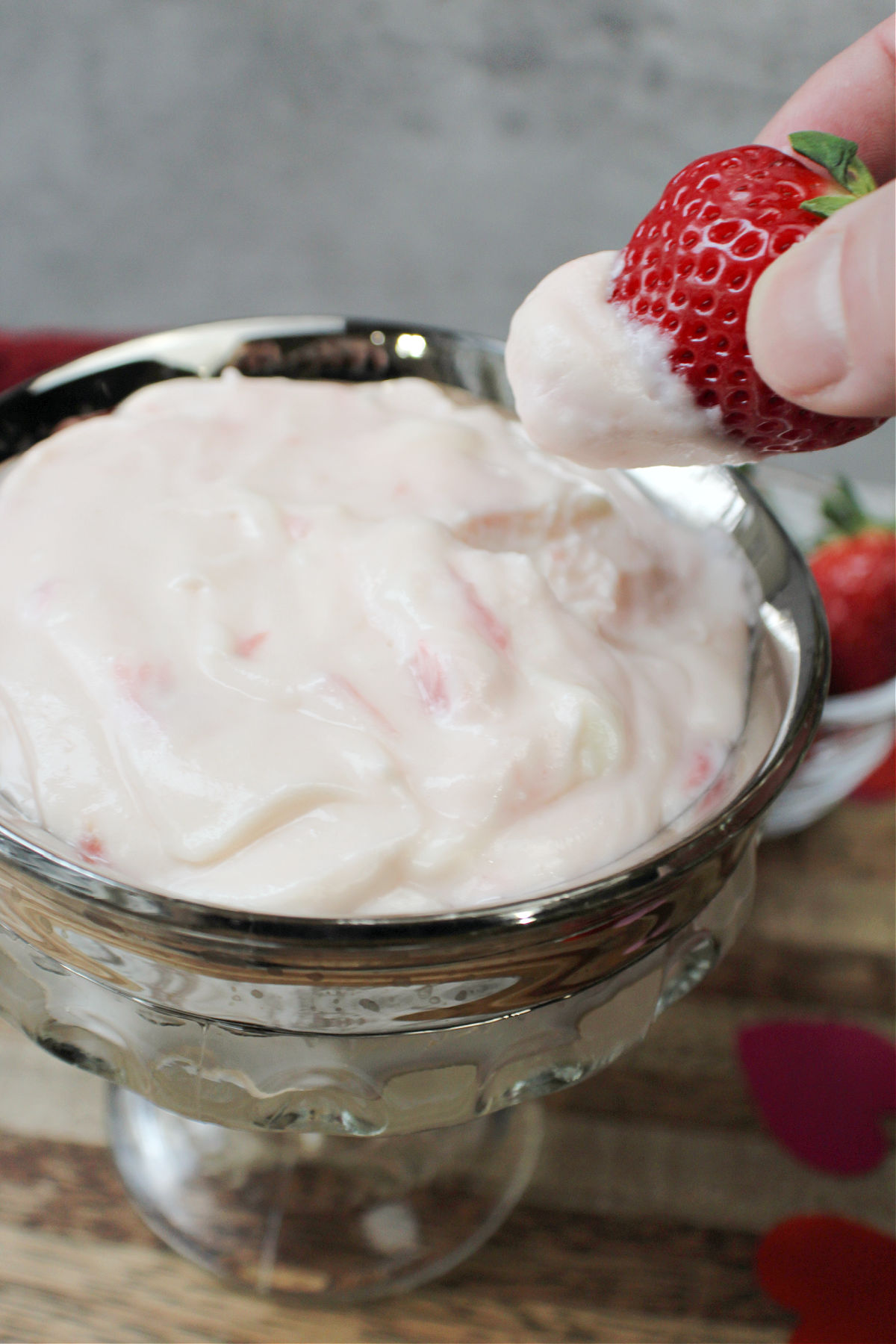 This easy strawberry fluff dip is light and creamy. Sweet with fluff. Easy to make. All.the.things.
In fact, my husband liked it so much he has yet to eat it with fruit, he is eating it by the spoonful and on top of ice cream.
This strawberry dip as an ice cream topping? Yes please.
This marshmallow cream strawberry dip recipe can be enjoyed year around. Whether it is a Valentine's day recipe like the Valentine's Day Pretzel Rods or the Little Debbie Valentine Day Dip, or for Easter/summertime since strawberries are in season then.
Why you will love this Easy Strawberry Fluff Dip Recipe
There are only 3 ingredients
This strawberry recipe is sweet, but not overload sweet.
The marshmallow cream makes this dip light and fluffy.
It is great to bring to a gathering alongside fruit.
Ingredients
Philadelphia cream cheese
Marshmallow cream
Strawberries
The strawberries can be frozen or fresh and you only need about 4 medium sized berries. Any brand marshmallow cream will work.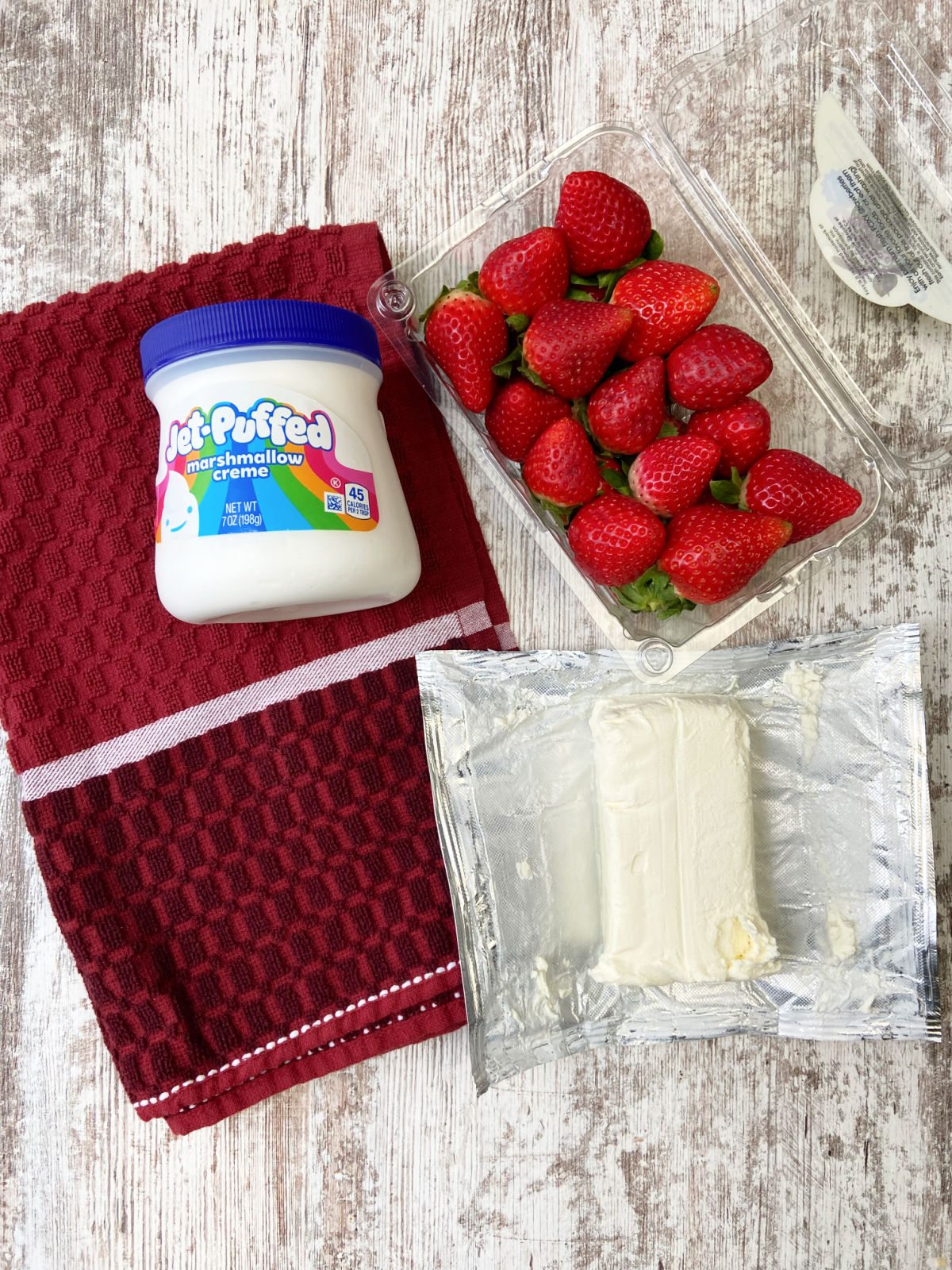 Equipment to make this dip
Medium sized mixing bowl
Saucepan
If you have a stand mixer, that will work as well. Good old fashioned elbow grease works too but I feel the mixer will give a smoother texture.
Cooking the strawberries
An important part of this recipe is cooking the strawberries. The strawberries need to be broken down (mashed) so the strawberries and their juice can be poured into the dip.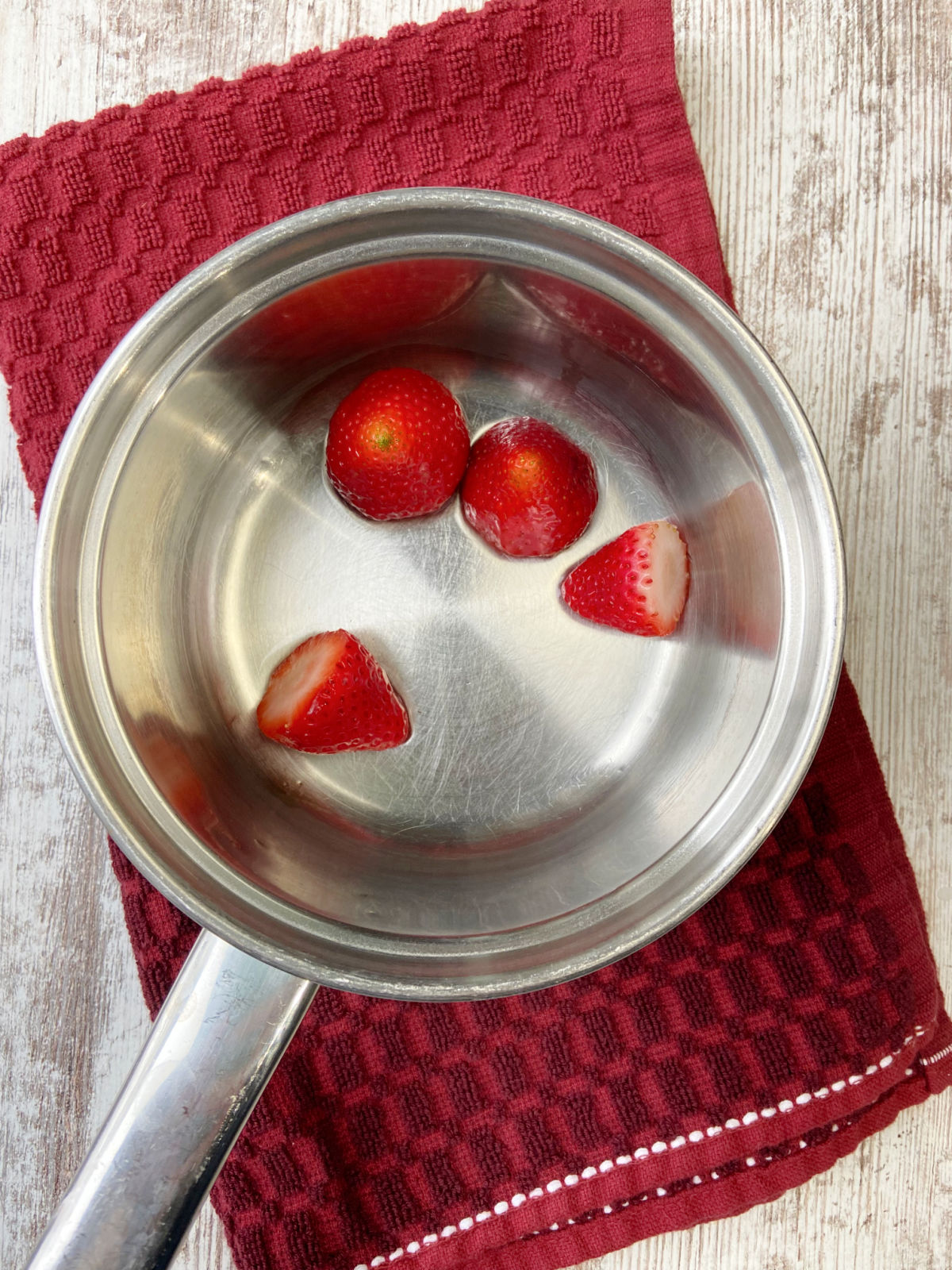 With only a few strawberries needed for this recipe, I know if you are wondering if breaking them down is worth it. Yes it is!
This recipe is better for having the strawberry sauce verses using cut up strawberries.
To break down the strawberries, place the strawberries in a sauce pan with about 4 teaspoons of water, enough to coat the bottom of the pan.
Turn the heat to medium and let the strawberries start to get soft. Remove the strawberries from the heat and using a cup, smash the berries. Return the saucepan to the heat.
Let the berries cook for about 3-5 more minutes. There should be juice on the bottom of the pan.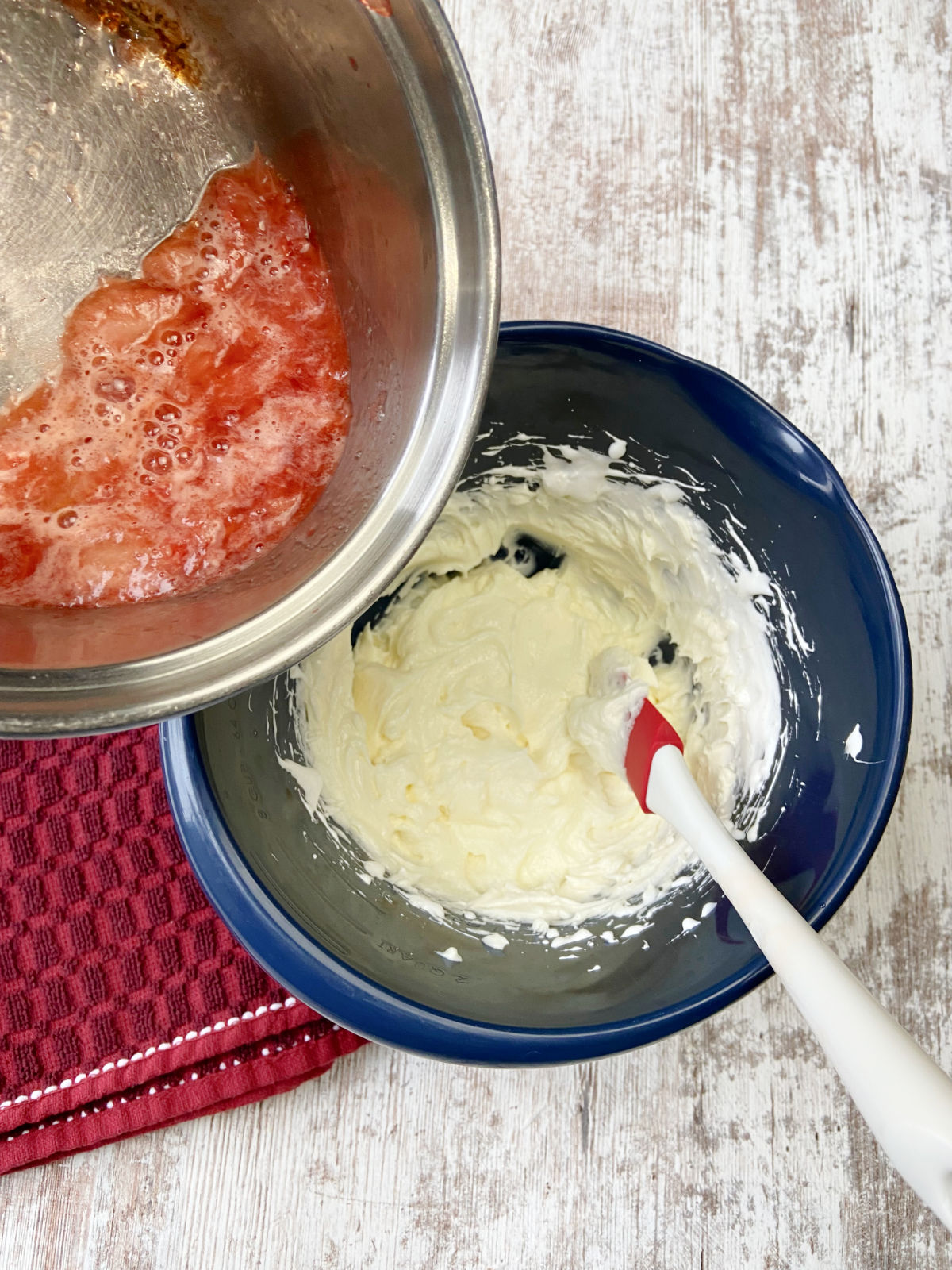 Pouring the strawberries
The strawberries will then be poured into the cream cheese/marshmallow cream mixture and stirred.
That's it!
Refrigerating
This dip is best if you let it chill in the fridge for at least an hour before serving. You can serve right away but the strawberries will make the dip warm and it is really best chilled.
Tips
**Don't buy anything other than Philadelphia cream cheese. The cream cheese needs the tang in this recipe that only (I have found) Philadelphia has.
**Philadelphia cream cheese also softens easier and better than the store brand cream cheese. If softened properly, the dip won't have lumps in it. Lumps aren't horrible, but it looks nicer with a smooth texture.
**To soften the cream cheese, set it on the counter for 30-45 minutes, out of direct sunlight.
**When smashing the berries in the saucepan, cut the strawberries into pieces first. It makes them break down faster and easier to smash.
What to serve with this dip
Any fruit will work with this dip. The dip, of course, has strawberry in the title, but I would say apples and grapes would be delicious with this dip as well.
I also think it would great as an addition to these fruit nachos. Nachos, fruit, cream cheese? I think yes.
FAQ
Can I serve this dip with crackers?
Animal crackers or graham crackers would be great with this dip.
Should I store this dip in the fridge?
Yes! This dip should be stored in an airtight container in the fridge.
Outdoor eating
This strawberry dip needs to be kept cool, so if you are taking this to a picnic, be sure to keep the dip cool by placing it in a bowl with ice or not leaving it in the sun on the table for a long period of time.
Pin for later!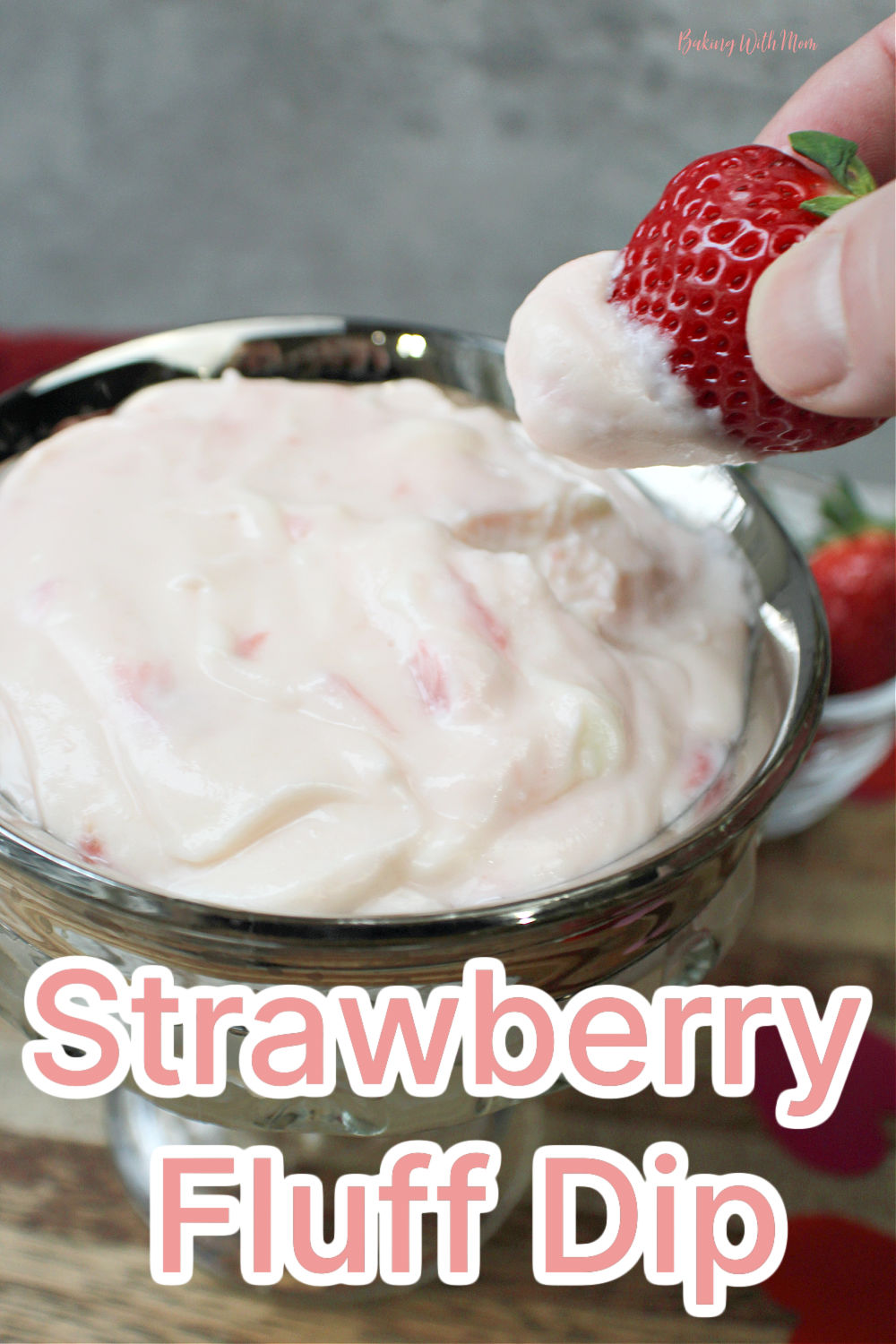 📖 Recipe
Easy Strawberry Fluff Dip
Easy to make dip great for the summer berries. Enjoy the 3 ingredients ease of this dip.
Ingredients
8

oz

cream cheese

7

oz

marshmallow cream

4

strawberries

sliced

4

teaspoon

water
Instructions
Mix together cream cheese and marshmallow cream in a medium bowl using a hand mixer, set aside.

Cook strawberries in small saucepan over medium low heat for 5 minutes with 4 teaspoons of water. The strawberries will be soft. Stir as needed.

Remove the strawberries from the heat.

Mash the strawberries down with a glass (or other tall object) being aware of the hot saucepan.

Reduce heat to low and let the strawberries cook for about 3-4 minutes longer, stirring as needed.

Pour strawberry mixture into cream cheese mixture. Stir.

Serve with strawberries and other fruit and refrigerate the rest.
Notes
The amount of water you will use, depends on the size of your saucepan. Make sure the bottom of the saucepan has a little bit of water covering the bottom. 
Nutrition
Calories:
118
kcal
|
Carbohydrates:
15
g
|
Protein:
1
g
|
Fat:
7
g
|
Saturated Fat:
4
g
|
Polyunsaturated Fat:
0.3
g
|
Monounsaturated Fat:
2
g
|
Cholesterol:
19
mg
|
Sodium:
59
mg
|
Potassium:
31
mg
|
Fiber:
0.1
g
|
Sugar:
11
g
|
Vitamin A:
254
IU
|
Vitamin C:
2
mg
|
Calcium:
19
mg
|
Iron:
0.04
mg